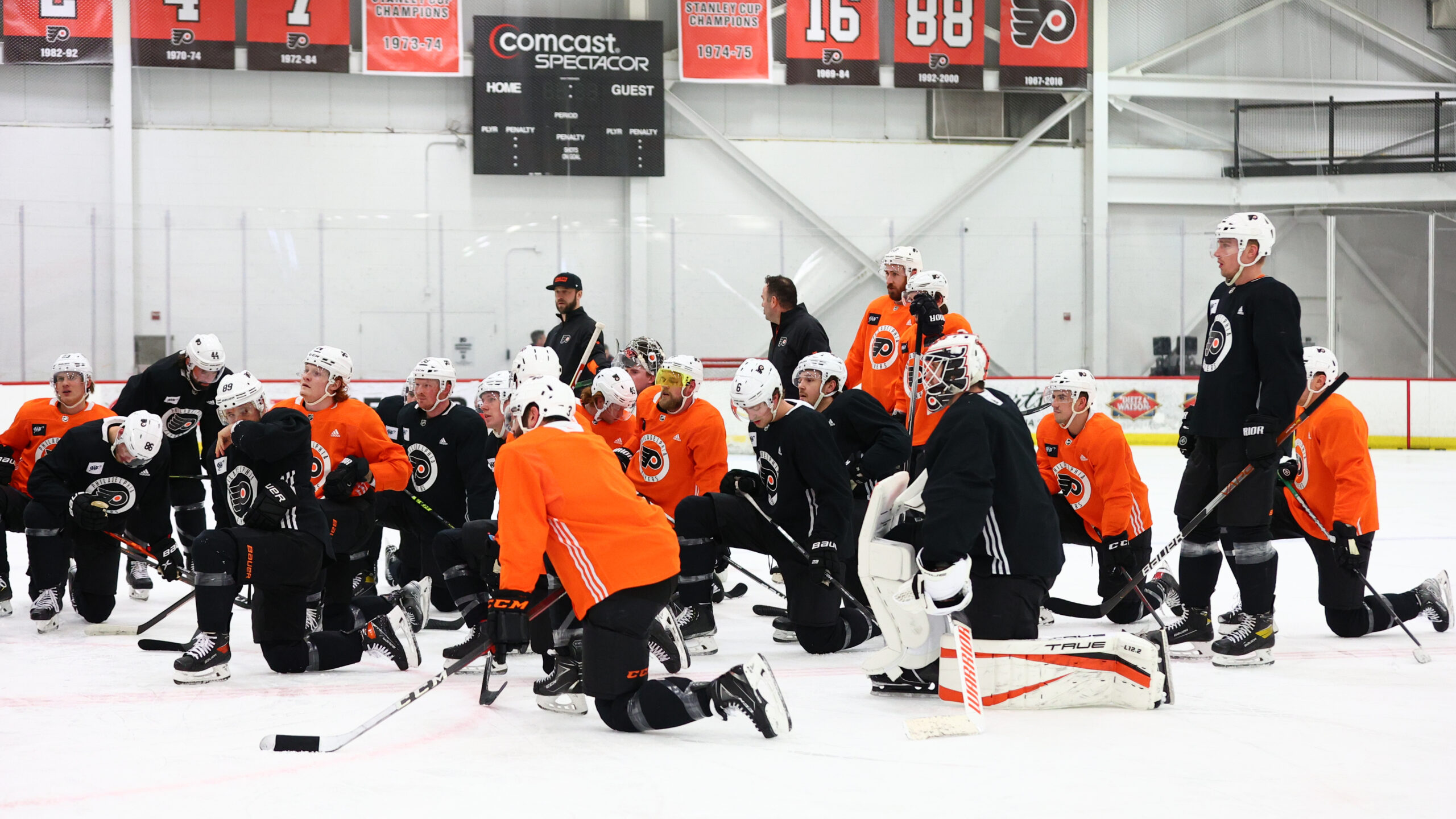 General Manager, Daniel Brière, has officially announced the Philadelphia Flyers 2023 Training Camp schedule and roster, that is set to begin on the 21st of September and to take place at the Flyers Training Center in Voorhees, New Jersey.
3o forwards, 21 defensemen, and 6 goaltenders are scheduled to attend the training camp and if history is any guide, we know that John Tortorella puts all his stock on how his players perform in camp, rather than how they performed last season or in the years prior.
The Flyers' first preseason game will take place on the 25th of September against the New Jersey Devils on the road, followed by a road game on the 27th against the New York Islanders and then on the road for the final time in Boston on the 29th.
That is followed by 3 home games on the 30th, the 2nd of October, and the 5th of October against New Jersey, Boston, and New York respectively.
The Flyers website have made mention that all home pre-season games will be televised on NBCSP (October 2nd and October 5th) and on NBCSP+ (September 30th). Their road tilt against the Bruins will be broadcast on NHL Network and all preseason games will be covered on air by 97.5 The Fanatic.
2023-24 FLYERS TRAINING CAMP ROSTER
FORWARDS
Wade Allison
Cam Atkinson
J.R. Avon (injured)
Denver Barkey
Jordy Bellerive
Bobby Brink
Matt Brown
Adam Brooks
Noah Cates
Sean Couturier
Nicolas Deslauriers
Elliot Desnoyers
Joel Farabee
Jonathan Fauchon
Tyson Foerster
Morgan Frost
Brendan Furry
Rhett Gardner
Jacob Gaucher
Alexis Gendron
Garnet Hathaway
Travis Konecny
Tanner Laczynski
Scott Laughton
Olle Lycksell
Cooper Marody
Ryan Poehling
Owen Tippett
Samu Tuomaala
Zayde Wisdom
DEFENSEMEN
Emil Andrae
Ronnie Attard
Louie Belpedio
Oliver Bonk
Adam Ginning
Helge Grans
Adam Karashik
Matteo Mann
Victor Mete
Mason Millman
Rasmus Ristolainen
Ethan Samson
Travis Sanheim
Sam Sedley
Nick Seeler
Carter Sotheran
Marc Staal
Sean Walker
Cam York
Egor Zamula
Will Zmolek
GOALTENDERS
Carson Bjarnason
Samuel Ersson
Carter Hart
Nolan Maier
Cal Petersen
Felix Sandström
A lot of fresh faces from Rookie Camp will be returning. Avon, Barkey, Brink, Brown, Desnoyers, Fauchon, Foerster, Furry, Gaucher, Gendron, Tuomaala, and Wisdom return for the forwards.
Andrae, Bonk, Ginning, Grans, Mann, Miullman, Samson, Sedley, Sotheran, and Zmolek all return from the defensemen and Bjarnason and Maier both return from the goaltenders.
The full training camp can be seen below.
2024 Stadium Series Trip
Flyers Nation and Philly Sports Trips have teamed up to bring you on an amazing bus trip to the 2024 NHL Stadium Series between the Flyers and Devils. Place an early deposit to reserve your spot at the ultimate tailgate experience at MetLife Stadium before the game. The package includes a game ticket, round-trip charter bus, an all-inclusive tailgate party with unlimited cold beverages, "Philly Style" catered food, live entertainment, and more.