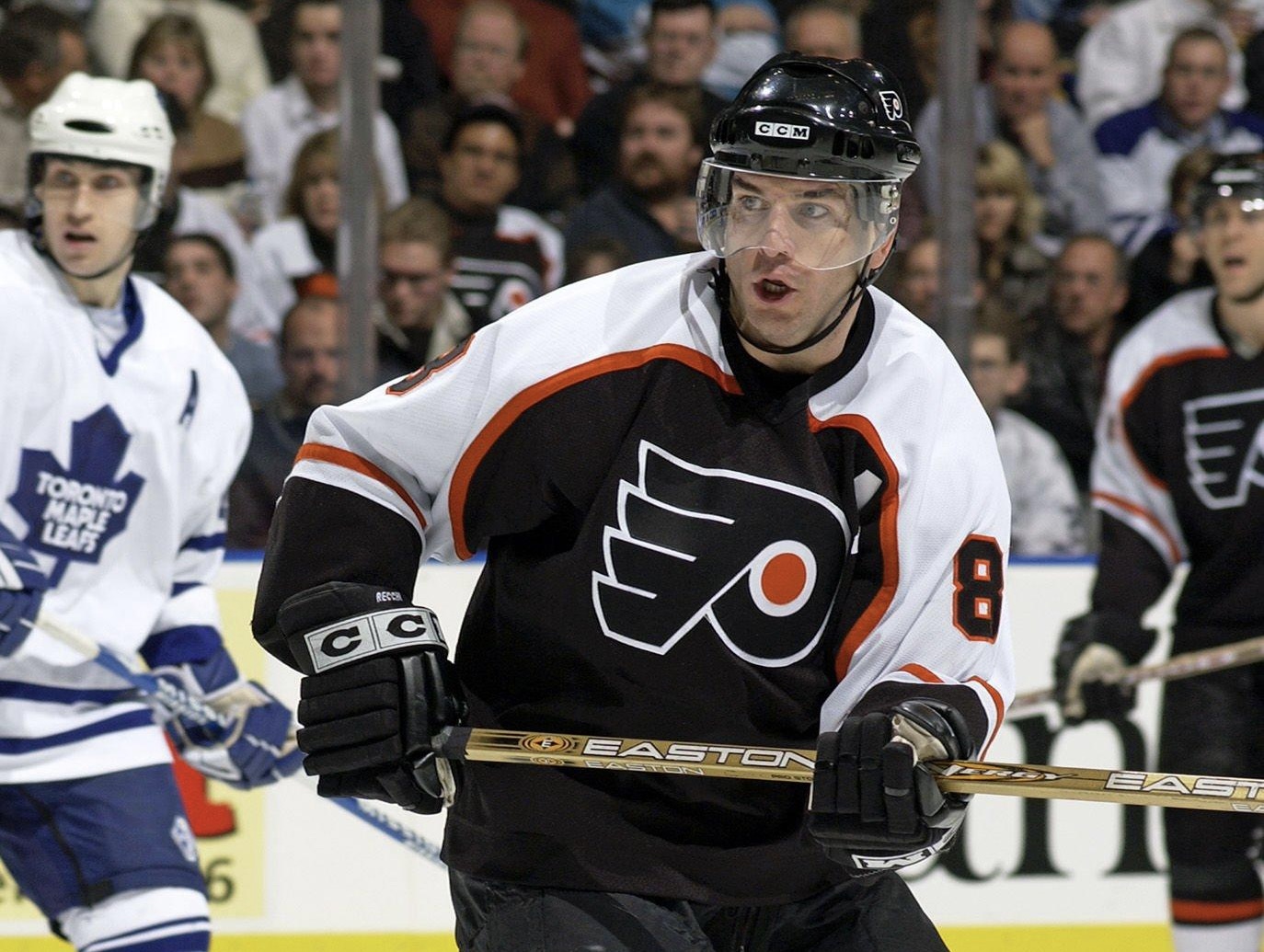 It has felt like a long time coming, but the Philadelphia Flyers have announced that they will be inducting former foward, Mark Recchi, into the Flyers Hall of Fame this season.
The induction ceremony will take place on the 27th of January when they play host to the Boston Bruins – a team that Recchi played for and incidentally won one of his Stanley Cups with.
Mark Recchi will join the #Flyers Hall of Fame! His induction is set for January 27th when Boston comes to town.

Recchi is one of two PHI skaters (Bobby Clarke) to have multiple 100+ point seasons and played 10 of his 22 NHL seasons in Philadelphia. pic.twitter.com/KQlIRx4Gqp

— Flyers Nation (@FlyersNation) September 14, 2023
Chairman and CEO of Comcast Spectacor as well as the Governor of the Flyers, Dan Hilferty issued the following statement:
"The Flyers Hall of Fame began with Ed Snider and our Flyers Alumni and has become so enriched to our organization that I am thrilled to see it grow with the induction of Mark Recchi.
"Mark's 10 seasons with the Flyers were very special to our franchise and to the Flyers community as he was a part of so many iconic historic moments. We are all looking forward to January 27 when we can solidify Mark in our proud history."
Newly-hired President of Hockey Operations, Keith Jones on the induction of his former teammate: 
"As a teammate of Mark's, I can ensure that no one deserves this exclusive honor more than him. January 27 will be an outstanding day for our franchise and for Mark and his family as we celebrate all his Flyers accomplishments."
And of course, the man of the hour, Mark Recchi himself:
"This is a tremendous honor and one I was not expecting to get the call for. My time in Philadelphia meant a lot, still means a lot, to me and I am very thankful to be the next inductee into the Flyers Hall of Fame. Thank you to Dan, Keith and the nomination and voting committees for this opportunity. I look forward to sharing this memory with my family, the fans, fellow Flyers Alumni and the entire Flyers organization."
Recchi was originally drafted by the Pittsburgh Penguins in 1988 but was then traded to the Flyers in 1992 – a year after he had won his first Stanley Cup. He was brought over in a deal that sent Rick Tocchet and Kjell Samuelsson to their cross-state rival and paired the newly acquired Recchi with Eric Lindros.
In his first stint with the Flyers he scored 105 goals and 262 points in 190 games across parts of 4 seasons. In his first full season he scored 50 goals and 123 points in 1992-93 – which is still a franchise record for most points in a season – and then tallied 40 goals ad 107 points the next season. He was traded to the Montreal Canadiens at the beginning of the 1994-95 season for Eric Desjardins, John LeClair, and Gilbert Dionne.
Recchi would make his return to Philadelphia during the 1998-99 season for Dainius Zubrus and a bevy of picks. From 1998-99 to 2003-04, Recchi scored 127 goals and 365 points in 402 games across parts of 6 seasons. He paced the league in assists with 63 in 1999-2000, led the team in points in 1999-2000, 2000-01, and 2003-04, while finishing in the top-3 in the other years.
Across 2 tenures, 3 trades, and parts of 10 seasons, Recchi scored 232 goals and 627 points in 602 games. In 6 postseason trips with the club, he added 19 goals and 39 points in 65 games.
In terms of his franchise rankings, Recchi is 20th in games played, 12th in goals, 6th in assists, 9th in points, and 6th in points per game.
For his entire career, one that spanned 22 years with the Pittsburgh Penguins, Philadelphia Flyers, Montreal Canadiens, Carolina Hurricanes, Atlanta Thrashers, and the Boston Bruins, Recchi scored 577 goals and 1,533 points in 1,652 games with 3 Stanley Cups to his name. He won 2 more Stanley Cups as a member of the front office in Pittsburgh in 2016 and 2017 and was inducted into the Hockey Hall of Fame in his 4th year of eligibility in 2017.
Recchi will be joining an exclusive list of franchise greats in:
1988 – Bob Clarke and Bernie Parent
1989 – Bill Barber, Ed Snider and Keith Allen
1990 – Rick MacLeish and Fred Shero
1991 – Barry Ashbee and Gary Dornhoefer
1992 – Reggie Leach and Gene Hart
1993 – Joe Scott and Ed Van Impe
1994 – Tim Kerr
1997 – Joe Watson
1999 – Brian Propp
2001 – Mark Howe
2004 – Dave Poulin
2008 – Ron Hextall
2009 – Dave Schultz
2014 – Eric Lindros and John LeClair
2015 – Eric Desjardins
2015 – Rod Brind'Amour
2016 – Jimmy Watson
2021 – Paul Holmgren and Rick Tocchet
2024 Stadium Series Trip
Flyers Nation and Philly Sports Trips have teamed up to bring you on an amazing bus trip to the 2024 NHL Stadium Series between the Flyers and Devils. Place an early deposit to reserve your spot at the ultimate tailgate experience at MetLife Stadium before the game. The package includes a game ticket, round-trip charter bus, an all-inclusive tailgate party with unlimited cold beverages, "Philly Style" catered food, live entertainment, and more.