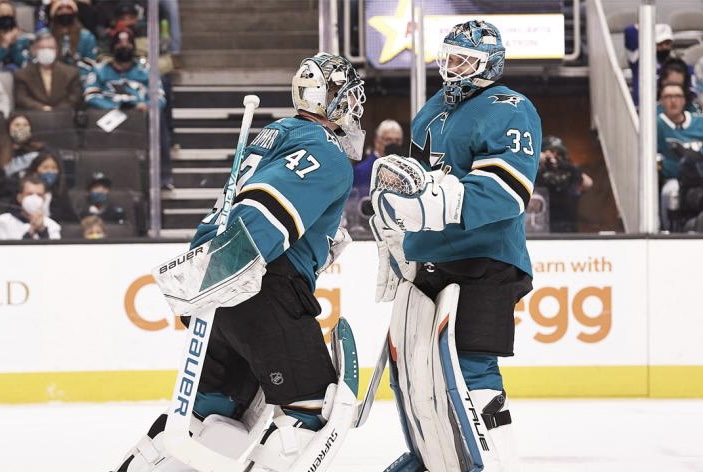 Could the Flyers peruse the trade market for a veteran backup goalie?
The Philadelphia Flyers' goaltending graveyard was supposed to come to an end with the arrival of Carter Hart and it seemed like that was coming to fruition with his first 2 seasons, but the last 2 years have been rough for a myriad of reasons, with not all – or much – being his fault. The defense in front of him has been atrocious, they haven't really improved their defense in the last 2-3 years, and the defensive schemes have been laughable at times as well. In saying all that, the goaltending that they have received hasn't been all that great either and with the season only a couple months away, the Flyers' goaltending situation has come into question yet again.
Hart is the undisputed number one goalie again, but it's the backup position that has continued to plague this organization, year after year. 2018-19 was the apex of goaltending problems in Philadelphia as they incorporated 8 goaltenders that season. Hart made his NHL debut and starred in 31 games, Brian Elliott was the most dependable backup they had as he appeared in 26 games, followed by 12 games from Anthony Stolarz, 11 games from Calvin Pickard, 7 from Michal Neuvirth, 4 from Cam Talbot, 2 from Alex Lyon, and 1 from Mike McKenna.
Hart was the pick of the litter with a 16-13-1 record but a sparkling .917 save percentage for a team destined for the basement of the league. Elliott was 11-11-1 with a pedestrian 2.96 GAA and a decent .907 SV% all things considered. However, the rest of the pack were all tough to watch as the Flyers slumped to a team save percentage of .900 and a 3.24 GAA. Hart was ready to take the stage and the following season the Flyers incorporated only 3 goaltenders as Brian Elliott became the "dependable" veteran backup that Alain Vigneault loved to over-play, and Alex Lyon appeared in 3 games as well. The Flyers kept the same trio for the following season as well but the wheels fell off completely as the team collectively slumped to an .884 SV% and a 3.35 GAA.
Hart has dealt with his fair share of injuries in the last few seasons, including two of the season-ending variety. For the Flyers to have any consistency this year and to have any semblance of success, they're not only going to need Hart to bounce back, but they're going to need him to remain healthy and appear in at least 55-60 games. The backup goalies have been overused and overplayed in Philadelphia, whether that was a coaching decision or an injury-related decision, it doesn't matter. The current situation in goal requires the Flyers to use their backups as little as possible as Troy Grosenick and Felix Sandstrom each have 4 and 5 games of NHL experience under their belts, respectively.
Grosenick is the veteran depth signing the Flyers made on the first day of free agency but it appears that he will be battling for the backup spot alongside Sandstrom. Ivan Fedotov was poised to take the mantle after his successful KHL campaign but he was detained for trying to evade military service in his native Russia, so he won't be available for at least this upcoming season. Hart appeared in 27 of the 56 games in the 2020-21 season before getting hurt in the final month and then he appeared in 45 of the team's full 82-game campaign last season. If he goes down with an injury again, are the Flyers, who believe they are going to be battling for a playoff spot this year, really going to roll the dice with an inexperienced tandem of Grosenick and Sandstrom?
Unfortunately, they don't seem to have a choice and Grosenick does have a rather successful AHL career under his belt, but he only played 2 NHL games in 2014-15 and then another 2 in 2020-21. Sandstrom on the other hand, finally made his NHL debut last season and played quite well in his limited appearances, which makes the decision not to trade Martin Jones at the trade deadline that much more questionable. Sandstrom should've been given more reps but the Flyers opted to keep Jones even though they knew they weren't going to re-sign him at the end of the year.
They also have cap constraints yet again as, according to CapFriendly, the Flyers are $2.523 million above the projected cap space of $82.5 million. That however, doesn't include the likely LTIR addition of Ryan Ellis, which will alleviate $6.25 million off their books, giving the Flyers a shade above $3.7 million to work with. Of course, his return to the lineup would further complicate their already complicated salary cap, however it is almost a foregone conclusion that he won't be back any time soon, let alone this season. He has been out of the lineup since November after only making 4 appearances last season, he opted out of surgery all season, and the Flyers and Ellis came to the conclusion that he would rehab without an operation but he has yet to start the bulk of his rehab training and we are in the middle of August.
General Manager, Chuck Fletcher, alluded to the LTIR addition during his press conference at the end of the first day of free agency by saying that he is still holding out hope for his impending return and he won't make a move any time soon. Nevertheless, assuming that he eventually does get placed on LTIR, should and could the Flyers make a move to shore up their backup position?
The pickings are slim to none right now as the only viable name on the free agent market right now is Braden Holtby. He was a Flyers target last year before they opted to sign the recently-bought-out Martin Jones. Holtby had indicated that he didn't want to play in the Eastern Conference, so a union between Hart and Holtby was out of the cards almost instantly. He opted to sign with the Dallas Stars, played in 24 games, had a record of 10-10-1 with a .913 SV% and a 2.78 GAA before hitting LTIR. It is has been reported that he could very well miss the entire 2022-23 season and therefore might be retiring, leaving the only viable name on the market as a non-target.
There is one team that is more than willing to trade an NHL roster goaltender and that team is the San Jose Sharks. They made a trade for Kaapo Kahkonen at the trade deadline for Jacob Middleton and all signs are pointing towards Kahkonen being the starter and the one safe from the block, leaving James Reimer and Adin Hill potentially being targets for the Flyers. Both goaltenders have one year left on their contracts before they become free agents as Reimer would count towards the cap at $2.25 million and Hill at $2.175 million.
Reimer was another possible target last year when he was a free agent and in fact he was a really popular choice but the Flyers decided not to even pursue his availability as they wanted to give the Jones-Dillabaugh experiment another go. He is a 12-year veteran, who spent half his career with the Toronto Maple Leafs before making pit stops in Florida, Carolina, and San Jose. In 207 games with the Leafs he was 85-76-23 with a .914 SV% and a 2.83 GAA, in 123 games with the Panthers he was 53-42-16 with a .912 SV% and a 2.85 GAA, in 47 games with the Hurricanes he went 29-11-4 with a .910 SV% and a 2.66 GAA, and his most recent season with the Sharks he went 19-17-10 with a .911 SV% and a 2.90 GAA. Outside of his backup role in Carolina, he was never really apart of a strong team but his save percentage is indicative of his talent as he holds a .913 SV% for his career.
Adin Hill spent his first 4 years in Arizona where he appeared in 49 games and went 19-21-4 with a .909 SV% and a 2.79 GAA, which all things considered is pretty good for a very bad Arizona team. He was acquired by the Sharks in the summer of 2021 due to expansion draft considerations for a second round pick in 2022. In his lone season in San Jose, he went 10-11-1 with a .906 SV% and a 2.66 GAA but it's a little surprising that he's already on the trade block, however Kaapo Kahkonen in under contract for the next 2 seasons and the Sharks are effectively in a rebuild. Hill is only 26 years old compared to Reimer, who will be 35 in March.
The Vegas Golden Knights might be more in a position to acquire one of the two compared to the Flyers as they just recently announced that Robin Lehner is set to miss the entire season. With his cap savings from an impending LTIR move, acquiring either goaltender will be very easy for them and of the utmost importance as they currently have Logan Thompson and Jiri Patera as their 2 goaltenders behind the injured Laurent Brossoit.
It probably won't cost the Flyers too much to acquire either goaltender and they would both prove to be better options than Grosenick and Sandstrom. However, the Flyers have alluded to their cap woes all summer long, stating that is why they were so quiet this off-season and not able to make any substantial moves. They are hesitant to putting Ryan Ellis on LTIR so a trade for either goaltender seems like a crapshoot at the moment but if the Flyers were serious about this season and more serious about winning games then trading for either impending UFA goaltender would be a smart move. The Sharks could retain some salary but their cap hits are pretty low to begin with. A Hart-Reimer or a Hart-Hill tandem sounds a lot better than anything they currently have and Reimer has proven to be a dependable veteran backup goalie in the past, which is always something the Flyers love to have.
The Flyers believe they are a playoff team, they believe they're in for a stabilizing season, and they want results as quickly as possible. If we are operating on that train of thought, a move of this magnitude makes a lot of sense; just something to think about.