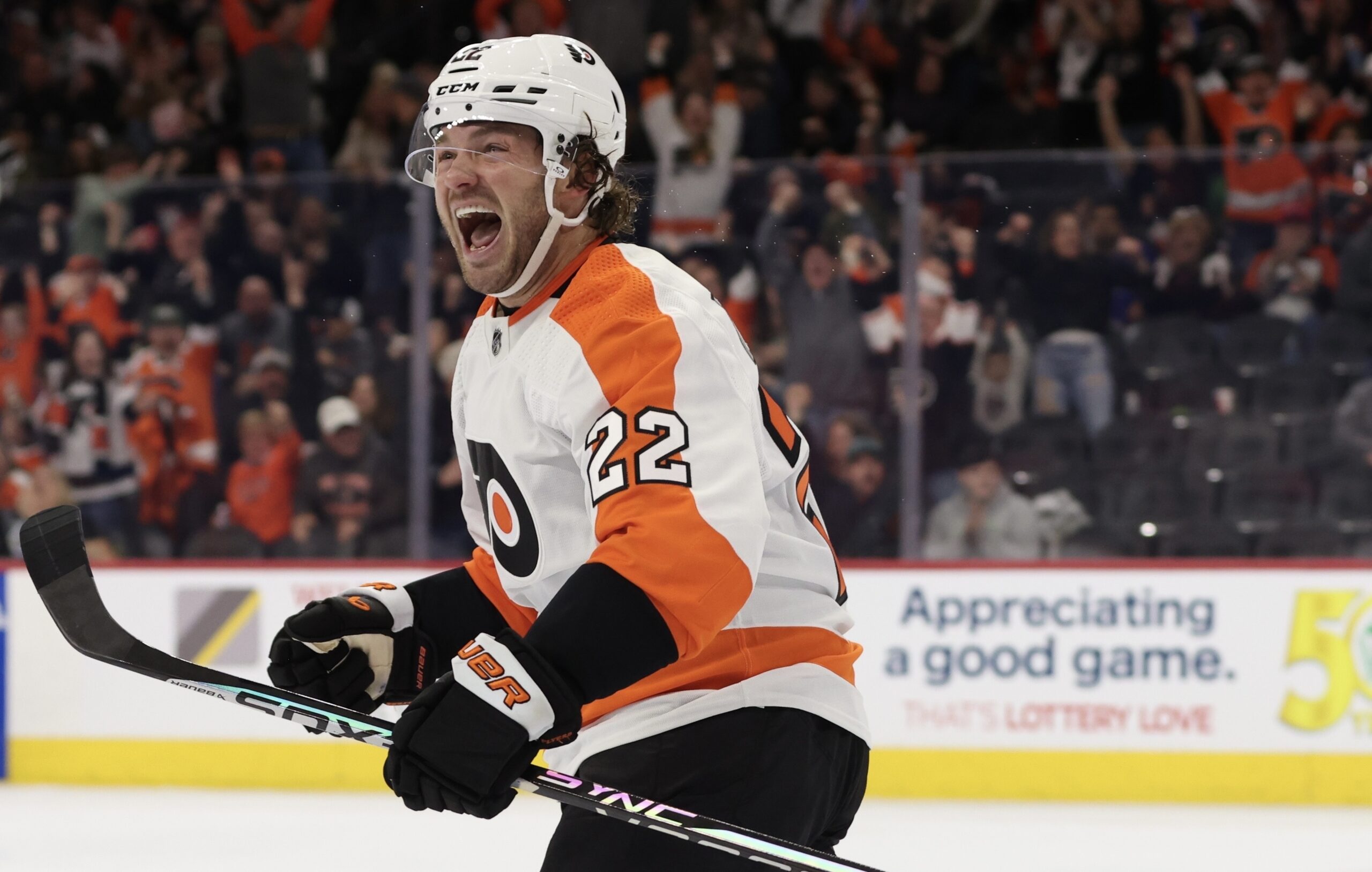 The trade deadline for the Philadelphia Flyers ended in despair, but ultimately it turned out to be a beacon of hope.
The Flyers were unable to trade James van Riemsdyk and Justin Braun to a playoff contender amidst trade rumours that circulated for weeks. After all the marquee names were off the board in quick order, van Riemsdyk jumped up everyone's trade boards with a week remaining. Weeks turned to days, days turned to hours, hours turned to minutes, and it seemed that Chuck Fletcher and company did the unthinkable: they kept the pending UFA, van Riemsdyk, in a lost season.
The doomsday clock was ticking, every minute becoming that much more precious, until the Detroit Red Wings came in at the 11th hour to save Fletcher for another month or two. Unfortunately, the trade was contingent on the Red Wings finding a suitor for a player of their own – which never came to fruition. James van Riemsdyk, a veteran of over 900 games, was not traded and will remain a Flyer until the end of the year.
Things were already not rolling in Fletcher's favour before that March 3rd deadline. The fans of the New York Rangers invaded the confines of the Wells Fargo Center during a nationally televised game on March 1st and took over the building.
All of the comparable players to van Riemsdyk were being dealt and all the teams that were previously interested were trading for those comparable players. It seemed that Fletcher had waited too long – which he ultimately did – as lesser players with lesser impact were being traded for exactly what the Flyers deemed to be van Riemsdyk's price of acquisition.
Out of all the hoopla, Fletcher came out for his press conference and pleaded that he exhausted all his options and figured out at the end that the market was "interesting". He had received 2 phone calls – one for another player – while he made 17 of his own. He had to convince other general managers that van Riemsdyk was still worthwhile and that he would be willing to retain half his salary. In the end, the Flyers traded Patrick Brown to the Ottawa Senators for a 6th round pick and Zack MacEwen to the Los Angeles Kings for Brendan Lemieux and a 5th round pick. A week later with the vitriol and anger reaching its boiling point, the Flyers fired Fletcher from both his posts and named Daniel Briere the interim General Manager.
Not much was expected out of Lemieux when he was acquired from the Los Angeles Kings. In fact, it was widely reported that Fletcher was only looking for a draft pick in return for the enforcer, but the Kings needed to make room money-wise and contract-wise, so Fletcher obliged, because what did the Flyers have to lose? They got a 5th round pick in the deal as well and that was seen as the coup-de-grace, however after yet another strong performance on Tuesday, Lemieux is impressing the right people in a contract year to boot.
The 27-year-old winger was drafted with the first pick in the second round of the 2014 NHL Entry Draft by the Buffalo Sabres. He scored 27 goals and 53 points in 65 games with 145 PIM for the Barrie Colts during his draft year, and then followed that up with 41 goals and 60 points in 57 games with 145 PIM the following year before splitting time with the Colts and Windsor Spitfires the following season, where he scored 32 goals and 62 points in only 45 games. He started his professional career with the Manitoba Moose in 2015-16, amassing 14 goals and 22 points in parts of 2 seasons from 2015-16 and 2016-17, and then he scored 19 goals and 43 points in a big 2017-18 with 170 PIM.
At the NHL level with 3 different teams – Winnipeg Jets, New York Rangers, and Los Angeles Kings – he played a combined 257 games, scored 31 goals, and 63 points with 463 PIM. His career-best came in 2019-20 with the Rangers when he appeared in a career-high 59 games, scored 6 goals, and added a career-best 12 assists and 18 points with 111 PIM.
This year with the Kings, he suited up in 27 games, scored 0 goals and added 3 assists with 53 PIM to boot. He missed 23 games with a lower-body injury that spanned from the 12th of November to the 23rd of December. He also became a healthy scratch at times before eventually being shipped out to Philadelphia.
After being traded to the Flyers, it was announced that Lemieux would essentially be given a 20-game tryout with his contract coming to a close at the end of the season. He pleaded for more ice time and game-time in Los Angeles but with the Kings in the thick of a playoff race, let alone a race for the division title, Lemieux had a tough time entering and remaining in the lineup. With the Flyers, that's hardly a problem with the injuries and lack of top-end talent, mixed in with another lost season and a head coach willing to play players who play with toughness, physicality, and a willingness to dig in – night in and night out.
Although it's a small sample size, in just 6 games Lemieux has shown a vast improvement from his time with the Kings, Rangers, and Jets. He has 2 goals and 5 points in 6 games, is averaging over 13 minutes a game, has delivered 21 body checks, and only just took his first penalties in the Orange and Black which turned out to be a fight, a 10-minute misconduct, and a 2-minute instigator with Radko Gudas.
Brendan Lemieux drops the gloves with Flyers legend Radko Gudas. pic.twitter.com/exthMCqrLv

— Ryan Quigley (@ryanquigz) March 22, 2023
The fight was bound to happen as both players were yapping, slashing, and pushing all game.
It also probably didn't help Gudas that Lemieux stripped him of the puck before setting up Travis Sanheim for the 2nd goal of the game.
Sanny elevates and strikes. #FLAvsPHI | @sanheim17 pic.twitter.com/MuacDwImO3

— Philadelphia Flyers (@NHLFlyers) March 22, 2023
He didn't receive an assist on the play, but Lemieux then intercepted another puck in the offensive zone before handing it over to Morgan Frost, whose pass was deflected by Tyson Foerster on its way to Ivan Provorov for the 5th goal of the game.
Provy's pouring it on. 🔥🔥🔥#FLAvsPHI | #FueledByPhilly pic.twitter.com/2P1hK9Fdfq

— Philadelphia Flyers (@NHLFlyers) March 22, 2023
His impact was felt against Carolina on Saturday as well when he countered from the defensive zone before feeding it to Frost, who set up Foerster for his first-career goal.
The first of many.

Congrats, @tfoerster8! #CARvsPHI | #FueledByPhilly pic.twitter.com/gEWY2cvB8U

— Philadelphia Flyers (@NHLFlyers) March 18, 2023
He then scored what was going to hold up as the game-winning goal in the third period when he went hard to the net after Frost had knocked down a puck from behind the net. He had an open cage to shoot after Freddie Andersen's gaffe for his second as a Flyer and incidentally his second of the season.
Comeback complete. Let's finish it. #CARvsPHI | @blemieux22 pic.twitter.com/ubZRQmIsqD

— Philadelphia Flyers (@NHLFlyers) March 18, 2023
Lemieux won't be a difference maker every night, his role will be relegated to bottom-6 duties with a healthy lineup, and sometimes his penalties will be boneheaded and costly. However, a player of his ilk, motivated and hungry, can and will be a proven and worthy commodity for the Flyers moving forward, even during a rebuild. You need to fill out your roster and lineup, he's still only 27 years old, and plays the type of game that Tortorella loves. His current cap hit of $1.35 million isn't egregious and he very well might come at a lower cap hit in the summer.
The Flyers are a mystery as to what they plan on doing in the summer. You still hear about Kevin Hayes, Ivan Provorov, and Travis Konecny being traded, Travis Sanheim's name has joined the fray, and even Carter Hart has been mentioned. James van Riemsdyk will most likely not return and the core of Noah Cates, Owen Tippett, Morgan Frost, and Joel Farabee will be united with the eventual returns of Cam Atkinson and Sean Couturier. That leaves young players like Tyson Foerster, Bobby Brink, Elliot Desnoyers, and maybe even Cutter Gauthier to battle for the remaining spots. Depth is always important, no matter the state of your franchise, so Lemieux being brought back on a one-year deal isn't the farthest reality. It just has to make sense to the two men in charge of the decision making and setup of the roster in Daniel Briere and John Tortorella.
So far so good, I've liked what I've seen from Lemieux and he's putting his money where his mouth is. He said he wanted more ice time, he said he would do better if given the opportunity, and that he wanted a change of scenery. He has been given those opportunities and he has played very well with players like Morgan Frost, Tyson Foerster, Joel Farabee and James van Riemsdyk.
After a disappointing trade deadline, at least there's been one silver lining – no matter the size or the magnitude – and his name is Brendan Lemieux.