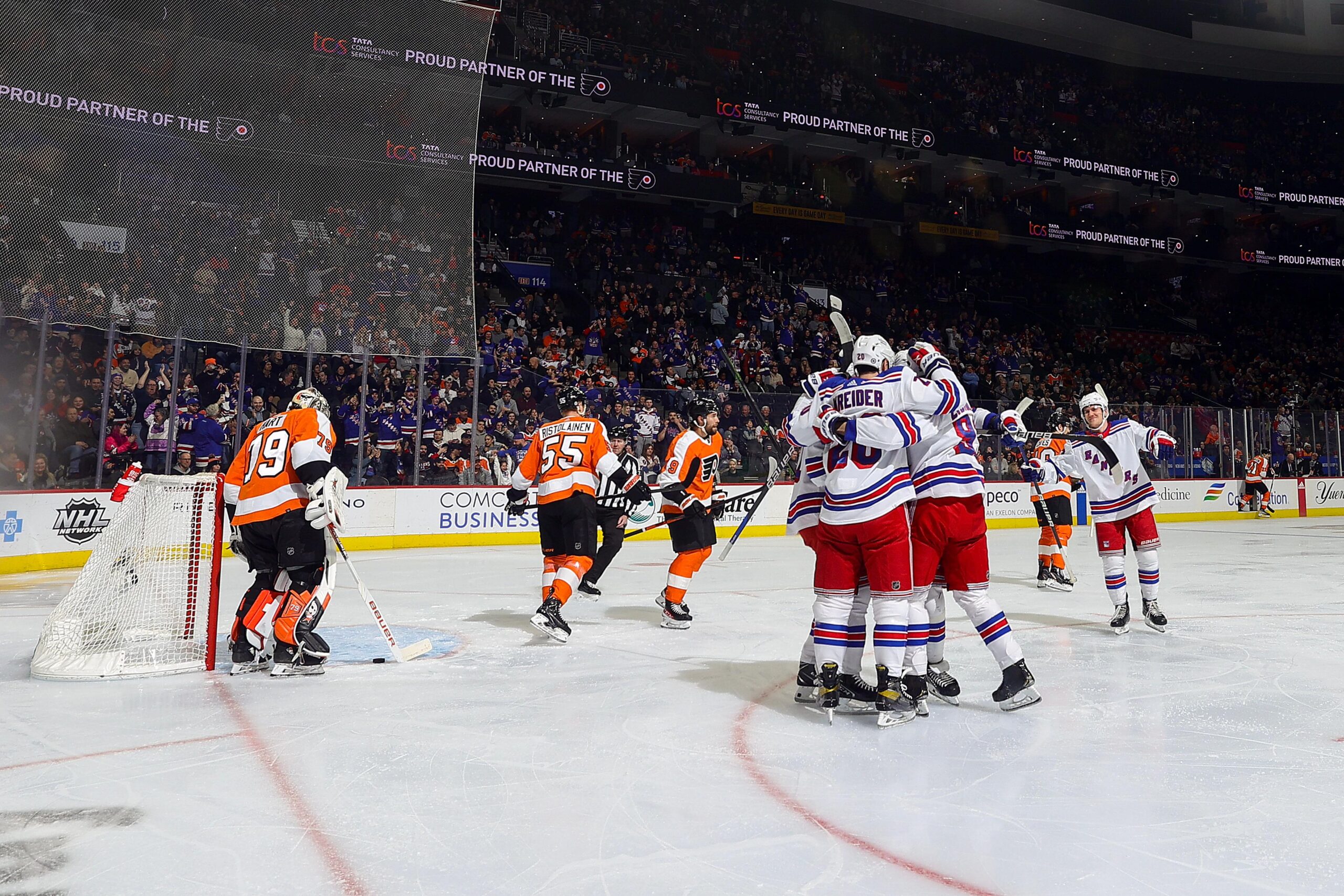 Rangers Faithful Invading Wells Fargo Center is a Blessing and a Curse, Will Continue to Happen if Changes Aren't Afoot
Last night's defeat to the New York Rangers would've been old news – if it wasn't for the raucous cheering, chanting, and sea of Blue that was visible even while watching from home.
In all my years as a fan I've never been this embarrassed to be in our own building. Fuck Comcast! They destroyed this team and culture! #SellTheTeam #Flyers pic.twitter.com/PQzRmpaQdt

— Traci Tooley (@TraciTooley0830) March 2, 2023
The Rangers faithful invaded the Wells Fargo Center last night and made their presence known from puck drop all the way to their eventual game-winner in overtime. Every time the Rangers scored or even did anything worthwhile, the immense cheering made you forget that they were playing a home game in Philadelphia, which brings us back to the fact that Comcast and the Philadelphia Flyers' front office have a lot of work on their hands if they're ever going to mend the fences with their own fanbase.
As a Flyers fan, it was embarrassing. The nationally televised broadcasting crew had a field day when it came to the Rangers chants, and if this is something that doesn't open the eyes of the ownership group, then the Flyers are going to continue to sink further and further down – which seems impossible but that's what we thought back in 2020, and then again in 2021, and then again in 2022. Head coach, John Tortorella, had a very poignant comment after the game last night that at the very least should ruffle a few feathers in the front office, considering it's your head coach that's saying it.
"We make our own bed. We need to get this the right direction where maybe someday those tickets are hard to come by. Don't blame anybody else, blame us. This is what we've made here. Hopefully along the way we get this turned around. I'm not blaming the fans; I'm not blaming anybody else except us in the organization. We make our own bed here, and where we're at. It's up to us to get out of it."
Once again, the head coach comes to the rescue with the front office radio silent. Tortorella hit the nail perfectly when he said you can't blame the fans, you can only blame "us". The Flyers have been a venerable organization since their expansion year. They missed the playoffs only 8 times between 1967 and 2012, which included 5 consecutive seasons in the late 80s to early 90s. They held the 2nd-highest winning percentage in NHL history if you discount the Vegas Golden Knights who've been around for 6 years – compared to the Flyers who have been around for 56 – and they were always in the thick of a playoff race. The idea of missing the playoffs was never in our minds before, we were always thinking about the Conference Finals or even the Stanley Cup Final, we used to win divisions, we used to win conferences, we used to advance past the first round, we were exciting. The arena was loud, it was deafening, opponents hated coming to Philadelphia, it was raucous, sometimes you wouldn't be able to find tickets. This is what we have lost in the last decade and a half.
The Flyers aren't even a thought in their own city. The Philadelphia Eagles were in the Super Bowl, the Philadelphia Phillies were in the World Series, the Philadelphia Union were in the MLS Cup Finals, and the Philadelphia 76ers are currently the 4th-best team in basketball. The Eagles have exciting young talent in Jalen Hurts, A.J. Brown, and DeVonta Smith. The Phillies have Bryce Harper, J.T. Realmuto, and just signed Trea Turner to a mammoth contract. The 76ers have an MVP candidate in Joel Embiid and a scary duo when you add James Harden to the mix. The Flyers? They have gone 73-97-30 in the last 2+ seasons, they have nothing even close to top tier talent, nothing to really hang your head high on, and possess a bleak future that might not reap any rewards until the late 2020s-early 2030s – at least with how things are being down currently.
Last night was a debacle, an embarrassment, and quite honestly most Flyers fans are probably glad it happened in the first place. Everything they've done up until this point hasn't worked, so maybe now, with national and local media focusing on it, it might lead to some changes. The brown paper bags didn't do anything last year, the attendance numbers were essentially fudged, and when you watched a Flyers broadcast they made sure to avoid the empty spots of the Wells Fargo Center and focused on the areas that had the most fans present. The number of tickets sold might've been in the 16-17,000s but for those who were present – either as fans or media members – they could tell you that it was probably closer to 8-10,000. They tried diverting your attention from the on-ice product to the concession stands and all the new attractions within the confines of the Wells Fargo Center. Then pounding the table saying changes were afoot ahead of the draft and free agency frenzy.
Flyers fans have had enough, it has somehow gotten worse when you truly thought that was not even possible, and the organization has remained silent through it all. I have watched almost every game since 2006 and it's gotten to the point where I watch stone-faced, never cheering, never jeering, and losing interest by the year, which is the sentiment shared by most – if not all – of the fanbase. As fans, we obviously want what's best for the team and in short order, but things have gotten so bad that we're begging for the smallest of changes, yet those aren't even being met. Telling the fan base that we're "sellers", we're looking for young high-end talent, that we're focusing on getting better, and trying to shed salary is cheap talk when you can't execute.
For those who have started watching the Flyers from 2010 onwards, I sympathize with you since you were essentially ushered into the darkest period of Flyers hockey – which might sound like an exaggeration but when you look at their history, they have never been this bad with the exception of the late 1980s-early 1990s. They got eventually got Eric Lindros out of that mess, so if the Flyers get lucky enough to draft Connor Bedard, then a lot can be forgotten but that's more of a dream than a reality.
That has been the mantra of the team for the last few seasons and has been the mantra for practically the entire NHL. No one's trying to get older, teams aren't just offering young players for free, you have to go out and get them, yet trade after trade the Flyers aren't even apart of them. One trade has occurred during this trade deadline frenzy, and that was Isaac Ratcliffe being shipped out to Nashville for future considerations. You're essentially saying one thing and doing another, then wondering why the fans are irate and not showing up in bunches anymore. When you look around the league or if you tune in to any sports shows that talk about the Flyers, whether it be TSN, Sportsnet, CBC, ESPN, TNT, or local shows; no one has a clue on what's going on, and that includes the venerated sources like Elliotte Friedman.
As an organization that keeps losing, isn't qualifying for the playoffs, and don't have the brightest future, you would think a rebuild is at least in the process but they are up there with the contending teams in terms of salary cap, they have long term deals in place for the majority of players, and are wasting draft picks in an attempt to retool.
Something has to change, something's gotta give, and it starts with one move that should snowball into a flurry of moves. However, that seems like a pipe dream and with the Flyers sinking further into purgatory, expect more home games to be taken over by the visiting fans especially from nearby states.