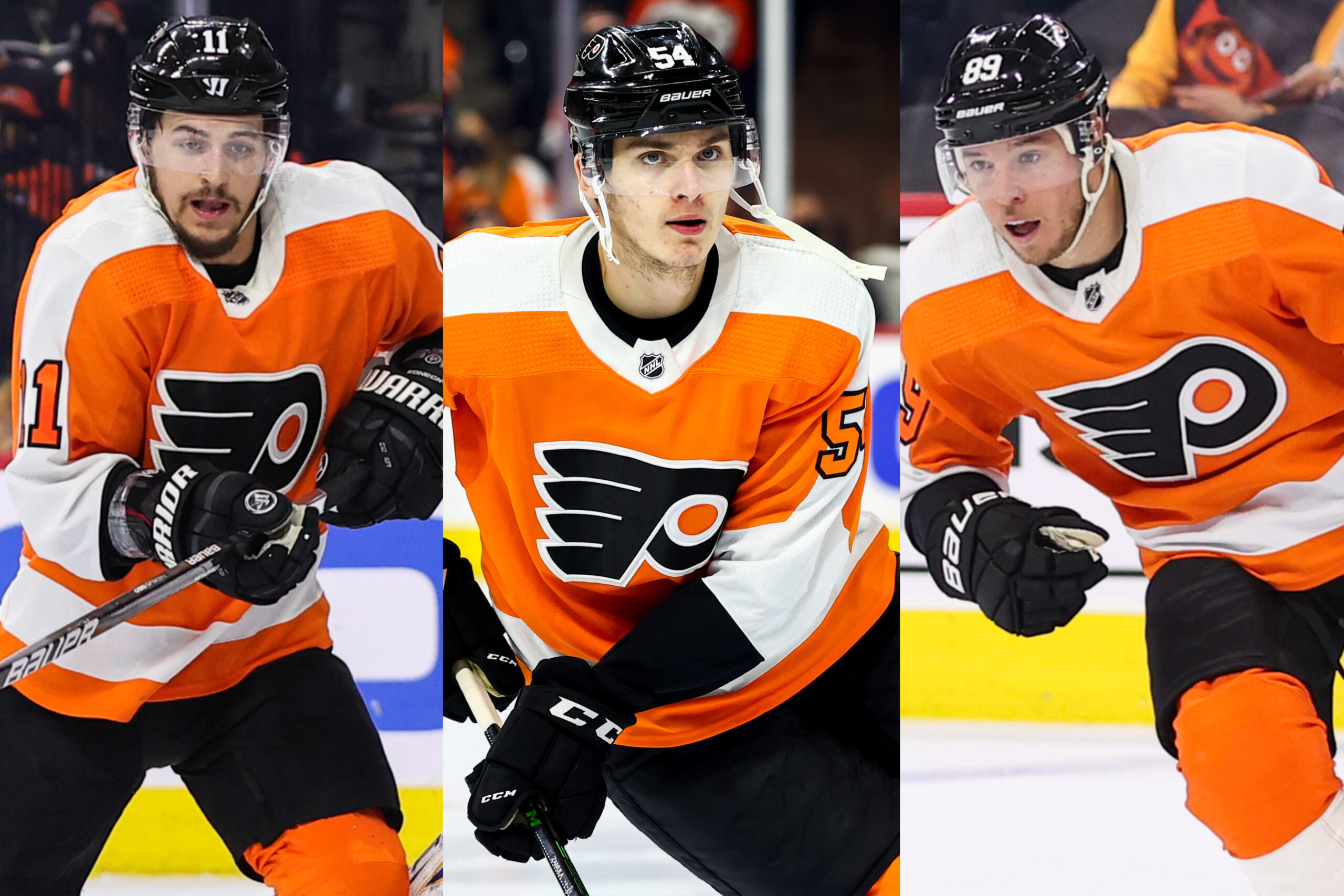 Atkinson Close to Returning, Konecny Placed on IR, Zamula Recalled
On the heels of a 10-game losing streak, the Philadelphia Flyers return home to the Wells Fargo Center for a 5-game homestand that starts this week with 3 games against the New York Islanders on Tuesday, the Tampa Bay Lightning on Thursday, and the New Jersey Devils on Saturday.
In the first leg of their home and home with the Islanders, the Flyers lost comprehensibly by a score of 5-2, dropped the gloves more times than they scored, and the game ended with a brouhaha after Alexander Romanov hit Kevin Hayes – cleanly – but it wasn't appreciated by Nicolas Deslauriers and Tony DeAngelo.
Trying to find the right combinations is a tough task for this coaching staff with so many key players injured and being stuck with plenty of grinders and bottom-6 options. At practice earlier today, the lines remained relatively similar with a few changes. Owen Tippett, Morgan Frost, and Kieffer Bellows represented the first line, Lukas Sedlak will get another opportunity with Kevin Hayes and Joel Farabee after their successful experiment on Saturday, Noah Cates will be in the middle of Nicolas Deslauriers and Zack MacEwen, and Max Willman, Tanner Laczynski, and Patrick Brown round out the 12 forwards and 4 lines.
On defense, the Flyers made a change as they recalled Egor Zamula from the Lehigh Valley Phantoms and he is expected to play tomorrow night in place of Justin Braun. The corresponding move took place after the Flyers placed Travis Konecny on injured reserve (IR) but retroactive to the date of his injury so he doesn't figure to miss an extended period of time.
Tony DeAngelo was absent from practice today in what was hopefully a maintenance day, and Scott Laughton and Jackson Cates were 2 of the 3 extras on the ice as they were accompanied by Cam Atkinson for the first time this season.
The Flyers have been mum in regards to Atkinson's injury, health, and designation as it first went from being a maintenance day to day-to-day to week-to-week to out indefinitely. He hasn't suited up this season but the Flyers announced that he is cleared for contact, but he won't play in tomorrow's game against the Islanders. He is very close to returning and there's a good chance we see the return of #89 this week.
His return would be welcomed by open arms and a breath of fresh air for a lineup devoid of offensive firepower. The 33-year-old is coming off a relatively successful campaign with the Flyers last year where he scored 23 goals and 50 points in 73 games – both of which were at the tops of the team's leaderboard before his injury and he was usurped by Travis Konecny and James van Riemsdyk in the final few games of the season.
It's been tough sledding for the Orange and Black since a surprising 5-2-0 start as they've dropped 13 of their last 15 and of course – as we all know too well – their last 10 consecutive games as a 0-7-3 record. Their schedule only gets tougher as they face the Islanders, Lightning, Devils, Colorado Avalanche, Washington Capitals, and Vegas Golden Knights in quick order. As the Flyers return to home ice, the "Fire Fletcher" chants will be on full display if things get out of hand against the top teams in the NHL.