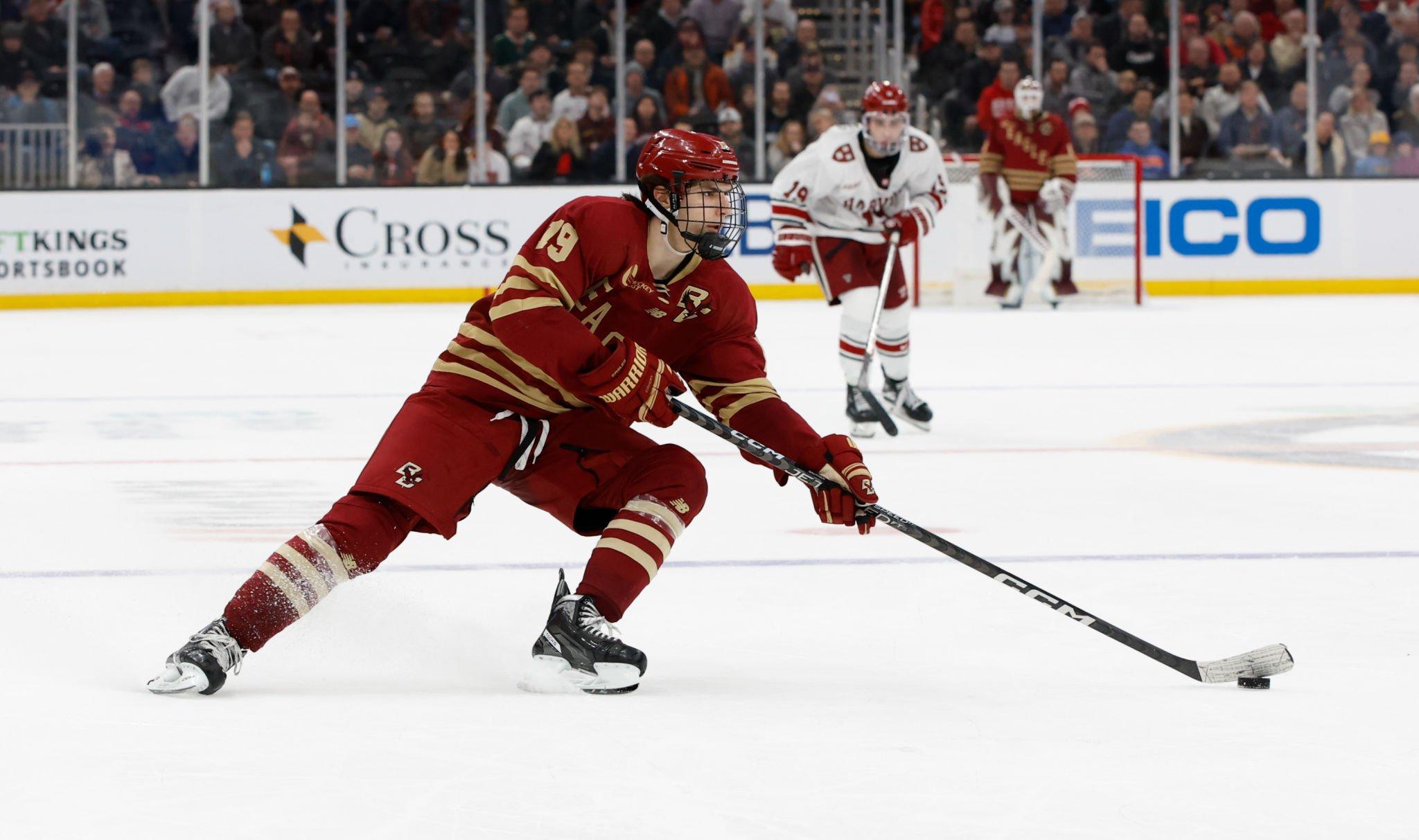 When Cutter Gauthier did not make his way to Philadelphia Flyers Development Camp this summer, it brought about a lot of headlines and assumptions that perhaps there was something amiss between prospect and team.
Some speculated that he was a little distraught that the Flyers didn't draft his fellow Boston College teammate in Ryan Leonard, others believed he was spurning the Flyers in general, while some rightfully pointed out the NCAA rules on their players' second development camp. Expenses have to come out of the player's pockets and it can't interfere with their summer schooling. This is on top of the fact that Gauthier had played quite a bit of hockey over the calendar year including his full NCAA season, World Junior Championships, and World Championships.
There was no real substance of information as to why he actually skipped out on the development camp from either the team or the player, but it was relatively known that he was looking to ease up a little before another hectic and busy season. Gauthier recently opened up and explained his side of the story.
"It was a little bit too much hockey after Worlds. It was just too much for me. I wanted time with the family. So, I figured it was best to stay home. After talking to (general manager) Danny (Brière), obviously it wasn't his favorite thing, but it was best for me.
"That's definitely the plan. After this year, hopefully we (Boston College) get done pretty late there in April with the group we have, but overall, that's the goal. I feel like I could play in the National Hockey League tomorrow, but my decision to come back for another year was lots of time and hours talking to family, talking to coaches and all that stuff for the best decision for me."
Gauthier did say the goal remains to play for Flyers after his college season: "That's definitely the plan. After this year, hopefully we get done pretty late there in April with the group we have, but overall that's the goal."

— Adam Kimelman (@NHLAdamK) July 30, 2023
As Gauthier rested up, he was named to the World Juniors Summer Showcase that involved 45 American hopefuls for the upcoming tournament at the end of December. He was placed on USA White and dominated yet again on the international stage. Gauthier was coming off the heels of a very successful World Championships with a team-leading 7 goals and was rather dominant against grown competition – regardless of the fact that some were from lesser playing hockey nations.
Here's the list of U20 players who have scored 7+ goals in the IIHF World Championships over the past 30 years

Cutter Gauthier (7, tourney still going)
Patrik Laine (7)
John Tavares (7)
Steven Stamkos (7)
Sidney Crosby (8)
Eric Lindros (11)

That's it

— Dan Silver (@dsilver88) May 25, 2023
Every U20 player to put up as many points as Cutter Gauthier at the World Championships in the last decade:

— Connor McDavid
— Auston Matthews
— Mitch Marner
— Sebastian Aho
— Patrik Laine
— Seth Jones
— Dylan Larkin
— Nico Hischier
— Juraj Slafkovsky

Pretty strong company. pic.twitter.com/OUzoopaFiC

— Big Head Hockey (@BigHeadHcky) July 13, 2023
This time around, he entered an international tournament with players his age and of course Gauthier was a force to be reckoned with. He scored 4 goals and added an assist as he went head to head with a group of young Swedes, Fins, and the other half of the American team:
Tony Ferrari of The Hockey News:
"When a player dominates and bullies his opponents in a summer tournament like Gauthier did at the summer showcase, you can't help but get excited to see what he will look like in mid-season form. Gauthier has been a force of nature, using his blend of physicality and speed to get to the inside, where his impressive shot becomes lethal.
Gauthier was already one of the Americans' best players at the World Juniors last year, and he may be in contention to be their leading scorer over the holidays this time around. Gauthier can play center or wing, which should make him one of the Americans' most versatile forwards when the powers that be select the final roster."
Cutter Gauthier, C/W (Philadelphia Flyers): A one of USA's key returnees, Gauthier's maturity and strength were noticeable in this event. He's confident and feels like he should be a dominant player, so he plays the game hard, fast and with plenty of skill. His scoring ability makes him a continual threat. But he really had that competitive edge here, too. There just aren't many puck battles he's going to lose and he can create in the blink of an eye when he does have the puck. Gauthier played both center and wing in the event and it didn't seem to matter which one he played. Either way, he made an impact on his team, with four goals and an assist in the tournament.
Naturally, Daniel Briere and company were upset that Gauthier didn't make the trip and why wouldn't they? He's a top prospect for the club and they want to see him in action in their own backyard, however it shouldn't be a cause for concern as Gauthier's excuse was legitimate. He had already participated last year, he played a full season with Boston College, played in the World Juniors, then jumped into the World Championships at the end of the season, and then had the Summer Showcase rolling in right before the 2023-24 season was set to begin.
Danny Briere on Cutter Gauthier declining invite to Developmental Camp:

"Cutter was invited he declined to come. We're assuming that is because he's played a lot of hockey with the World Championship, and lots of travel. We're not too worried about that."

— Jamey Baskow (@JameyBaskow) July 2, 2023
When he was originally drafted it came as a surprise to some because he wasn't on the radar for most of the season. He made a leap with about a week heading into the draft festivities and it was first noticed when Bob McKenzie had him going as high as 5th in his draft board. McKenzie said that teams between the 5-9 slot were enamoured with the fact that Gauthier was open to transitioning to the centre position and that made him jump over several other marquee prospects. The Flyers quickly jumped on the Gauthier-train and drafted him 5th overall and haven't looked back since. 
The 19-year-old had a terrific draft+1 season where he scored 16 goals and 37 points in 32 games for Boston College, added 4 goals and 10 points in 7 games at the World Juniors, 7 goals and 9 points in 10 games at the World Championships, and then 4 goals and 5 points in 4 games at the Summer Showcase. He should be heading into the 2023-24 season as a favourite for the Hobey Baker Award, which is handed out to the best collegiate player in the NCAA, and he will be teaming up with fellow first round picks in Will Smith, Gabriel Perreault, and Ryan Leonard.
The three finalists for the Hobey Baker Award last season in Adam Fantilli, Matthew Knies, and Logan Cooley will all be playing in the NHL for their respective clubs this season, which opens up a massive opportunity for Gauthier to become one of the most dominant players in 2023-24 on the collegiate scene. He has shown that he can play with guys his own age, he can play against grown competition, and he has not shied away from the international stage where there are far more eyes and the spotlight is a lot brighter.
Scott Wheeler also has him as the 13th-best prospect in the NHL heading into the 2023-24 season:
"Between a 10-point performance at the world juniors that somehow felt snakebitten, leading the Eagles in goals, assists and points as a freshman, and a darn good showing at men's worlds, Gauthier had an excellent post-draft season that positions him nicely to go two-and-done at BC and play in the NHL as early as next spring.
The appeal of his game and makeup has always been obvious. Gauthier's a net-focussed shooter who has worked to turn himself into a net-driven one, playing a more intentional game that knows what it is. On the puck, he uses inside-body positioning to get to the middle off the cycle or the rush. Off of it, he finishes his checks and looks to help his line get it back.
I wouldn't say he's a menacing power forward type, but he plays a very engaged, at-times imposing game. Gauthier's also a strong skater and despite his heavy skew toward shooting and goals, I find he sees the ice well, hits seams when they're there, and makes a lot of short plays as a passer off the wall (including off his backhand). His greatest strength is his catch-and-release. He can sling it. I do think he shoots a bit too much (a lot of his shots miss the net or are taken from low-percentage areas), but that's a worthwhile tradeoff. He's got a readymade, projectable game and can put the puck in the net.
I fully expect Gauthier to be an impactful NHL player and scorer, and he convinced me more and more as this season progressed that he might have star quality as well. I was a little less sure of that last outcome than most scouts during his draft year, but I'm right there with them now."
Where do Adam Fantilli, Logan Cooley, Leo Carlsson and other top drafted NHL prospects rank on Scott Wheeler's list?

— The Athletic (@TheAthletic) July 19, 2023
With Matvei Michkov also trying to transition to the centre position, the Flyers all of a sudden have two legit threats down the middle for years to come.
2024 Stadium Series Trip
Flyers Nation and Philly Sports Trips have teamed up to bring you on an amazing bus trip to the 2024 NHL Stadium Series between the Flyers and Devils. Place an early deposit to reserve your spot at the ultimate tailgate experience at MetLife Stadium before the game. The package includes a game ticket, round-trip charter bus, an all-inclusive tailgate party with unlimited cold beverages, "Philly Style" catered food, live entertainment, and more.