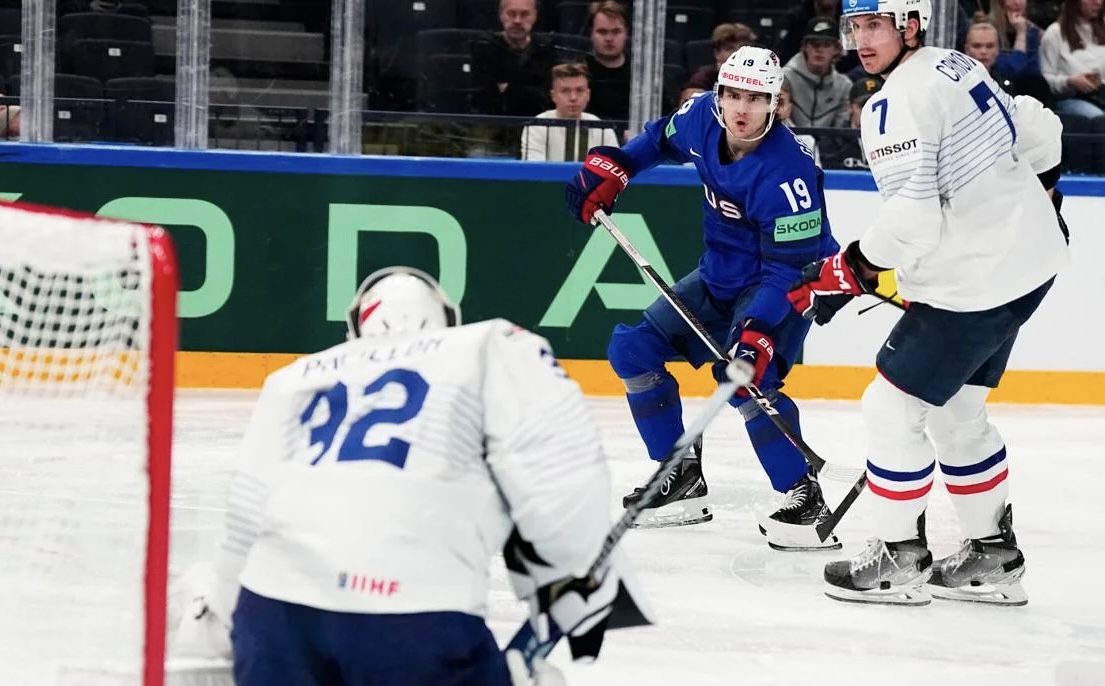 Midseason in 2022, many pundits, analysts, and insiders had Cutter Gauthier going somewhere in the middle of the first round of the NHL Draft with the upside of going 10th.
Most believed he was a good prospect and his range more or less was between 12th-15th. It was a weird draft to begin with because unlike other years, there wasn't really a consensus runaway top pick and the top-5 was going to be hazy, let alone the top-10. Shane Wright started to slip, Juraj Slafkovsky started to rise, David Jiricek and Simon Nemec looked as good as ready, and Logan Cooley was going to be a good consolation prize for whoever drafted 3rd or 4th.
The Philadelphia Flyers finished 4th-last but were bumped down a spot after the draft lottery with the New Jersey Devils leapfrogging from 5th to 2nd. Leading up to the draft, Slafkovsky's name was gaining a lot of steam and he ultimately went first overall to the Montreal Canadiens. The Devils then took Nemec, the Arizona Coyotes drafted Cooley, and the Seattle Kraken had Wright slip all the way to 4th. Jiricek looked destined to be a Flyer based on all the rankings and the mock drafts and considering the fact that the Flyers' depth on defense was lacking – but so was everything else.
However, a week before the draft, TSN's Bob McKenzie was one of the first to jump on the Gauthier train.
All of a sudden, the winger/centre hybrid was being talked about as a top-10 pick and could go anywhere between 5-8 depending on the team. The caveat was that he was willing to shift over to the centre position, which then enamoured a lot of teams, including the Flyers, who were – and still are – pitiful down the middle. At the time, Gauthier was seen as a high-risk-high-reward type prospect compared to the sure-footed Jiricek. The Flyers were willing to gamble on the fact that Gauthier could make the move to centre, while developing his shot and becoming a real 200-foot threat. One year later, it seems like that gamble has paid off in spades. He ultimately finished 3rd in the rankings for top North American skaters by the time he was drafted.
Chuck Fletcher and Brent Flahr were completely enamoured with the junior or minor circuits in the United States as they drafted 10 prospects out of either high school, the USHL, or the USNTDP program over their 4 years together.
Gauthier entered the USNTDP Juniors in 2020-21 where he scored 12 goal and 21 points in 32 games. In 44 games with the U.S. National U17 Team that year he scored 20 goals and 37 points in 44 games. Fast forward one year to his draft season and Gauthier registered 19 goals and 28 points in just 22 games, while potting another 34 goals and 65 points in only 54 games for the U.S. National U18 Team. To finish off a rather spectacular season, he scored 3 goals and 9 points in 6 games for the Americans at the U18 World Junior Championships.
After committing to Boston College for the 2022-23 season, Gauthier scored 16 goals and 37 points in 32 games, while chipping in with 4 goals and 10 points in 7 games at the World Junior Championships – where they ultimately fell to Team Canada in the semifinals.
With the Men's World Championships underway, Gauthier was named to the American roster and has been nothing short of spectacular playing against older and more grown players. He has 6 goals – including a hat-trick against France – and 7 points in 6 games, is a plus-9, and has 30 shots on goal, which is 8 more than 2nd-place Tyler Toffoli from Team Canada.
Cutter is more aggressive than ever before, he is shooting the puck at an increased rate, is getting more and more comfortable on the international stage, and with another year at Boston College coming up, Gauthier should be ready to take the reins in 2024-25 with the big club.
His shoot-first mentality is going to be a boon for the Flyers, who possess far too many players who pass the puck first and foremost. His hybrid role as a centre/winger is also extremely beneficial because if he can adapt down the middle, the Flyers will be more than happy with the influx of wingers they currently possess – Tyson Foerster, Bobby Brink, Elliot Desnoyers, as well as Joel Farabee, Travis Konecny, and Owen Tippett.
Some might – and already have tried to – discredit the success he's currently having right now in the World Championships because he's playing against lesser nations with lesser talent, however let's not forget that he's only 19 years old and he's already ascended the ladder in just one calendar year
Elite Prospects posted this in 2022 ahead of the draft:
"He's so good defensively, using his body well along the boards and in corners to win puck battles and move up ice. Offensively, he's incredibly efficient. The puck is on his stick and off his stick in transition, but he also recognizes when he has pockets of space to initiate offense himself. Gauthier is unafraid to drive the puck to the net and protects the puck nicely when he chooses to do so."
He has only added to his 200-foot, responsible, defensive repertoire. Now he is a full dual-threat player, has an amazing shot, can rifle it from the face-off dot, and has the offensive ability to match his overall game. The Flyers are going to have Foerster and Gauthier patrol the faceoff circles on the power play in short order with Cam York at the point to form a deadly umbrella. We just have to be patient and let their development continue with the Flyers entering a new era and a full-fledged rebuild.
It's an exciting time in terms of the pipeline and what the Flyers have down there. With another high pick, many have pegged them to draft Ryan Leonard this year with the 7th overall selection. Another member of the USNTDP, he has also committed to Boston College and will be playing alongside Gauthier in some capacity. The centre collected 51 goals and 94 points in 57 games for U.S. National U18 Team and then another 11 goals and 20 points in 17 games for the USNTDP Juniors of the USHL. On top of all that, he scored 8 goals and 17 points in just 7 games at the U18 World Junior Championships.
Gauthier and Leonard should pose as a deadly duo for years to come – for Boston College as well. With how Gauthier has developed in just one season, the Flyers' high-risk-high-reward draft pick has so far worked out for them like gangbusters, as Gauthier has showcased the kind of talent he is going to be in a few years time for Philadelphia.