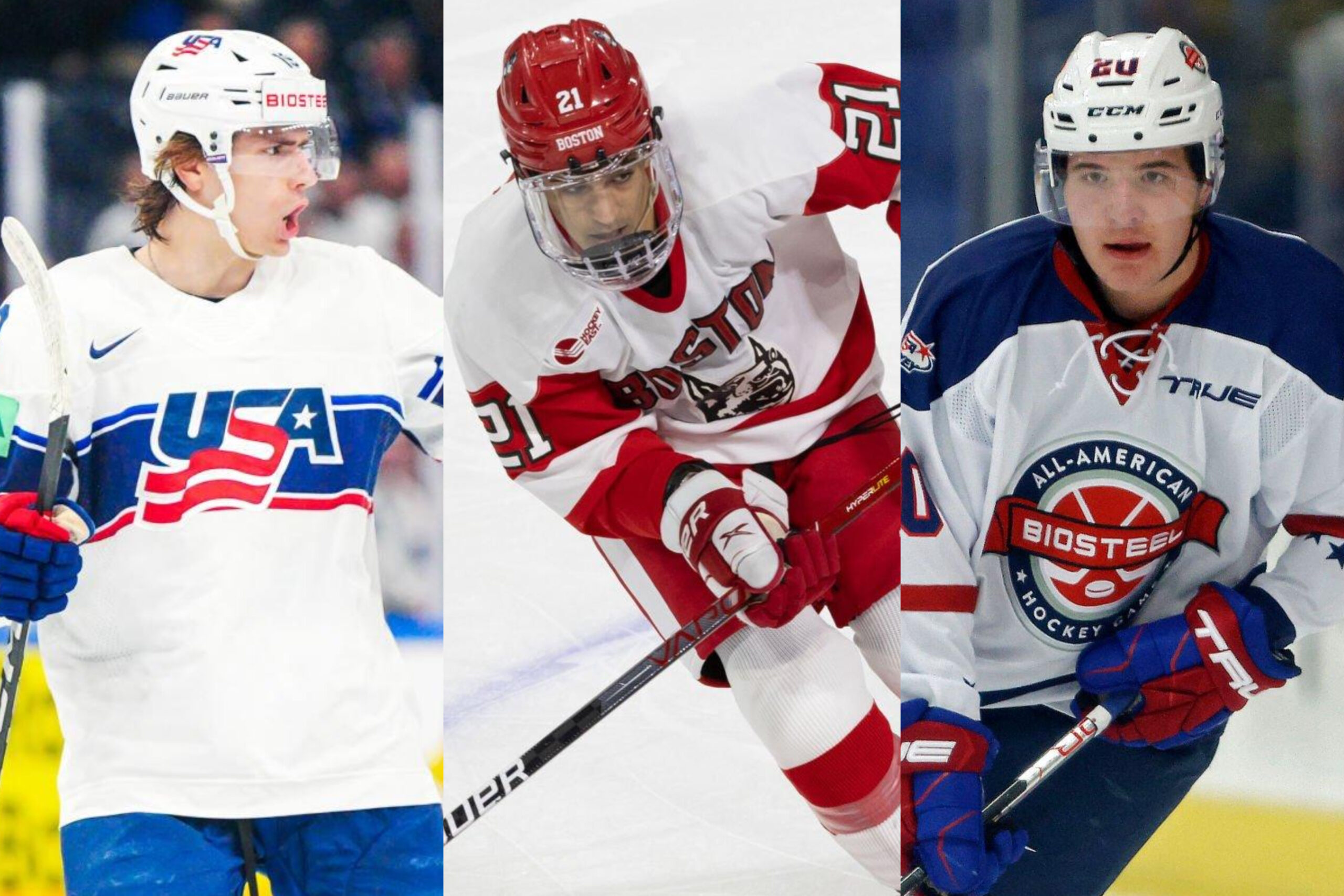 USA Hockey has unveiled their 45-man roster of players who will be attending the World Junior Summer Showcase, including a trio of Philadelphia Flyers prospects in their bid to make the team ahead of the tournament.
The World Juniors are set to begin in Sweden on the 26th of December. The Americans will have their team divided in 2 with a USA White and a USA Blue.
Amongst the 45 players invited to the showcase are a trio of prospects within the Flyers organization in Cutter Gauthier, Devin Kaplan, and recently drafted Cole Knuble. They will have the opportunity to make their case for the actual tournament by facing off against the Swedes, the Finns, and the other USA squad.
Gauthier and Kaplan have been assigned to USA White with Knuble being apart of USA Blue.
Cutter Gauthier is almost a household name on the international scene and he's yet to turn 20-years-old. He should have his name stapled onto the roster come Boxing Day barring an injury. The former 5th overall pick from the 2022 NHL Entry Draft partook in the most recent rendition of the WJC, where he scored 4 goals and 10 points in 7 games with the Americans finishing in 3rd place after defeating the Swedes in the bronze-medal match.
A few months later he was apart of the American team that was sent to the World Championships and the youngster excelled yet again with 7 goals and 9 points in just 10 games.
Every U20 player to put up as many points as Cutter Gauthier at the World Championships in the last decade:

— Connor McDavid
— Auston Matthews
— Mitch Marner
— Sebastian Aho
— Patrik Laine
— Seth Jones
— Dylan Larkin
— Nico Hischier
— Juraj Slafkovsky

Pretty strong company. pic.twitter.com/OUzoopaFiC

— Big Head Hockey (@BigHeadHcky) July 13, 2023
In his first season at Boston College, Gauthier scored 16 goals and 37 points in just 32 games and will be joined this season by fellow first rounders from the 2023 NHL Entry Draft in Will Smith (4th overall by the San Jose Sharks), Ryan Leonard (8th overall by the Washington Capitals), and Gabriel Perreault (23rd overall by the New York Rangers).
Boston College alumni who had fewer points than Cutter Gauthier in their D+1 season:

Johnny Gaudreau
Cam Atkinson
Kevin Hayes
Alex Tuch
Bill Guerin
Matthew Boldy
Chris Kreider

He also led Team USA in goals as a 19-year-old at the World Championships

He's pretty good pic.twitter.com/LhiWaSLGl5

— Big Head Hockey (@BigHeadHcky) June 20, 2023
Gauthier was firmly stapled as the top prospect within the pipeline until Matvei Michkov entered the conversation, nevertheless giving the Flyers a wicked 1-2 punch for years to come.
My annual top 50 drafted NHL prospects ranking is out @TheAthletic!

Featuring nearly 20,000 words of analysis, 77 honourable mentions, player tiers, and more.

The full list: https://t.co/lVibHuV1LJ

— Scott Wheeler (@scottcwheeler) July 18, 2023
A third round pick from the 2022 NHL Entry Draft and the second pick behind only Gauthier, Devin Kaplan will be looking to make his mark in the showcase, not just for Team USA but for the Flyers brass that will be watching. The Bridgewater, New Jersey native spent his first season in the NCAA with Boston University, scoring 10 goals and 23 points in 40 games.
Kaplan's draft season included 8 goals and 18 points in 22 games for the USNTDP Juniors of the USHL, 13 goals and 38 points in 53 games for the U.S. National U18 Team, and 6 points in 6 games for USA U18 at the WJC-18. The 6'2/198 lbs power forward spent most of this past season shuffling around the lineup at Boston University and is expected to gather a larger role in 2023-24.
Devin Kaplan is a really good prospect for those who don't already know#Flyers #FueledByPhilly pic.twitter.com/9tMwGtDcwH

— Flyers Clips (@Flyers_Clips) July 12, 2023
The 19-year-old has an outside chance of cracking the roster with several talented players in front of him – including the likes of Gauthier, Leonard, Smith, Perreault, Jimmy Snuggerud, Oliver Moore, Rutger McGroarty, and Chaz Lucius among others – but if he continues to show what he's made out of, he could earn himself a bottom-6 role in his first taste of the WJC.
Nice power type of move by Devin Kaplan on Wednesday. The 19-year-old forward is a 2022 third-rounder and coming off a 23-point freshman season at Boston University. pic.twitter.com/ES8ne2PfVH

— Jordan Hall (@JHallNBCS) July 6, 2023
Drafted in the 4th round of the 2023 NHL Entry Draft, Cole Knuble joins 11 fellow forward draftees at the showcase this year, being drafted the latest – which shows that he carries a little something special in his bag of tricks.
The 19-year-old went undrafted in his first year of eligibility, worked on his craft and honed in on what scouts said he had to perfect, and came out of the 2023 festivities with a familiar team as his father, Mike Knuble, had spent 4 seasons in Philadelphia between 2005-06 and 2008-09.
Cole scored 20 goals and 49 points in 62 games for the Fargo Force of the USHL in 2021-22 before improving to the tune of 30 goals and 66 points in 57 games this past season, including 6 goals and 9 points in 9 post-season games.
The showcase will be good exposure and great competition for Knuble who has committed himself to the University of Notre Dame ahead of the 2023-24 season. He's a bundle of energy, fairly physical for someone of his stature, has great vision, and is very responsible on and off the puck.
Taking contact along the wall from Chris Stewart, then a drop pass in the slot… Nice pass at the end by Cole Knuble. #Flyers pic.twitter.com/pVcxNOrjsN

— Maher Media (@MaherMediaCo) July 5, 2023
The first schedule will follow as such:
July 29:
USA Blue vs. Sweden (1 p.m. EDT)
USA White vs. Finland (4 p.m. EDT).
July 31:
USA Blue vs. Finland (7 p.m. EDT)
USA White vs. Sweden (7 p.m. EDT)
August 2:
Sweden vs. Finland (1 p.m. EDT)
USA White vs. USA Blue (4 p.m. EDT)
August 4:
USA Blue vs. Sweden (1 p.m. EDT)
USA White vs. Finland (4 p.m. EDT)