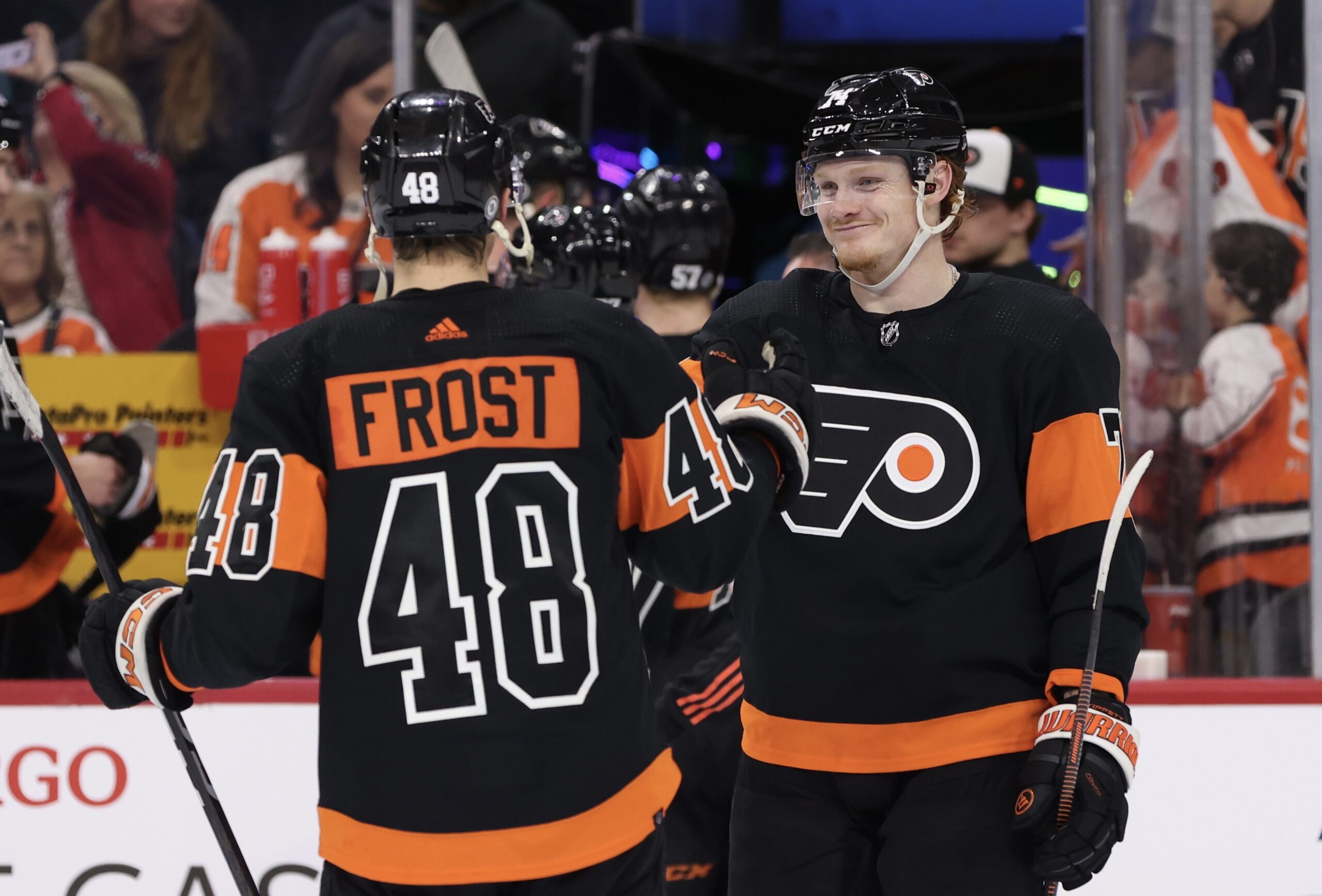 6 Pleasant Surprises for the Philadelphia Flyers as We Head Into All-Star Weekend
As we've hit the lull of the All-Star break, the Philadelphia Flyers have rounded into form after a disastrous middle stretch of 20 games that saw them win only 3 times. They have reached "hockey .500" with a 21-21-9 record and are currently 6 points out of the final Wild Card spot which is being held by the Pittsburgh Penguins. The Penguins have 2 games in hand on Philadelphia, so maybe the focus should be the Washington Capitals who are 9 points up on the Flyers but have played 2 more games. In any regard, they will need a hot start post-All-Star break to really make inroads with 4-5 teams still in the way.
John Tortorella's system finally took shape around the new year with a 10-4-2 record since the 29th of December. They have shown a real knack for beating the teams they should – with the exception of Chicago – while losing handedly to the top contenders, while sticking around with the middle bunch. With time to reflect on the first 51 games, we look at the pleasant surprises of the 2022-23 Philadelphia Flyers.
Rasmus Ristolainen and Nick Seeler developing into a dependable third pair
Rasmus Ristolainen has received a lot of flack since being acquired from the Buffalo Sabres. It was first the price of acquisition to acquire an expiring contract at the NHL Entry Draft, what they had to get rid of to just fit him on the roster, and then the extension rather than trading him at the deadline for a haul. His $5.1 million cap hit for the duration of 5 years didn't sit well with many and understandably so. He didn't show that value last season and it was a head-scratching move from a lost front office.
HIs 2022-23 season didn't start off particularly well but it wasn't as bad as his 2021-22 campaign either. He hit a bump in the road when he returned to the lineup after suffering an injury before the season opener. He was made a healthy scratch but then found himself paired up with Ivan Provorov on the top pair. That didn't last long as Ristolainen got exposed by playing against opponents' top lines, lengthy minutes, and hard shifts.
Trying to figure out what worked best for Provorov was at the forefront and Tortorella tried Cam York instead. That pairing has been a lot better than anything they've tried to date and in doing so it relegated Ristolainen to the third pair with Nick Seeler. That in it of itself turned out to be a blessing in disguise because not only has Ristolainen improved by a vast margin, but Seeler has also been playing very good and trustworthy hockey.
They have always said that a John Tortorella team is hard to play against, will bang the body, and block shots and that's exactly what he's been getting from Ristolainen and Seeler. The hulking Finnish defenseman is averaging a career-low 18 minutes a night but over his last 17 games, but he has 2 goals and 9 points, is a plus 6, has only taken 3 minor penalties, has blocked 33 shots, and has collected 28 hits. In his previous 27 games, he had 0 points, was a -6, and had committed 10 minor penalties. He has come up with late-game and timely blocked shots, whether on the penalty kill, at 5-on-5 even strength hockey, or with the goalie pulled.
Seeler was another player that failed to impress last season but I think we're slowly discovering that the Keith Yandle-effect took form for several players. Seeler is night-and-day different from his 2021-22 form and has actually broken his career-highs this year with 3 goals, 6 assists, and 9 points through his first 48 games. He is 4th on the team in blocks with 82 behind Provorov (122), Ristolainen (98), and Sanheim (86) but is averaging 9 less minutes a night than Provorov, 4 less than Ristolainen, and 6.5 less than Sanheim – which speaks volumes to his on-ice play.
Their presence is truly noticed on the penalty kill and after an uncharacteristically slow start with his points, Ristolainen has points in 5 of his last 7 games, scoring twice and adding 5 helpers. Their improved play has also lessened the load for Tony DeAngelo and Travis Sanheim, with the former having several costly turnovers along the way.
The bounce back seasons for Morgan Frost and Owen Tippett
Two forwards that desperately needed a bounce back performance this season were two recently signed restricted free agents in Morgan Frost and Owen Tippett. Both players were former first round draft picks that had great junior numbers but could never seem to make it on the big stage for one reason or another. For Tippett, when he was finally afforded an opportunity with the Florida Panthers, they were in a rare win-now mode and he was relegated to the fourth line before being traded ahead of the deadline. For Frost, he could never seem to stay healthy, he played just 2 NHL games in almost 2 calendar years, and then whenever afforded the opportunity – similar to Tippett – he could never seem to click on a consistent basis.
Frost entered the 2022-23 season after signing a one-year deal worth only $800,000 in the offseason, which was $13,750 less than Isaac Ratcliffe, and essentially half of what Tippett got with one less year. It was truly a make-it-or-break-it year for Frost and it didn't start the way he had hoped either. He scored 2 goals in their season opener but then slumped to the tune of 1 goal and 4 points in his following 26 games, while averaging 14:27 of ice time. His play was steadily improving and once John Tortorella formed the top line of Frost, Tippett, and James van Riemsdyk, things clicked almost instantly. He has 7 goals and 19 points in his last 23 games, averaging 16:49 TOI, and has played himself into a top-6 role and a power play specialist.
Tippett has been a fun revelation for the Flyers this season as he will always be remembered as the player the Flyers received in the Claude Giroux deal. He started off the season with 6 goals and 10 points in 13 games before going pointless in 7 when the team was in a horrific losing streak. Since then he has scored 8 goals and 18 points in his last 26 games alongside Frost and van Riemsdyk, and has shown a real knack for scoring key goals with his fiery wrist shot.
Frost and Tippett have each surpassed their career high in goals, assists, and points with 31 games still left on the season. Frost's previous highs were 5 goals, 11 assists, and 16 points in 55 games last year. To date, he currently stands with 10 goals, 15 assists, and 25 points through 50 games. Tippett scored 10 goals, 11 assists, and 21 points across 63 games last year with both the Panthers and Flyers. This year he has 14 goals, 14 assists, and 28 points in only 46 games. Their emergences are everything the Flyers had hoped for and James van Riemsdyk's return from a broken finger has played a huge role in their development.
The emergence of Noah Cates
One player that has received all the praise and admiration of John Tortorella is Noah Cates. Tortorella's reward system has worked heavily in Cates' favour as he is exactly what the head coach looks for in a young forward. He is responsible on and off the puck, he transitioned from wing to centre this year which was needed without Sean Couturier, and he plays in all situations.
Cates ended last year with the Flyers after signing his entry-level contract at the end of his collegiate year. He scored 5 goals and 9 points in 16 games and really impressed the Flyers brass with his hockey IQ – something everyone seems to mention when they talk about the soon-to-be 24-year-old. On the season he has 8 goals and 22 points, averages 17:38 of ice time, is a plus 5, has 4 game-winning goals, and 32 takeaways to 11 giveaways.
He started off the season with 3 goals and 9 points through 30 games but was playing a more defensive role in the top-6 of Tortorella's lineup. There was no real consistency with linemates up until that point with a slew of injuries and the coaching staff trying to find the best matches. In and around the time that he was given wingers in the form of Travis Konecny and Joel Farabee, his ice time has dropped a little from around 18 minutes to 16:55 but he has 5 goals and 13 points in 21 games as the rest of the lineup has played more consistently.
The Flyers don't necessarily have a true first or second line, but they do have a balanced top-9. With Scott Laughton centering Kevin Hayes and Wade Allison, Cates' role has lessened a little because he doesn't need to be the be-all-end-all as he was at the beginning of the season. Playing with more dynamic forwards and the fact that the Flyers can rely on more than one line at any given moment has played in Cates' favour.
He's 8th on the team in points, 3rd in plus/minus behind Wade Allison (11) and Cam York (10), has only committed 2 minor penalties all season. He is also 2nd in game-winning goals, 3rd in average ice-time for a forward, 1st in blocked shots for a forward, and leads the team in takeaways.
Scott Laughton's leadership
The theme here seems to be players having career seasons and Scott Laughton is another player who has thrived under Tortorella's tutelage and system. Laughton has shown flashes of offensive brilliance over his 10-year career but it seems like he might have finally solved the equation for long-term success.
He currently has 12 goals and 29 points in 47 games, is 1 goal shy of tying his career-high from 2019-20, 3 assists shy from tying his career-high from 2018-19, and 3 points shy from tying his career-high from 2018-19. He is averaging 18:48 of ice time, which is almost 2 and half minutes more than last year, has 103 hits, 33 blocked shots, and 26 takeaways.
One of his most impressive intangibles this season has been his special teams insurgence. Heading into the season he had never scored a power play goal but he already has 5 now, he has 3 shorthanded goals this year compared to the 4 he had in his career prior, and has 7 shorthanded points forming a dynamic duo with Travis Konecny while down a man.
He is the only player with a letter on his jersey, which is saying something considering the fact that Tortorella refused to name a captain this year. He has taken it upon himself to lead by example and it wouldn't be all too surprising if he were eventually given the captain's "C" at some point in the near future.
The former first round pick has 9 goals and 22 points in his last 26 games – compared to the 3 goals and 7 points in his first 21 games – which coincides around the same time the Flyers started playing a lot more structured, systematic, and balanced hockey.
Travis Konecny's return to form
Alongside Ivan Provorov, Travis Konecny's name has been dragged in trade rumours over the course of Chuck Fletcher's general managing tenure. After a strong 2019-20 season where he led the team with 61 points in only 66 games, his scoring touch took a nosedive. Including the playoff bubble, Konecny scored 27 goals in a span of 145 games, which was surprising considering the fact that he had just come off 3 consecutive seasons of 24 goals.
His 2021-22 season could be split between Alain Vigneault and Mike Yeo. In his first 22 games with Vigneault at the helm he had 5 goals and 10 points, which included a final 13 game stretch of 1 goal and 1 assist. He might not have found his scoring touch under Yeo, but he finished the season with 42 points in 57 games, which would have put him on pace for 60 points over a full season.
He finished with a career-high in shots but a career-low in shooting percentage (7.3%). Up until that point he had never finished a season with a shooting percentage under 8.3% (2016-17, rookie season). He followed that up with 13.6% in 2017-18, 13.2% in 2018-19, 17% in 2019-20, and even 11% in 2020-21. It seemed like he was destined to bounce back, and bounce back he has with 24 goals and 49 points in 45 games to date.
He's hit a big of a snag heading into the All-Star break with 0 goals and 3 assists in his last 8 games but he has been all over the ice, in and around the blue paint, and firing shots at will. Getting to that elusive 25-goal plateau might be on his mind right now, but he's been every part of the first rounder the Flyers selected in the 2015 draft and making Fletcher think twice about all those trade rumours and/or failed negotiations.
Samuel Ersson stealing the show
With the Flyers in a pickle after Carter Hart was diagnosed with a concussion and Felix Sandström dealing with an illness, they had no choice but to play Samuel Ersson. On the back-end of a back-to-back split, Ersson was given the start against the Carolina Hurricanes and allowed 5 goals on 22 shots before being pulled. Hart entered the game but was forced to leave after suffering what they initially called an upper-body injury. Ersson came back in and made 8 more saves amidst a Flyers comeback attempt.
With Hart sidelined, Ersson was given the keys and did something the Flyers had never achieved before – sweeping the California road trip. He made 25 saves in a 4-3 win against San Jose, 27 saves in a narrow 4-2 victory against the Los Angeles Kings, and then was 40 seconds away from a shutout in Anaheim. He then followed that up with a shutout victory against Buffalo and with Carter Hart healthy, he made one more start a week later against the Ducks, making 25 saves en route to a 5-2 win.
Taking the first game out of the equation he is 5-0-0 with a .943 SV% and a 1.60 GAA in his victories. He also allowed 2 goals on 13 shots against the Boston Bruins in relief of Carter Hart but on the season he sports a .918 SV% and a 2.37 GAA. He brought about a calmness in goal that really enraptured the fanbase. Unfortunately, he was the only goaltender who was waiver exempt so they had to send him down to the Lehigh Valley Phantoms once Sandström returned back from his conditioning stint.
Tortorella even said that that was the lone reason the Flyers sent him back down as he impressed his coaching staff in very quick order. With Ersson's strong debut still at the forefront, Sandström needs to really take off in the second half to push away his good friend from potential usurping his backup title in the near future.