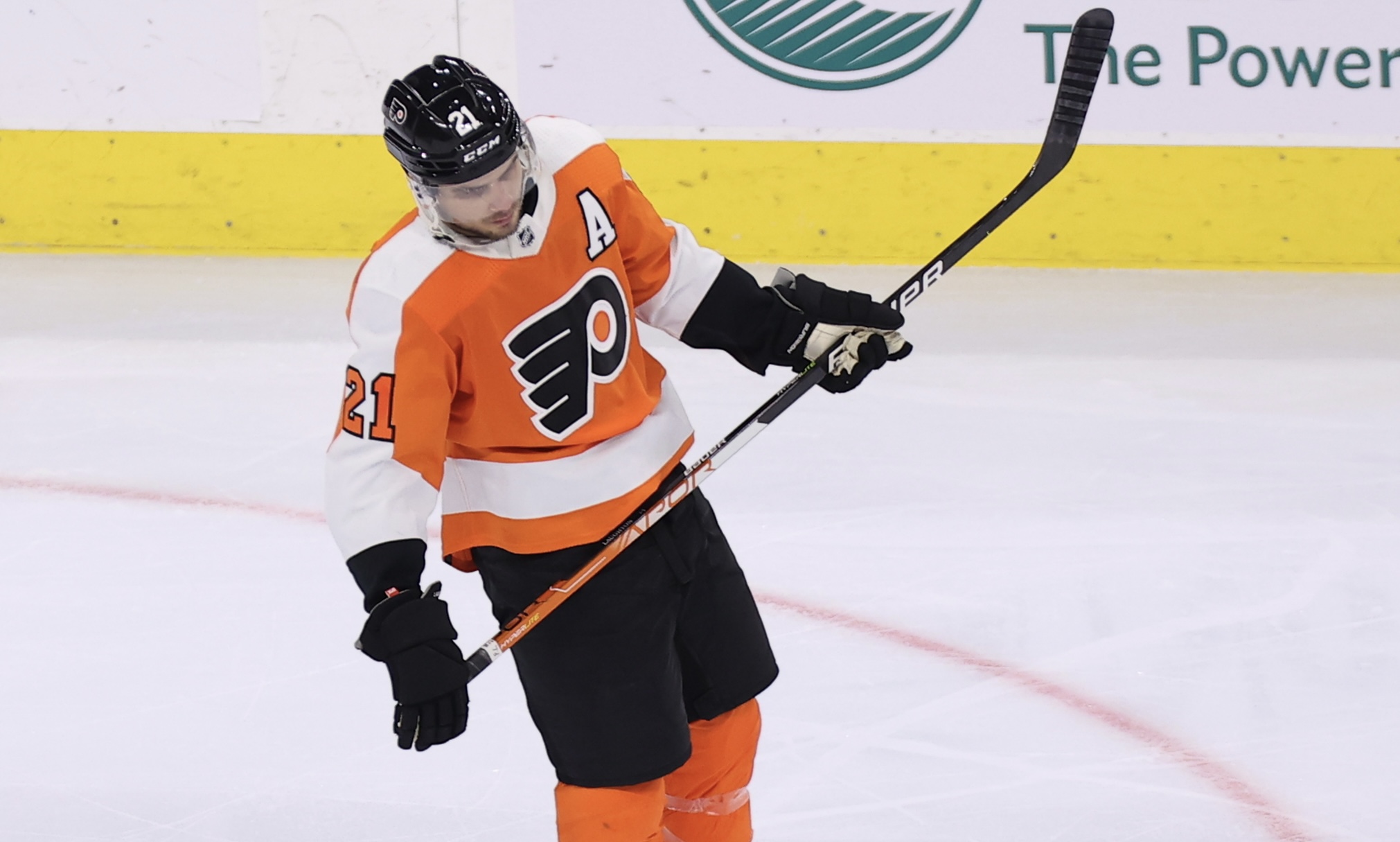 Historically, the Philadelphia Flyers aren't a team that foregoes a captain. In fact, the last time they were without one was 1992-93 when they had 3 alternates in Kevin Dineen, Keith Acton, and Terry Carkner. It was the only season in franchise history without a captain until this year, when the Flyers opened the season with a single "A" – a rare oddity in the NHL. The man with the only letter in Philadelphia is Scott Laughton and odds are if they were to name a captain today, he'd be right at the top of the list.
Claude Giroux was the longest tenured captain in franchise history as he donned the "C" for 10 years from 2012-13 to 2021-22. There was a lot of vitriol and disdain surrounding his captaincy by the end of his tenure and many wanted a new voice, a new leader, and new blood. With his trade to the Florida Panthers last year, the chatter picked up again as to who would be the 20th captain for the City of Brotherly Love.
Sean Couturier, Kevin Hayes, Ivan Provorov, and even Travis Konecny were mentioned quite often, but another suitor was gaining traction in Scott Laughton. He is the second longest tenured Flyer on the team right now, only behind Sean Couturier. The latter was drafted in the 2011 NHL Entry Draft and made his debut in 2011-12, while the former was drafted in the 2012 NHL Entry Draft and made his debut in 2012-13.
Laughton is currently in his 10th season with the Flyers but has only been able to suit up for 445 games. He has had some bad runs with injuries over his career but he's really grown into his own in the last 4-5 seasons. The former first round pick has never really been able to light the lamp as much as they had hoped with the lofty draft selection, but he is a jack of all trades – a Swiss Army Knife – as he can play whatever role you ask of him, anywhere in the lineup, and he won't miss a beat.
There aren't many players that can play with the same intensity and drive on the first line as he does on the fourth line. Not many players who gel and with almost any player on their team and be the motor of any line he is playing on. He is coming off a season where he was only 2 goals and 2 points off of his career-highs but in 15 less games. Due to injuries and the team being in a downward spiral, he was asked to play top line minutes, top-six minutes, and a bottom-six role during the year on top of penalty killing, getting power play time, and being a top overtime option.
Coming into the season, John Tortorella was mum about naming a new captain, sometimes stating that it's not as important as people are making it seem. There were a lot of locker room issues that had to be resolved first and as the puck dropped on opening night, only one player came out of the tunnel wearing a letter and it was none other than Scott Laughton.
It might not be the "C" but it's as close as you can get, especially if you're the only player amongst several veterans like Kevin Hayes, Cam Atkinson, and Ivan Provorov chosen for the prestigious honour.
He was an assistant captain during his junior days with the Oshawa Generals, was the captain for Team Canada at the World Junior Championships, and has worn the "A" in Philadelphia from time to time but not on a consistent basis. However, that never stopped him from being a vocal leader in the locker room and because of how he's matured into the player he is today that effort has been rewarded with the team ushering itself into a new era.
It's unclear whether or not we will have a captain named this season, Tortorella hasn't made any notion about naming one as of right now, but with Couturier's absence it wouldn't be all too surprising if the choice were to be Laughton. He does everything needed of him and then some, he is an all-purpose player, and a leader on and off the ice.
He is currently on the first line with Kevin Hayes and Travis Konecny but he could easily slot down to the third line with Morgan Frost and Tanner Laczysnki or the second line with Noah Cates and Wade Allison if the Flyers wanted to jumble their options. He is a top penalty killer, second-unit power play option, is crafty in overtime, and can score goals at an alarming rate at times. He's never been able to piece together his full ensemble on the offensive side of the puck but with chances aplenty this year, the only thing that would hold him back is an injury.
There was a little bit of an uproar when then-general manager Ron Hextall opted to protect Laughton in the 2017 expansion draft from the Vegas Golden Knights. Many were surprised to see Pierre-Edouard Bellemare not protected and many were upset to see him go, and the same many didn't quite understand Hextall's fascination with Laughton. At the time of the expansion draft he hadn't really shown much as he had only appeared in 107 games in parts of 3 seasons and scored 9 goals and 28 points along the way. Fast forward 5 years later and he has become a key component to the team and is signed through the end of 2025-26 season at a team friendly cap hit of $3 million.
On his podcast with Jeff Marek on Sportsnet, Elliotte Friedman has alluded to Laughton several times stating that the rest of the NHL are waiting on their hands and feet in the off-chance the Flyers announce that he's available for trade and over the last couple of seasons, plenty of teams have called and inquired. The Toronto Maple Leafs are seemingly at the forefront of that list as they would love to plant him in their top-nine with that cost effective contract.
The Flyers have stood their ground and dismissed any incoming trade offers for the sought-after Laughton and as things are right and if they continue to roll the way they are, Laughton isn't going anywhere, and in fact he could be the captain in no time – keeping him in Philadelphia for the long haul.
He has had to fight through adversity at the beginning of his career, he has had to battle through the first round bust takes, and has had to alter his game around to fit a role in Philadelphia. I'd say he's done a good job at acclimatizing to his surroundings and in doing so he has become a key player for the Flyers.
Scott Laughton is the man with the only letter in Philadelphia, a seemingly sought after position if you date back in the Flyers' illustrious history.