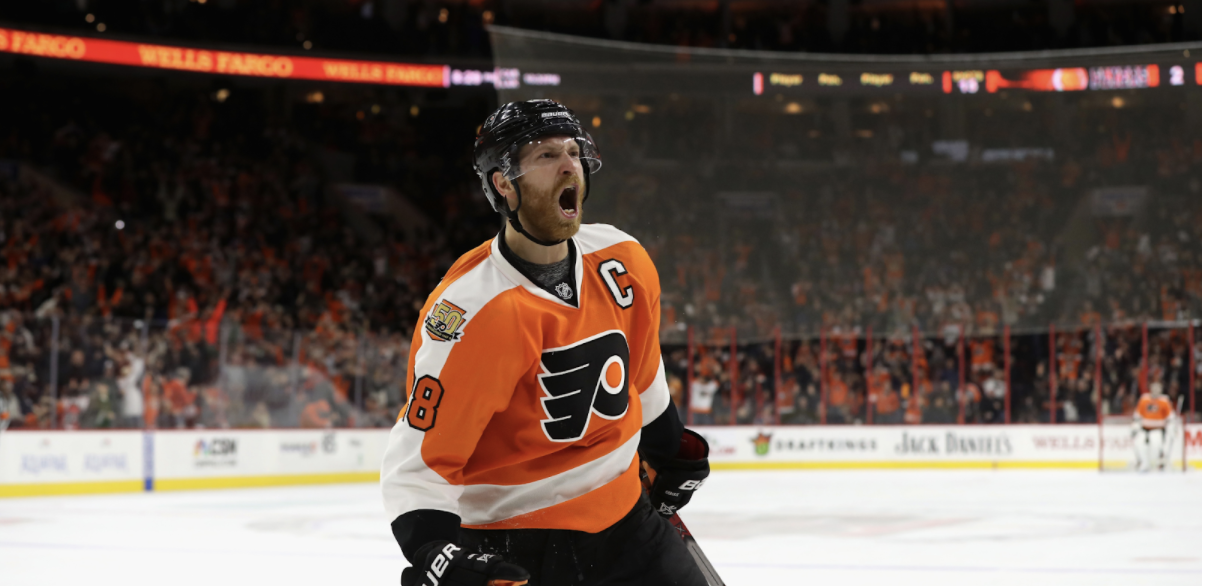 I'll say it: Claude Giroux is criminally under-appreciated and underrated within the realms of Philadelphia sports lore. For someone who is in the top 10 of most franchise records, he is still very much under-appreciated by his own fans. There are legitimate arguments for both sides but to pretend that what he's done in the last decade is nothing to gawk over, is a stretch. Sure, they're mostly individual accolades, but considering the team he's had around him, the blame he gets is over the top.
With Jakub Voracek getting traded to Columbus, it leaves one to be reminiscent of the last 10 years, where Giroux and Voracek were cornerstones for so long. Giroux's welcoming moment might as well have been when head coach Peter Laviolette lauded him as the world's best player after eliminating the Pittsburgh Penguins in the first round. That mark has followed Giroux ever since and people seem to forget that it was the head coach who said it, not the player himself.
I think it's safe to say that Giroux is no Sidney Crosby. He's not Alex Ovechkin, Connor McDavid, or Nathan Mackinnon. The difference being that all these players were touted as generational talents. Giroux never had that moniker, nor should he have. He's a great player, a superstar within the NHL, but he's not a generational talent. Only a handful of players can have that label and actually make do with it.
The Philadelphia Flyers had Mike Richards, Jeff Carter, Daniel Briere, and Simon Gagne firing on all cylinders at the same time. Claude Giroux was nothing but a mere prospect trying to make his way onto the big stage. He came up huge on the way to the Stanley Cup Finals, scoring 20 points in 23 games as a rookie, including a huge game three OT game-winner.
When the Flyers decided to move on from Richards and Carter, they knew they had two young stars waiting in the wings in Giroux and James van Riemsdyk. Giroux immediately took off in 2011-12 and scored 93 points in the season, while forming a lethal trio with Jaromir Jagr and Scott Hartnell. The Flyers were loaded upfront and were equipped with some of the best depth they've had in recent memory.
They dispatched the Pittsburgh Penguins in a must-watch playoff series in six games. His claim to fame was when he ran over Sidney Crosby en route to the opening goal of game six in the opening shift. During the postgame interview, Peter Laviolette was so impressed with how Giroux comported himself that he gave him the label of the best player in the world. A label that would forever hang over his shoulders like a dark cloud.
Media and fans alike, have never forgotten those words echoed by Laviolette. Let's not forget how good Crosby has been throughout his career. He's been just advertised and then some but his Penguins teams have always been loaded with top-end talent and depth. Their front office and coaching staffs have been far superior as well. The Philadelphia Flyers have very rarely been loaded with that kind of depth. The only time in recent memory where they've built a solid team around Giroux was in 2011-12 and 2019-20. The 8 years in between were dark and lean seasons for Philadelphia hockey.
Claude Giroux has 858 points in 943 games, he's had three MVP type seasons (2011-12, 2013-14, and 2017-18), has 73 points in 82 playoff games, and has the fourth-most points in the 2010s (741). He is second all-time in franchise history in games played (943), 9th in goals (273), 2nd in assists (585), 3rd in points (858), 9th in power-play goals (81), 7th in game-winning goals (47), and 1st in power-play assists (246). Individual stats don't hold as much merit when you're not winning games but it's still very impressive that he's been able to put up these types of numbers.
Outside of Voracek, the Flyers never really had an elite point-producing option. Wayne Simmonds was great at what he did but he was a net-front presence, gritty, heart and soul player, who excelled on the power play. Brayden Schenn lacked consistency during even strength but was a power-play producer. Sean Couturier was stuck in a bottom 6 role for several years until he broke out in 2017-18. Daniel Briere fell off a cliff, Scott Hartnell was a by-product of Giroux, and there was a considerable drop in-depth after that.
Let's not forget that Giroux dragged a team that had Valteri Filppula, Ryan White, Chris VandeVelde, Brandon Manning, Andrew MacDonald, Radko Gudas, Evgeny Medvedev, Sam Gagner, and Nick Schultz to the playoffs. It was no surprise that once they got into the playoffs, that the far superior teams took advantage of the Flyers' lack of depth. Playoff hockey is a different style of play, where teams know how to shut down your top players. Whenever that occurred, the Flyers were lucky to scrape together a few goals.
Ron Hextall's rebuild paved the way for the 2019-20 success story, where the Flyers finally had enough pieces to advance to the second round of the playoffs. However, during his tenure, there was no such luck, as the Flyers were stuck with cap casualties and grit and grind players all throughout the lineup.
The Penguins team that dispatched the Flyers in 6 games in 2018 had players like Crosby, Evgeni Malkin, Kris Letang, Jake Guentzel, Patrick Hornqvist, Phil Kessel, Bryan Rust, and Carl Hagelin. The Flyers defense of Manning, Gudas, MacDonald, Robert Hagg, Ivan Provorov, and Shayne Gostisbehere with Brian Elliott and Michael Neuvirth in net, had no chance in defeating them. Manning, Gostisbehere, and Provorov were a combined minus -19 in just 6 games. Filppula, Jori Lehtera, Matt Read, and Jordan Weal were playing significant minutes, making the shutdown job for the Penguins defense on Giroux's line that much easier.
Same story for the 2015-16 Flyers when they advanced to playoffs to face the Washington Capitals. Alex Ovechkin, Nicklas Backstrom, Evgeny Kuznetsov, TJ Oshie, John Carlson, Justin Williams, Marcus Johansson, and Matt Niskanen were no match for the Flyers who played Chris VandeVelde 15 minutes a game, Ryan white 13 minutes a game, and Mark Streit and Radko Gudas nearly 20 minutes each. The Flyers only managed 6 goals in the series and yet again, it was another easy shutdown job for the opposition because of how little depth the Flyers had.
It's easy to point the blame at Giroux for not stepping up when his team needed him the most, but when you're the obvious target and the rest of your lineup is filled with has-beens and never-will-be's, it's tough to navigate through playoff hockey, especially against good competition.
Giroux has gone through 3 different general managers, 5 different head coaches and coaching staffs, and they've all brought a different outlook that hasn't worked. Paul Holmgren's aggressiveness cost the Flyers dearly, especially when it came to the salary cap. Holmgren left the Flyers in such a mess that they had to bring in Ron Hextall to clean it up. His rebuilding years took away from Giroux's prime and he never really added any top-tier talent to help push Giroux over the hump.
The Stanley Cup has alluded a lot of Flyers legends, essentially every player since the mid-1980s. The argument that Giroux needs a Cup so that he can be included among the greatest Flyers is redundant. Eric Lindros, John LeClair, Mark Recchi, Mark Howe, Ron Hextall, and Simon Gagne all went cup-less with the Flyers but are still revered as greats. Outside of the obvious two, Bobby Clarke and Eric Lindros, a real argument can be made that Giroux is the best.
Now into his 30s and coming in on his final year of the contract, the captain found himself on yet another team in disarray. Chuck Fletcher tried his best to gut out the negativity and to find players who are as vocal as they are stout. Accountability and leadership are the new mantras for the orange and black and it is now or never for players like Giroux.
He's finally got a team that is deep enough to push for a playoff spot and then some. His personal game has lacked consistency over the last few seasons but with new linemates and a new sense of wonder, it's time for Giroux to step up again and lead this team back to the promised land.

Riley Cote & Derek "Nasty" Settlemyre go behind the scenes and talk hockey with some of the biggest names in the NHL.