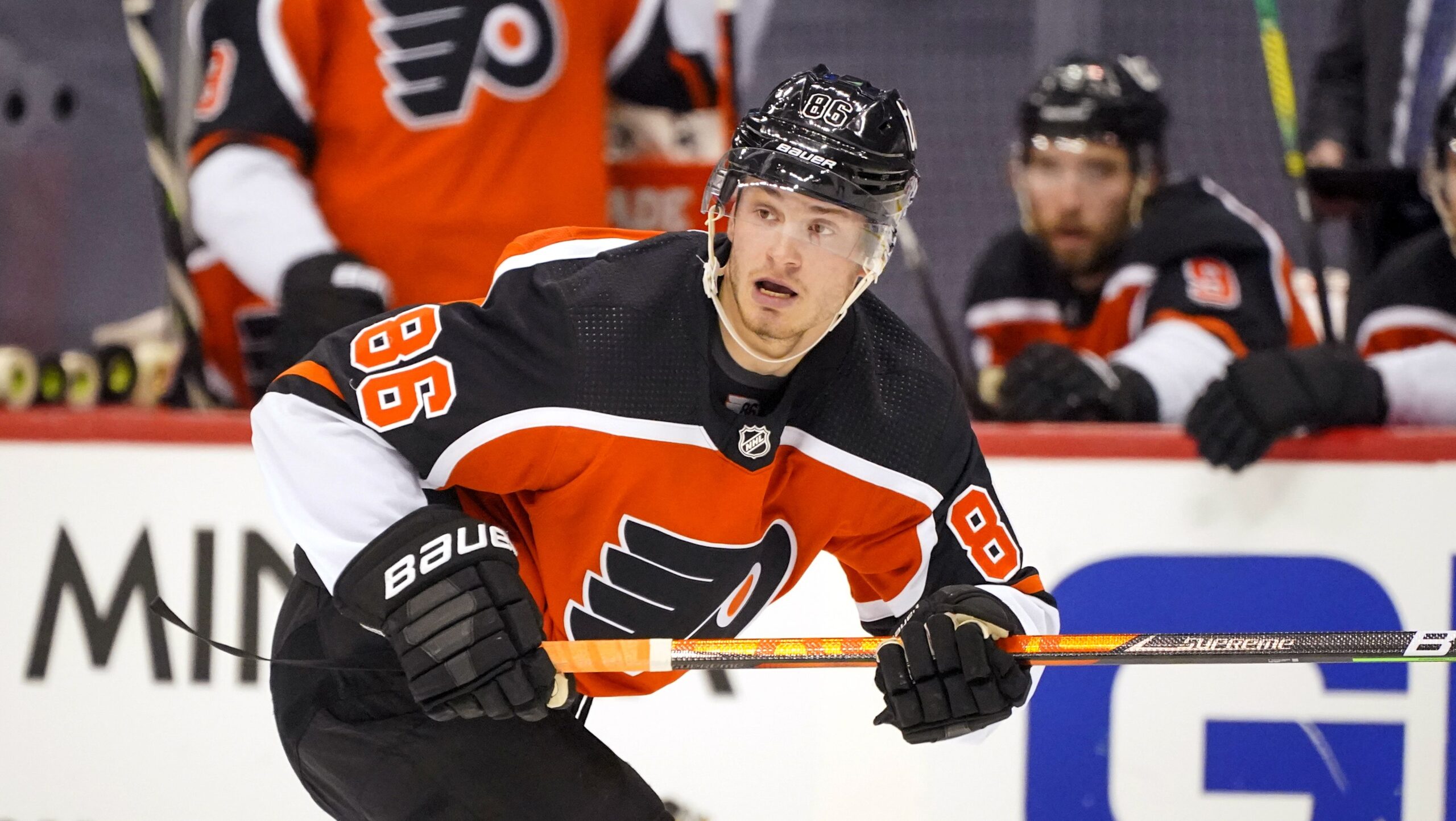 It seems impossible to have any questions about where to fit your leading goal scorer into the lineup, but it's something that Philadelphia Flyers head coach, Alain Vigneault, may have to deal with when it comes to Joel Farabee.
There's no doubt that Farabee was one of, if not the only, bright spot from an otherwise forgettable season. The 20-year-old flashed signs of greatness a la Eric Lindros in terms of his production at such a young age. His hat trick last season put him on a list with just Lindros and Mike Richards as the only three Flyers under-21 to record three goals in one game and all in all, his achievement in leading the team in goals made him the second-youngest next to Lindros to do so in the orange and black.
In short, Farabee is an electric — and productive — player who is just scratching the surface. It shouldn't be hard to pencil him into the top six, right?
With all of the roster turnover this offseason, there are likely eight players on the team who all could play among the top two lines. The projected first line would see Sean Couturier centering Claude Giroux and one of Travis Konecny or newly-acquired Cam Atkinson. One of the latter two will then slot into the second right-wing spot on a line centered by Kevin Hayes. That final left-wing placement would likely go to either Farabee or James van Riemsdyk, or perhaps Vigneault attempts to stick with what worked last year in Farabee and van Riemsdyk, allowing for someone like Oskar Lindblom to get some run on the second line.
As of this writing, the most logical fit for Farabee would be on the third line where he can play next to one of the team's more reliable 200-foot players, Scott Laughton, while also having a chance to keep the chemistry going with van Riemsdyk, both of whom were first and third in goals last season. The trio of Farabee, JVR, and Couturier was the most used line last season and was responsible for 15 goals, which was eight more than the second most productive line (Voracek-Couturier-Giroux) according to Left Wing Lock.
Perhaps the most telling reason as to why a trio of Farabee-Laughton-van Riemsdyk is most likely to begin the year is that they proved to be efficient in driving offensive play in the limited time they were together, netting six goals for and allowing just one when on the ice together.
With a third-line setup like that, that would give the Flyers three lines all capable of scoring. With a lot of options to work with and some serious depth, Vigneault likely will shuffle his top nine frequently at the start of the season to figure out what lines gel together. Until camp kicks off, though, this is all just theorizing but early indications suggest Farabee's best fit would be on a third line with Laughton and van Riemsdyk.

The former first-round pick also will remain one of the key cogs on the powerplay. Last season he tallied seven points on the man advantage, three of which being goals.
Rasmus Ristolainen will Figure Things Out in Philadelphia
There are quite a few people among Flyers fandom who are already writing off Ristolainen as a poor fit here, a waste of a trade involving a first-round pick and someone who will be on the wrong end of penalties more often than not.
Much of the hate on Ristolainen stems from his poor analytical numbers in the hockey wasteland known as Buffalo. There's a reason so many players leave that city and find themselves playing better than ever in their next city. I expect Ristolainen to do the same when he suits up for the Flyers.
Speaking with Frank Seravalli on the Daily Faceoff Rundown, Chuck Fletcher was asked about the fit of Ristolainen and Philadelphia. He expressed that a change of scenery was needed for him and that having him step back from a No. 1 to now playing alongside Travis Sanheim on the second pair will put him in a position with less pressure. Fletcher explicitly stated that his competitiveness will be a nice addition to the team and that having a big body like his is always important.
Fletcher also pointed out that instability in Buffalo had to do with those poor metrics, noting that Vigneault will be his sixth coach in eight years. "We're hopeful by bringing him in and putting him in a role where he can thrive, where he doesn't have to be the main guy… in a little bit more stable environment, we feel we can get the best out of him," Fletcher explained on the podcast.
3 Random Stats and Facts to Know
Over the last two shortened seasons, the Flyers have three players who are averaging 0.80 or more points per game: Couturier (0.88), Konecny (0.82) and the recently departed Voracek (0.81).
Speaking of Voracek, he will make his return to the Wells Fargo Center on Jan. 20. Another former Flyer, Shayne Gostisbehere, will make his return much earlier when Arizona comes to town on Nov. 2.
No longer with the team, Nolan Patrick's career +/- of minus-37 was the worst on the team over his three seasons and the -30 he posted this past season was the third worst by a Flyer ever (R.J. Umberger -32, 2006-07).
"Quote of the Week"
Carter Hart on new backup, Martin Jones:
"I've heard great things about Jonesy and I'm looking forward to meeting him here soon. That's what you want. You want to have a good competition between the two tendys. Me and Jonesy will push each other to be better in practice and off the ice. I think that's only healthy. You want to have two boys that compete hard to play games. I think in the long run it will only be better off for the team and ourselves."

Riley Cote & Derek "Nasty" Settlemyre go behind the scenes and talk hockey with some of the biggest names in the NHL.