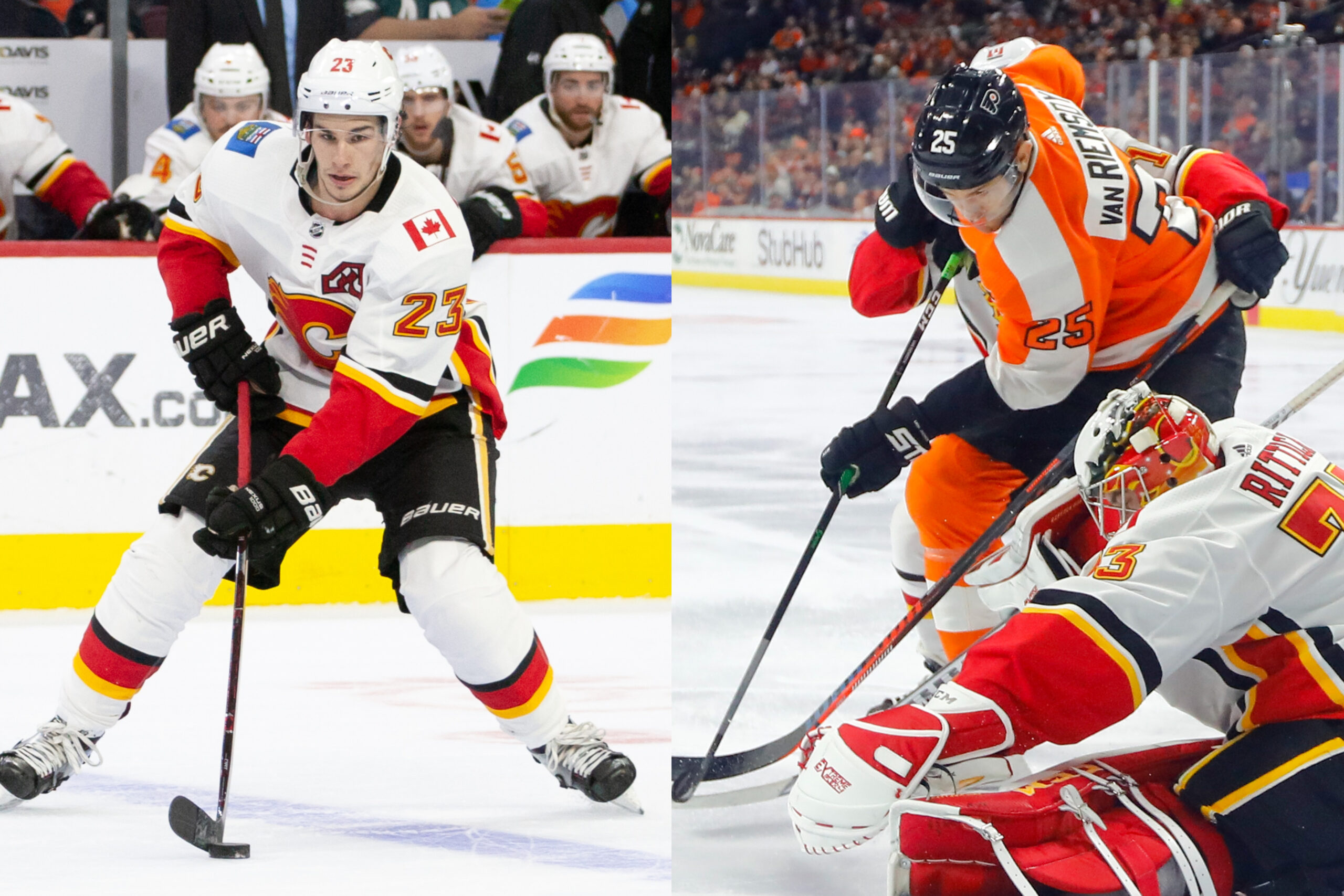 With Another Undesirable Contract Traded, How is it Possible That the Flyers Were the Only Team That Had Issues?
Sean Monahan is in the final year of his 7-year deal that counts towards the cap at an annual hit of $6.375 million, but now has been traded to the Montreal Canadiens in a way to alleviate cap space to fit the newly-minted contract of Nazem Kadri.
The Calgary Flames entered the offseason with a shade under $30 million in projected cap space, but had to extend Johnny Gaudreau and Matthew Tkachuk among a few other staples in their roster. It was one of the worst kept secrets in hockey that Gaudreau wanted out of Calgary to play for his boyhood team in Philadelphia. The Flyers couldn't make it work, so he decided to sign with the Columbus Blue Jackets instead since they were geographically close to his family and friends.
Tkachuk made things difficult during their last round of negotiations three years ago, so it wasn't all too surprising that he wanted out as well. The Flames were backed in a corner, other teams knew that Tkachuk wanted out and the Flames had no chance in keeping him, and yet they were able to trade him for Jonathan Huberdeau, Mackenzie Weegar, Coke Schwindt, and a first round pick, and they even got the former to sign an 8-year extension already. The Flames didn't stop there as they re-signed Andrew Mangiapane, Oliver Kylington, and Nikita Zadorov while swinging for the fences in signing Kadri to a 7×7 deal.
In order to fit Kadri's $7 million, the Flames needed to dump a contract and the bull's eye was squarely set on Sean Monahan. The former first round pick excelled at the beginning of his career but has found himself in a downward spiral that began 3 years ago. Between 2015 and 2019, Monahan scored 150 goals and 329 points in 396 games, with a career high 34 goals and 82 points in 2018-19. From 2019-20 to 2021-22, the young pivot slumped to the tune of 40 goals and 99 points in 185 games, missing the postseason push last year as he was limited to 65 games, but only scored 8 goals and 23 points.
While Gaudreau and Tkachuk continued to excel or produce at the very least, Monahan found himself on the fourth line and off the top unit of the power play with the emergence of Elias Lindholm. Now with the Flames operating a centre trio of Lindholm, Kadri, and Mikael Backlund, there was no need, space, or room for Monahan as his time in Calgary was all but over. The Flames quickly found a dance partner in Montreal, who took on the final year of his contract for a conditional first round pick in 2025.
This once again brings into account the inability and lack of shrewdness that the Philadelphia Flyers currently possess in any trade talks. The Vegas Golden Knights were able to trade Max Pacioretty's $7 million cap hit to the Carolina Hurricanes for future considerations, the Columbus Blue Jackets were able to sign Gaudreau and extend Patrik Laine while having to lose Oliver Bjorkstand in the process but found a dance partner instantly, and now the Flames – who seemed to be a little "desperate" – found a team willing to take Monahan's contract without hesitation or issue.
The Flyers on the other hand? They couldn't find anyone willing to take James van Riemsdyk at their asking price and found themselves in trade negotiations where the other team wanted the very precious 2023 first round pick. They also dangled most of their roster on the trade market this summer to no avail because other teams could sense the desperation and low balled the team at every turn. How could one desperate team pull off the same move that another desperate team couldn't? Look no further to the men in charge of these teams and you'll have your answer.
As much as we harp on van Riemsdyk, he's still a very serviceable player who has continually scored 20+ goals a season for an offensively inept team. At first glance, Max Pacioretty and James van Riemsdyk seem like different players, with one being better than the other, but when you dive in deeper and take a look at their stats over the last few seasons, there shouldn't be such a wide margin in terms of their trade value and price of acquisition.
Pacioretty has played in 224 games over the last 4 seasons with the Golden Knights, scoring 97 goals and 194 points the for a Stanley Cup contender in Las Vegas. Meanwhile in the same time frame, van Riemsdyk has suited up in 270 games, scoring 87 goals and 169 points for a lottery bound team that couldn't score goals. Pacioretty has converted at a shooting clip of 11.8% compared to van Riemsdyk's 13.7%, Pacioretty has averaged 90 seconds more of ice time than van Riemsdyk, while also scoring a little more even strength than power play compared to JVR. One has better numbers than the other, that much is obvious, but he also plays for a far better team, a loaded offense that compliments each other well, while the other is in top-9 but plays in an offense that barely scores 3 goals a game. They're not entirely far off, so much so that the Golden Knights could ship off their undesirable contract for future considerations, while the Flyers couldn't part ways with theirs without giving up with a very valuable first round pick in a loaded 2023 draft.
The same can be said about Monahan, whose numbers don't necessarily come close to van Riemsdyk's. Monahan had 40 goals and 99 points in his last 185 games, while van Riemsdyk has 60 goals and 121 points in his last 3 seasons (204 games). The Flames have been a better team than the Flyers, Monahan had much better linemates than van Riemsdyk, and Monahan also played a top-line role for part of it and a partial top-6 role before finding himself in the bottom-6.
van Riemsdyk has value and teams wouldn't mind trading for him with only one year left on his contract, and that much is evidenced by the fact that the Flyers had trade discussions with other teams. Monahan was traded alongside a first round pick 3 years down the road, and that alone should make you wonder what is going on around the NHL and, more specifically, what is going on in trade discussions involving the Flyers.
The issue lies with the man in charge of orchestrating these deals because his past has given the opposition so much more leverage in any deals. Why would any team trade for the undesirable contract and only take a lesser first round pick as a sweetener when they know that Chuck Fletcher's arm can be twisted in any dealings? He traded a first round pick, a second round pick, and a comparable roster player for Rasmus Ristolainen who had an expiring contract, and then traded a second, third, and fourth round pick for Tony DeAngelo, who was in need of a new contract, and even though it's not necessarily his fault because of Claude Giroux's interest in only going to Florida, but that trade was extremely underwhelming and makes his resume look even weaker. The face of the franchise and longest tenured captain in Flyers history was sold for a 2024 first round pick and Owen Tippett; his hands were tied but it really looks bad at the end of the day.
The respect factor is lost in Philadelphia and it's resembling the final years of Paul Holmgren's tenure when he was essentially being blacklisted and lowballed because of his offer sheet for Shea Weber. Any trade discussions that the Flyers had at the time had to include Sean Couturier or Brayden Schenn and sometimes teams wanted both, when in fact they got a lot less from other teams involved. Ron Hextall had to change that aura when he took charge and he did so rather quickly and smoothly, but the last few years has reversed those fortunes and has painted a a bad look on the organization, as they probably won't be able to get out of this purgatory they're currently stuck in.