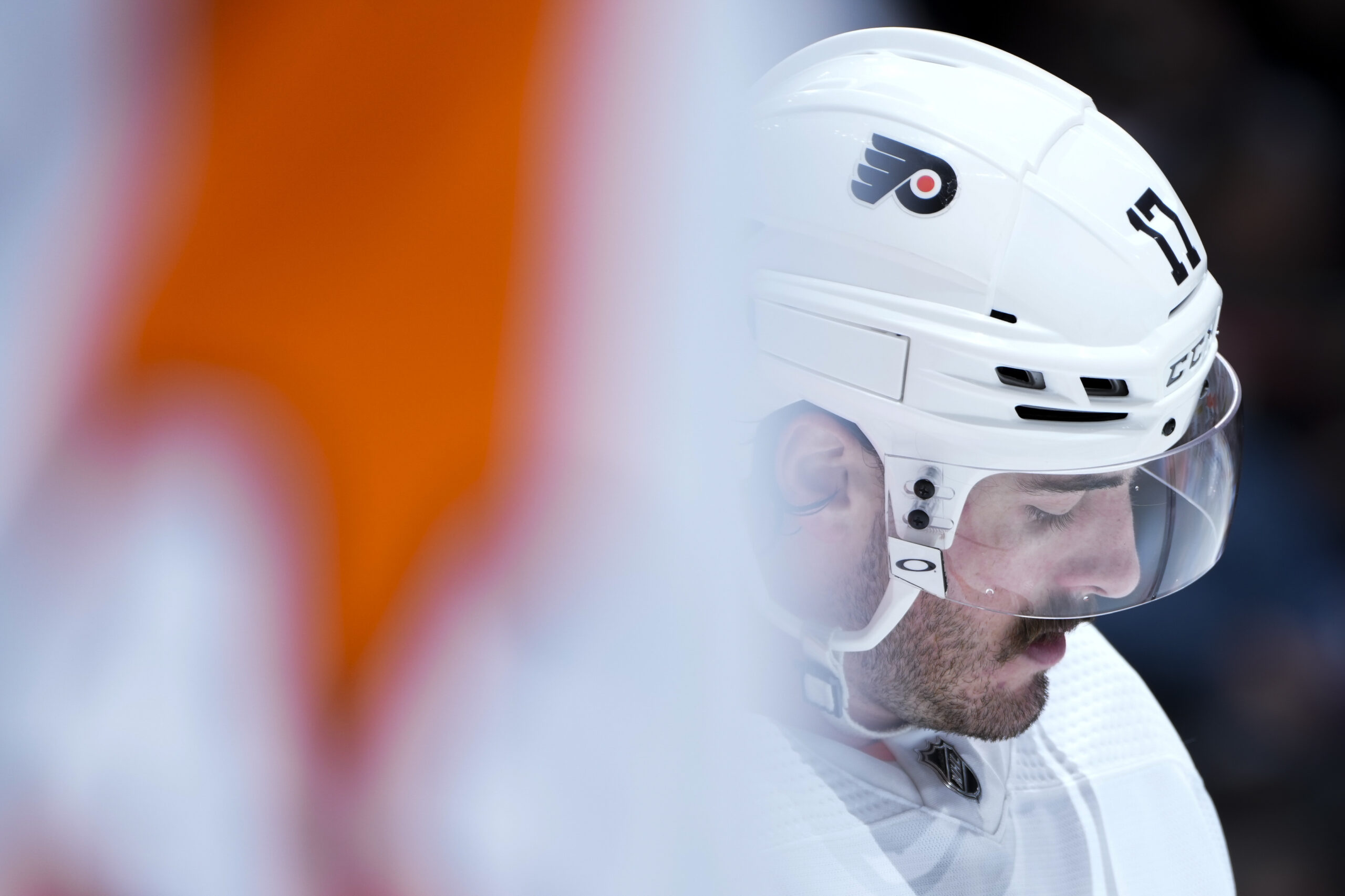 Travis Konecny scores lone goal in 2-1 preseason loss against Buffalo
The Philadelphia Flyers fell 2-1 on Tuesday night in upstate New York. A Philadelphia team lacking NHL talent put up a valiant effort against a Buffalo side who iced more of it.
Lines:

JVR-Frost-TK
N. Cates-J. Cates- Marody
Ratcliffe-Desnoyers- MacEwen
Roussel – Brooks – Sandin

York – Braun
Connauton – Attard
Högberg – Karashik

Grosenick
Ersson

— Bill Meltzer (@billmeltzer) September 27, 2022
Heard you guys want some Sabres lines:

Skinner-Thompson-Weissbach
Mittelstadt-Savoie-Okposo
Rousek-Biro-Tuch
Cederqvist-Girgensons-Rosén
Jobst-Olischefski-Warren

Samuelsson-Dahlin
Power-Jokiharju
Pilut-Lyubushkin
Lindgren/Davies-Komarov

Anderson
Subban
Warm pic.twitter.com/kE7hBIwUJz

— Joe Yerdon (@JoeYerdon) September 27, 2022
First Period
The Sabres struck first 8:24 into in the first period as Brandon Biro scored on a feed from Ilya Lyubushkin. The Russian defender snuck a pass through Justin Braun and Biro picked his spot from the slot on Troy Grosenick. The Philadelphia top line (JVR-Frost-Konecy) and top pair (York-Braun) were on the ice for the opening goal.
The #Flyers top line and top pair concedes first in Buffalo. pic.twitter.com/lAQkoc6mrL

— Flyers Nation (@FlyersNation) September 27, 2022
Travis Konency, playing in his first preseason game, would even up the scoreline a little over six minutes later. TK, on the give-and-go with James van Riemsdyk, flew down the right side of the ice and cut in front of Craig Anderson before slotting the puck home. Konecny then slid all the way into the boards, missing the last two shifts of the first period. Travis would return healthy for the second period though.
Travis Konecny is alive. #Flyers pic.twitter.com/TjOt8RnLqP

— Flyers Nation (@FlyersNation) September 27, 2022
Second Period
Brandon Biro's second goal of the night (8:57) came at almost the same time of his first goal in the second. Biro's brace would be all she wrote in Buffalo. Troy Grosenick cracked after 2-3 big saves and relentless Buffalo pressure. Biro fired a shot from above the right circle as Alex Tuch skated past Kevin Connauton, screening Grosenick.
Third Period
The Flyers did not have many chances the rest of the way. Philadelphia could not convert on a 5 on 3 for 1:29 during the third period. Samuel Ersson stopped all seven shots he faced after taking over for Grosenick in the the third.
Some slick passing from Travis Konecny almost tied it up late in the game. James van Riemsdyk could not get enough space to connect on the feed.
Konecny and JVR came close to tying it up. #Flyers pic.twitter.com/wi5W30i8lj

— Flyers Nation (@FlyersNation) September 28, 2022
The team falls to 1-1 during the preseason after a 2-1 win against the Boston Bruins on Wednesday night. The Flyers also lost the practice shootout following the final whistle. Travis Konecny, Morgan Frost, Noah Cates, and Adam Brooks could not convert.
Next Up
The Flyers (1-1-0) play the Washington Capitals (0-0-1) tomorrow night at the Wells Fargo Center (7:00 PM) in preseason game #3.
Flyers practice group at the FTC today. Atkinson (who practiced on Sunday) will be on the ice. Neither Hart nor Anisimov are playing or practicing today. Tomorrow is another game day — home vs. Caps — so we'll see then. pic.twitter.com/aJJSJyeBNi

— Bill Meltzer (@billmeltzer) September 27, 2022
News and Notes
The Flyers penalty kill is now a perfect 9/9 on the preseason.
It was low event hockey in Buffalo, both teams were an even 21-21 in shots on goal. Travis Konecny led the team with three.
Brandon Biro, who scored twice against Philadelphia, is a 24 year old undrafted free agent from Penn State. Biro played his only NHL game February 23rd, 2022 against Montreal after signing his first professional contract a year before. The Canada native is 4th all time in points as a Nittany Lion (116).
Chuck Fletcher said this morning that Carter Hart (lower-body injury) will practice tomorrow, but will not be in goal against Washinton.
Artem Anisimov (lower-body injury) did not practice again.
Cam Atkinson practiced today and appears to be in the starting lineup tomorrow.
There will be quite a few preseason debuts for NHL regulars against the Capitals: Cam Atkinson, Tony DeAngelo, Nic Deslauriers, Kevin Hayes, Scott Laughton, Ivan Provorov, Rasmus Ristolainen, Travis Sanheim, Owen Tippett, etc.
Antoine Roussel (PTO) was somehow named the 2nd star tonight in Buffalo: 0 PTS, 2 PIM, -1, 10:43 TOI
Troy Grosenick now has 26 saves in 29 shots against (.897 SV%) during the preseason.
Music City Hockey Trip
Take a three day vacation to Nashville with Philly Sports Trips this October! The package includes direct flights, a three night stay at the Cambria Hotel Nashville Downtown, an all-inclusive tailgate, and tickets to the Flyers Predators game. $100 cash for anyone who shows proof they went to the Flyers game on the trip.