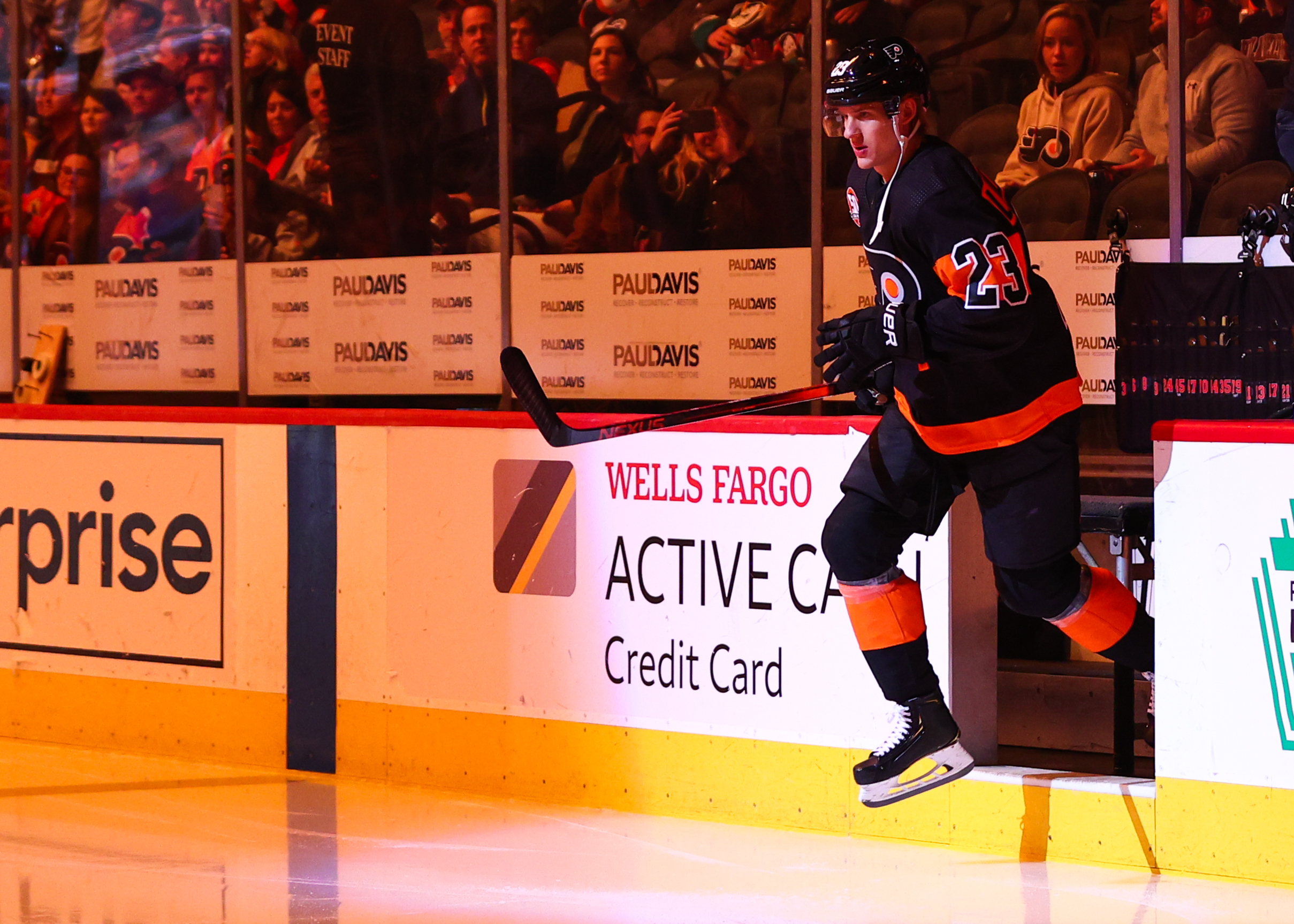 Oskar Lindblom signs with San Jose Sharks
Former Philadelphia Flyers forward Oskar Lindblom found a new NHL home earlier on Wednesday, as the San Jose Sharks have signed him to a two-year, $5M contract.
Lindblom was placed on buyout waivers by Philadelphia yesterday in order to help the team clear cap space as free agency was approaching. Lindblom was bought out of the final year of his contract, which would have paid him $3 million this season.
He recorded 12 goals and 14 assists for 26 points in 79 contests this past season for Philadelphia. Those totals were the most that Lindblom racked up since his last full 82-game season in 2018-19, when he posted 16 goals and 17 assists for 33 points in 81 games. While he tried his hardest on the ice, Lindblom's lack of production at times saw him relegated to the fourth line and he was healthy scratched a few times towards the end of the season.
The 25-year-old Gävle, Sweden native's journey in the NHL has been nothing short of inspiring. He was a 5th-round pick by the Flyers in 2014 and after spending time in the SHL and with the Lehigh Valley Phantoms, he made his NHL debut on February 20th, 2018 against the Montréal Canadiens. He would score his first NHL goal almost a month later on March 18th at home against the Washington Capitals.
Lindblom found his footing and stuck with the Flyers, and at the beginning of the 2019-20 season he was off to a flying start. He was the team leader in goals with 11 before his heartbreaking cancer diagnosis in December. Lindblom was diagnosed with Ewing's sarcoma, a rare form of bone cancer, by specialists at the University of Pennsylvania and his season was put on hold immediately.
He went through rigorous treatments but completed the last of them in July of 2020, in the heart of the COVID-19 pandemic, and courageously joined his teammates in the 2020 Eastern Conference Playoffs in the Toronto bubble, where he suited up for Games 6 and 7 in the Conference Semifinals against the Islanders and made his long awaited, emotional comeback.
Lindblom was named a finalist for the Bill Masterton Memorial Trophy that year, awarded to the player who most exemplifies the qualities of perseverance, sportsmanship, and dedication to ice hockey. While he did not win in 2020, he was named a finalist again in 2021 and won the award after his courageous battle with cancer.
While Lindblom's 2021-22 season didn't pan out the way he hoped, he still serves as an inspiration to the organization and to the fans. He didn't let the awful illness overcome his strength and will to play the game he loves and he has returned to the amazing life he was destined to live.
Lindblom joins a Sharks squad that was very active on day one of free agency, as they also signed defensemen Markus Nutivaara and Matt Benning, and forward Nico Sturm. They also traded away star defenseman Brent Burns to Carolina to alleviate some cap space.
Lindblom should fit nicely in the San Jose forward group that includes captain Logan Couture, Timo Meier, Tomáš Hertl, Kevin Labanc, Alexander Barabanov, and Thomas Bordeleau, among others.