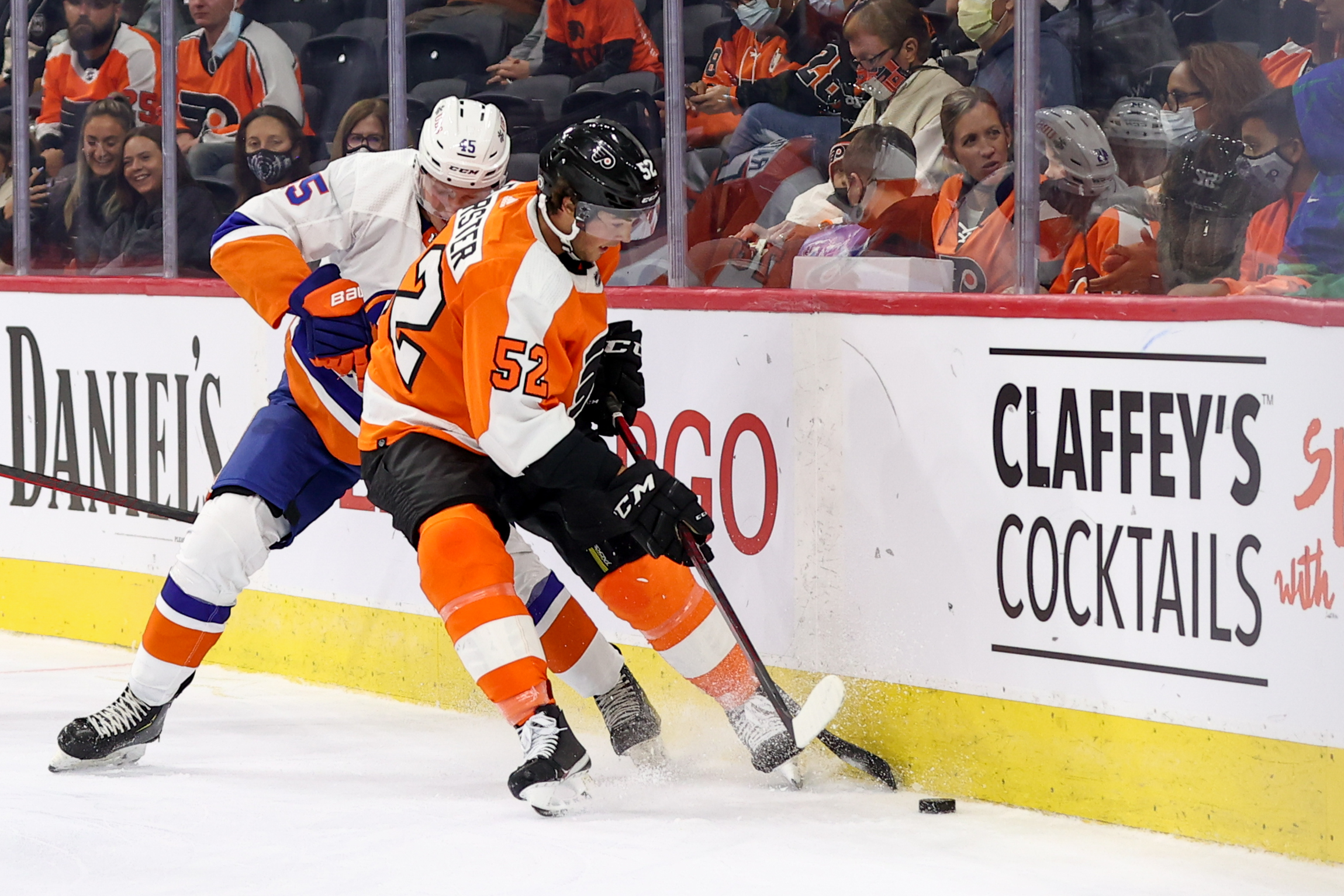 The Philadelphia Flyers have now notoriously overused the 11 forwards and 7 defensemen formation and it has rendered their already anemic offense to dust.
As we witnessed last night, things can get really ugly really quickly when John Tortorella decides to bench a player or two. Benching Travis Sanheim in the second period on Tuesday wasn't as bad because they were already employing an extra defenseman, but with Joel Farabee planted firmly on the bench and Tanner Laczynski being sparingly used, the Flyers incidentally rolled out with 9 forwards. Kieffer Bellows has sat in the press box quite a bit this season and it just goes to show that the Flyers don't trust him in the lineup and would rather go with the extra defenseman even with how bad things have gone offensively this season.
After calling up Elliot Desnoyers for his NHL debut a few weeks ago, the Flyers are doing the same with Tyson Foerster as the former first round pick from 2020 is set to make his debut against the Carolina Hurricanes on Thursday night. The 21-year-old has enjoyed a breakout campaign down in Lehigh Valley with the Phantoms as he is 2nd in goals with 18 and tied for 1st in points with 38 – Desnoyers is 1st in goals with 20 and tied with Foerster for the team lead in points.
Desnoyers will also be back in the lineup as he was also recalled on Tuesday after a brief stint back with the Phantoms.
Flyers head coach John Tortorella said Tuesday morning that forwards Brendan Lemieux and Wade Allison are considered day-to-day with their injuries, which would explain the recalls for two forwards. The Flyers will also be without defenseman Tony DeAngelo as he is serving his two-game suspension for spearing Tampa Bay's Corey Perry.
The Phantoms are engaged in a playoff race, which is partially why Samuel Ersson was sent back down after his 2nd stint with the big club as well as Desnoyers after impressing his head coach during his 2 game stint – 6 hits and 3 blocks in 14:53 in his debut, followed by 3 hits and a block in 10:30 against the New York Rangers.
The trade deadline was supposed to open up roster spots to begin with as the selling Flyers had James van Riemsdyk, Justin Braun, Zack MacEwen, Nick Seeler, and Patrick Brown apparently on the block. Teams only came knocking for MacEwen and Brown – the former having been on IR for weeks with a broken jaw – so there wasn't much room for roster juggling from the AHL like there was last year.
Nevertheless, the Flyers have called up the young sharpshooter and it coincides with DeAngelo being suspended for the next 2 games for spearing Perry. It's to assume that Justin Braun will figure in as the 6th defenseman and Foerster, Desnoyers, and Bellows will complete the 12-forward set.
In Foerster's draft year he scored 36 goals and recorded 80 points in 62 games for the Barrie Colts. Due to COVID effectively cancelling the CHL's season, Foerster was afforded the opportunity to play in the AHL during the 2020-21 season – which is not allowed for North American skaters under the age of 20. They kept the same rule intact the following season as well and allowed the same "underaged" players to return back to AHL if their respective clubs agreed.
Foerster has dealt with his fair share of injuries that have cut his seasons short including a fractured shinbone and a separated collarbone, but he has brushed those away and has been a bright spot for the Phantoms this season.
He returned to full strength this summer when he joined Team Canada for their World Junior Championship run where he chipped in with 3 goals and 6 points. He would've missed out completely had the tournament not been postponed over the winter.