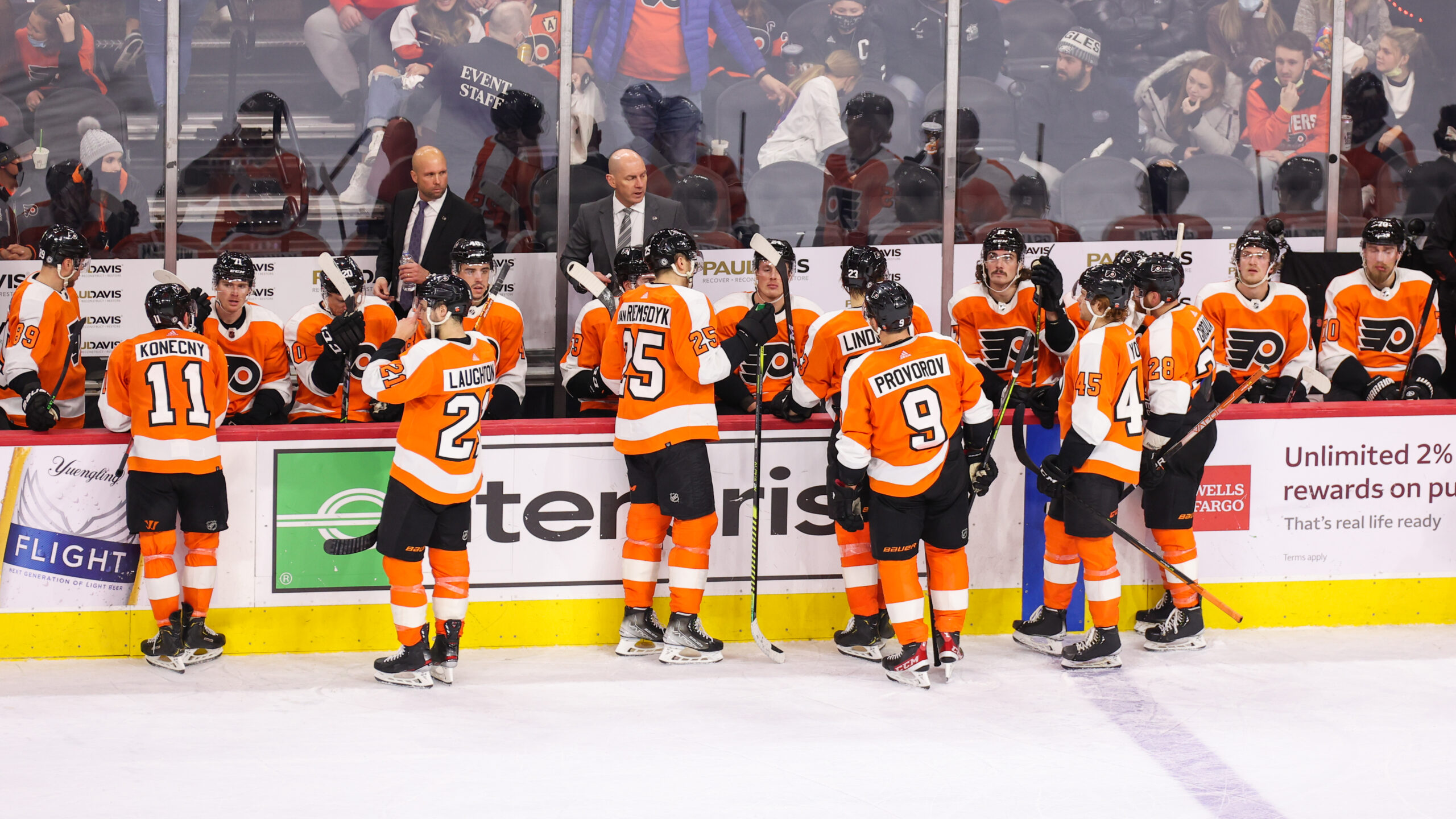 The Philadelphia Flyers found their new head coach after what seemed like an extensive search with so many names and interviews being thrown around. This was the summer of head coaches and a lot of teams were in the market but at the end of the day, the Flyers went with John Tortorella, but more importantly John Tortorella wanted to come to Philadelphia. Barry Trotz had no desire to continue coaching this season even with the Flyers reportedly offering him a contract that would've made him the highest paid coach in NHL history, Bruce Cassidy had his eyes set on Las Vegas, and after that it became more about who wants the Flyers job than who the Flyers wanted.
The Flyers found the big piece of the puzzle for the time being, but they have so many other pieces to locate and fit into the grand picture. One thing that should be a top priority, and I'm sure it will be, is finding good special teams coaches and personnel. General manager Chuck Fletcher did say that the team is looking for two top assistant coaches as well. The Flyers' power play has been abhorrent since the departure of Joe Mullen and their penalty killing has been mediocre for a long time. With Tortorella behind the bench now, the Flyers should be looking for new assistants across the board and ones that fit his system will be of the utmost desirability. The Flyers' power play was always one of their strong points with Mullen behind the bench. He was in charge of the Flyers' man advantage from 2007-08 to 2016-17 and in that time the Flyers carried a top-10 power play 7 times, including three top-4 finishes. Ron Hextall decided to let him go and in his absence, Hextall brought in Kris Knoblauch from the OHL's Erie Otters and the Flyers immediately went from a threat with the extra skater to becoming a middling to mediocre power play with a 15th place finish and a 23rd place finish before Knoblauch was let go. Michel Therrien was then brought in by Alain Vigneault and Chuck Fletcher and the power play went from 14th to 18th in his first two complete seasons before flaming out last season with a 32nd place finish. Therrien was let go in December but the power play didn't get worse nor did it get any better with a mid-season replacement as the Flyers finished with an abysmal 12.55% and a league-low 30 power play goals in 82 regular season games. The Flyers as a whole almost got outpaced by Chris Kreider, who had a league-high 26 power play goals.
The power play was anything but an advantage as their inability to enter the zone, create chances, win faceoffs, set up, and pounce on their limited scoring opportunities led to momentum swings going the other way, on top of the fact that they allowed 11 shorthanded goals, which was tied for third-worst in the NHL behind Montreal's 12 and New Jersey's 14. Slow slingshots, short passes entering the blue-line, lack of one-timers, fumbling of passes – especially at the point – and no in-game adjustments to their poor planning gave them no edge when they were up a man. They might've even been worse with their 5 on 3s as they over complicated everything, never took their shots, and pass-pass-passed their way out of a scoring opportunities. Their shorthanded goals against statistic also has to improve dramatically and fast because dating back to 2012-13, the Flyers were 17th worst in shorthanded goals against to 3rd, 14th, 7th, 4th, 7th, 5th, 14h, 7th, and 3rd in the last decade. If the Flyers plan on making strides next season and improving on their 4th last finish, the power play is one of the main things they need to solve.
Ryan Ellis returning to health is paramount as he is an established quarterback for either power play unit, Sean Couturier returning to health is also paramount since he proves to feature as the main component on the first unit, Kevin Hayes returning to form is paramount as well since he would take on the same role as Couturier but for the second unit, and most importantly they need a new system that uses the best of what their personnel has to offer with plenty of one time options. It's the worst kept secret for successful power plays as most of the NHL's top power play scorers come from the one-timers or being parked in front of the net – deflecting the one-timers or depositing the rebounds from said one-timers. Alex Ovechkin, Chris Kreider, Steven Stamkos, Auston Matthews, Nikita Kucherov, Leon Draisaitl are the best at it and the list goes on.
Tortorella doesn't have the best track record in terms of power play success with 3 top-10 finishes in his 19 seasons behind the bench. Some of that can be chalked up to a lack of offensive firepower in Columbus, which was evidenced further with 4 consecutive finishes below 25th, and his New York days weren't any better but those teams were more equipped to play a 200-foot game in a defensively-minded system with 3 finishes below 23rd. However, the ace up his sleeve is definitely his penalty killing and the Flyers might need that more so than a power play. Special teams are an important gauge of where you are in the standings and why you are either succeeding or struggling and with an NHL low, 88.29% speciality team quotient, the Flyers have to fix their biggest crutch in allowing goals. Compared to his three top 10 finishes with the man advantage, Tortorella had 8 of the same with his penalty killing unit, including a first place finish in 2008-09 with the Rangers, while adding 2 more finishes within the top 12.
The Flyers on the other hand went from having the 5th-best penalty kill in 2012-13 to finishes of 7th, 27th, 20th, 22nd, 29th, 26th, 11th, 30th, and 26th in the last decade. Shorthanded goals have become a statistic that a lot of teams value in recent years. At one point in time, it was very rare to score a shorthanded goal, let alone a goal while down 2 skaters, but that trend has shifted towards more and more teams being prolific down a man; of which the Flyers are never a part of. Since 2012-13 they went from being the 23rd-best team while shorthanded to 11th, 27th, 25th, 25th, 29th, 27th, 7th, 30th, and 18th in the last decade. Momentum swings occur constantly with shorthanded goals and unfortunately for the Flyers, having a bad penalty kill as well as not being prolific on the offensive side of the puck while shorthanded has come to bite them time and time again. The acquisition of Cam Atkinson was supposed to acquiesce some of the malignant efforts while shorthanded, and in theory it did help a little as the Flyers scored 6 shorthanded goals this season compared to 1 from all of last season, which was a 12-place jump in the league. Kevin Hayes showed off some that magic in 2019-20, which gave the Flyers the 7th-best numbers with 8 shorthanded goals, but things have dropped off ever since.
A lot of that has to do with their schemes and systems as they love to collapse in front of the goaltender, which usually just means that he's being screened heavily since the Flyers don't block many of the opportunities and the Flyers allow the opposition's best players way too much time with the puck instead of aggressively pursuing them. You look all around the NHL and almost every successful penalty kill has one thing in common -aggressiveness – which is something the Flyers severely lack. Tortorella's penalty killing units from yesteryears past were always annoying and a thorn in the side to play against, especially his days in Columbus. His schemes of aggressiveness, hard-nosed players fighting in the trenches, and not screening the goalie in full allowed him to be successful while down a man, which will be a sight for sore eyes and will most definitely help the Flyers keep games in check and not serve as a severe momentum swing anymore. This season was tough because the Flyers lost their best defenseman – one who can play in all situations, their top 2 centres – both of whom are all situation and 200-foot players, and had fielded a team full of rookies and AHL-calibre talent for the majority of the second half. A lot of that has to do with the lack of depth present, which points back to the health of Ellis, Couturier, and Hayes being the most important "acquisitions" this summer. Throw in the chip-ins like Scott Laughton, Cam Atkinson, and Oskar Lindblom, and the Flyers should improve from their 26th-placed penalty kill; but that's a lot of ifs and buts.
Barry Trotz would have been THE guy to fix their penalty killing issues, bar none, however John Tortorella isn't a bad second option considering the fact that Trotz might never coach again. His first place finish, on top of his several top-10 finishes bode well for the hapless Flyers who could never figure it out while down a man. The power play is a different story but almost similar to their dwindling and decreasing penalty kill, but it all came crashing down once Joe Mullen left. The Flyers need to change schemes and tactics immediately and in short order and they have to watch and copy what the successful teams are doing. It's a copy-cat league, always has been, and always will be, yet the Flyers for whatever reason have neither copied nor borrowed anything from the other successful units other than the commonly-used slingshot pass.
It's time to bring in a coach who can give the Flyers an offensive boost when they most need one, but more importantly the health of their best players who play in all situations.