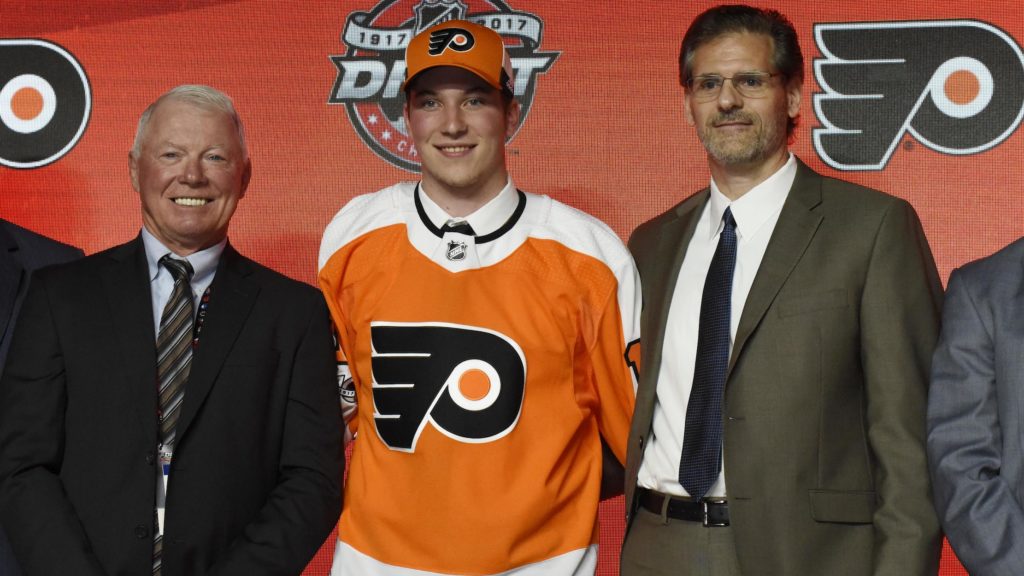 The Imperfect (or Perfect) Timing of Bobby Clarke's Tirade
Coming off the heels of my last article, it's important to play devil's advocate to understand both sides of a story. Ron Hextall made a lot of egotistical moves during his reign as general manager of the Philadelphia Flyers, but it was a rather peculiar move from Bobby Clarke to speak up at a time when the organization is crumbling piece by piece. 
Clarke has been with the organization for 42 years as a player, coach, general manager, and executive. He captained the only 2 Stanley Cups in franchise history and is without a doubt the greatest Flyer of all time. He hasn't been in the limelight all too often lately but when he speaks, you listen. Appearing on The Cam and Strick Podcast on Tuesday, Clarke added fuel to the fire on Hextall's general managing tenure in Philadelphia.
There have been rumours and murmurings for years that Hextall drafted Nolan Patrick 2nd overall in 2017 at the behest of his scouts, who preferred either Miro Heiskanen or Cale Makar. Many people will point out that this is revisionist history or hindsight bias because of how quickly Patrick's career derailed, but the scouts were onto something and to completely disparage their work and picking based on who he liked better was evidence of his egotistical mannerisms. 
The media, especially the Canadian media, made sure that Patrick was the consensus player heading into the draft. He had the stats, he had the size, he had the tools that would make anyone drool at the thought of drafting him. Nico Hischier's World Junior performance that year catapulted him into the conversation for number one overall, but there were also character issues, laziness, and of course the lengthy injury history that had many people, primarily the Flyers scouts, concerned in regards to Patrick. 
Now, we all know how it turned out with Patrick getting his wish and leaving the Flyers via trade, Cale Makar winning the rookie of the year and producing at a point per game pace, and Miro Heiskanen being a stalwart on the backend in Dallas averaging almost 25 minutes a game. There are many more stories and things to pick at during Hextall's tenure but it's time to try and understand the reasonings behind Clarke's tirade. 
Bobby Clarke is a loyal guy and he's been forever loyal to the Philadelphia Flyers, so it was a little odd to see him attacking a Flyers alumni, one he worked with for several years to boot. A lot of what he said can't be confirmed nor denied fully, but when there's that much smoke circulating a topic for 3-4 years, it's hard to look away, especially when its coming from a guy as venerated as Clarke and someone who was in that board room. 
The timing of his comments made things that much better because Clarke's been rather quiet for a long time and he's clearly sat on this nugget for four years. He aided our curiosity by giving us more insight to that fateful decision, but with the Flyers organization falling apart at the seams this year, it seemed like Clarke's words weren't just to further ruin Hextall's reputation, but also to keep Chuck Fletcher in safe waters. With all the mishaps that the Flyers have gone through this year, everyone is fed up and the ownership group knows it.
The Hall of Fame ceremony induction was a flop, first with the odd timing before the game when they knew no fans would be present, then to not have it aired on television. They did a terrible job at promoting the alumni game and the ceremony, and then to have the two inductees speak to a crowd of a few thousands was rather embarrassing. They've doled out so much of their money and attention to the Wells Fargo Center to increase profits but not much has gone into fixing the hot mess that's on the ice. 
With everyone looking for immediate change, the Flyers' ownership group alongside their top executives are seemingly looking for a way to keep Fletcher without it causing too much of an uproar. One way to do that is exploiting the previous regime that Fletcher took over for. He inherited Hextall's foundation and base and it was his duty to clear them out of that mess. Under their guise, the players that are currently underperforming aren't Fletcher's fault, as he has tried to revamp the roster twice in the last 3 years. 
Hextall's management was not great and there are several examples to point at, however Fletcher hasn't shown that much more for us to be patient and excited about the future in his hands. He's going to be the general manager for at least one more year and his seat is currently lukewarm at best.
Elliotte Friedman reiterated those thoughts in his 32 Thoughts segment:
"Bob Clarke dropped bombs on Cam Janssen and Andy Strickland's podcast, taking a big run at former Philadelphia GM Ron Hextall. If anything, that confirmed the huge divide between Hextall and the Flyers' alumni — a power struggle that played a major factor in Hextall's firing. My main takeaway from the timing of Clarke's comments is that the heat is on, and Comcast is deciding what direction the team should go. Clarke would want current GM Chuck Fletcher to rebuild the team if that's the chosen path. By taking this route, he's trying to make sure that happens. He'd do anything to defend someone he likes."
And then added:
"Philadelphia's upcoming scouting meetings are going to be intense. There will be deep conversations about both personnel and on-ice direction. However, it sure seems like the organization needs to work on something else — re-engaging history. I couldn't believe how many angry direct messages filled my inbox because what would have been Ed Snider's 89th birthday was not recognized during last Thursday's game against Pittsburgh. That follows many of those same fans feeling last November's Flyers Hall of Fame induction was mishandled. There's work to do here."
The trade deadline is going to be a tell-tale sign of the front office's motives heading into the summer. With several expiring contracts on the books, including notable players with value like Claude Giroux, Rasmus Ristolainen, and Justin Braun among others, Fletcher and co. need to make it a priority to get as much as they can in future assets for their expiring veterans. Is he the right man for the job?
Only time will tell, but his history in Minnesota could dictate otherwise, outside of a 5th round gem in Kirill Kaprizov, he didn't have many hits. One of the reasons for that was trading their first rounder at the deadline in 2013 and 2017; something that will likely not be the case for the Flyers moving forward. Clarke's comments further push the agenda of keeping him around for another crack at this roster, while also trying to underlie the many mishaps that have fallen on this organization this year.