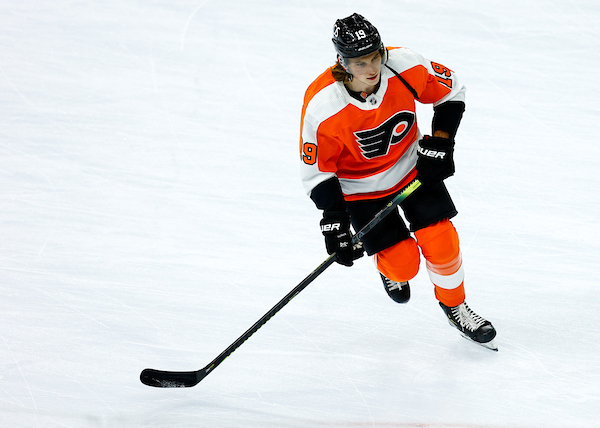 Another Crack in the Hextall Regime: The Nolan Patrick Edition
Outside of Claude Giroux, there might only be one name that could draw up more debate or controversial opinions from the last decade of Philadelphia Flyers hockey, and that man is Ron Hextall. The former player turned general manager was welcomed with open arms after Paul Holmgren ran this team to the ground. His patient approach, draft capital recaptures, and "refresh" of the roster was supposed to pay dividends. However, we stand several years after his departure in the same exact position, no different, and definitely not any better.
Hindsight bias is probably the most used tool in the arsenal of hockey fans and media members alike when it comes to drafting, trading, and signing free agents. Usually you'll look back at a draft year and see a big name taken several picks after your favourite team took a bust. The "shoulda coulda woulda" approach comes in handy then, but when your scouts are imploring that you take a certain player or that you stay away from a certain player, that should speak volumes to any general manager; apparently not Hextall. 
Where there's smoke, there's fire and that smoke that has surrounded the 2017 NHL Entry Draft has been billowing for several years. The media made it a "Nico vs Nolan" tabloid and for very good reason. At the time both Nico Hischier and Nolan Patrick seemed like the consensus 1-2 picks of the draft and it all depended on who the New Jersey Devils preferred. One was a smaller but more gifted playmaker, while the other was a bigger framed, two-way centre. There was some discussion about Miro Heiskanen or Cale Makar finding themselves in the top 2 but that seemed more like a long-shot than anything else.
It has been mentioned before that the Flyers scouts implored Hextall to take either Heiskanen or Makar instead of Patrick. There were several red flags concerning Patrick at the time, most of them having to do with his injury history, but there was always some concern about his character issues, laziness, and lack of competitive spirit. Obviously some scouts saw it differently but pretty interesting stuff for a consensus top pick.
You've either heard that some of the scouts wanted Makar, while the others wanted Heiskanen, and then sometimes you'll hear that nobody wanted Patrick as they were fixated on Makar. However you roll the dice, it seemingly comes up the same every time; Patrick was a Hextall pick and nothing more. Bobby Clarke reiterated those thoughts on the Cam and Strick Podcast today and it illuminates us even further as to how destructive Hextall's regime was. 
After Hextall was shown the door by Dave Scott and Paul Holmgren, it was a somewhat surprising move because it's usually the coach that falls first but being fired just because he didn't want to let go of Dave Hakstol was just the cherry on top of the cake. Crossing Broad's Anthony SanFilippo wrote an article shortly after, describing the firing and what had transpired within the organization over his tenure as general manager:
Hextall was fired because his relationships with a lot of people in the organization soured and he was difficult to work with. He was a micromanager of the highest order. He refused input from others – including his bosses. He kept his cards close to the vest and everyone had a hard time penetrating his well-guarded castle for one.
But, the underlying feeling is that his reign as general manager was oppressive – and it was felt that way from the locker room, to the coaches' offices, to the management team, to the executive offices of the Wells Fargo Center, to the alumni, to the employees of the organization.
He followed that up with another article one week later that went even deeper:
"Hextall admitted at his personal press conference to bringing in a dietitian on board to promote better food choices, but he didn't tell the media how much input he had in the menus. He would fume at players grabbing a slice of pizza or a few chicken wings after a game. He even changed what food was available on the plane or served in the team hotel, choosing to go more organic."
"Murphy was Hextall's first hire, and that's important. The two were former teammates. Hextall wanted Murphy to be his eyes and ears in the locker room – and he was."
"The problem was, it was secretively."
"Murphy was a Hextall spy. And he spied on everyone. Players. Coaches. Trainers. Equipment people. Everyone. He was a direct line to Hextall about everything going on in the locker room, training room and even some personal stuff off-ice."
"It got to a point this season where a lot of the defensemen – especially the younger guys like Ivan Provorov, Travis Sanheim and Shayne Gostisbehere, either didn't trust their coach, weren't on the same page or both."
"Thing is, Hextall had spies all over the place. He had people who would report anything and everything to him – and Hextall would clamp down on anything he didn't like."
These words have lived on for years and after Bobby Clarke's appearance on The Cam & Strick Podcast yesterday, all those sentiments were reiterated and brought back to light. Clarke started off  by saying that "he alienated everybody right away. He shut his door, he locked the door…nobody else was part of it". The biggest takeaway was "none of our scouts wanted Nolan Patrick…they wanted Makar…Hextall made that choice himself." He continued by saying "there were other choices we made in the draft that we're paying for. You know, we got 2 or 3 first round picks that are never gonna play, that's why we're struggling. Hexy made some huge mistakes." 
The hosts then brought up the Brayden Schenn trade to which Clarke added "that was just as bad. Nobody knew it, Hexy made that on his own….our scouts were so mad at Hexy for doing that". Schenn's trade had a lot to do with the fact that Hextall was never truly a fan of his game and the fact that they were only a few minutes away from an arbitration meeting the season before, then Schenn signed a 4-year deal, was probably the nail in his coffin. 
Arbitration is a huge no-no in hockey and even getting to that point is a black mark (outside of the team-elected arbitrations like the one Travis Sanheim received this past summer). Let's also not forget that when both Sean Couturier and Brayden Schenn were entering their final years of their deals, Couturier was signed long-term rather quickly, with Schenn waiting in the dust; which speaks volumes as to what and who Hextall prioritized. 
To add onto Clarke's comments that Hextall did as he pleased and didn't really consult with many of his scouts, there is smoke about the Flyers wanting to have drafted David Pastrnak in 2014 over Travis Sanheim. Travis Sanheim having some relation to Hextall, wasn't necessarily on many team's draft boards, especially in the first round. 
It's easy to pin the tail on the donkey now, several years after the drafts and several years after Hextall's departure, but this isn't the one and only thing we have heard about his disastrous tenure. Nolan Patrick's tenure in Philadelphia doesn't help either because he barely played and when he did play he wasn't all that special, or at least what people would consider a second overall pick. His selection further points to Hextall's ego as he played for the Brandon Wheat Kings, a city to which Hextall knows all too well since he was born and raised in Brandon, Manitoba himself. 
Meanwhile Cale Makar has won the Calder Trophy for being the rookie of the year, he finished second in the Norris Trophy voting last year, and he currently has 16 goals and 34 points in 29 games, which would top the Flyers team right now. In total he has 36 goals and 128 points in 130 career games and signed a 6-year deal worth $54 million this past summer. While Miro Heiskanen isn't as flashy as Makar, he has put up 32 goals and 116 points in 236 games, while receiving an 8-year deal worth $67.6 million for his efforts. He averaged over 23 minutes of ice time in his rookie year and was a few seconds shy of averaging 25 minutes last season (24:58). Nolan Patrick, for his career, has scored 31 goals and 73 points in 206 games and is currently in the bottom-6 of the Vegas Golden Knights' roster.
Hextall's arrogance got in the way a lot while managing the Philadelphia Flyers and even though he drafted Ivan Provorov, Travis Konecny, Carter Hart, and Joel Farabee, he whiffed and missed on far too many picks, first rounders especially, because he thought best. It's also not even the fact that he drafted Nolan Patrick or traded Brayden Schenn, it's the fact that he told no one, or very few people about it, and just rebuffed everything the scouts had done and told him about. The rebuild that never was became the refresh that never was, and now the Flyers are paying for those mistakes.