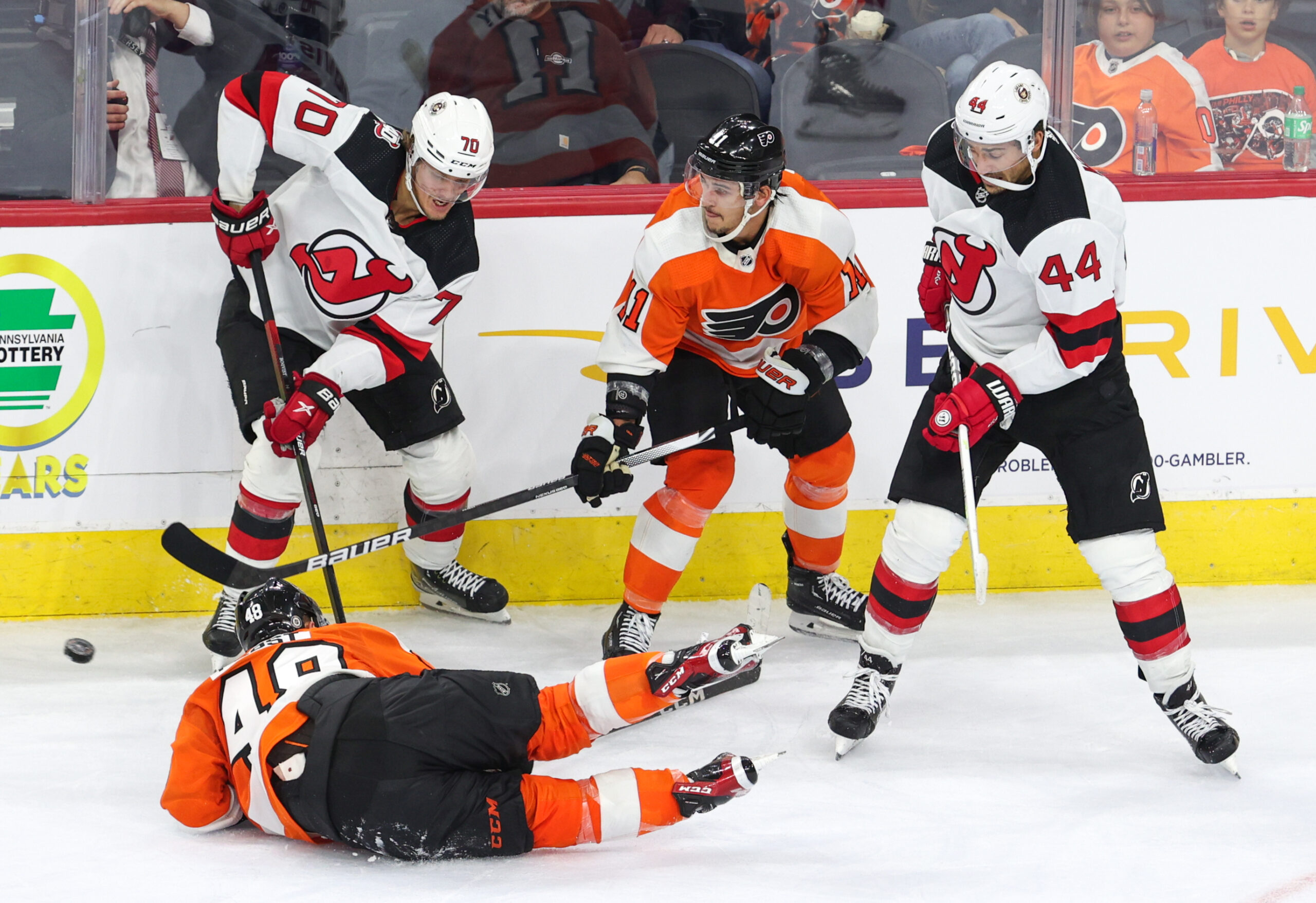 Slumping Flyers Looking For Answers Offensively Against Red-Hot New Jersey Devils
After another disastrous defeat, the struggling Philadelphia Flyers head over to Newark to face off against the red-hot New Jersey Devils in the 4th and final meeting of the season between these two clubs.
The Flyers took the season opener and their most recent matchup, while the Devils took the second game in Philadelphia as they look to tie the season series.
The Flyers are coming off the heels of an embarrassing showing last night against the Montreal Canadiens on home ice. They were handedly defeated 5-2 by a team that had 10 players on IR and an additional 3 players who were out of the lineup. Carter Hart was on the hook for all 5 goals and will make way for Samuel Ersson tonight as he looks to remain perfect in his rookie season.
Travis Konecny was officially placed on IR earlier today, and in a subsequent move they called up Elliot Desnoyers who is set to make his NHL debut tonight, donning the number 73. He currently leads the AHL's Lehigh Valley Phantoms in goals (19) and points (36) this season.
As for the New Jersey Devils, they come in as winners of 7 of their last 10 games, are 2nd place in the Metropolitan Division trailing on the Carolina Hurricanes, are the 3rd-best team in hockey, and are just 1 of 9 teams in the NHL with 200+ goals.
Jack Hughes continues to pace the Devils offense with 35 goals, 37 assists, and 72 points. Dougie Hamilton leads the team in assists with 40 and second in points with 56, Jesper Bratt is right behind him with 55 points, Nico Hischier with 53 points, and promising rookie Dawson Mercer rounds out the top-5 with 18 goal and 38 points – including a 5-game goal-streak where he has tallied 7 goals and 2 assists.
The Devils are 4th in the league in shots on goal, 6th in goals scored, 6th in goals allowed, 4th in shots allowed, 10th in penalty killing, and 20th on the power play; while the Flyers are 28th in goals, 25th in shots on goal, 32nd on the power play, 19th in goals allowed, 18th in shots allowed, and 22nd on the penalty kill.
Kevin Hayes has 2 goals in his last 12 games while only chipping in with 3 assists, Scott Laughton has 1 goal in his last 13 games, Morgan Frost has 1 goal in his last 14 games with 5 assists to his name, Joel Farabee remains goalless in his last 19 games with 3 assists in that stretch, and Owen TIppett has 4 goals in his last 18 but does have goals in his last 2 games.
Without their leading scorer in Konecny, the Flyers desperately need their top guns to get on the scoresheet as they have only won 5 times in their last 17 games and 3 times in their last 13.
PHI Record: 23-27-10, 56 pts, 7th in Metropolitan
NJD Record: 38-15-5, 81 pts, 2nd in Metropolitan
Last Game PHI: 2/24/23, 5-2 L vs. Montreal
Last Game NJD: 2/23/23, 4-3 OTW vs. Los Angeles
When: 7:00pm ET
Where: Prudential Center, Newark, NJ
PHI Goalie: Samuel Ersson (6-0-0, .913 SV%, 2.56 GAA, 1 SO)
NJD Goalie: Akira Schmid (5-4-0, .919 SV%, 2.24 GAA, 0 SO)
PHI Projected Lineup
#13 Kevin Hayes – #48 Morgan Frost – #57 Wade Allison
#86 Joel Farabee – #49 Noah Cates – #74 Owen Tippett
#21 Scott Laughton – #73 Elliot Desnoyers – #62 Olle Lycksell
#44 Nicolas Deslauriers – #38 Patrick Brown – #20 Kieffer Bellows
#6 Travis Sanheim – #55 Rasmus Ristolainen
#9 Ivan Provorov – #61 Justin Braun
#24 Nick Seeler – #77 Tony DeAngelo
#33 Samuel Ersson
#79 Carter Hart
NJD Projected Lineup
#90 Tomas Tatar – #13 Nico Hischier – #91 Dawson Mercer
#17 Yegor Sharangovich – #86 Jack Hughes – #63 Jesper Bratt
#18 Ondrej Palat – #56 Erik Haula* – #70 Jesper Boqvist
#44 Miles Wood – #20 Michael McLeod – #49 Fabian Zetterlund
#71 Jonas Siegenthaler – #7 Dougie Hamilton
#33 Ryan Graves – #6 John Marino
#88 Kevin Bahl – #28 Damon Severson
#40 Akira Schmid
#41 Vitek Vanecek
PHI Injuries: Sean Couturier (back), Ryan Ellis (hip), Tanner Laczynski (upper-body), Zack MacEwen (jaw), Cam Atkinson (neck), Travis Konecny (upper-body), James van Riemsdyk (undisclosed)
Scratched: Felix Sandström, Cam York
NJD Injuries: Jonathan Bernier (hip), Mackenzie Blackwood (lower-body), Erik Haula* (illness – game-time decision)
Scratched: Nathan Bastian, Brendan Smith
News and Notes
– The Flyers are expected to revert back to 12 forwards and 6 defensemen tonight with the call-up of Elliot Desnoyers.
– This the 4th and final meeting between these two division rivals with the Flyers currently holding a 2-1 edge on the Devils. They opened the season at the Wells Fargo Center where the Flyers won emphatically by a score of 5-2. The Devils then took the next matchup by a score of 3-2 in Philadelphia, before the Flyers took the third matchup less than two weeks later by a narrow 2-1 score after Carter Hart made 48 saves for the win.
– Before the season started, Jack Hughes had never scored against the Flyers in 13 games, this season he has surprisingly been held to 2 points in 3 games – both of them being goals in their two most recent matchups.
– Jesper Bratt has scored 7 goals and 18 points in 23 games against the Flyers over his career, Dougie Hamilton has 4 goals and 16 points in 28 games.
– James van Riemsdyk has 17 goals and 35 points in 47 games against his hometown team, but will not play tonight. Perhaps the struggling Joel Farabee can get off the schneid as he has 7 career goals in 13 games against the Devils, and Ivan Provorov has 16 assists and 20 points in 30 games against New Jersey.
– van Riemsdyk was apparently "banged up" after last night's game, and asset management is likely playing a role in him sitting as well. Cam York is also out as John Tortorella said he wants to give him a game off to rest after a recent tough stretch.
Broadcast Info: TV – NBC Sports Philadelphia, Radio – 97.5 The Fanatic