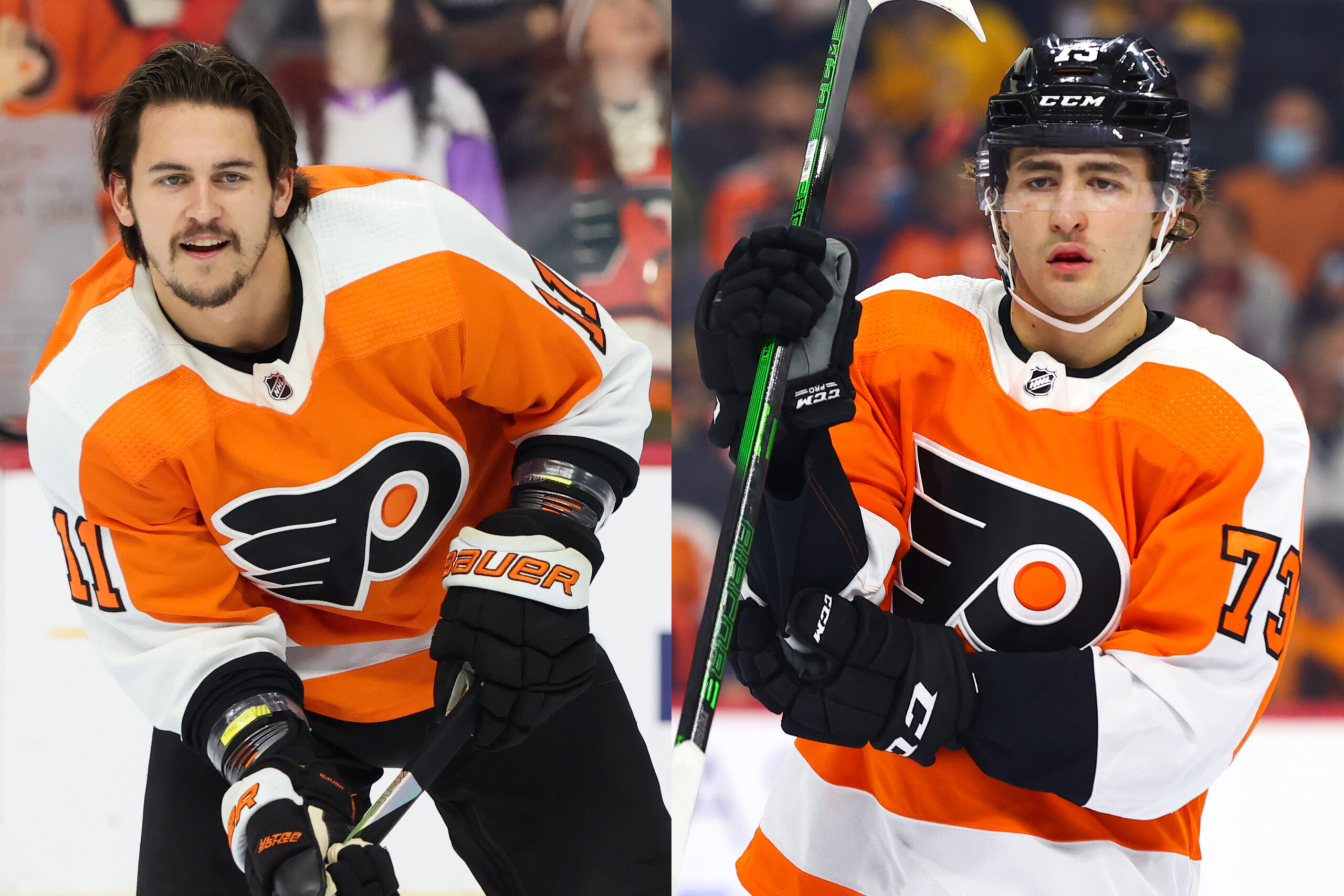 Almost like clockwork, the Philadelphia Flyers urged us that Travis Konecny's injury wasn't a serious one and that he had suffered an upper-body injury, but it didn't go any further than that. Konecny was seen wearing a sling on his arm after he got pushed from behind by Calgary Flames defenseman, MacKenzie Weegar, in the second period of their eventual 4-3 victory on Monday afternoon. The Flyers announced that he would be re-evaluated when they returned to Philadelphia after their road game against the Edmonton Oilers the following night, and then were mum about his availability up until this morning when he was officially placed on IR.
In a subsequent move, the Flyers called up promising prospect, Elliot Desnoyers, from the Lehigh Valley Phantoms as he is set to become the 3rd player this year – and 18th in the past 2 seasons – to make his NHL debut with the big club, following in the footsteps of Olle Lycksell and Samuel Ersson. Desnoyers will wear #73 and is slated to play tonight against the New Jersey Devils.
As The Athletic's Charlie O'Connor pointed out, and primarily because the Flyers are mum about everything injury related, the move to put their leading scorer on IR might not necessarily mean he's out long term. O'Connor said that because he's on IR it means he has to sit out for 7 days but it can be backdated or retroactive to the date of injury. So if that is the case, then the 7 days would lead up to Tuesday, which would be a day before the Flyers play their next game on March 1st against the New York Rangers.
He continued by stating that if the Flyers knew Konecny was going to be unavailable tonight, it made transactions that much easier because it opened up a roster spot for Desnoyers without having to send anybody back to the Phantoms like a Kieffer Bellows or even a Felix Sandström, who would require waivers. All in all, if the Flyers are lucky and aren't hiding any pertinent information, this could just be a paper move as they don't play again until Wednesday when Konecny would be eligible to return off IR.
In Desnoyers, the Flyers are getting a defensively responsible, two-way forward who has been a surprise since being drafted in the fifth round of the 2020 NHL Draft. The 21-year-old has scored 19 goals and 36 points in 48 games for the Lehigh Valley Phantoms this year in his first professional season after spending the last 4 in the QMJHL with the Moncton Wildcats and Halifax Mooseheads. He leads the Phantoms in goals with 19, is tied for 2nd in assists with 17, and stands alone at the top in points with 36 – even though Lycksell had 34 points in 34 games before being called up for the second time.
In his draft year with the Wildcats, Desnoyers scored 11 goals and 35 points in 61 games before scoring 21 goals and 49 points in only 37 games the following year with the Mooseheads in his draft+1 season. He truly came onto the scene last year after scoring 42 goal and 88 points in 61 games and earned himself a roster spot in the summer rendition of the 2022 World Junior Championship for Team Canada, where he recorded an assist in 7 games en route to the gold medal.