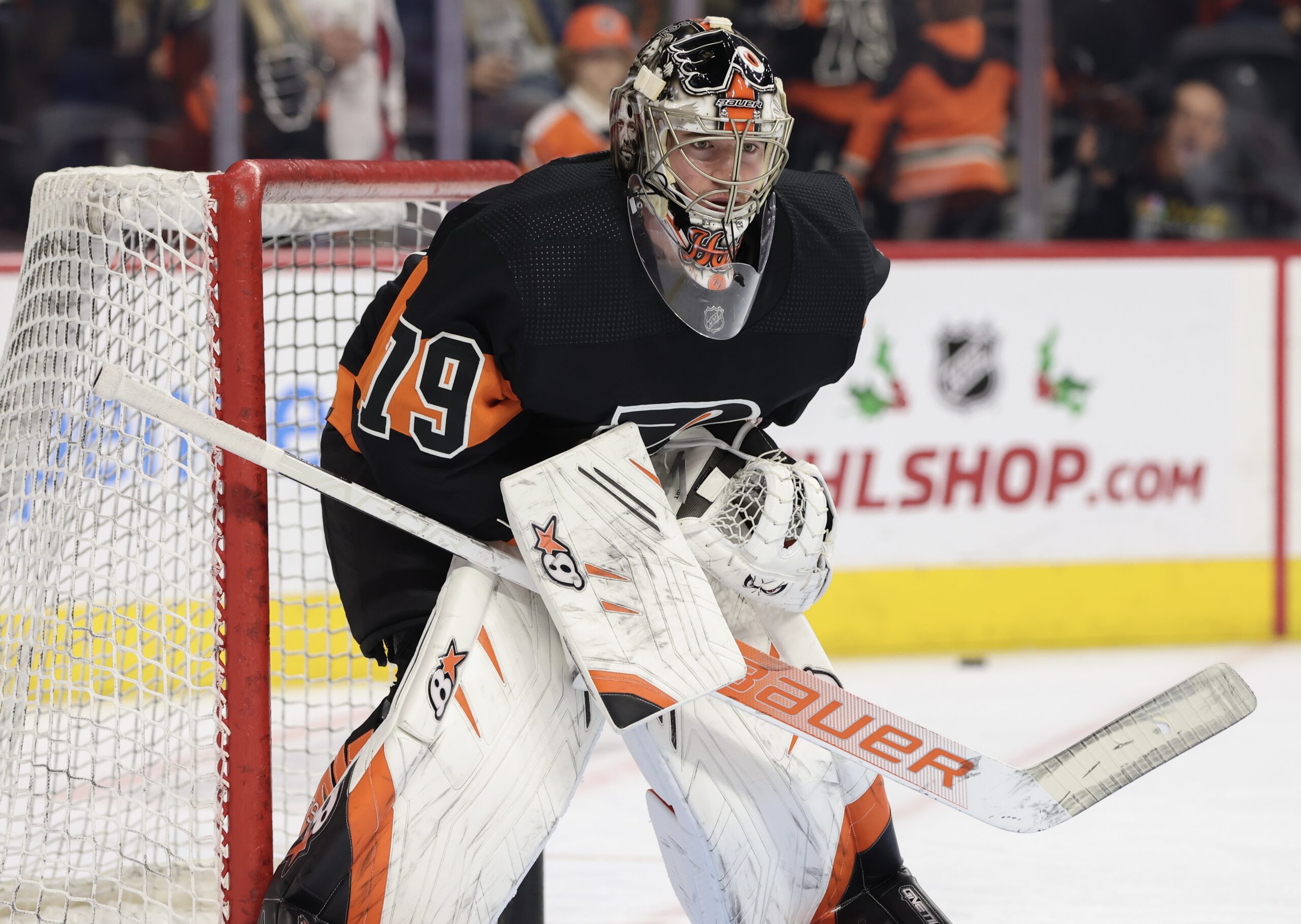 Carter Hart has been nothing short of fantastic for the Philadelphia Flyers this season.
While the team hasn't had plenty of sustained success this year, Hart has been one of a few bright spots for Philadelphia in a season where the team was supposed to be terrible.
Hart has been a major reason that the Flyers have exceeded expectations and are currently within striking distance of a playoff berth, logging a 15-14-8 record to accompany a .911 save percentage, 2.88 goals against average, and one shutout. They aren't Earth-shattering numbers, but they're still very respectable and he has started his climb through the Flyers' history books with each passing game.
His advanced numbers are pretty impressive, however. Per Evolving-Hockey, Hart is 9th in goals saved above expected with 14.35, 5th in shots against with 1147.64, and 6th in expected goals against with 118.27. He is also 21st in goals saved above average with 4.42. Hart faces a lot of rubber but he has done a pretty good job of keeping it out of the net this season.
Hart recently tied Doug Favell for 9th in wins with 77 after his 40-save shutout performance last Sunday against Winnipeg. He has also climbed to 5th in games played, currently sitting at 183, passing Pete Peeters back on January 21st.
With 31 games remaining in Philadelphia's season, it's not unreasonable to think that Hart will pass the 200 games mark. That would make him just one of five Flyers netminders to reach that number, joining Favell (215), Steve Mason (231), Bernie Parent (486), and Ron Hextall (489).
Hart's win total sits at 15 on the season through 37 games played, and with just 31 games left and the Flyers sitting just six points shy of a playoff spot, John Tortorella will likely ride his number-one netminder for the bulk of the remaining games. Hart will likely see 20-25 of those games, if not more, and his win total could float somewhere between 22-27 by season's end. 10 more wins would tie the late, great Pelle Lindbergh for 7th in Flyers victories, and that would be just 5 wins shy of Roman Čechmánek's and Bob Froese's 92 each in a tie for 5th. After that, Hart is chasing the late Wayne Stephenson (93), Mason (104), Parent (231), and Hextall (240).
Hart still has plenty of ground to make up on moving towards the top in shutouts, as his 40-save clean sheet on January 28th was just his 4th with the Flyers, tying him for 19th with Michal Neuvirth and Antero Niittymäki. A 5th shutout would move him into a tie for 16th with Peeters, Dominic Roussel, and the late Ray Emery, and a 6th would move Hart into a tie for 15th with Brian Elliott, his former teammate and the only active NHL goaltender above Hart in Flyers shutouts.
Hart still has a ways to go before he cements himself as an all-time franchise great, but with 31 games left, he can start putting himself in a much better position to do so before he continues his climb up the ranks again next season.