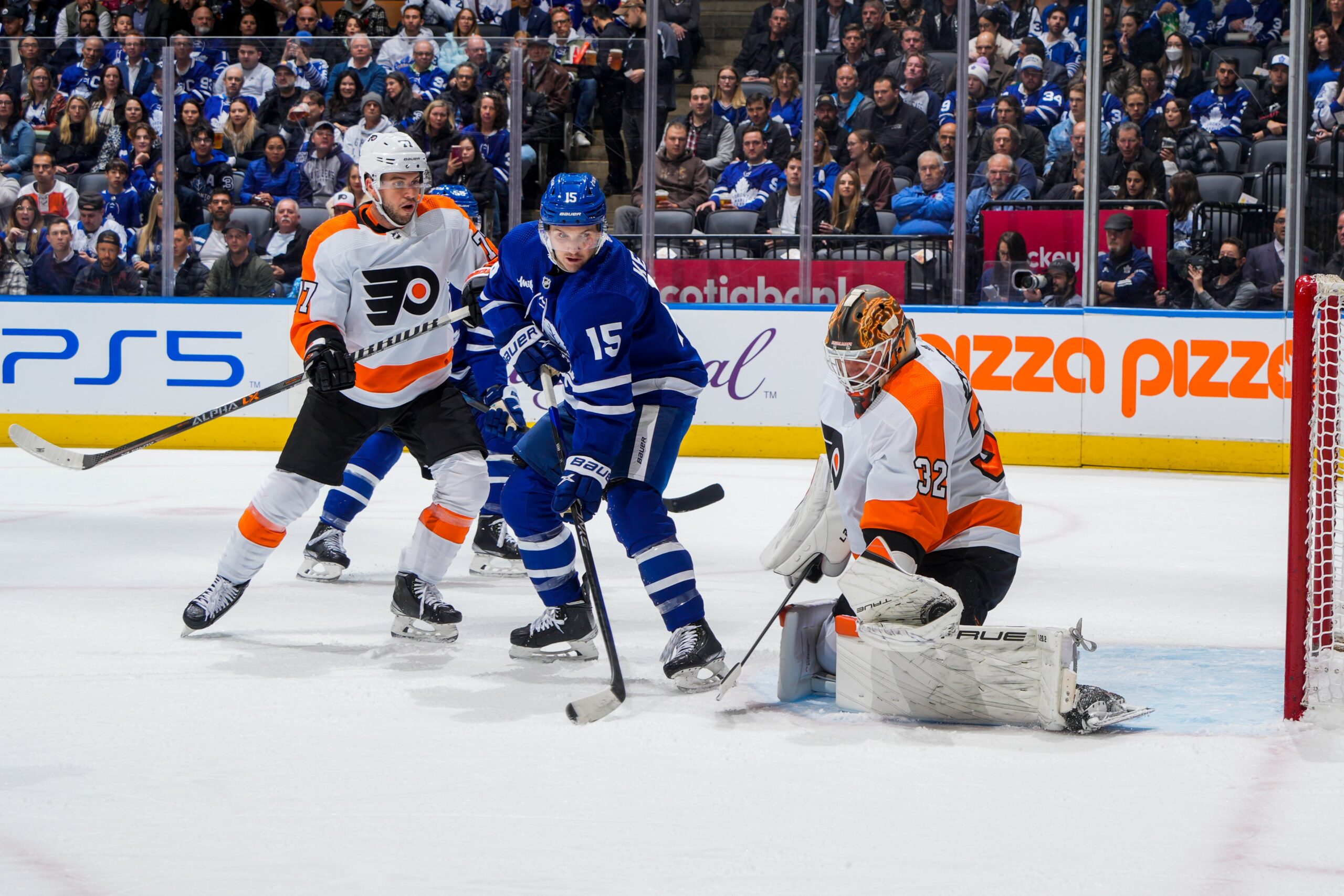 Still in search of his first NHL win, Felix Sandström made his 8th career NHL start tonight. He has played relatively well in his previous seven games, but has been at the receiving end of poor goal support or porous defense as his career record heading into tonight was 0-6-1, and tonight's game featured a mix of both as the Philadelphia Flyers fell to the Toronto Maple Leafs by a score of 5-2 despite his 39 saves.
FIRST PERIOD

The Flyers and Maple Leafs both had something to prove tonight and came out playing hard. Philadelphia was coming off a tough 1-0 overtime loss to the Rangers last night and were looking to rebound, while Toronto is in the midst of a terrible start to their season that has led to the speculation of head coach Sheldon Keefe's and general manager Kyle Dubas' job security.
The Maple Leafs had a shot at netting the game's opening goal after Nick Seeler was sent to the box for hooking Michael Bunting just 5:38 into the game, sending the always-dangerous Toronto power play to work. They landed a couple shots on goal but Felix Sandström handled them with relative ease, and the Flyers would kill off the penalty.
However, Philadelphia would be shorthanded almost immediately again as Travis Konecny was called for roughing against T.J. Brodie at 7:54, just 16 seconds after Seeler's minor was served. Toronto again fired two shots against Sandström, but the big Swede was up to the task and fended off their scoring attempts and the Flyers' penalty killers staved off a hungry Leafs squad again.
While the Maple Leafs were dominating the shot totals, a common theme for Flyers opponents this season, Philadelphia stuck with their game and wound up with the game's first goal courtesy of Joel Farabee.
Young Beezy. #PHIvsTOR | #FueledByPhilly pic.twitter.com/1TbC3DOjve

— Philadelphia Flyers (@NHLFlyers) November 2, 2022
Farabee ripped one off iron after a great setup from Travis Konecny to collect his third goal of the year, and Travis Sanheim picked up his first point of the year on the play with a secondary assist.
Shortly after, Philadelphia would get their first power play of the night as Victor Mete was found guilty of cross-checking Wade Allison 6:12 remaining in the period. Unfortunately the Flyers could not muster many chances against the Leafs' penalty kill, netting just two shots against Ilya Samsonov that were both stopped.
With 3:50 to play in the period, the Flyers would find themselves shorthanded for the third time already after Nicolas Deslauriers tripped up Auston Matthews. This time around, the Maple Leafs finally caught their stride and Matthews made the Flyers pay on the PK with a power play tally to tie the game at 1-1.
Papi puts it home!! pic.twitter.com/kkxFhjqcDX

— Toronto Maple Leafs (@MapleLeafs) November 2, 2022
Just a minute and 53 seconds after Matthews tied the game up, John Tavares blasted a one-timer from inside the blueline off a feed from William Nylander that may have bounced off something on its way to the net, and Sandström couldn't stop it as the Maple Leafs took a 2-1 lead very late in the opening frame.
JOHHHHNNNNNY!! pic.twitter.com/agi5Lz1dg0

— Toronto Maple Leafs (@MapleLeafs) November 2, 2022
After another late scare that was fended off by Sandström, the Flyers escaped the first period down 2-1 and were outshot 17-6. If they wanted any shot of winning this game, they would have to buckle down defensively and get more going on the other end of the ice to support their goaltender.
SECOND PERIOD
The Flyers played a more defensively sound game to kick things off, which seemed to be the theme for them all period. They were keeping the Leafs to the outside more and most importantly, they did so while staying disciplined, which is always a key in trying to hold off a team with as many offensive weapons as Toronto.
Philadelphia ended up with a power play at 4:32 of the middle frame after Denis Malgin cross-checked Egor Zamula, and the Flyers seemed to be more composed in their puck movement and created a lot of quality chances, but they still couldn't solve the Maple Leafs' penalty kill.
It would be one of four power plays they'd earn in the period, with one coming at 9:36 when Lukáš Sedlák was held by Mark Giordano, one at at 15:59 when William Nylander interfered with Zack MacEwen, and one at 18:27 when Nylander high-sticked Travis Sanheim. Despite their best efforts, the Flyers had nothing for Samsonov and the Maple Leafs that could result in a goal, though they kept getting quality looks at the Maple Leafs' cage.
The Leafs themselves, despite the barrage of penalties, remained composed and outshot the Flyers in the period once again by a total of 13-9. Philadelphia played a much more balanced second period compared to the first, but still trailed in the contest and needed to find some offense fast if they wanted to win.
THIRD PERIOD
After having good starts to the previous two periods, the same could not be said about the Flyers' start to the third as just 2:49 into into the frame, Zach Aston-Reese was the recipient of a fortunate bounce off a blocked shot and had a wide open net to shoot at as he made it a 3-1 game for the Leafs.
Reeser's first as a bud!! 👏 pic.twitter.com/LfYCUfq7Mh

— Toronto Maple Leafs (@MapleLeafs) November 3, 2022
It was Aston-Reese's first goal as a Maple Leaf and it couldn't have come at a worse time for the Flyers, who now trailed by two goals in a game yet again this season.
While it seemed like the Flyers would wilt quietly in this one, Owen Tippett had other ideas on the power play. As John Tavares was sitting in the penalty box for holding, Tippett raced into the Leafs' zone, took a pass from Konecny, and blew a seemingly harmless shot by Samsonov to cut the deficit to one with 12:59 to play.
Big Tipper. #PHIvsTOR | #FueledByPhilly pic.twitter.com/AARDRUHYYA

— Philadelphia Flyers (@NHLFlyers) November 3, 2022
The Leafs wouldn't sit back for too long however, and just over five and a half minutes after Tippett's tally, Tavares netted his second goal of the contest to make it 4-2 for Toronto after pulling off a beautiful move on Travis Sanheim. Felix Sandström made a fantastic initial save, but the goalie couldn't shut down the rebound against the Maple Leafs' captain.
🕺 JOHHHHNNNNY BOOOOOYYY!!!!! 🕺 pic.twitter.com/DMUsyNw4fC

— Toronto Maple Leafs (@MapleLeafs) November 3, 2022
Toronto kept their foot on the gas and after Zack MacEwen was sent off for hooking T.J. Brodie, Tavares made Philadelphia's penalty kill pay again and racked up his third marker of the night for his hat trick with 4:37 to play in the final frame.
LET THOSE HATS FLY!!!! pic.twitter.com/iW09HAtF1F

— Toronto Maple Leafs (@MapleLeafs) November 3, 2022
Sandström lost his skate blade and couldn't push off his left foot to get back into position in his crease to stop the shot, adding insult to injury in another strong yet unlucky performance for the 25-year-old.
The end of the game featured some extracurricular activities as Travis Konecny and Auston Matthews got into a slashing match that garnered the attention of everyone on the ice. Mark Giordano made a beeline for Konecny from basically behind and tackled him to the ice, which the Flyers took major exception to. Tony DeAngelo gave Giordano a shove, and Kevin Hayes eventually dropped the gloves and fought Giordano.
Travis Konecny gets jumped twice as Auston Matthews doesn't want to drop his gloves pic.twitter.com/X6pWSbd7I9

— Nasty Knuckles (@NastyKnuckles) November 3, 2022
The Flyers had every right to be as upset as they were at the Toronto defenseman, and the cowardice of the Leafs didn't stop there as Michael Bunting, who had his gloves super-glued on the whole night, decided to take Konecny down, again from behind, after he got up and again went at Matthews. If Toronto showed as much effort at performing no-look takedowns at opposing players as they did at being successful, maybe they'll eventually make it out of the first round for the first time since 2004.
Somehow the Maple Leafs ended up with a power play out of all the scrapping but the Flyers didn't allow anymore goals, but the damage was done as the Toronto Maple Leafs beat the Philadelphia Flyers by a score of 5-2 behind John Tavares' hat trick.
UP NEXT…
The Flyers will face off against their former captain for the first time on Saturday as Claude Giroux and the Ottawa Senators will host the Flyers at Canadian Tire Centre.