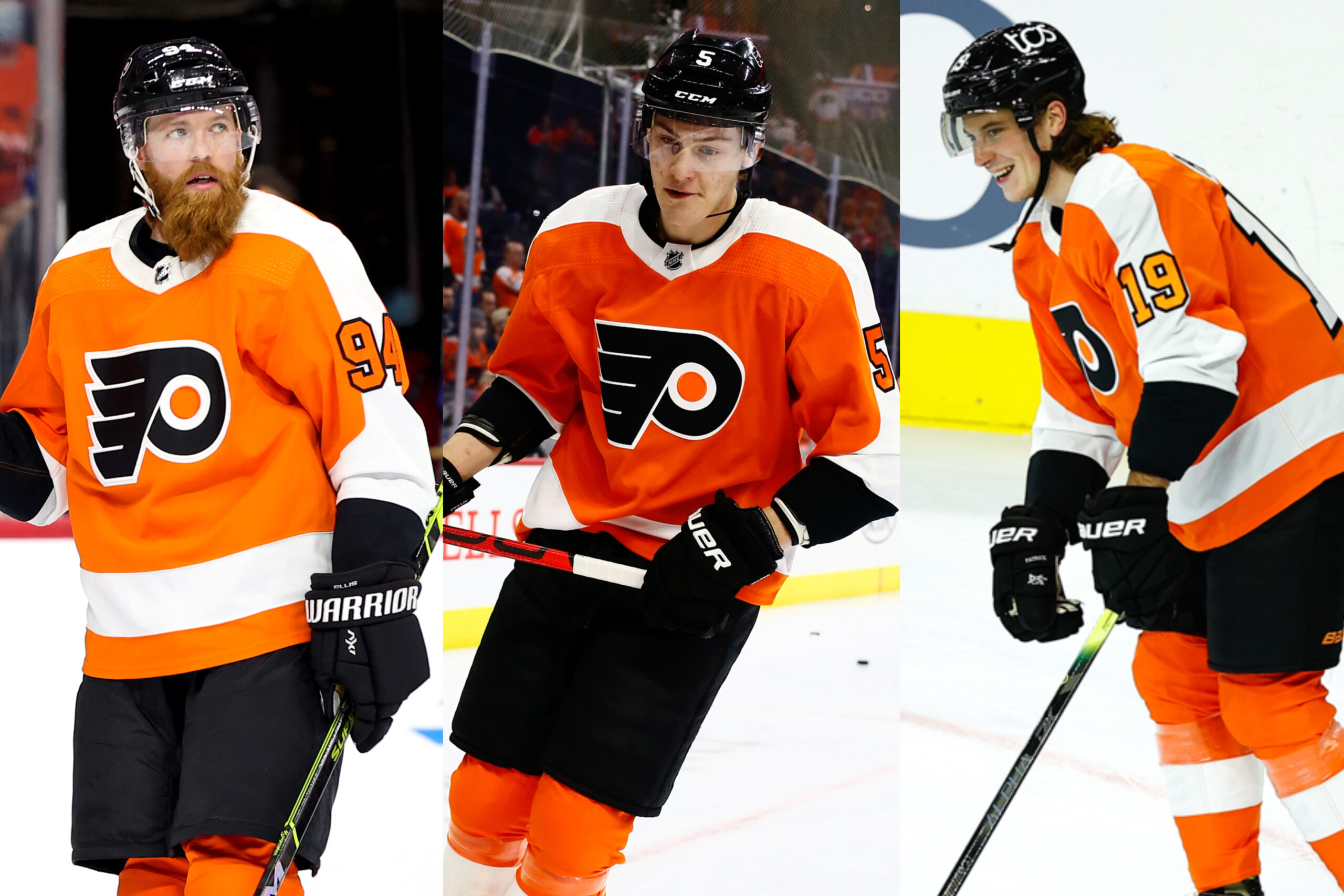 Revisiting the Ryan Ellis Trade
There might not be a more inconsequential trade in recent history than the one the Philadelphia Flyers, Nashville Predators, and Vegas Golden Knights orchestrated on the 19th of July, 2021.
The deal turned into a three-team trade with the Flyers receiving Ryan Ellis from the Predators for Phil Myers and Nolan Patrick, with the latter being moved to the Golden Knights in exchange for Cody Glass.
At first glance, it looked like general manager Chuck Fletcher had swung for the fences and hit a home run when he acquired the very talented and very productive Ryan Ellis for two players who had been found in the doghouse of then-head coach Alain Vigneault. The Flyers had found their top-pairing, right-handed shooting defensemen and help was on the way for Ivan Provorov – seemingly.
There were rumours all season leading up to the trade deadline that Mattias Ekholm was the defenseman on the trade block and the one Nashville was most likely going to trade. The Flyers were somewhat linked to the Swede but ultimately his price tag was too high on top of the fact that the Predators ended up extending his services for another four years at $6.25 million against the cap.
All of a sudden the Predators, who have always had stud defensemen lying around, had Roman Josi accounting for $9.06 million, Ellis at $6.25 million, and now Ekholm at the same rate. Add them into the mix that already included Ryan Johansen at $8 million, Filip Forsberg at $6 million, and Matt Duchene at $8.5 million.
The Predators were somewhat in a bind but fortunately for them – or so they thought – the expansion draft was on its way. Not only did they trade Viktor Arvidsson to Los Angeles to free up cap space but they ended up shipping out Ellis as well, who at one point was deemed untouchable.
The Predators weren't going to be able to keep either one of the aforementioned players so they had to get something in return, regardless of how serviceable they had been for years. Philadelphia swooped in and ultimately we found out that Fletcher had been scouting Ellis for years and figured he could not lose out on his opportunity to attain his prized defenseman.
What Philadelphia Got:
Ryan Ellis had spent his entire 10-year career with the Predators, had 6 years left on his 8-year deal, and established himself as a premier defenseman for years. He had a history of injuries coming into the season, but nothing associated or related to what he is currently dealing with. He was going to be the jack-of-all-trades for that defense as he played every situation imaginable, logged heavy minutes, and was going to shoulder the burden alongside Ivan Provorov instead of the latter dealing with all the issues on his own. Ellis suited up for four regular season games and has been on the mend with a mysterious injury that we are just finding out now is a psoas tear.
In those four games Ellis looked really good but unfortunately it was too small of a sample size, the Flyers' lack of depth got exposed, and everything came to a grinding halt. His injury became an ongoing mystery as he was initially ruled as day-to-day, then he made a return against Dallas only to leave the game with another injury, and he was then ruled to be week-to-week, then to 4-to-6 weeks, back to week-to-week, then finally season-ending.
Ellis did not opt for surgery all season, has confirmed that surgery is not on the table as of right now, and Fletcher described the injured as "multi-layered" as he as several ailments that are all associated with neighbouring regions. With his future looking uncertain at best, the Flyers decided they had to re-sign Rasmus Ristolainen – or that's at least part of the reason they did it – and then go after another top-pairing, right-handed shooting defenseman in Tony DeAngelo.
The defense carries heavy cap hits with Provorov's $6.75 million, Ellis at $6.25 million, Ristolainen at $5.1 million, DeAngelo at $5 million, and Travis Sanheim at $4.675 million. The sole silver lining is that the Flyers are able to place Ellis on LTIR to alleviate that money off their books until his return, but I'm pretty sure everyone in Philadelphia would rather him in the lineup than have his $6.25 million off the books.
Unfortunately, the Flyers weren't able to take advantage of said LTIR alleviation as, 1) they have yet to make the move official, and 2) they held off from doing so at the beginning of free agency, which truly mitigated any chances of a big move taking place.
What Philadelphia Gave Up:
Two promising young talents were traded, one of whom could never get going and the other couldn't replicate or better his terrific rookie campaign. Both players also didn't meet the merits of their head coach any more and it became rather public. Alain Vigneault was never one to shy away from throwing a punch and on several occasions he voiced his displeasure with Phil Myers' game and Nolan Patrick's competitiveness.
Patrick will infamously go down as a draft bust within Philadelphia after being selected second overall behind Nico Hischier and ahead of Miro Heiskanen, Cale Makar, and Ellas Pettersson in 2017. Ron Hextall was allegedly told and asked not to draft Patrick and instead to look at either Heiskanen or Makar. In the end, Hextall went with the consensus top-2 pick with a challenging injury history.
In four years with Philadelphia, Patrick played in 197 games, 73 in both 2017-18 and 2018-19 but missed the entire 2019-20 season with a concussion. He scored 26 goals and 61 points in his first 145 games but then finished his tenure in Philadelphia with 4 goals and 9 points in 52 games while posting a horrendous -30 rating.
Patrick fell out of favour with the coaching staff, he wanted a change of scenery, and in doing so the Flyers obliged by sending him to Nashville. He was then immediately flipped to the Golden Knights in exchange for former first round pick Cody Glass.
Patrick only managed to play in 25 games for Vegas, scored only 2 goals and 7 points, dealt with a myriad of injuries once again, and is set to miss the entire 2022-23 season with another injury. It was said his reunion with Golden Knights general manager Kelly McCrimmon – his former head coach in junior hockey – would get him back on track but unfortunately he couldn't get away from the injuries.
As for Myers, he was tabbed as a stolen gem after he was signed as undrafted prospect by Ron Hextall. He quickly rose through the ranks and found himself on the Flyers in no time. In 50 games in 2019-20, he scored 4 goals and added 12 assists, was a +17, formed a great pairing with Sanheim, and chipped in with 3 goals in the playoff bubble, including an overtime winner in Game 2 of the Eastern Conference Semifinals against the Islanders.
For whatever reason, he was not able to replicate his successes from his rookie season, played small, conservative, and made mistake after mistake on top of the fact that Vigneault was watching his game through a microscope. After being scratched more and more during the 2020-21 campaign, Myers' future in Philadelphia was on the wall, and he was eventually traded to the Predators.
The Predators were looking forward in bringing the young defenseman into the fold, however he only played 27 games, scored 1 goal and 4 points, with the one goal coming against the Flyers in Claude Giroux's 1,000th game, and once again became a frequent healthy scratch. Alexandre Carrier, Dante Fabbro, and Matt Benning took over the right side of the defense and Myers quickly found himself in the same familiar spot.
The Predators made a trade with the Toronto Maple Leafs on the 21st of March, where they sent Alex Biega in exchange for a future consideration. Two days later, Myers was placed on waivers and when he cleared waivers, he was assigned to the AHL's Toronto Marlies and he became the future consideration that was sent to Toronto. He enjoyed some success – at least more so than his last two pit stops – as he scored 2 goals and 7 points in 16 games. His time in Toronto was short lived as he was just recently traded to the Tampa Bay Lightning alongside Grant Mismash in exchange for Ryan McDonagh.
As Ellis' future looks less and less promising, revisiting the trade doesn't look or feel all that bad however. It's unfortunate because we would like to see Ellis in the lineup on a game-by-game basis, however this is one of the few trades where no team won as all teams seemingly lost, and it doesn't make you feel any worse than some of the other trades in franchise history. Sort of like when the Flyers traded Sergei Bobrovsky who won two Vezina Trophies in Columbus, or when the Flyers traded a 30-goal scorer in James van Riemsdyk for Luke Schenn.
Music City Hockey Trip
Take a three day vacation to Nashville with Philly Sports Trips this October! The package includes direct flights, a three night stay at the Cambria Hotel Nashville Downtown, an all-inclusive tailgate, and tickets to the Flyers Predators game. $100 cash for anyone who shows proof they went to the Flyers game on the trip.