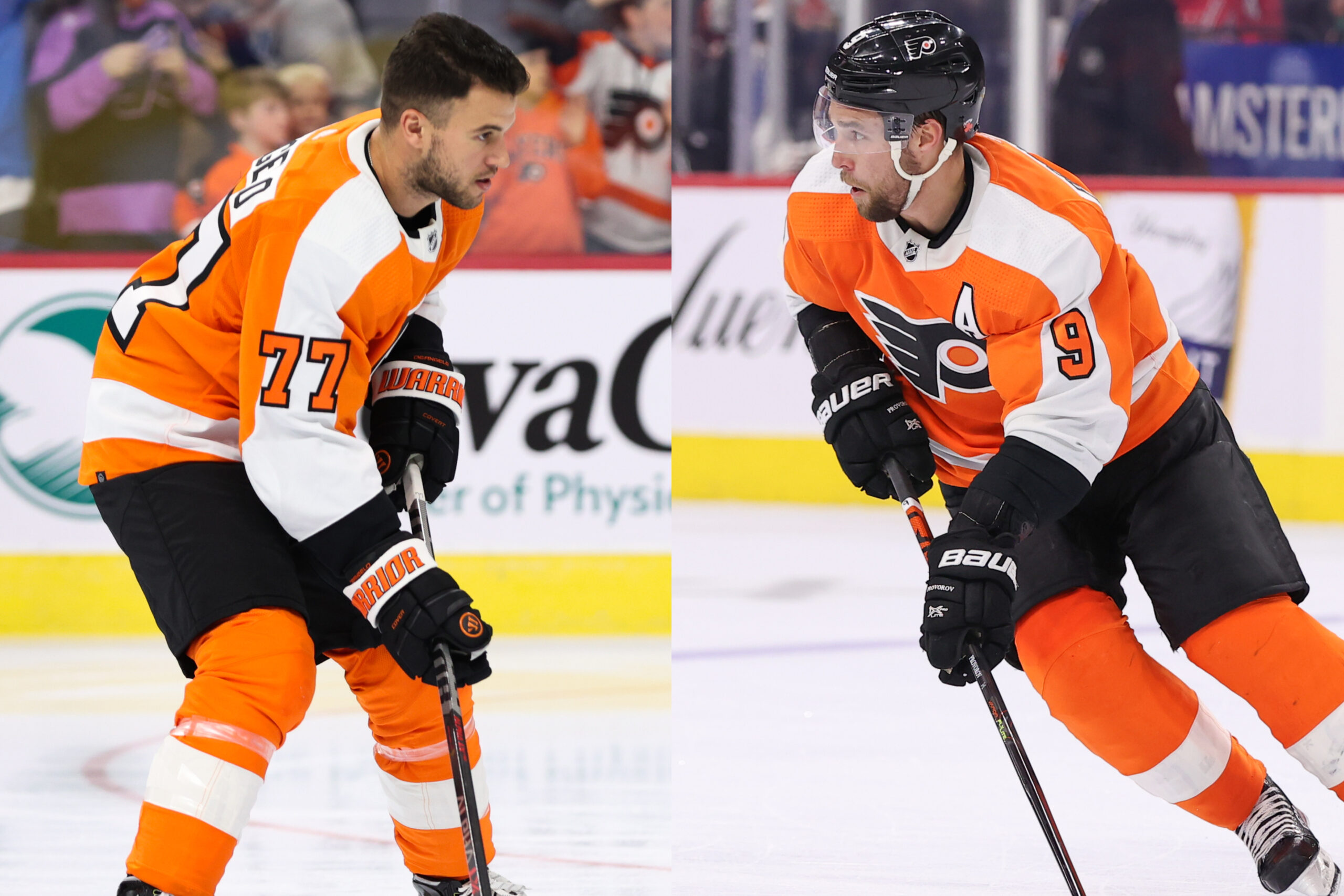 One Defenseman Primed for a Good Season Versus One Defenseman in Need of a Good Season
There aren't many certainties in life, but the Philadelphia Flyers defense being in shambles is one you can bet on almost every season.
The back-end has been problematic for a very long time, it got better in 2019-20, went back off the rails the following season after the sudden retirement of Matt Niskanen, and the problem persisted even after making several moves the following summer.
All in all, the Ryan Ellis trade was inconsequential in the sense that Nolan Patrick is a moot point at the other end of the deal as he is set to miss the entire season with another injury, Phil Myers had a rough 2021-22 season and is now with the Tampa Bay Lightning – his third pit stop in 12 months – and Ellis' injury continues to mystify the fanbase as he is now set to miss the entire upcoming season like Patrick. It's truly one of the most bizarre trades in recent memory when you consider the path all three players have taken since departing their former teams.
Ivan Provorov found himself playing with yet another dance partner last year in Justin Braun, but after he was traded to the New York Rangers, Provorov started to rotate around with the younger prospects like Ronnie Attard, Linus Hogberg, and Egor Zamula.
Nick Seeler, Kevin Connauton, and Keith Yandle might have been one of the more disappointing trios in franchise history, Rasmus Ristolainen had a lot of downs in his first season, and Travis Sanheim was really the only bright spot. With Ellis not returning, the Flyers went out and traded for Tony DeAngelo, brought back Braun on a one-year deal, and are going to be using Cam York a lot more this season.
The hope is that DeAngelo will be able to replicate his 2021-22 season that he had in Carolina, bring back the Provorov from 2019-20, and establish themselves as the number one pairing – something the Flyers seemingly haven't had since the early 2010s. The Flyers were relatively pleased with how Sanheim and Ristolainen worked together in the second half of the season and one has to imagine that Braun and York make up the third and final pair.
They have several options to choose from if injuries come into play again with Seeler and Connauton getting new contracts, as well as the emergences of Attard, Hogberg, and Zamula from last year. Out of everyone on the roster, the one defenseman primed for a big season is DeAngelo, versus Provorov who is in need of a good season.
Tony DeAngelo
The acquisition of Tony DeAngelo was met with a lot of criticism, hate, and vitriol. DeAngelo comes to Philadelphia with a bit of checkered past after some unruly behavioural conducts in the NHL and juniors. Growing up not too far from Philadelphia, DeAngelo was ironically drafted in the 2014 NHL Entry Draft that was being held in the Wells Fargo Center. It was Ron Hextall's first draft as general manager of the Flyers and they held the 14th overall selection. There were rumours that they were trying to trade up with the Florida Panthers for the first overall selection and to draft Aaron Ekblad, but the asking price was too rich for his blood.
Many wanted the Flyers to draft either Kasperi Kapanen – son of former Flyer, Sami Kapanen – or the hometown boy DeAngelo. Instead, the Flyers drafted Travis Sanheim and DeAngelo found himself on the Tampa Bay Lightning five picks later.
In his first professional season within the Lightning organization, DeAngelo found himself in trouble with the Syracuse Crunch of the AHL after accruing several 10 minute misconducts and despite having a great offensive season, he found himself scratched several times due to behavioural issues. Then-Lightning general manager Steve Yzerman wasn't one to stand for any of it, so he traded him to the Arizona Coyotes ahead of the 2016 NHL Entry Draft.
He only lasted one season in the desert, which ended once again due to behavioural issues. He was suspended three games for physical assault of a referee, he was fined over $14,000, and only played 35 NHL games that season.
He was then traded at the following draft in 2017 to the New York Rangers, alongside a 7th overall pick, for Derek Stepan and Antti Raanta. He spent parts of four seasons with the Rangers, scoring a career-high 15 goals and 53 points in 2019-20. However, once again his character and behaviour were on full display by the end of his tenure with the Blueshirts.
After significantly improving in 2018 and 2019, he ended up being benched by head coach David Quinn after taking several undisciplined unsportsmanlike conduct penalties, was warned by his general manager after he "wasn't able to move on" from the incident, and then ended up fighting with his teammate in Alexandar Georgiev.
He was placed on waivers shortly after, cleared, and was assigned to the taxi squad but was made sure to know he would never suit up for another game. DeAngelo was then bought out in the summer and was then signed by the Carolina Hurricanes.
The move was met with the same disdain shown in Philadelphia, but the Hurricanes wanted to prove that he had changed and was still a difference maker. Pegged on the same pair as Jaccob Slavin, DeAngelo truly had a renaissance-type season as he scored 10 goals and 51 points in only 64 games. Pricing himself out in Carolina, the Flyers traded for his rights and then signed him to a two-year deal.
There has been a lot said about DeAngelo and John Tortorella addressed the situation a few months ago. He was a little angry with how much was being said about the player, he understands what he did was wrong, but knows he's trying to turn the corner and had a great season last year to boot.
We all have our own opinions, but the Flyers felt that the past was behind him as they traded away three picks to acquire him and then gave him a $10 million contract. He's a puck-moving, offensively-minded, right-handed shooting defenseman that they believe can fill in the gaps of Ryan Ellis for the foreseeable future. Trying to solidify the top pairing was of the utmost importance for the front office and they feel they got that player in DeAngelo.
Tortorella is excited, the Flyers are excited, and DeAngelo is ecstatic about the opportunity so one has to imagine that with all these things playing in his favour that he should have another excellent season.
He will most likely man the first power play unit, where he accrued 22 power play points last year (compared to the Flyers' 30 goals all of last season), he is capable of playing heavy minutes as he averaged almost 20 a game last year, and he is the only player that can actually move the puck out of the zone with relative ease – something they have severely lacked over the last few years.
DeAngelo will be given every opportunity to succeed and if he takes it head on like he did with the Hurricanes, look for the young defenseman to have another offensive outburst.