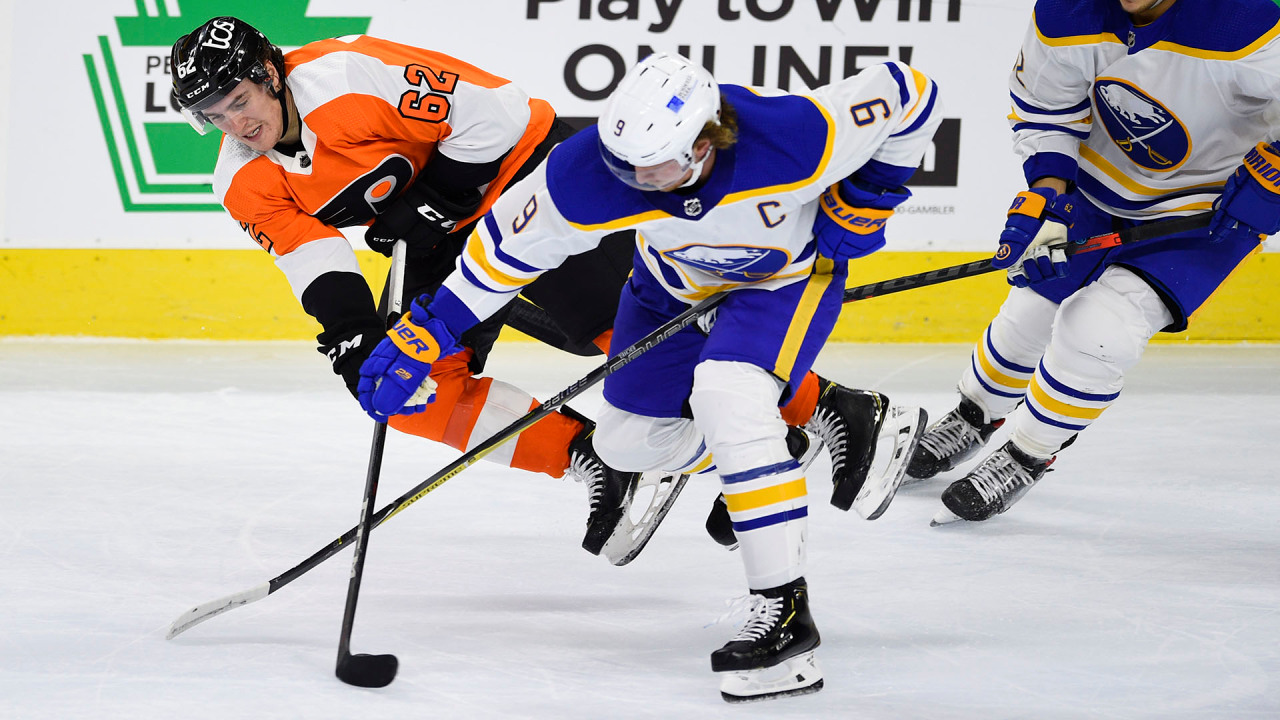 The Philadelphia Flyers suffered the worst home defeat in the Alain Vigneault era last night about the Buffalo Sabres.
The Flyers came into the night with an opportunity to become the first PHI team since 2011-2012 to start the season 3-0-0. It was pretty clear early that this wouldn't be their night.
Philadelphia didn't show up to play for the first period:
Despite losing the shot attempts battle only slightly (18-17 BUF) in the first, the Flyers couldn't generate a decent scoring chance and continued a trend of brutal turnovers. Jack Eichel and Jeff Skinner had a 2 on 0 early and couldn't finish after Erik Gustafsson gave it away.
The Sabres finally broke through with a superb backhand goal from Curtis Lazar almost 16 minutes in. Buffalo went into the intermission with a 1-0 lead and a 10-4 shot advantage.
Lazar would draw an early powerplay in the 2nd period from literally skating into Carter Hart's crease and tripping over him. Sam Reinhart scored on the ensuing powerplay. Reinhart would quickly add a second goal at the 6:28 mark. Cutis Lazar joined the multi-goal club when he scored another goal less than two minutes later.
Carter Hart (18 SV/22 SA) was yanked after the fourth goal. Philly was in a 4-0 hole halfway through the game and showed little signs of life for the rest of the game.
The Flyers would go on to lose 6-1 to the Sabres. Philly management should feel better knowing no fans were allowed at the Wells Fargo Center last night as the team would have surely been booed out of the building.
One of the few bright spots of the night and the only good line was the Flyers' fourth. Nicolas Aube-Kubel prevented the team from getting shutout with a tally at the end of the third period (17:55).
NAK followed his goal up with punching Rasmus Dahlin in the face. He was given a double minor for high sticking and fined $4,633.62 this morning.
It was a horrendous performance all around from the Flyers. Carter Hart didn't play well, but the team in front was turnover prone, couldn't breakout of the zone, and generated nothing in the offensive zone. Brian Elliott was already scheduled to start Game 2 of the series and AV confirmed he still will.
The Flyers were outshot 37-22 on the night, but led in shot attempts (51-49 PHI). Buffalo came into the game seeking their first win and the undefeated Flyers gift wrapped a "w" for them. Hopefully with that clunker out of the way, the Flyers will get back on track tonight. The Flyers are now 0-1 without Sean Couturier.

Riley Cote & Derek "Nasty" Settlemyre go behind the scenes and talk hockey with some of the biggest names in the NHL.