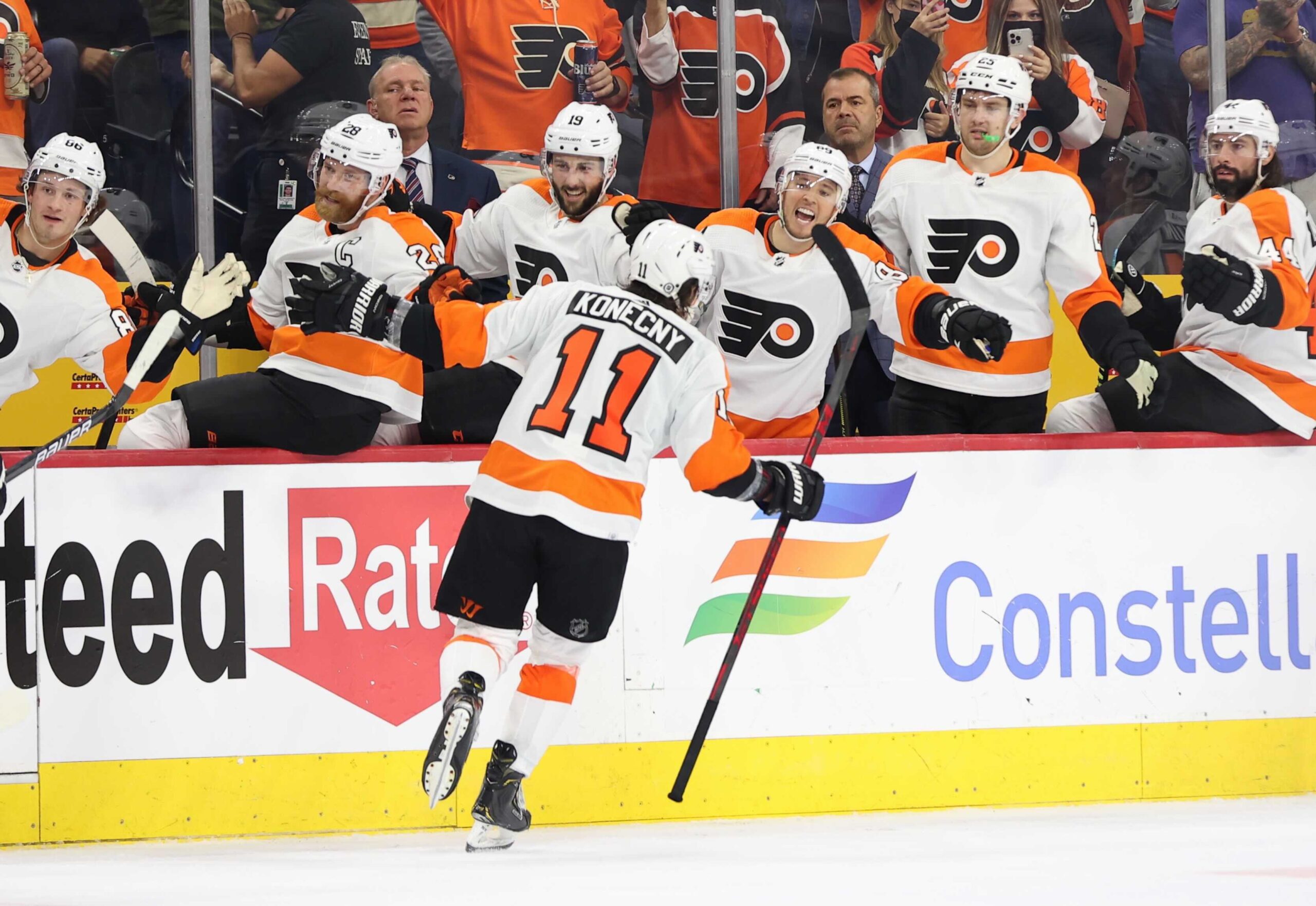 Eye Test
The Cam Atkinson-Joel Farabee-Derick Brassard line absolutely lit it up, contributing 3 goals with one coming on the power play. For never playing together before, they are really clicking in the early season. The speed of Atkinson is creating scoring chances and odd man rushes. Martin Jones saving 37 of the 40 shots he faced is wonderful. He made key saves when he needed to. Rasmus Ristolainen had a solid Flyers debut. He only played 18:37 and with no time on either special teams units (he has averaged 23:53 minutes per game over his 8-year career). If they manage his minutes, I believe he can be more effective than in the past. Zack MacEwen had a successful debut as well. He mixed it up with Bruins defenseman Derek Forbort and broke up a key cross-ice pass in the defensive zone with a diving block when it was a one-goal game.
Spreadsheet Says
The Flyers were heavily outshot by the Bruins. The best way to win games is to obviously score more goals than the other team. The way you score (and you don't score until you score) is to shoot the puck. More shots give you a better chance of winning. Scoring 6 goals on 25 shots is not sustainable throughout the entire season. Holding Brad Marchand, David Pastrnak, and Patrice Bergeron to one goal between them is a win. Ivan Provorov had nine blocked shots. Provorov helps his team win in many different ways whether it is scoring or shutting down the opposition's best players.
Things I Loved
Travis Konecny shooting the puck from dangerous positions. Konecny is playing with the Flyers' two best forward passers in Giroux and Couturier. He should continue to be a driving force in the box score. Konecny also led the Flyers' forwards in ice time. Ristolainen's huge hit on Charlie Coyle that led Coyle to commit a tripping penalty led to the Flyers' 2nd goal. Those are little things that do not end up on the stat sheet. It was a big win against a perennial Stanley Cup contender in the Boston Bruins. No matter if you win this game in October or March, it still counts as two points.
Things I Hated
Classic Flyers giving up a two-goal lead in the 2nd period. The Bruins are a very good team, and if you do not bury them, they will come back to haunt you. Luckily behind the Atkinson, Farabee, Brassard line and solid goaltending from Jones, the Flyers won the 3rd period and won the game. I have been a Nic Aube-Kubel apologist in the past but after a poor 2020-21, the start to this season has not been good. In limited minutes in the first three games, he has been abysmal. He has taken bad penalties and been a defensive liability. Aube-Kubel was a minus two in less than 10 minutes of ice time tonight. He could be a healthy scratch candidate when Wade Allison and Kevin Hayes return.
Random Thought
The 3 goal songs originally chosen as finalists by the Flyers were all fine songs. My favorite of the 3 was Tarzan Boy. It was a little anthem-y and the crowd could sing along after the goal. Doop is the wrong call, it is already the Philadelphia Union's goal song and it works for them. The correct answer to the goal song is the Action 6 News Theme. It is colloquial, it is catchy, and it is nostalgic. That is exactly what the goal song needs to be.

Riley Cote & Derek "Nasty" Settlemyre go behind the scenes and talk hockey with some of the biggest names in the NHL.