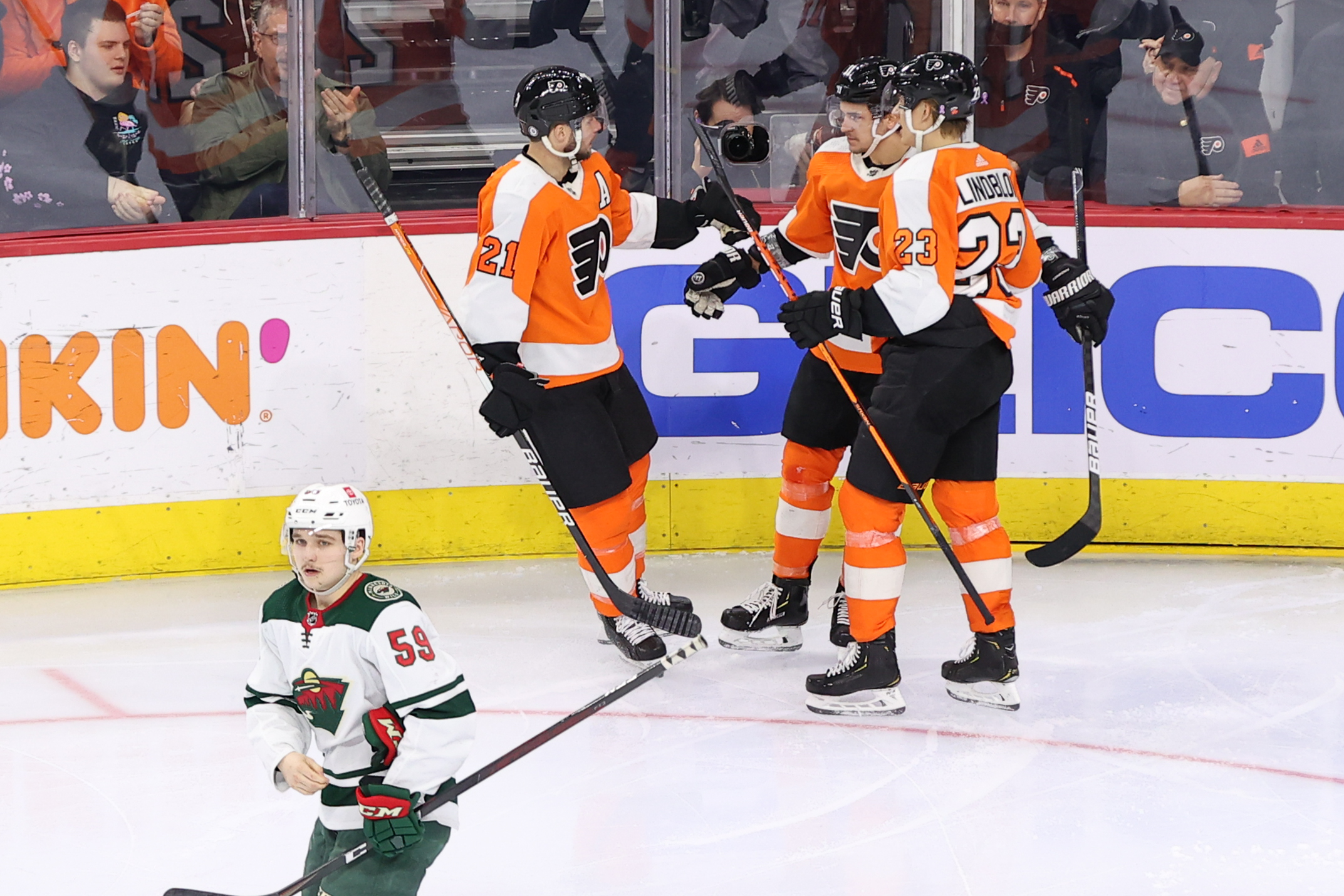 Projecting a Patient Flyers Rebuild: Part One
The Philadelphia Flyers recorded two losing streaks of ten games or more this season. The Flyers trailed by at least two goals in 41 games this season and only managed to escape in those games with a total of one point. They were closer to being an AHL team than competing for the NHL playoffs, let alone competing for a Stanley Cup. The Flyers missed the playoffs in consecutive years for the first time since 1993-94. The leadership just held a press conference where they blamed COVID, injuries, etc. for the lost season(s), and the sky is falling. Philadelphia's players look like lost, sad puppies at the climax of a Disney movie before the hero/heroine comes and saves the day. Dave Scott doesn't believe this to be a long term rebuild, and Chuck Fletcher said it was an aggressive retool, but they are wrong. Fletcher did a terrible job getting the best return at the trade deadline for the franchise player in Claude Giroux. The Flyers need a calculated and patient rebuild to help to finally bring the Stanley Cup back to Philadelphia. I know what you are thinking, we did this already with Ron Hextall, why are we running it back? Here is why, ever since the NHL implemented a hard cap after the 2005 lockout, the way to win is with young and cheap players, not big free agent signings year after year. You win with homegrown talent and use trading and free agency to supplement your roster. 
Tampa Bay's rebuild lasted from 2007 to 2013 with one playoff appearance where they caught fire. Tampa Bay is now on the cusp of a dynasty. Carolina went from 2009 to 2018 without a playoff appearance and used the draft to build themselves into a contender, and they did that with drafting one top five pick in that time (Andrei Svechnikov). Colorado had one playoff appearance from 2010 to 2017. Colorado had acquired their top talent through the draft and hitting on their top picks. Colorado, Carolina, and Tampa Bay all have another thing in common as well, they are all led by first-time NHL coaches in Jon Cooper, Rod Brind'Amour, and Jared Bednar. Cooper and Bednar won championships in the AHL and ECHL before becoming NHL coaches. Brind'Amour was an assistant coach for Carolina for several years before becoming an NHL coach.
The Flyers need to target the correct coach to go along with the patient rebuild. We will look at coaching prospects as well in this article. Our rebuild will not be like the New York Rangers' rebuild. The Rangers rebuilt very quickly with a couple lucky bounces of the ping pong balls and recruiting free agents like Artemi Panarin and Adam Fox, but that is an atypical rebuild in hockey. I am not saying the Flyers won't need a couple of lucky bounces, but it wasn't like Owen Power, Matty Beniers, Luke Hughes, and Kent Johnson were going to refuse to sign with the teams that drafted them and decide to all sign here to make the Michigan Flyers. This is going to be a 3-to-5 year rebuild that we weaponize cap space, build through the draft, and implement a system where we can nurture our next generation of Flyers as opposed to the support system that Alain Vigneault implemented. 
DISCLAIMER: This is pure fiction. If this upsets you or your fanbase or the city you live in because my evaluation is incorrect, please accept this heartfelt apology (looking at you Sicko Sens fans). This is not real. This is merely a fun exercise to distract us from the Flyers' lost season and the natural existential pain that hampers us on a daily occurrence. 
Some self-imposed rules for this exercise.
This will be broken down into three parts, Part 1 is about Signing Prospects and Coaches, Part 2 focuses on Offseason Trades, and Part 3 will focus on the NHL Draft. 

All trades will be cap compliant

I am not trading Joel Farabee because he is young enough to still be in his prime when a rebuild of 3 to 5 years is over, and I am not trading Carter Hart because the reigning Vezina trophy winner was literally traded for cap space this past offseason. Goalies are voodoo. Cam York stays and so does Zach MacEwen because he is my son. I do not care what Chucky Two Trades said about the core of the team, the way that this team has performed for the last two years, no one cannot be had. 

I will ignore No Trade Movements/No Trade Clauses but I will try to move players with NMC/NTCs to positive teams where they would be most likely to waive their no trade clause to go. 
Flyers Roster Going Into Offseason
Forwards: $49.055m
W. Allison ($0.800m) – S. Couturier ($7.75m) – O. Tippett ($1m)
C. Atkinson ($5.875m) – K. Hayes ($7.142m) – T. Konecny ($5.5m)
O. Lindblom ($3m) – S. Laughton ($3m) – J. Farabee ($5m)
Z. MacEwen ($0.825m) – M. Frost ($0.850m) – J. van Riemsdyk ($7m)
Ex. T. Laczynski ($0.750m), P. Brown ($0.750m)
Defensemen: $25.211
I. Provorov ($6.75m) – R. Ristolainen ($5.1m)
T. Sanheim ($4.675m) – R. Ellis ($6.25m)
C. York ($0.880m) – R. Attard ($0.833m)
Ex. E. Zamula ($0.756m)
Goalies: $4.904m
C. Hart ($3.979m)
I. Fedotov ($0.925m)
AHL/Prospects
J. Cates – Foerster – Tuomaala
Avon – Desnoyers – Lycksell
Wisdom – Ratcliffe – Strome
Sushko -Willman – Hodgson
L. Sandin – N. Cates – Brink
McClennon

Unsigned prospects: Brodzinski, Kase, McLaughlin, J. O'Brien, Vorobyev

Zech – Wylie
Millman – Hogberg
St. Ivany – Ginning

Unsigned prospects: Andrae, Murchinson, Samson, Vasiliev, Zanetti

Ustimenko
Ersson
Sandstrom

Unsigned prospects: Kolosov, Tomek

Cap Used: $79.17m
Cap Available: $3.33m
Yeah, that is a bad roster with almost no cap room to make any moves of significance. This would be very hard to improve the team or even re-sign Claude Giroux on a discount. So, you must ask yourself, would it be better to bite the bullet and buyout the James van Riemsdyk contract, or wait until it comes off the books or retain 50% of his contract in a trade? Are Travis Konecny, Travis Sanheim, Ivan Provorov, etc. part of the future core like we expected, or will they be wearing different jerseys? I would say that there is no one truly untouchable on this roster but we will try to keep some current Flyers on the team. The Flyers must identify who is here for the long term and who is expendable in the next 12 to 24 months. We will weaponize our cap space, retain on current players to make returns more advantageous for us, and even act as brokers to contending teams to squeeze in every possible asset that we can fit. Since we aren't listening to Comcast overlord Dave Scott, this is going to be a patient rebuild and we are going to take our time.
Signing Prospects
We signed Ivan Fedotov, Jack St. Ivany, Adam Ginning, and Connor McClennon to entry-level contracts. We also re-signed all our Restricted Free Agents or gave them qualifying offers to retain their rights. The Flyers have a lot of forward depth in the prospect pool but lack a true gamebreaker. Cam York, our best defensive prospect, is already in the NHL and going to be a big part of the Flyers going forward. Ronnie Attard has had a rough go of it to start his NHL career, but he should be a bottom pairing defenseman that can chip in on the power play. The hope is that both of Egor Zamula and Emil Andrae will be NHL defensemen in the next 24 months, but Zamula needs to add some muscle and Andrae needs to get used to the NHL style of game.

Ivan Fedotov just lead Russia to the gold medal game in the Olympics and had a stellar KHL season. We are bringing him over to back up Carter Hart. We will also look to add a veteran backup that has NHL experience if Fedotov should not be up to the task. Kirill Ustimenko, Felix Sandstrom, and Samuel Ersson can continue to develop in the AHL and ECHL. They all look like backups, but goalies are voodoo. Alexei Kolosov is also coming off a fantastic season in the KHL. We will look to get him over to North America in the next 24 months as well. We are going to try to be competitive at the AHL level and while we are not going to "tank", we are going to be prioritizing playing young players at the NHL level with a focus on making sure they develop into the best NHL players they can be.
Coaching
The first thing we are going to address is coaching. The Flyers have had bad luck or bad results with their head coaches in the recent past. We are going to fire just about everyone. Mike Yeo, John Torchetti, and Darryl Williams are gone and fired directly into the sun as sacrifices for future gains. I have never seen more defensive breakdowns on a team including the 2006-07 Flyers team. Goaltending coach Kim Dillabaugh and player development coach Nick Schultz will stay on.
For our future head coach, we have some options. Rick Tocchet is a popular choice but in six years as a head coach he has a losing record and one playoff appearance. He coached a young Tampa Bay team and an underfunded Arizona team, but he is not an ideal fit for the next generation of Flyers. Comcast would also have to break the bank to get Tocchet because he is handsomely paid for his work in the TNT broadcast booth. That also eliminates former coaches like Mike Babcock and Claude Julien who are probably looking for a team closer to contention and will also break the bank of our Comcast barons. 
This comes down to two coaching candidates, the first one is former Flyers assistant coach and current Rangers AHL head coach, Kris Knoblauch. Knoblauch was the Rangers' interim head coach when the Rangers defeated the Flyers 9-0 and Mika Zibanejad had 5 goals. Knoblauch previously helped the Kootenay Ice win the WHL Championship in 2011 and led the Erie Otters to an OHL Championship in 2017, where he lost the Memorial Cup to Windsor.

Knoblauch has led Hartford, the Rangers' AHL affiliate, to what would have been two straight playoff appearances had they not been cancelled due to COVID-19. He has almost a decade of head coaching experience plus NHL assistant experience. Hiring Knoblauch would also weaken a division rival in the Rangers, and hiring Knoblauch would not break the bank and he could grow with the players he is trying to grow. Knoblauch would probably need an assistant coach that has been in the league for a long time to help him get acclimated at a faster pace. The Rangers are more likely to make Knoblauch an assistant coach at the NHL level than let him go to a division rival. 
The second and more accomplished name is Rikard Gronborg, who is the current head coach of the ZSC Lions of the top Swiss League. Gronborg has been the head coach of Team Sweden at multiple levels including the World Championships, Olympics, and World Junior Championships. He has won three World Championships, 1 U-20 World Championship, 1 Olympic Silver Medal, and 11 more medals at those levels. He played at St. Cloud State for college, and he is acclimated to the North American game. Gronborg has some big-time supporters in Nicklas Lidstrom, the Sedin brothers, and Mats Sundin.

Gronborg would probably be one of the more expensive coaches to pry from Europe and even though this feels like an outside the box hire like Dave Hakstol did, keep in mind that Gronborg has won international championships before, where Hakstol has never won a championship at any level of coaching. Gronborg has over 20 years' experience coaching young players in the World Junior Championships and building them into professional players at the next level. Gronborg might be hesitant crossing the Atlantic for a team that might be 3-5 years away from being a contender, but if he does, he could pay off big dividends for the Flyers who need a strong coach with little ego that can be the rudder of this ship. 
The Flyers are proud to announce the 2022-23 Flyers Coaching Staff. The Flyers sign Rikard Gronborg to be the 23rd head coach in franchise history. Gronborg comes from the ZSC Lions of the top Swiss league. Gronborg brings with him his assistant coach with the Lions and Sweden's national team, Johan Andersson to be one of the Flyers' assistant coaches and work with the defense and penalty kill.

The Flyers also hire Mark Recchi as assistant coach to help run the offense and power play units. Reechi will be an instrumental part in helping Gronborg and Anderson acclimate to the rigors of the NHL and the city of Philadelphia. Recchi was just let go by the New Jersey Devils in as an assistant coach. The Flyers are also going to hire David Nemirovsky as their associate coach. Nemirovsky has been with Torpedo Nizhny Novgorod of the KHL as their head coach. Nemirovsky is originally from Toronto and has played all over the world including the NHL, AHL, KHL, and Liiga.

The Flyers need to put a proper investment into the coaching staff to get the most out of the talent that they currently have and will have in the future. This is incredibly apparent after the abysmal last full year of Alain Vigneault and Mike Yeo. 
We are also going fire Phantoms head coach Ian Laperriere. He was an absolute warrior as an NHL player and embodied everything you want as a fan in a player. He just does not have the ability to elevate our prospects. We are going to replace Laperriere with former AHL Chicago Wolves head coach and San Jose Sharks assistant coach, Rocky Thompson. Thompson also led the Windsor Spitfires of the OHL to a Memorial Cup Championship in 2017. Thompson was dismissed as the assistant coach of the Sharks due to not receiving the COVID-19 vaccine. That aside, Thompson has plenty of experience at multiple levels helping develop young, future NHL talent.

If you watch two current playoff teams play against each other, you can see this Flyers team is nowhere close to competing. Teams like the aforementioned Avalanche or Hurricanes, you see the amount of speed and skill that they play with, and those teams out will the opposition. The Flyers are too slow, not skilled enough, and do not have great coaching and tenacity to overcome their deficiencies.