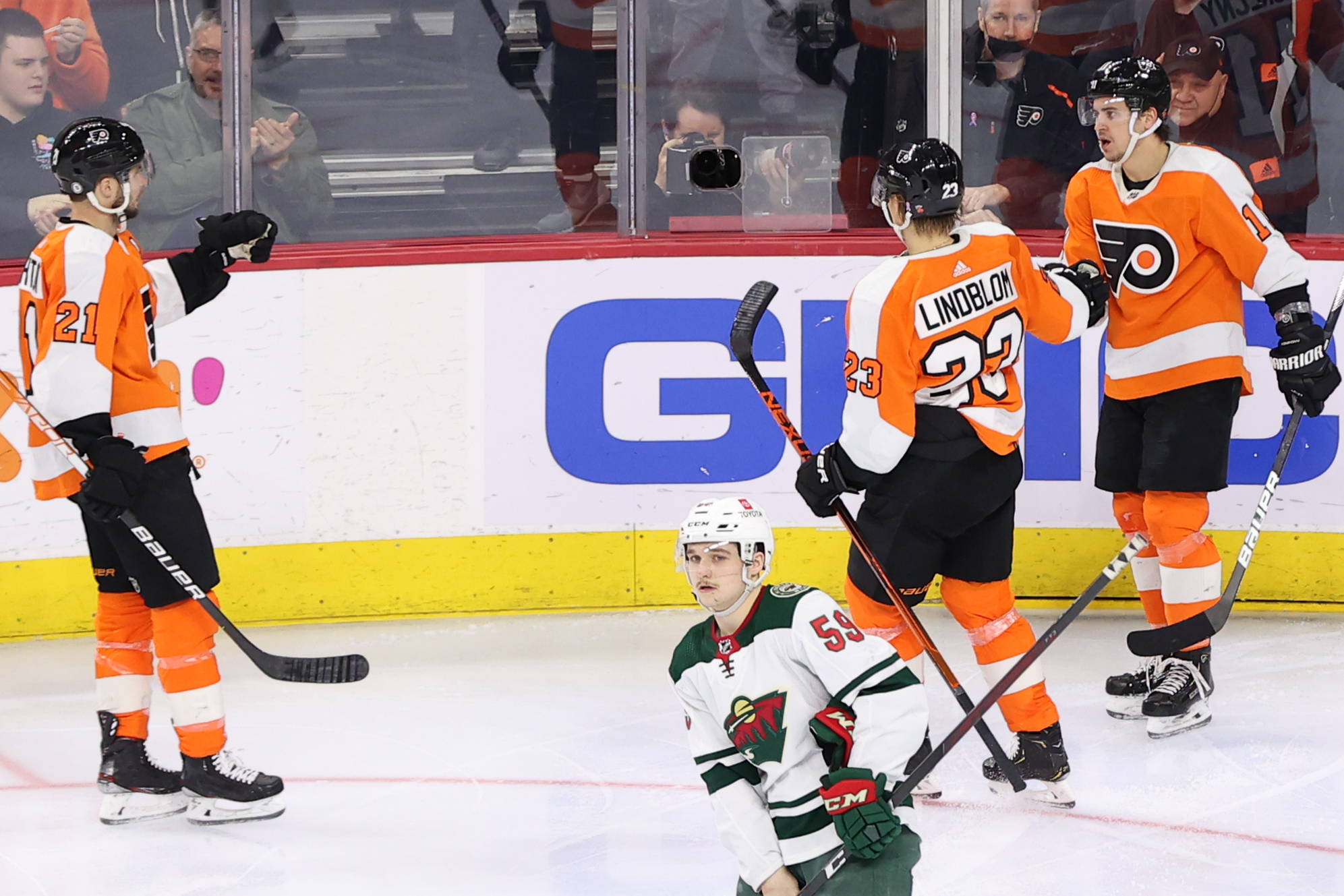 Projecting a Patient Flyers Rebuild: Part Two
Today we begin the second installment of our series on patiently rebuilding the Philadelphia Flyers. The first installment focused on evaluating the current roster, signing prospects, and finding a new head coach; which while in real life the Flyers are still searching, we went ahead and hired Rikard Gronborg to take the reigns as the 23rd coach in franchise history.
Today we'll take a look at some trades to be made leading up to draft day as we map out a long-term solution to help fix our beloved Flyers.
DISCLAIMER: This is pure fiction. If this upsets you or your fanbase or the city you live in because my evaluation is incorrect, please accept this heartfelt apology (looking at you Sicko Sens fans). This is not real. This is merely a fun exercise to distract us from the Flyers' lost season and the natural existential pain that hampers us on a daily occurrence.
Remember, here's my self-imposed rules for this exercise.
This will be broken down into three parts, Part 1 is about Signing Prospects and Coaches, Part 2 focuses on Offseason Trades, and Part 3 will focus on the NHL Draft.
All trades will be cap compliant
I am not trading Joel Farabee because he is young enough to still be in his prime when a rebuild of 3 to 5 years is over, and I am not trading Carter Hart because the reigning Vezina trophy winner was literally traded for cap space this past offseason. Goalies are voodoo. Cam York stays and so does Zach MacEwen because he is my son. I do not care what Chucky Two Trades said about the core of the team, the way that this team has performed for the last two years, no one cannot be had.
I will ignore No Trade Movements/No Trade Clauses but I will try to move players with NMC/NTCs to positive teams where they would be most likely to waive their no trade clause to go.

The Draft Lottery
The new NHL lottery rules which took place this year stated that teams can only move up a max of 10 spots, so teams that finish 12th through 16th in the standings have no chance at picking 1st overall. It also states that you cannot "win" the lottery twice in a 5-year span. The 2022 NHL Draft Lottery started the beginning of this, and previous lotteries will not be counted towards the total. If the team that has the highest odds and wins the lottery, it does not count as one of their turns "winning" the lottery. The Flyers had the 4th-highest chances of winning the lottery at 9.7% and had about a full 20% chance of selecting in the top 2 picks.

Look at that, the Flyers did not only not win the lottery, but they lost a full spot. Classic Flyers.  
Trades before the Draft and Free Agency
This is a patient rebuild, so we are going to have to make decisions on veterans and players that were planned to be our core players when they were drafted and debuted. We are going to invest in draft picks and young players and yes, the Flyers went through this with Hextall but they did not listen to their own scouts visa vi the Nolan Patrick over Miro Heiskanen and Cale Makar pick and taking Jay O'Brien over players like K'Andre Miller and Ryan Merkley. The only quick way through this would be if the NHL decided to implement a salary cap with no hard cap but a luxury tax like Baseball and Basketball have. The NFL has unguaranteed contracts so that is a tough comparison. 
So Long Sanheim
PHI acquires: Simon Edvinsson, Carter Mazur, 2023 1st Round Pick (Top 10 protected, becomes unprotected in 2024), and 2022 WAS 2nd RD pick
DET acquires: Travis Sanheim (with a contract extension), Maksim Sushko, and Cooper Zech
DET Reasoning: The Red Wings desperately need a left-handed defenseman to go along with their two young right-handed defensemen in Moritz Seider and Filip Hronek. Sanheim scored 25 even strength points in the NHL since Alain Vigneault was fired, which is top 5 along with Roman Josi, Cale Makar, Brady Skjei, and Devon Toews. The Flyers also produced the least amount of goals out of those players' teams. I do not really want to trade Sanheim, but he is an unrestricted free agent at the end of 2022-23 season and if he does not want to sign an extension with the Flyers, there is no reason to keep him on the roster. Sanheim has carried Rasmus Ristolainen around like the albatross he is and is still had a plus-Corsi with him, so imagine how a Sanheim and Seider pairing will look together.

Sanheim probably costs $7 million per year for 8 years, like Hampus Lindholm's contract that he just signed with Boston. Sushko is a depth piece who has some NHL experience and can be called up without much threat of being claimed by other teams. Zech is just a contract so that the contracts are equally being sent back and forth. Detroit replacing Sanheim with DeKeyser is a massive windfall for them, and Sanheim is similar in age to Dylan Larkin and can grow with all the young talent that Detroit has. Yzerman supposedly wanted Sanheim in the 2014 NHL Draft and had to settle for Tony DeAngelo with one of the next picks. 
PHI reasoning: The longer the Flyers hold onto Sanheim without trading him or extending his contract, the more he loses his trade value. In this scenario, we work out a trade with an extension to increase his value. Chuck Fletcher worked with former to-be unrestricted Flyers free agents in Wayne Simmonds and Claude Giroux where he waited until the last moment to trade both players, and received poor value for those players.

The Flyers get two young prospects in Edvinsson and Mazur. Edvinsson was the 6th overall pick in 2021, and he had 19 points in 41 SHL games. Edvinsson is 6'4", 191 lbs with a left-handed shot. He could be diet Victor Hedman at the top of his potential, or he could be just a solid 2nd pairing defenseman. Mazur just won a National Championship with Denver with current Flyer Bobby Brink. Mazur is a heart and soul guy who crashes and bangs on the boards and gets to the dirty areas, and he almost had a point per game as a freshman at Denver. Edvinsson and Mazur are also both plus skaters which is something the Flyers desperately need.
The two picks are nice pieces, but Edvinsson is a pillar like the way Braydon Coburn was when the Flyers acquired him in the 2007 season. Detroit should be good enough to be in playoff contention next year with the upgrades they will get with Sanheim and about $35 million to invest in free agency. Detroit should be a majorly improved team next year. The 2023 NHL Draft class is supposed to be on par with the 2003 and 2015 Draft classes including not one, not two, but three players that are considered generational talents in Connor Bedard, Matvei Michkov, and Adam Fantilli. They are all forwards, plus you have 16-year-old players like Leo Carlsson and Theo Lindstein playing in the SHL which is the top men's league in Sweden. Zach Benson, Nate Danielson, and Dalibor Dvorsky all have at least a point per game in their 16-year old season. Plus, who knows who will ascend in the 2022-23 season. This is a very forward heavy draft in 2023. This just gives the Flyers more flexibility to add talent to their roster and prospect pool.