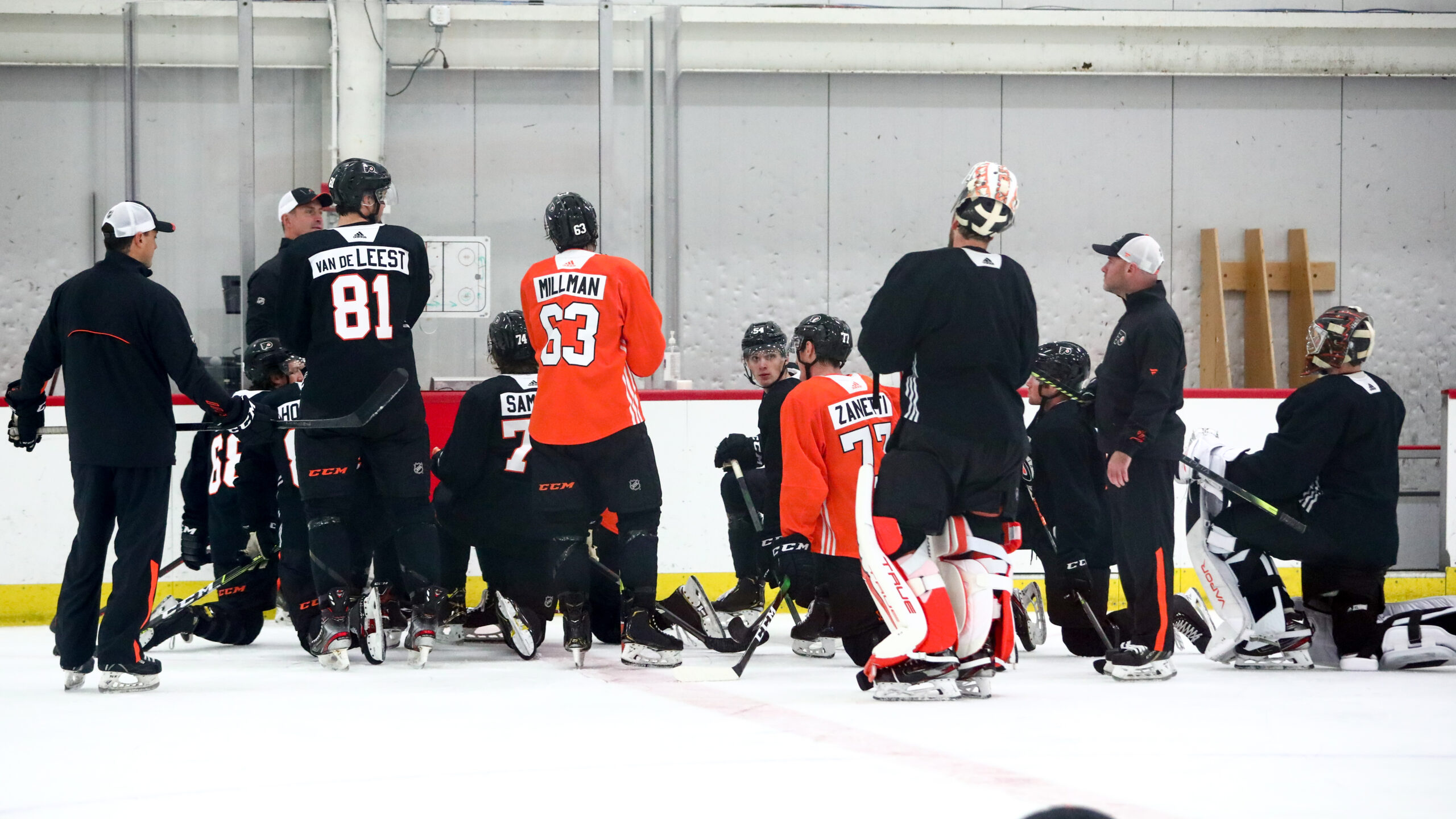 Philadelphia Flyers Announce Roster and Schedule for Upcoming Development Camp
With the preseason schedule dropping, followed by the regular season schedule, and then the draft coming to a close yesterday, the Philadelphia Flyers have had a busy few days. Today they announced their roster and subsequent schedule for their 2022 Development Camp. The camp will start on the 11th of July and go all the way to the 15th and it will be held at the Flyers Training Center in Voorhees, New Jersey. Good news is that if you are interested in observing some of the futures of your Philadelphia Flyers, all on-ice sessions will be free to attend and open to everyone.
A full and comprehensive list of 35 prospects will be in attendance with some important and interesting names including Cam York, Tyson Foerster, and recently drafted Cutter Gauthier. Senior Advisor to the General Manager and Player Development Mike O'Connell and Director of Player Development Kjell Samuelsson will be running the the camp. They will also be joined by John Riley, Chris Stewart, and Brady Robinson. Cara Morey, head coach of the Princeton University Women's Ice Hockey team will be a guest coach and will serve for the second consecutive year. Another guest coach includes former first round draft pick and defenseman turned forward, Samuel Morin.
The schedule is as follows (all times Eastern):
Monday, July 11th:
Goaltenders: 8-10 am and 1-3 pm
Defensemen: 10:45-11:45 am and 4:30-5:30 pm
Forwards: 10:30-11:30 am and 4:45-5:45 pm
Tuesday, July 12th:
Goaltenders: 8-10 am and 1-3 pm
Defensemen: 10:45-11:45 am and 4:30-5:30 pm
Forwards: 10:30-11:30 am and 4:45-5:45 pm
Wednesday, July 13th:
No on-ice sessions, only off-ice activities
Thursday, July 14th:
Goaltenders: 8-10 am and 1-3 pm
Defensemen: 10:45-11:45 am and 4:30-5:30 pm
Forwards: 10:30-11:30 am and 4:45-5:45 pm
Friday, July 15th:
Defensemen: 10:15-11:15 am
Forwards: 10-11 am
3 on 3 tournament: 4-6 pm
Roster:
Forwards:
J.R Avon (free agent 2021)
Bryce Brodzinski (2019 draftee)
Alex Bump (2022 draftee)
Elliot Desnoyers (2020 draftee)
Tyson Foerster (2020 draftee)
Jacob Gaucher (camp invite)
Cutter Gauthier (2022 draftee)
Alex Gendron (2022 draftee)
Gavin Hain (2018 draftee)
Mikael Huchette (camp invite)
Devin Kaplan (2022 draftee)
Clint Levens (camp invite)
Olle Lycksell (2017 draftee)
Owen McLaughlin (2021 draftee)
Tye McSorley (camp invite)
Chayse Primeau (camp invite)
Theo Rochette (camp invite)
Tyler Savard (camp invite)
Dovar Tinling (camp invite)
Samu Tuomaala (2021 draftee)
Zayde Wisdom (2020 draftee)
Defensemen:
Ronnie Attard (2019 draftee)
Colin Felix (free agent 2022)
Adam Karashik (free agent 2022)
Will McKinnon (free agent 2022)
Hunter McDonald (2022 draftee)
Mason Millman (2019 draftee)
Ty Murchison (2021 draftee)
Keaton Pehrson (camp invite)
Ethan Samson (2021 draftee)
Wyatte Wylie (2018 draftee)
Cam York (2019 draftee)
Goaltenders:
Samuel Ersson (2018 draftee)
Jonathan Lemieux (camp invite)
Yaniv Perets (camp invite)