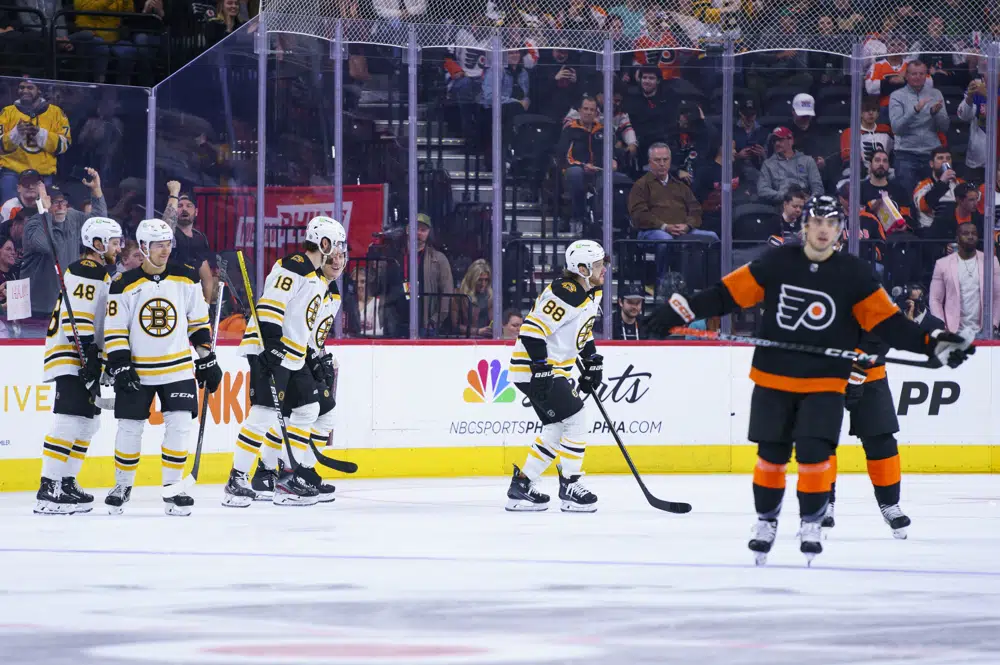 "That is part of the process. That's where we are in our process. Losing the games, that is the hard part of the process but it's a part that we have to go through".
Tonight was another example of what John Tortorella and the Philadelphia Flyers will have to endure as they grow as a group and build for the future.
Similar to the Flyers' March 1st matchup against the New York Rangers, Wells Fargo Center was seemingly overtaken by the opposition and their fanbase tonight. But who could blame them? The Boston Bruins were entering this game on the cusp of making NHL history. The Flyers however, have yet to win a game since March 28th, a span of 7 games.
But it's not just the crowd noise they have to endure, it's losing games. That hurts a team more than anything, but Tortorella knows that this team in particular needs to wear their battle scars proudly as they start to become more competitive in the coming seasons.
"You face it, you don't whine about it, and you keep on going as we start getting to our next steps."
Despite the 5-3 loss to Boston, tonight definitely seemed like a step in the right direction as the Flyers' compete level was on full display, they didn't fold under pressure, and they played hard right to the very end against the top team in the National Hockey League.
FIRST PERIOD
It took just 47 seconds for the Bruins to strike, as Connor Carrick spotted Charlie Coyle for a one-time blast that beat Felix Sandström for an early 1-0 lead.
CC ➡️ CC 🚨 pic.twitter.com/ivXPCFFlIf

— p – Boston Bruins (@NHLBruins) April 9, 2023
The Flyers brushed it off in a flash instead of wilting and Wade Allison cleaned up the garbage in front after a costly rebound was let out by Jeremy Swayman to tie the game up just 17 seconds later with his 9th goal of the season and first since February 20th.
Ally on the attack. #BOSvsPHI | @wadeallison11 pic.twitter.com/ICGobCQWBh

— Philadelphia Flyers (@NHLFlyers) April 9, 2023
After the opening goal outburst, the game settled down a bit but both teams had good scoring opportunities. Luckily for each team, their goaltenders came to play tonight.
Jeremy Swayman made some key saves to keep the game tied, but Felix Sandström was a bit busier and had to make a few tougher saves, including a sliding blocker stop on A.J. Greer off the rush with about 9 minutes to play.
Felix Sandstrom makes a save on A.J. Greer in the 1st period #PHIvsBOS #BringItToBroad #NHLBruins pic.twitter.com/287leIRRvZ

— nopClips (@nopClips) April 9, 2023
Sandström's heroics would be the story of the first twenty minutes as the game remained at 1-1 heading into intermission. Boston outshot Philadelphia 13-10, they were better in the faceoff circle (54%), and they possessed the puck more down the stretch, but the Flyers were able to stave off their opportunities after Coyle's early goal.
SECOND PERIOD
Philadelphia suffered another dreadful start to a period and gave up an early goal again. This time, David Pastrňák was the recipient of his 58th tally of the season as he ripped a shot through Sandström from the high slot to give the Bruins a 2-1 advantage.
5️⃣8️⃣ for 8️⃣8️⃣ pic.twitter.com/wCJRmNWprb

— p – Boston Bruins (@NHLBruins) April 9, 2023
Just 2 minutes and 36 seconds after his first goal, it appeared as if Pastrňák racked up his second goal of the night, but the referees deemed there was incidental contact with the goaltender prior to the goal, so it was washed out. Jim Montgomery disagreed and used his coach's challenge, which proved unsuccessful and it resulted in a delay of game penalty, sending the Flyers on the game's first power play.
The Bruins didn't necessarily mind, and after they killed the penalty off, Pastrňák rifled a one-timer off iron and in past a bewildered Sandström to officially make it 3-1.
Make it 5️⃣9️⃣ for 8️⃣8️⃣ pic.twitter.com/MB1tuvxXT0

— p – Boston Bruins (@NHLBruins) April 9, 2023
Jakub Zbořil was whistled for hooking just past the halfway point of regulation, giving the Flyers another crack at the power play. Unfortunately, it didn't seem as if Philadelphia knew they had a man advantage, because they gave up more scoring chances than they had against Boston in those two minutes.
After a rather drowsy period for the Flyers up to that point, Joel Farabee woke up his team and the Wells Fargo Center crowd with a breakaway marker with 6:02 to play in the period. A Boston turnover dribbled over the stick of Zbořil and onto a silver platter for Farabee, who made no mistake in finishing off the play to cut the Bruins' lead back to one.
Breakaway Beezer. #BOSvsPHI | @FarabeeJoel pic.twitter.com/U14gzmk34v

— Philadelphia Flyers (@NHLFlyers) April 9, 2023
Shortly after the goal, things started to pick up in terms of intensity and physicality. Tyler Bertuzzi was handed a roughing minor after a scrum in front of Felix Sandström's crease, and then Travis Konecny was given an unsportsmanlike conduct penalty at the other end of the ice after grabbing the visor of Connor Clifton during a gathering at Jeremy Swayman's net.
The hijinks and resulting power plays did not produce goals, and the period would end soon after. The Flyers maintained a 25-24 shots on goal advantage heading into the final 20 minutes, but they would need to start the third with more energy and play their most complete hockey of the season if they wanted any chance of upsetting the Bruins with the entire league watching.
THIRD PERIOD
Remember how I said literally in the paragraph before that the Flyers needed to have a better start to the period? Yeah, that didn't quite happen. David Pastrňák skated in on a 2-0n-1 with Tyler Bertuzzi and deposited a feed from Bertuzzi between the legs of Sandström to record the hat trick and notch his 60th goal of the season.
🍝 15TH CAREER HAT TRICK

🍝 60TH GOAL OF THE SEASON

🍝 300TH CAREER GOAL pic.twitter.com/FviyDjCqfx

— p – Boston Bruins (@NHLBruins) April 10, 2023
The Flyers tried their best to claw their way back with more power plays and plenty of shots on goal, but Swayman and the Bruins stayed the course and tightened up as best they could.
After some previous tension throughout the evening, it all came to a head as Nicolas Deslauriers and A.J. Greer dropped the gloves, with the Flyers forward taking home the slight advantage.
Nicolas Deslauriers and A.J. Greer chuck some knucks midway through the third#FueledByPhilly | #NHLBruins pic.twitter.com/WlYVGS2mmu

— Hockey Daily 365 l NHL Highlights (@HockeyDaily365) April 10, 2023
Philadelphia couldn't have used that fight to boost their morale at a better time, as Noah Cates, Joel Farabee, and Owen Tippett combined for a great passing play that ended up behind Swayman and in off the stick of Tippett. His 24th goal of the season brought the Flyers back to within one as the score now read 4-3 in favor of Boston.
#️⃣2️⃣4️⃣ for #️⃣7️⃣4️⃣.#BOSvsPHI | #FueledByPhilly pic.twitter.com/azyNWB6lRu

— Philadelphia Flyers (@NHLFlyers) April 10, 2023
The Flyers had given themselves a fighting chance once again, but they would need to push as hard as they had all game to try and upset Boston.
Unfortunately, Pavel Zacha put to rest any hopes of a Philadelphia comeback with a crushing goal with just 3:04 remaining.
Pavel Zacha cranks home Pastrnak's feed to put the Bruins up by 2 with 3:04 left in the third!#NHLBruins pic.twitter.com/WHCFC2leTe

— Hockey Daily 365 l NHL Highlights (@HockeyDaily365) April 10, 2023
That would be all she wrote, as the Boston Bruins set a new NHL single-season benchmark for wins at 63, while the Flyers continue to reel as they have now lost 7 straight contests.
UP NEXT
Philadelphia will host their final home game of the season on Tuesday night (7:00pm ET, NBCSP) against Johnny Gaudreau and the Columbus Blue Jackets at Wells Fargo Center.