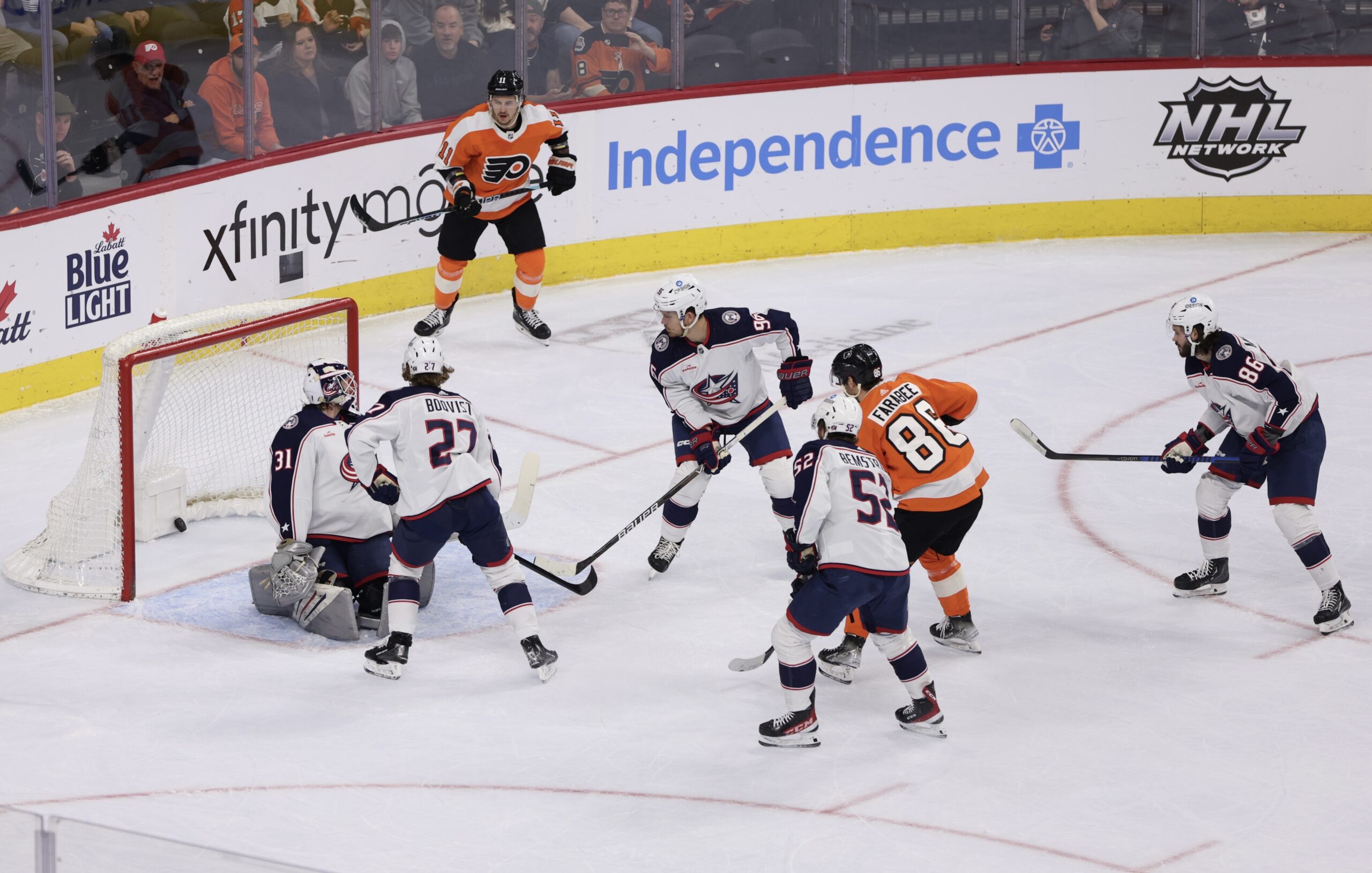 Adam Ginning made his NHL debut tonight. The Philadelphia Flyers gave out their annual awards to players. Rocky Thompson was acting as head coach tonight for the second time in a week.
And yet, Owen Tippett stole the show tonight as his two-goals propelled the Flyers to a 4-3 overtime victory over the Columbus Blue Jackets in their final home game of the 2022-23 season.
Tippett's 25th and 26th goals of the season were the highlights of a youthful Flyers victory.
"I think he can be very hard to play against because of his speed, not just when he has the puck, he can forecheck and take advantage of those attributes that he has, but definitely the offense is coming," said Thompson after the game on Tippett. "He's been put in a good situation this year to succeed, and I think he's taken advantage of those opportunities, and the future is very bright in my opinion moving forward."
Joel Farabee also chipped in with his 15th of the season to get the Flyers on the board and back in the game in the first period, which set a new career-high in points for the Cicero, New York native.
"I think in the past when Joel was in here, he was playing with more older and experienced players, so he could kind of piggyback those guys, and then this year it became, 'Well now you gotta become a catalyst more,' said Thompson after I asked him about Farabee's growth over the season after scoring a crucial goal today. "And this is in my opinion, that you have to be the guy to step up and there was a process for him, and he kind of went down a little bit, and what I like about him is that he's a fighter. You know, he fights, he's competitive, he comes back out of those situations when he gets beat down, and now you can see his game starting to become a catalyst. Like he's the guy generating the offense, and that's encouraging for us because it's important and it's gotta be important for him.
"We want him to play well without the puck, and that was an issue early on, and I always believe – and Torts would say the same thing – if you play well without the puck, the rest of the game starts to come. You end up playing with the puck more, and then those things and that confidence starts to grow, and I think he's confident right now and I think he's taken the necessary steps in the right direction to move upon that foundation going forward."
Veteran James van Riemsdyk also scored his 300th career NHL goal in the contest.
"He's an awesome pro. 300 goals is a very impressive feat. The way he scored it, kind of a knuckle-puck, he's scored so many goals in so many different ways and he's always kind of around the net, so it's kind of ironic he ends up scoring a perimeter goal like that."
It was a very insightful meeting with Thompson, who also coached Flyers last Tuesday in St. Louis, and his statements echoed what took place on the ice as the Flyers sent their fans home with one final hurrah before they close their season on Thursday in Chicago.
FIRST PERIOD
The game originally didn't start out with much excitement, as each team only mustered a few shots on goal each without generating many high-danger scoring chances. Sure enough, that would change pretty quickly.
After Carson Meyer fired a shot on Carter Hart, the Flyers goaltender couldn't cleanly corral the rebound and after a very brief scramble, Liam Foudy raced in and shoveled the loose puck by Hart and in to give Columbus a 1-0 lead right before the halfway mark of the opening frame.
RED-HOT LIAM FOUDY 🔥 pic.twitter.com/3h5oqE7D8a

— Columbus Blue Jackets (@BlueJacketsNHL) April 11, 2023
The Blue Jackets kept their foot on the gas and after a dreadful Noah Cates turnover, Trey Fix-Wolansky danced in and fired a shot through Hart to make it 2-0 just less than 3 minutes after the opening goal.
#️⃣1️⃣ of the year for TFW 💥 pic.twitter.com/fYxS1tnaj7

— Columbus Blue Jackets (@BlueJacketsNHL) April 11, 2023
After their dreary start, the Flyers finally settled in and Joel Farabee would get them on the scoreboard with a hair over 5 minutes to go in the first period.
🐝 Beezer's buzzing. 🐝#CBJvsPHI | @FarabeeJoel pic.twitter.com/91NTJtwo1I

— Philadelphia Flyers (@NHLFlyers) April 11, 2023
It didn't seem like he got all the power he wanted off of Travis Konecny's sweet feed, but it fooled Michael Hutchinson enough to cut the lead in half.
Philadelphia finally had their legs under them and pounced on the bewildered Blue Jackets once again, courtesy of James van Riemsdyk and his 300th NHL goal on a tremendous snipe from the right circle.
💥3️⃣0️⃣0️⃣💥#CBJvsPHI | @JVReemer21 pic.twitter.com/zWFed3QMdR

— Philadelphia Flyers (@NHLFlyers) April 11, 2023
Not long after finally getting his 300th goal, van Riemsdyk was tangled up with Josh Dunne behind the Columbus net, which earned each player a minor penalty; van Riemsdyk for roughing, Dunne for holding.
With 13 seconds remaining in the 4-on-4, Joel Farabee was cross-checked by Tim Berni and came within inches of scoring his 2nd goal of the night on a mini-breakaway after Hutchinson bobbled a long dump-in from the neutral zone. That series of events led to the first power play of the night, but the Flyers could not break through before the period ended despite some great looks.
After a disastrous start, Philadelphia regained control of the contest and clawed their way back from a two-goal deficit. They exited the first 20 minutes tied at 2-2 and led the shots on goal battle 15-9.
SECOND PERIOD
Philadelphia picked up right where they left off to begin the second period, and as the power play carried over into the period, so did their offense as Owen Tippett buried his 25th goal of the season just 47 seconds in on a brilliant rush into the offensive zone and a crucial board battle win for the puck.
Power slay goal. #CBJvsPHI | @TippettOwen pic.twitter.com/AJnAV93XZc

— Philadelphia Flyers (@NHLFlyers) April 12, 2023
While they couldn't find the back of the net for the rest of the period, they generated plenty of chances and were buzzing all period long.
Michael Hutchinson was a busy man in this period – and entire game honestly – stopping another 16 shots, while Carter Hart went 8-for-8 on saves at the other end of the ice.
The Flyers had a great chance to extend their lead after a too many men penalty sent Columbus on the penalty kill again, but Travis Konecny negated that just 16 seconds into the man advantage after he was called for hooking down Gavin Bayreuther, though the Blue Jacket did go down rather easily as Konecny indicated.
The period would close at 3-2 in favor of Philadelphia, who pretty much dominated from start to finish in the middle stanza, and another complete period such as that would snag them their first win in 8 contests.
THIRD PERIOD
The third period didn't exactly start according to plan for the Flyers. Adam Ginning took a holding penalty 2:27 in, and the rookie had to sit for 2 minutes.
Just 1:07 later, Kirill Marchenko spilled Travis Sanheim into his goaltender, resulting in a shaken up-but-okay Michael Hutchinson and an interference minor to negate the power play.
7 seconds before Ginning's penalty was set to expire, Cam York was whistled for hooking after Carson Meyer was breaking in alone on Carter Hart.
York's play prevented a possible goal in the moment, but Columbus finally took advantage of the Flyers' mistakes. Jake Christiansen fired a wrister from the point that glanced off the stick of Sean Kuraly on the way and it found its way past Hart, resulting in a 3-3 game on the power play tally with 14:10 to play in regulation.
KURLS ON THE POWER PLAY 🚨 pic.twitter.com/7b0mqX9HDI

— Columbus Blue Jackets (@BlueJacketsNHL) April 12, 2023
Columbus was not making it easy on the Flyers, peppering Hart with shots while Philadelphia had trouble finding the offensive prowess that had been so prominent in this game before.
The Flyers would have a shot at breaking the tie after Meyer high-sticked Travis Konecny, sending Philadelphia on their third power play of the night. They had some quality looks too, including a shot that deflected and dribbled through the blue paint but just missed.
The Blue Jackets would kill off Meyer's minor and after some back-and-forth chances at the end of the period, it would take overtime to determine the winner of this one.
OVERTIME
The Flyers started overtime off with possession before Rasmus Ristolainen lost a battle, in which Columbus took over control and fired the first 2 shots of the extra frame on Carter Hart.
Philadelphia eventually regained possession thanks to Owen Tippett and his first shot of overtime was staved off by Michael Hutchinson. On his next opportunity just about 25 seconds later, he made no mistake and sealed the deal for the Flyers and led them to a 4-3 victory in their home finale.
OWEN. TIPPETT. #CBJvsPHI | #FueledByPhilly pic.twitter.com/Gpe3fSQxBI

— Philadelphia Flyers (@NHLFlyers) April 12, 2023
UP NEXT
The Flyers will finish out their season on Thursday night (8:30, NBCSP) against the Chicago Blackhawks at United Center.