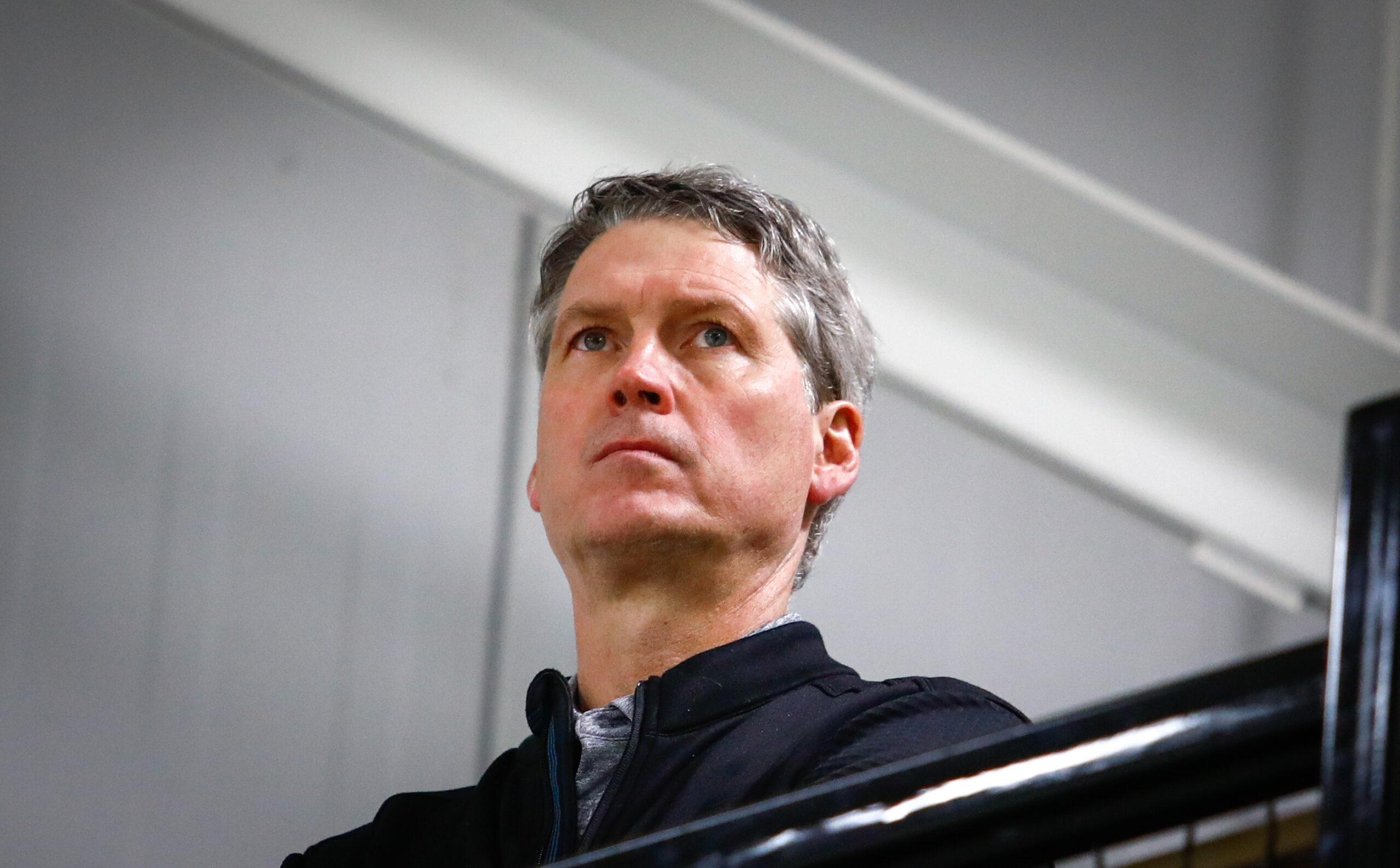 Other General Managers Found Ways to be Aggressive, but Chuck Fletcher Couldn't?
Over the last few weeks, several NHL teams were active and aggressive on the trade market, something that Philadelphia Flyers general manager Chuck Fletcher said was very difficult. A lot of teams have been moving around large contracts – some with term – and they made it look very easy. It started with the Vegas Golden Knights trading Max Pacioretty's full contract to the Carolina Hurricanes for future considerations to get under the cap. Then the Pittsburgh Penguins had their eyes set on Jeff Petry, so they traded John Marino's contract to the New Jersey Devils for a prospect and a pick before trading Michael Matheson, who held a $4.875 million cap hit as well, to the Montreal Canadiens for Petry.
It all culminated to this weekend when the Columbus Blue Jackets, Calgary Flames, and the Florida Panthers swung for the fences. The Blue Jackets re-signed restricted free agent Patrik Laine to a 4 year deal that accounts for $8.7 million against the cap annually. After making the surprise splash of Johnny Gaudreau, the suddenly aggressive Blue Jackets needed to alleviate cap space so they decided to trade Oliver Bjorkstrand to the Seattle Kraken for a third and fourth round pick. The Flames got a haul in return for the disgruntled Matthew Tkachuk as they received Jonathan Huberdeau, Mackenzie Weegar, Cole Schwindt, and a 2025 first round pick. Tkachuk then immediately signed an 8x$9.5M deal, which was apparently the first ever sign-and-trade in the National Hockey League.
Vegas, who had been dealing with the brunt of the salary cap all of last season, needed to find a way to fit under the cap so they didn't have a repeat of their game of musical chairs from the previous campaign. Pacioretty had one year left on his deal that counted against the cap at $7 million and the Golden Knights found a team to take on the entire contract, and they didn't have to pay up with any sweeteners either. Now, of course, Pacioretty and James van Riemsdyk are different players and one is better than the other, but so much so that the Flyers had to part ways with a 2023 first round pick?
Pacioretty has suited up for 224 games over the last 4 seasons with the Golden Knights, scoring 97 goals and 194 points along the way for a Stanley Cup contender. van Riemsdyk has suited up in 270 games over the last 4 seasons, scoring 87 goals and 169 points for a lottery bound team. Pacioretty has converted at a clip of 11.8% compared to van Riemsdyk's 13.7%, Pacioretty has averaged 1:31 more ice time than van Riemsdyk, while also scoring a little more even strength than power play compared to JVR. They're not entirely far off, so much so that the desperate Golden Knights could ship off their undesirable contract for a future consideration, while the desperate Flyers couldn't get away from theirs without parting with a very valuable first round pick in a loaded 2023 draft.
The Blue Jackets are a different story than the Golden Knights because they entered the offseason with plenty of cap space. However, after where they finished last season, you wouldn't have really expected them to be big players this summer. General manager Jarmo Kekalainen said that once he knew Gaudreau wanted to come to Columbus, he had to everything in his power to make it happen. Luckily they had the cap space to make it work before having to sign Laine. The latter has always been a hard sell for his respective general managers but with the moves the Blue Jackets have made, on top of having selected 5 times in the previous 2 first rounds of the NHL draft, Laine's contract seemed more of a when than an if situation.
After getting that deal done, the Jackets had to trade a contract and one would've thought that maybe Gustav Nyquist would've been the player out but instead they traded Oliver Bjorkstrand. Nyquist is set to become an unrestricted free agent at season's end, while Bjorkstrand was under contract for 4 more seasons. The latter is 5 years younger than the former but down the road, his $5.4 million AAV might've been trouble. The Erik Gudbranson 4x$4M deal seemed a little off the charts, but that was done before Gaudreau's interest for Columbus was announced. They were able to find a buyer in Seattle and in return they got back 2 mid round picks for the 2023 draft. Signing Gaudreau and Gudbranson, while re-signing Patrik Laine and drafting David Jiricek is a pretty good and aggressive offseason for a team that finished just a few spots higher than the Flyers in the standings.
The Penguins found a way to bring back Evgeni Malkin, Kris Letang, and Kasperi Kapanen, while also trading for Jeff Petry. The Flames were able to land Johnathan Huberdeau and MacKenzie Weegar for a player that wanted out in Matthew Tkachuk. Huberdeau is coming off a season in which he scored 30 goals and 115 points for the Panthers, while Weegar really established himself as a top pair defenseman, especially after Aaron Ekblad went down with an injury. He finished the season with 44 points, while also coming off a 2020-21 campaign in which he scored 36 points in only 54 games. They are both set to become unrestricted free agents at the end of the season, both are open to signing long-term, but even if they choose not to, the Flames can recoup a haul and then some at the trade deadline.
Imagine what kind of return the Flames could get for 50% retained salary on Huberdeau and Weegar. A contending team would be acquiring Huberdeau at just $2.95 million against the cap and Weegar at only $1.625 million against the cap. Tkachuk has the brightest future and is signed long-term now, but for the situation they were put in, the Flames did really well. Either which route they choose to go – long term deals or trading them at the deadline after a failed season – they will be reaping the rewards nonetheless. They acquired a top line winger, a top pair defense-man, a prospect, and a first round pick, that's pretty good all things considered. The Panthers on the other hand have gone ultra aggressive since the trade deadline but who knows if it's for the betterment of their franchise. They've traded 3 first round picks, Huberdeau, Weegar, Schwindt, Owen Tippett, a third round pick, and a fourth round pick for 2 months of Ben Chiarot and Claude Giroux, and of course a newly minted Tkachuk. Their situation was a little different as well as they were poised for a long playoff run but fell to their intrastate rival in quick order, making their deadline acquisitions look like straight duds.
The Flyers on the other hand, apparently tried being aggressive, but to no avail as rival general managers didn't seem to give the Flyers any help along the way. They apparently sent out feelers for several roster players but the trade market for those said players was extremely low, so the Flyers balked at those offers. They tried trading van Riemsdyk but couldn't find a suitor unless they were willing to trade their 2023 first round pick. They didn't want to put Ryan Ellis on LTIR just yet because they are still unsure on his timeline, so they essentially just decided to buy out Oskar Lindblom in a way to acquire a few depth pieces in Nicolas Deslauriers and Justin Braun.
Chuck Fletcher said that it was really difficult to open up salary cap because of the heavy contracts currently on the team – of which he is responsible for 9 of the top 10. I agree with you there, Chuck, it is really difficult to move out contracts and free up much needed cap space when Rasmus Ristolainen, Tony DeAngelo, Kevin Hayes, and James van Riemsdyk account for 30% of the cap. Add in the oft-injured Ryan Ellis and the percentage of allocated cap space goes up to 37% – until placed on LTIR.
You look around the NHL, especially the contending teams and how their cap is allocated, and you realize just how bad the Flyers and Fletcher bungled the cap. The quartet of Ristolainen, DeAngelo, Hayes, and van Riemsdyk essentially count against the cap at the same rate as Auston Matthews, William Nylander, and T.J. Brodie from the Toronto Maple Leafs. A million less than Connor McDavid, Leon Draisaitl, and Tyson Barrie from the Edmonton Oilers, a million less than Mikko Rantanen, Gabriel Landeskog, and Cale Makar from the Colorado Avalanche, and a million and a half less than Aleksander Barkov, Matthew Tkachuk, and Sam Reinhart from the Florida Panthers.
The list is endless as you can also compare it to the Golden Knights with Jack Eichel, Mark Stone, and Shea Theodore making up about a million more than the quartet or even the Penguins and their trio of Sidney Crosby, Malkin, and Letang making up only $20.9 million against the cap. Now, some of these deals are from awhile ago, some of these deals were signed as hometown discounts or to help their team build a better contender, while others were done by much smarter general managers.
There are always avenues, routes, and ways to get out of your salary cap hell but it doesn't bode well and it doesn't help when other rival general managers sniff your desperation from a mile away. However, it's not all about desperation as the Golden Knights were able to trade Pacioretty for no future cost – granted he's a better player but not by that much. Fletcher has bungled with the cap, future assets, and even roster players far too much during his four-year tenure and even dating back to his days in Minnesota. Other general managers know they can swindle him if needed, it's not like it's going to hurt them in any way if they don't acquire the final year of van Riemsdyk's contract. If they can get Chuck to bite, then they receive a very valuable first round pick and if they can't, then the Flyers don't go after Gaudreau and the opposition team doesn't have to worry about $7 million dollars vanishing from their cap space.
The Flyers shouldn't have been put in a position to be aggressive this summer but that's all the ownership group and front office executives wanted to scream through their megaphones. Whether it was a ploy to keep the fanbase satiated heading into a very frantic offseason remains to be seen. However, when Fletcher entered his press conference and let us all know through his teeth that the Flyers were never going to be aggressive because of the salary cap mess they were in, or being in the Gaudreau sweepstakes, or that all they wanted were the depth pieces they acquired on the first day of the free agent window, it just seemed like that was an attempt to throw wool over our eyes.
Aggressive moves can happen at any time, however it's one thing when you try, it's another thing when you tell the world you're going to be aggressive, and it's even tougher when you exclaim that you were tied down because of the salary cap mess that you created.