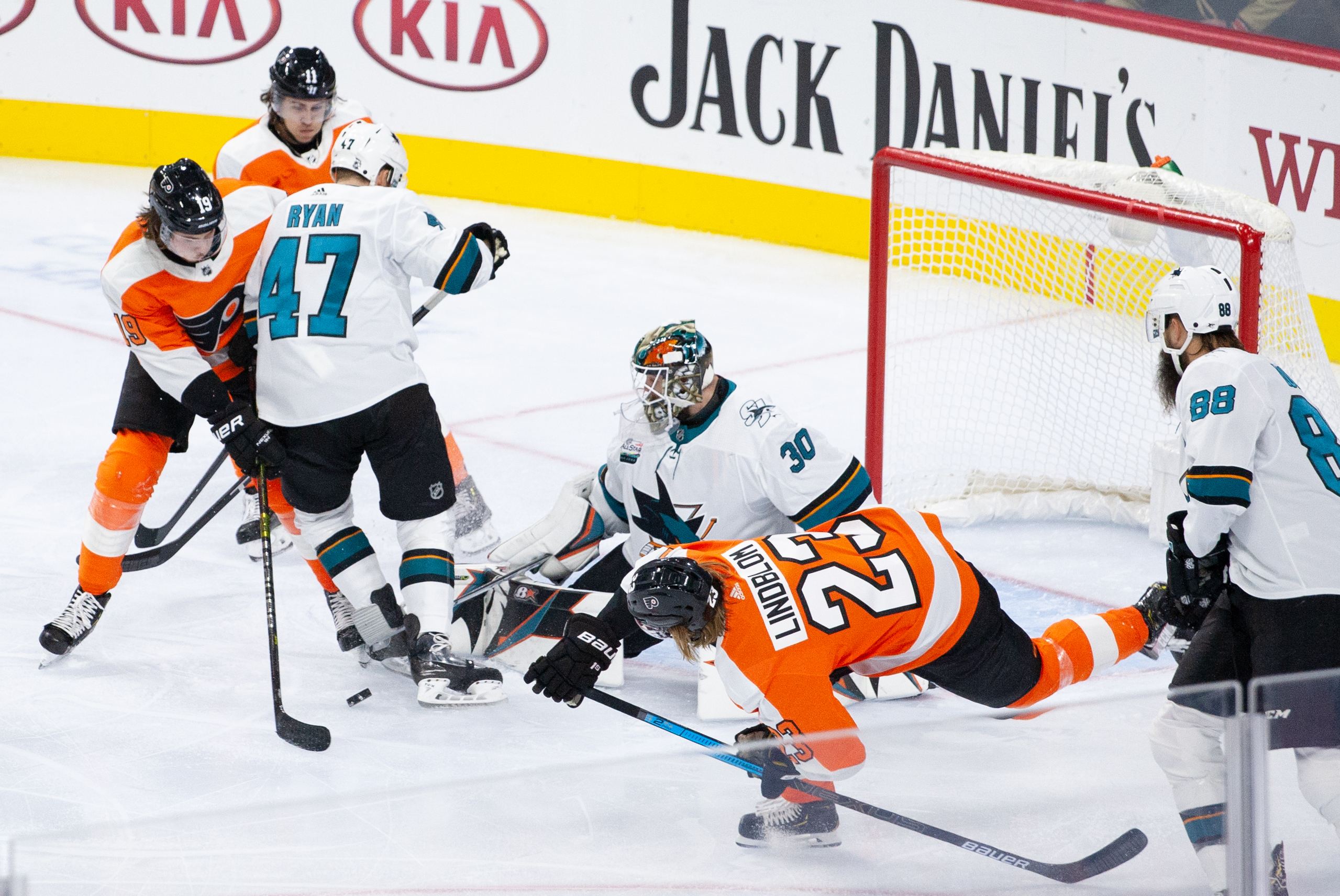 Oskar Lindblom makes his return as Sharks visit Flyers
The first of a few homecomings for former Philadelphia Flyers this season will take place tonight, as Oskar Lindblom and the San Jose Sharks visit the Flyers at Wells Fargo Center.
Lindblom, a 2014 fifth-round pick by the Flyers, played 268 games with Philadelphia from 2018 to 2022, notching 50 goals and 47 assists for 97 points with the club.
Lindblom continues to serve as an inspiration to the Flyers and the Philadelphia community after his courageous battle with cancer. He was diagnosed with Ewing's sarcoma, a rare form of bone cancer, in December of 2019 while in the midst of a career season. His illness forced him out of the lineup for the rest of the regular season as he underwent treatment, but he bravely returned to the ice in Game 6 of the Flyers' Eastern Conference Semifinals series against the New York Islanders in the Toronto COVID bubble.
Lindblom's perseverance over cancer earned him the 2021 Bill Masterton Memorial Trophy, awarded annually by the NHL to the player who best exemplifies the qualities of perseverance, sportsmanship and dedication to hockey. He had been named a finalist the year prior, but took home the 2021 edition of the award.
The 26-year-old Gävle, Sweden native was bought out of his contract by the Flyers this past summer, in which the Flyers used the remaining cap space to plug their lineup with depth like Tony DeAngelo, Nicolas Deslauriers, and Justin Braun.
Lindblom will receive a very emotional welcome back to the arena he called home for five seasons. He gave his all on every play, he overcame an illness that nobody should have to go through, and he's still smiling on the other side of it all as only he can.
Lindblom's Sharks come into Philadelphia mired in a terrible start to their season. Currently sitting dead last in the league standings, San Jose finally won their first game of the season on Thursday against the New York Rangers, but are coming off a loss yesterday to the New Jersey Devils.
The Flyers return home tonight after a great road trip, taking two of three games against the Tampa Bay Lightning and Nashville Predators while losing a close game against the Florida Panthers.
Philadelphia is 4-1-0 and they are off to their best start in 11 seasons, and another victory tonight would continue to flip the script on a surprising yet astounding start to the season.
PHI Record: 4-1-0, 8 pts, 2nd in Metropolitan
SJS Record: 1-6-0, 2 pts, 8th in Pacific
Last Game PHI: 10/22/22, 3-1 W at Nashville
Last Game SJS: 10/22/22, 2-1 L at New Jersey
When: 7:00pm ET
Where: Wells Fargo Center, Philadelphia, PA
PHI Goalie: Felix Sandström (0-1-0, .889 SV%, 4.32 GAA, 0 SO)
SJS Goalie: James Reimer (1-3-0, .918 SV%, 2.78 GAA, 0 SO)
PHI Projected Lineup
#86 Joel Farabee – #13 Kevin Hayes – #11 Travis Konecny
#25 James van Riemsdyk – #48 Morgan Frost – #17 Zack MacEwen
#21 Scott Laughton – #49 Noah Cates – #57 Wade Allison
#44 Nicolas Deslauriers – #23 Lukáš Sedlák – #58 Tanner Laczynski
#9 Ivan Provorov – #77 Tony DeAngelo
#6 Travis Sanheim – #61 Justin Braun
#54 Egor Zamula – #24 Nick Seeler
#32 Felix Sandström
#79 Carter Hart
SJS Projected Lineup
#28 Timo Meier – #48 Tomáš Hertl – #94 Alexander Barabanov
#13 Nick Bonino – #39 Logan Couture – #62 Kevin Labanc
#10 Evgeny Svechnikov – #7 Nico Sturm – #11 Luke Kunin
#23 Oskar Lindblom – #16 Steven Lorentz – #83 Matt Nieto
#4 Scott Harrington – #65 Erik Karlsson
#44 Marc-Édouard Vlasic – #5 Matt Benning
#38 Mario Ferraro – #51 Radim Šimek
#47 James Reimer
#36 Kaapo Kähkönen
PHI Injuries: Cam Atkinson (lower-body), Rasmus Ristolainen (undisclosed), Owen Tippett (upper-body), Sean Couturier (upper-body), Patrick Brown (back), Bobby Brink (hip), Ryan Ellis (lower-body), Artem Anisimov (PTO, lower-body)
SJS Injuries: Markus Nutivaara (lower-body)
News and Notes
– The Flyers are looking for their first win against the Sharks since February 25th, 2020, which was a 4-2 victory at Wells Fargo Center.
– Philadelphia trails San Jose in the all-time series 17-18-4-8 in 47 games against them.
– Felix Sandström will look for his first NHL victory tonight. He made his NHL debut against the Sharks last season and made 43 saves in a 3-2 overtime loss in San Jose.
Broadcast Info: TV – NBC Sports Philadelphia, Radio – 97.5 The Fanatic