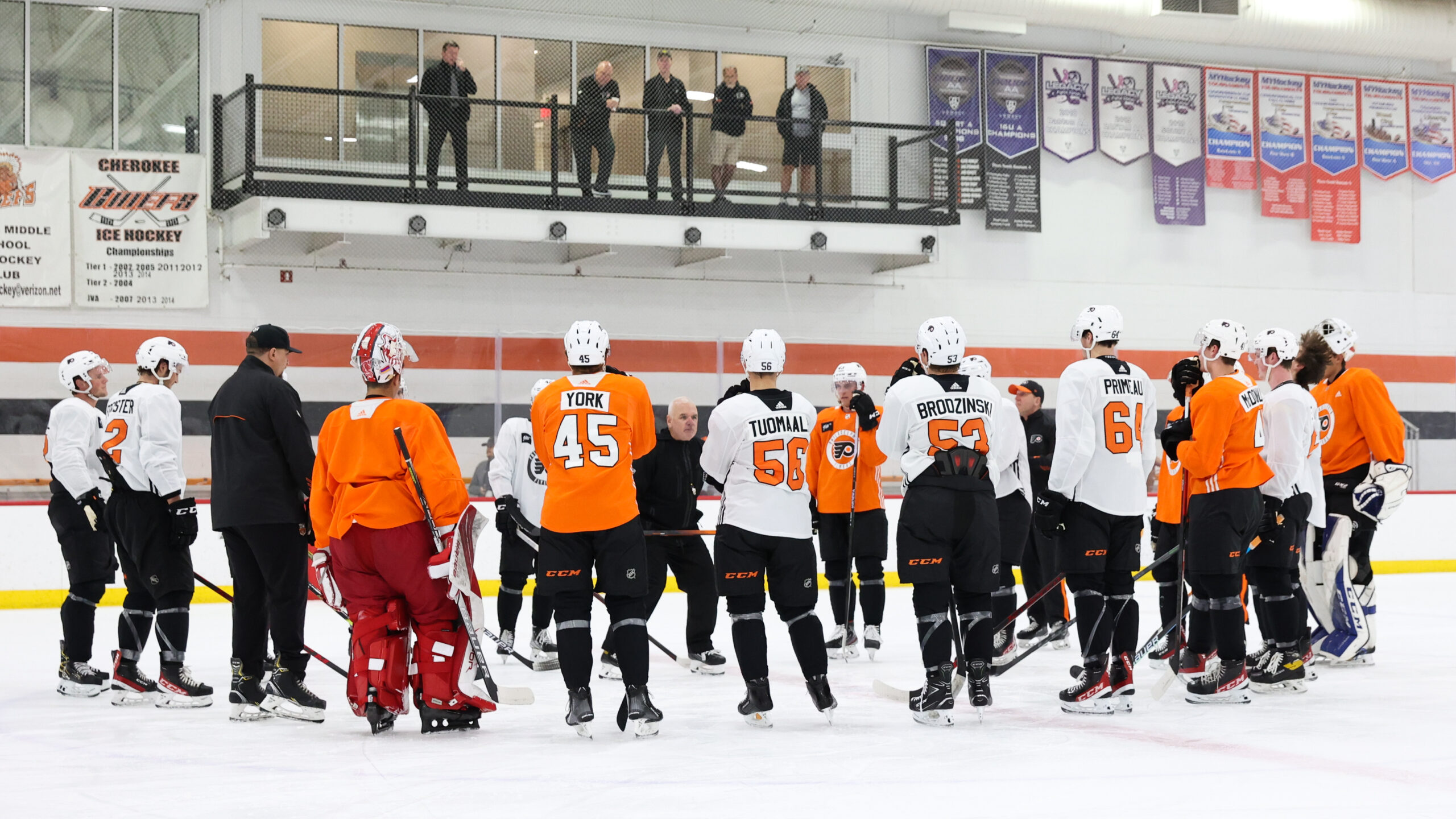 Oh, it's that time of year again, where we inch closer to training camp and the start of a new regular season but before we get to that point, we need to get through rookie camp. The Philadelphia Flyers have just announced their schedule and subsequent roster for the annual affair.
The kids are going camping! ⛺️

Check our the full 2023 Rookie Camp Roster and Schedule. https://t.co/B7FAkEcRi9

— Philadelphia Flyers (@NHLFlyers) September 11, 2023
General Manager, Daniel Brière, announced that it will be taking place at the Flyers Training Center in Voorhees, New Jersey and will start on the 14th of September and last through the 19th with on-ice sessions and 2 rookie games against the New York Rangers.
SCHEDULE
September 14th: Practice at 11:30am at Flyers Training Center
September 15th: Morning skate at 10:30am at Flyers Training Center followed by game 1 against the New York Rangers at 7:05pm at PPL Center
September 16th: Game 2 against the New York Rangers at 5:05pm at PPL Center
September 17th: Practice at 10:00am at Flyers Training Center
September 18th and 19th: Practice at 11:00am at Flyers Training Center
The roster according to the Flyers official website:
FORWARDS
J.R. Avon
Denver Barkey
Bobby Brink
Matt Brown
Alex Čiernik
Elliot Desnoyers
Jonathan Fauchon
Tyson Foerster
Brendan Furry
Jacob Gaucher
Alexis Gendron
Samu Tuomaala
Zayde Wisdom
DEFENSEMEN
Emil Andrae
Oliver Bonk
Adam Ginning
Helge Grans
Matteo Mann
Mason Millman
Ethan Samson
Sam Sedley
Carter Sotheran
Will Zmolek
GOALTENDERS
Carson Bjarnason
Nolan Maier
The roster includes a few players looking to make the opening night lineup in Tyson Foerster, Elliot Desnoyers, and Emil Andrae, while also including several 2023 draft picks in Denver Barkey, Alex Ciernik, Oliver Bonk, Matteo Mann, Carter Sotheran, and Carson Bjarnason.
Matt Brown, Jonathan Fauchon, Brendan Furry, Jacob Gaucher, Sam Sedley, and Nolan Maier are all camp invitees.
2024 Stadium Series Trip
Flyers Nation and Philly Sports Trips have teamed up to bring you on an amazing bus trip to the 2024 NHL Stadium Series between the Flyers and Devils. Place an early deposit to reserve your spot at the ultimate tailgate experience at MetLife Stadium before the game. The package includes a game ticket, round-trip charter bus, an all-inclusive tailgate party with unlimited cold beverages, "Philly Style" catered food, live entertainment, and more.