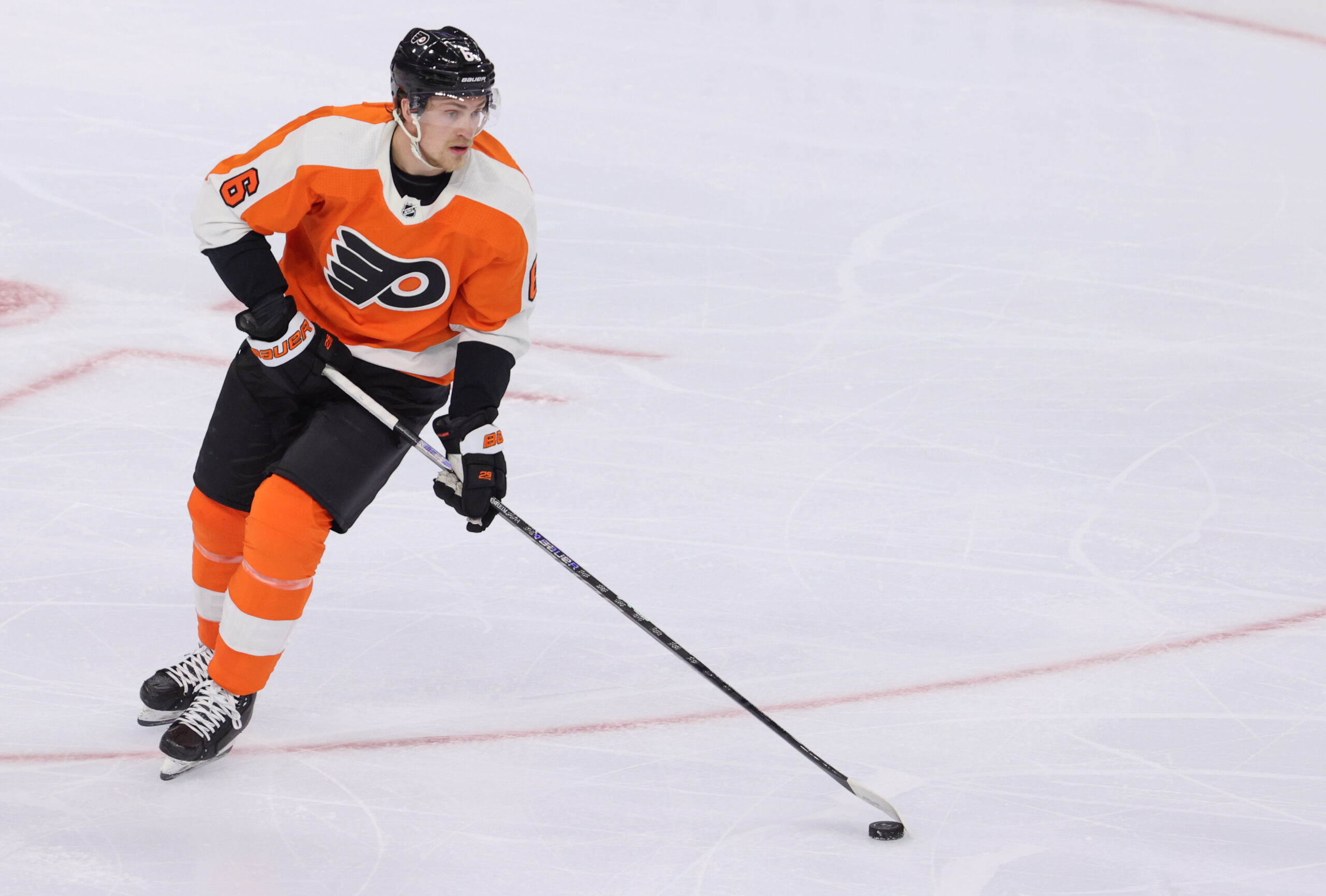 After the Philadelphia Flyers – primarily head coach, John Tortorella – talked about subtracting before making additions, one name started surfacing amongst the fan base with fervor was Travis Sanheim.
The 2014 first-round draft pick has had a roller coaster tenure with the Flyers, where he has shown flashes of being every bit of a top defenseman for his club, while also having lengthy stretches where his struggles have really hurt a club that lacks top-end talent and secondary depth.
Unfortunately, for a team that is undertaking a supposed rebuild, Sanheim's 8-year extension is only just about to kick in at a cap hit of $6.25 million AAV. The cap hit alone is problematic in any potential trade, however the term is by far the biggest anchor.
Sanheim was drafted in an era where the Flyers were loading up on defense, having already drafted Samuel Morin, Shayne Gostisbehere, and Robert Hägg, while taking Sanheim in 2014 and then grabbing Ivan Provorov the following years in the hopes that they found the corps for the future. In a very Ron Hextall-esque move, he drafted the 53rd-ranked North American skater with the 17th overall selection in his very first draft in front of his own fans within the confines of the Wells Fargo Center.
Some players taken after Sanheim included: Alex Tuch who was the 12th-ranked North American skater, Tony DeAngelo was 14th, Robby Fabbri was 21st, and Brayden Point was 31st. Kasperi Kapanen was the top-ranked European skater, David Pastrnak was 5th-ranked, and Adrian Kempe was 6th-ranked. Sanheim was expected to be a 2nd-round pick that could've maybe stretched into the third round but Hextall saw something that many scouts and teams alike didn't see and decided to snag him in the first round.
Sanheim hasn't been bad by any means, but he hasn't played well enough to justify the high draft position or the 8-year contract extension he just received this past season. The new contract was all Chuck Fletcher's doing as they decided to pay the defenseman right before this year's season opener after he had just won the Barry Ashbee Trophy in 2022 as the team's best defenseman and had a renaissance-type second half under Mike Yeo.
In his rookie season, he scored 2 goals and 10 points in 49 games while averaging 15:35 of ice time. The following season he scored 9 goals and 35 points in 82 games while averaging 19:34 of ice time. The big sophomore season earned him a 2-year bridge deal worth $3.25 million AAV coming out of his ELC. He played well in the COVID-interrupted 2019-2020 where he scored 8 goals and 25 points in 69 games while averaging 20:09 of ice time.
2020-21 wasn't kind to anyone, including Sanheim as he only registered 3 goals and 15 points with a -22 rating in just 55 games while averaging 21:53 of ice time. He earned himself another bridge deal as he signed a 2-year deal worth $4.675 million AAV and followed that up with a 31-point campaign in 80 games that was best described as Jekyll and Hyde-like. He registered just 3 assists in his first 22 games under Alain Vigneault before finishing the season with 7 goals and 28 points in a 52-game stretch – before ending the year on a 6-game pointless drought.
The Flyers decided they didn't want the contract year to distract the defenseman and signed him to the allotted maximum number of years at a cap hit of $6.25 million that puts him in the same range as MacKenzie Weegar, Mattias Ekholm, Kris Letang, Rasmus Dahlin, and Josh Morrissey. Weegar has registered 111 points in his last 215 games, Ekholm is more of an at-home defenseman but has posted back to back 30+ point seasons, Letang just registered 41 points in just 64 games at the age of 36, Dahlin has 126 points in his last 158 games, and Morrissey is coming off a 16-goal and 76-point season in 79 games.
Meanwhile, Sanheim has two 30-point seasons in his 6-year career, doesn't have a double-digit goal-scoring season, and doesn't hold the same reputation of any of the aforementioned defenseman around the league whether it's for his offensive production, defensive acumen, or two-way status. But he has also had very good seasons during 2 of his 3 contract seasons.
2022-23 wasn't too kind on him either as he finished the season with 7 goals, 23 points, and averaged 20:24 of ice time – 2:34 less than the previous season. Sanheim went through a 17-game stretch of just 2 points, a 39-game stretch of just 1 goal and 5 points, and then a final stretch of 2 assists in 10 games. Sandwiched in between was a 9-game stretch where he scored 9 points and a 6-game stretch where he scored 5 points.
He had his moments, but even he admitted that his confidence wavered throughout the season and he questioned a lot of what he was doing on the ice – and it showed. He felt the brunt of John Tortorella's punishment as he rode the pine in a 5-2 loss to the Tampa Bay Lightning on March 7th and was scratched in front of friends and family in Calgary on February 20th. Tortorella demanded a certain type of game and intensity from certain players all season and he pushed Sanheim to the brink a few times. He called him out when it was appropriate to do so as he knew the skill was there all along, but he wasn't playing anywhere near that level.
Which brings us back to the main point that Sanheim, as much as it would make sense financially for the Flyers, cannot be moved and won't be moved any time soon. The Flyers better hope that he finds his game again, one that resembled the second-half of 2021-22 or his sophomore season in 2018-19. His contract is immovable, his term is damn near impossible to entice contending teams, and his production hasn't warranted the attention of other teams to be circling the Flyers like vultures.
Without knowing what changes will be made either through trade or free agency, on defense you have:
Ivan Provorov: 2 years remaining at $6.75 million AAV
Travis Sanheim: 8 years remaining at $6.25 million AAV
Rasmus Ristolainen: 4 years remaining at $5.1 million AAV
Tony DeAngelo: 1 year remaining at $5 million AAV
Nick Seeler: 1 year remaining at $775,000
Egor Zamula: 1 year remaining at $775,000
Cam York: Pending RFA
Ronnie Attard: Pending RFA
Right off the bat you can separate the 8 defensemen in different tiers:
Part of the Future: Cam York, Ronnie Attard, Egor Zamula
Forced to Keep: Travis Sanheim, Rasmus Ristolainen
Will Move at Some Point Between the Draft and Trade Deadline: Tony DeAngelo, Nick Seeler
Forced to Move: Ivan Provorov
Sanheim has the makings of a good second pair defenseman, however he needs to play with the same confidence and gumption that earned him a first round selection. You notice him when he's aggressive, using his feet, skating on odd-man rushes, acting as the trailer-man, and relentlessly forechecking and pinching along the walls. When he goes the other way, he's invisible, fumbles with the puck in his own zone, too slow at making decisions behind his own net or along the boards, and forcing costly turnovers lead to goals against.
Due to the fact that he possesses an immovable contract, Rasmus Ristolainen doesn't look to have a favourable contract just yet, Tony DeAngelo and Nick Seeler will be prime candidates ahead of the trade deadline at the very least, and that only leaves you with Ivan Provorov.
Provorov is also one of the few players that could recoup a lot of lost assets during the Fletcher administration and as Elliotte Friedman pointed out, there's a good chance that both sides look for an amicable split.
It's going to be a busy offseason for the Philadelphia Flyers.@FriedgeHNIC provides some insight on what the Flyers could do this summer. #FueledByPhilly @Jackie_Redmond | @EJHradek_NHL | @Hartsy43 | #NHLNow pic.twitter.com/beFVME6UJ4

— NHL Network (@NHLNetwork) May 12, 2023
It would be massive blow to the backend and it would thrust several players into high leverage spots that they might not be able to handle. All of a sudden, the Flyers would be relying on Sanheim and York to assume top pair roles, minutes, and play in all situations with Ristolainen and DeAngelo right behind them.
It's contracts like that that have kept the Flyers from succeeding, that have kept the Flyers in purgatory, and that have kept the Flyers in salary cap hell. You look at where the Flyers sit in the salary cap table and they're surrounded by playoff contenders, Stanley Cup favourites, and are sandwiched between the Presidents' Trophy-winning Bruins and the Eastern Conference Finalists Hurricanes and Panthers.
They have long-term deals all throughout their roster and it's reasons like that that will force this rebuild to be a lengthy one – or at least longer than it has to be. You get rid of a player like Kevin Hayes and all of a sudden you've opened up anywhere between $5 million and $7.142 million, you trade DeAngelo or Provorov and that's another $5 million-$6.75 million. It could make Sanheim's contract look a little better for wear since that would open up the avenue for him to become a 22-24 minute defenseman – an experiment that could bare fruit if he overperforms or exceeds expectations.
However on the flip side of the coin, Sanheim has all the time in the world to develop into a first-round talent, he only just turned 27 years-old, can play into his high cap hit and his comparables, and since the Flyers will never purposely tank, they need players and veterans to skate alongside their prospects and rookies. Daniel Brière and company aren't going to tear things apart in their first season at the helm so we should expect Sanheim to play a large role at least for the next few seasons before his contract can become more palatable to opposing general managers.
There could be a team out there that's desperate enough for a first-round project, but Sanheim looks to be a Flyer for the long-haul and because of his immovable contract, here's to hoping that John Tortorella and company can bring him back from the dead where he starts playing like the 2018-19 version or the 2021-22 2nd-half Sanheim, when we really embraced him as the possible future on the back end.