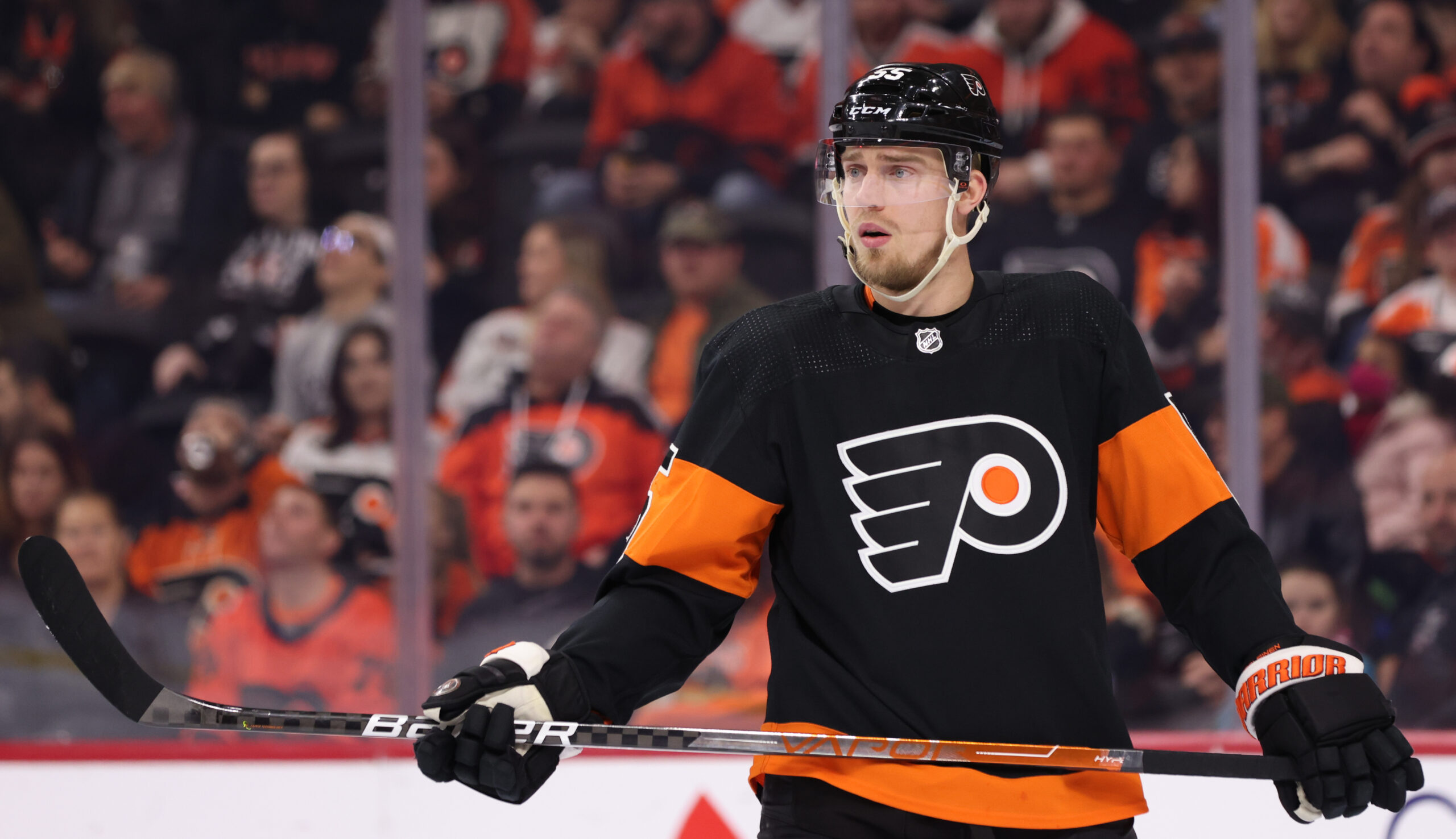 When the Philadelphia Flyers acquired Rasmus Ristolainen from the Buffalo Sabres, it was met with a lot of criticism for a variety of reasons.
🚨 TRADE ALERT! 🚨

We have acquired defenseman Rasmus Ristolainen from the Buffalo Sabres in exchange for our first round pick (13th overall) in the 2021 NHL Draft, a second round pick in the 2023 NHL Draft and defenseman Robert Hagg. Details: https://t.co/UOBqWNQCm6 pic.twitter.com/vCrkLgY0Mt

— Philadelphia Flyers (@NHLFlyers) July 23, 2021
1) The price of acquisition was astonishingly high as Chuck Fletcher coughed up a first round pick, a second round pick, and a roster player for the soon-to-be expiring defenseman. 2) Ristolainen had been struggling quite a bit in the years prior to the trade, so much so, that his value was nearly not as high as the Flyers perceived. 3) Fletcher entered a bidding war with the notion of winning at all cost and the moment he added his first round pick, the Sabres ran with the offer and were more than happy to oblige.
When it came to Fletcher's talent evaluation, I'm not sure if it was him, his right-hand men, or both, but they severely lacked in the talent evaluation department. Even with Tony DeAngelo, who is a great offensive defenseman, but to think and then to try to convince the rest of the world that he would be Ryan Ellis' replacement due to one good season on a great team, is baffling and was rather unfair to DeAngelo. Unfortunately, almost similar circumstances hurt Ristolainen.
Between 2015-16 to 2018-19, Ristolainen collected 4 consecutive 40-point seasons and totalled  26 goals and 170 points in 312 games. He also averaged 25:22 TOI, had 775 hits and 530 blocked shots. The following 2 seasons he had 10 goals and 51 points in 110 games, was a -20, and his ATOI dropped nearly 3 full minutes. He never lost his aggressive edge as he compiled 396 blocks and 150 blocks but lost out to younger, better, and more responsible defensemen, especially on the power play.
During his run of 40+ points, a major factor was the power play, where he scored 7 times and added 79 assists over the course of 4 seasons. He was the quarterback of the top unit for several years but once he lost out in 2019-20, his numbers took a hit to the tune of 9 power play points and once more in 2020-21, where he added 7. The Sabres started rolling out Jake McCabe, Rasmus Dahlin, Colin Miller, and Brandon Montour more regularly and by 2020-21 the writing was on the wall for the hulking Finn.
His trade value took a hit, the Sabres were willing to move on from their former first round pick from 2013, and with the draft right around the corner, the Sabres were ready to pounce on some desperate teams. Being a physical, right-handed shooting defenseman, with offensive upside was enough to tickle several team's fancies – unfortunately so much so that the Flyers had to win an auction for his services.
It's safe to say that 2021-22 was not a good season for Ristolainen, you could make the argument it might've been his worst season to date. The Flyers did him no favours by pretending he was as good as his 2015-2019 seasons and he was caught flat footed on several occasions – on a per-game-basis. It was evident around the trade deadline that he didn't fit the scheme and the Flyers would be better served by trading him to a contender.
Apparently with a few first round picks being thrown around by several previously interested clubs, Fletcher balked and in turn extended him for 5 years at an annual cap hit of 5.1 million. Much to the chagrin of the fan base, many couldn't quite understand the reason or the need for the extension, considering the fact that the Flyers continuously got worse and worse under Fletcher.
Well, in stepped John Tortorella, and who would've thought that giving him a clear and concise role would do wonders for the lost and beleaguered defenseman? Apparently not Alain Vigneault or Mike Yeo.
I preface the following sentence with the notion that we hold our standards much differently than, say in 2011 or even 2019, but Ristolainen was far and wide one of the club's best defenseman and at times he was the best. Tortorella unlocked his potential in the final 37 games of the season as he not only chipped in with 18 points but also averaged 19:47 TOI, which was 16 more points and almost 90 more seconds of ice time per game from the start of his season – a identical stretch of 37 games.
The 2 goals and 16 points he scored in 66 games last season were the lowest of his career since his rookie season where he scored 2 goals and 4 points in 34 games. He averaged 2:25 less ice time in 2022-23 than in 2021-22 but it was more fixated on specific schemes, roles, and game situations, something that Vigneault and Yeo did not utilize in their game plan for the defenseman.
He played in 57.3 minutes on the power play, which was 13 minutes more than the previous season, and he also skated in 159.2 minutes while shorthanded, which was 34 minutes more than 2021-22 and his highest totals since 2018-19. His absence from the Flyers man advantage always had me stumped considering the fact that they've finished with the league's worst power play in back-to-back seasons.
Clearly whatever they were rolling out with wasn't working, so why not change things up? Ivan Provorov completely lost his touch on the man advantage after scoring 7 goals and adding 9 assists in 2019-20, he scored 1 goal in the three years that followed, which included over 310 minutes on the power play in 2020-21 and 2021-22. They finally understood things were not working in 2022-23 and he only saw 65.7 minutes – while also giving Travis Sanheim some much needed run as well.
Ristolainen saw 57.3 minutes and scored a goal and added 4 assists, usually placed on the ice at the tail end of the power play and with the 2nd unit. His booming slap-shot, accurate shooting, and sometimes his net-front presence would've served them better than what they ended up rolling with. Tortorella noticed that and used it more often near the end of the season and with DeAngelo out of the lineup.
He also scored a nifty shorthanded goal for the first of his season
Rasmus Ristolainen pots the @NHLFlyers' League-leading NINTH shorthanded goal of the season. 🥶#NHLStats: https://t.co/egy8dnqRI2 pic.twitter.com/coJad8tLop

— NHL (@NHL) January 18, 2023
We saw a more confident version of Ristolainen this season and at times it was a marvel, considering what we had to compare it to. 2021-22 Ristolainen would have never jumped in on the rush shorthanded or even in the offensive zone with Morgan Frost tailing further and further away from the opposition's net:
Rasmus Ristolainen gets in tight and slides home Frost's rebound for his second goal of the year, 3-2 Philly!#FueledByPhilly pic.twitter.com/mEcnqcfTD3

— Hockey Daily 365 l NHL Highlights & News (@HockeyDaily365) January 25, 2023
To think the Flyers had this on their roster on a game-by-game basis and never used it until last season – and sporadically at that:
NHL Video Highlight – Rasmus Ristolainen scores a power-play goal against the Minnesota Wild to make it 3-3. pic.twitter.com/QPIo9qOFS8

— Wild Game Bot (@MNWild_Game_Bot) March 24, 2023
In his final 21 games, Ristolainen almost averaged 21 minutes of ice-time, was only a minus-2, had 8 points with 3 of them coming on the man advantage, and he was still making his checks and laying out his body for blocks but more appropriately and more tactically than in previous seasons.
Tortorella applauded Ristolainen and Nick Seeler on several occasions throughout the season for their aggressive nature, shot-blocking, and minute-munching at critical junctures of a game. If this was just the beginning of what Tortorella could unlock, then we're in for another good season from the hulking Finnish defenseman.
His price of acquisition rubbed people the wrong way, the 5-year extension didn't go over well, and his overall play in 2021-22 left a lot be desired. However, he was a captain without a ship, lost at sea, not knowing what his role was and the coaching staff had no idea how to utilize him properly.
Now with another season under his belt – with Travis Sanheim as his partner – look for #55 to be a big part of the defense this year and hopefully it can be enough to bring back some value to his name. Without Ivan Provorov or Tony DeAngelo eating up 20-25 minutes a night, Ristolainen will be tasked along with Sanheim, Cam York, and even Marc Staal to take the majority of the minutes, play in key situations in games, and play on special teams.
2024 Stadium Series Trip
Flyers Nation and Philly Sports Trips have teamed up to bring you on an amazing bus trip to the 2024 NHL Stadium Series between the Flyers and Devils. Place an early deposit to reserve your spot at the ultimate tailgate experience at MetLife Stadium before the game. The package includes a game ticket, round-trip charter bus, an all-inclusive tailgate party with unlimited cold beverages, "Philly Style" catered food, live entertainment, and more.