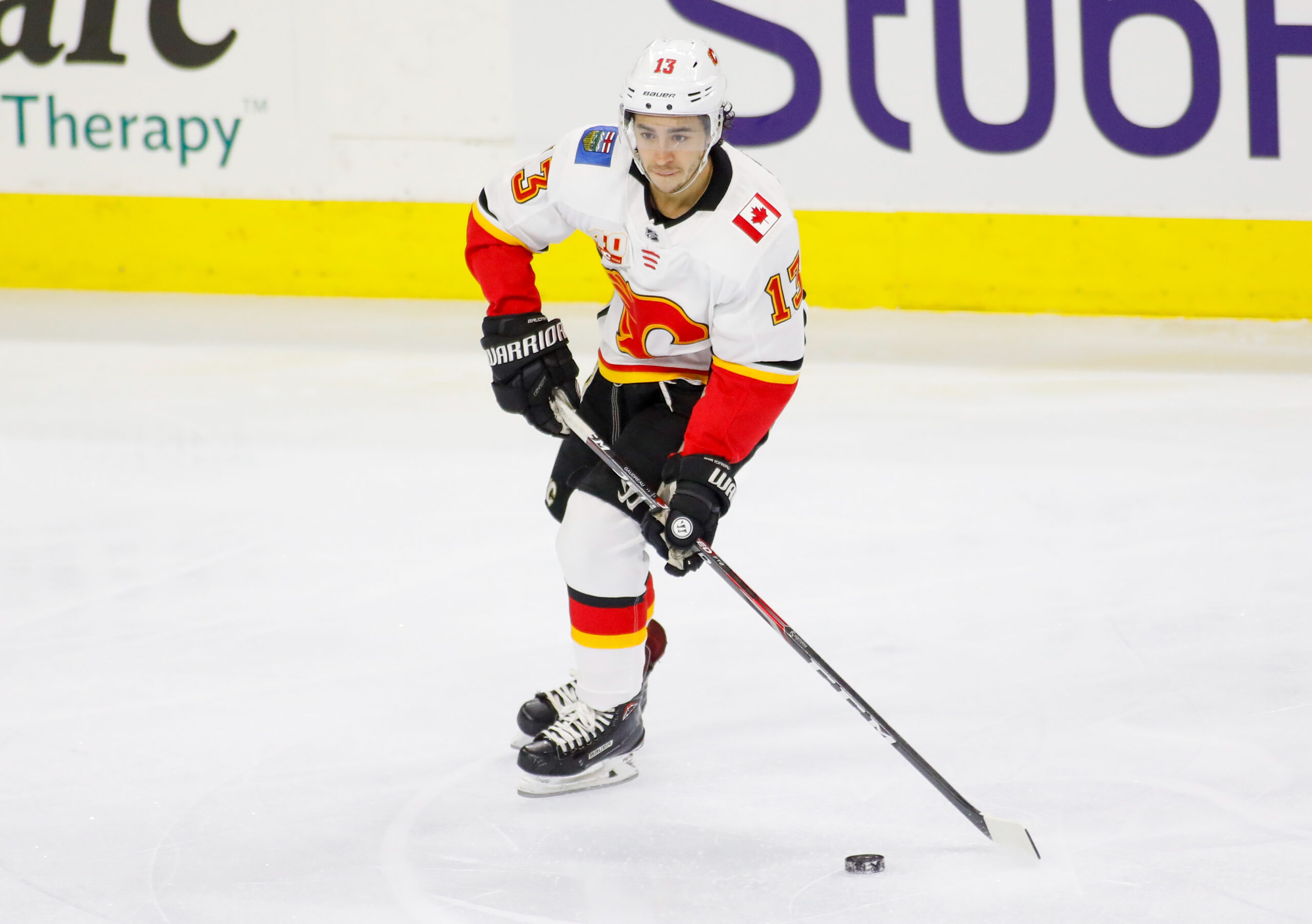 How Much Impact Would an Addition like Johnny Gaudreau Have?
Hypothetically speaking, let's assume the Philadelphia Flyers acquire a player like Johnny Gaudreau during the offseason. The front office wants to make a big splash, they understand they can't fumble the bag on John Tortorella's hiring as head coach, and they want a marquee player not only to help the team succeed but to bring back the fans they so desperately need to win back. For this exercise, let's assume the Flyers maneuvered through their cap situation and traded the likes of James van Riemsdyk and Oskar Lindblom to make room for the high-priced prize of the offseason. They believe it's what is required to bring back relevancy to Philadelphia, they believe they're a few tweaks away from making noise, and by signing the local kid it's their belief that it will work on many levels. The real question that should be asked, is whether or not it would actually help.
Sean Couturier, Ryan Ellis, and Kevin Hayes missed a lot of games last season and it really tested the lack of depth that was at their disposal. Players like Joel Farabee, Scott Laughton, Rasmus Ristolainen, and Claude Giroux (traded at the deadline) were absent for a decent stretch of the season. Keith Yandle, Kevin Connauton, and Nick Seeler were tasked to undertake large responsibilities on the defensive side of the puck, a lot of rookies made their NHL debut, and some veterans who were around for most of the season didn't impress in the slightest. It was a tough season to watch but the Flyers believe that COVID, injuries, and unforeseen circumstances were the root cause of their downfall. If Couturier and Ellis return to form and actually staple their names to the opening night lineup, if Hayes replicates his return to form once he was re-inserted into the lineup in March, and if Carter Hart knocks off his doubters with a better season in large part because of an improved defense in front of him; wouldn't the addition of Gaudreau be a boon?
If everything remains the same with the exception of James van Riemsdyk and Oskar Lindblom being traded to make way for Johnny Gaudreau, this is what the Flyers would somewhat look like:
Johnny Gaudreau – Sean Couturier –  Cam Atkinson
Joel Farabee – Kevin Hayes – Travis Konecny
Owen Tippett – Morgan Frost – Scott Laughton
Noah Cates – Zack MacEwen – Bobby Brink
Ivan Provorov – Ryan Ellis
Travis Sanheim – Rasmus Ristolainen
Cam York – Ronnie Attard
Carter Hart
Ivan Fedotov/Felix Sandstrom
Not entirely an awful roster, but there are so many ifs and buts for this to play out positively. Kevin Hayes' impact was felt on and off the ice, his impact was felt when he left the lineup, and his impact was greatly felt when he made his return. For many of us, we didn't want to see him play at the end of the 2022 season just in case he got re-injured or jeopardized his health for the upcoming season. He was amazing upon his return, relatable to his former self of 2019-20, and he played with and helped a lot of the young players in Bobby Brink, Noah Cates, and Owen Tippett. If the impact was so grand for a player like Kevin Hayes, arguably the Flyers' 2C, then one has to imagine that Sean Couturier's return would have even more impact on the team. The Flyers' top-line centre, best two-way player, best face-off man, and potentially the future captain started off the 2021-22 season with 12 points in 10 games before slumping to the tune of 1 goal and 5 points in his final 19 games. He played through an injury, which was the common theme for most injured Flyers, including Hayes and Ellis. With Couturier back in the middle of their top line, playing a key role on the power play, and being the focal point of the penalty kill while also having a motivated and healthy Hayes in the lineup, the top 2 lines don't look that bad.
Cam Atkinson had his moments in the sun last season and was the Flyers' top goal scorer and point-getter for a good chunk of the season before he slumped post-trade deadline and then got injured near the end of the season. Travis Konecny ended up taking the points mantle and James van Riemsdyk secured the top spot for goals scored. When paired with Claude Giroux, Atkinson looked his best, he was aggressive, he had an eye for the net, and his impact was grandiose – relative to the team around him. He was a difference maker while shorthanded, which has been a crutch for the Flyers, and his shoot-first mentality was a breath of fresh air considering all the over-passing they exhibited, but the streakiness and the hot-and-cold stretches is what best exemplifies a goal scorer. His return to form is just as essential as anyone else not named Couturier or Ellis, and if paired up with the aforementioned centre and the newly acquired Gaudreau; we should see a 30-goal scorer in no time.
Joel Farabee needs to find consistency in his game to unlock his full potential of the goal scorer the Flyers decided to extend for 6 years at an AAV of $5 million. He's still young, he's oozing with talent and potential, had his fair share of injury bouts last season, but he ended it on a very sour note as he slumped to the tune of 2 goals and 0 assists in his final 15 games; but that was coming off the heels of 10 points in his previous 8 games. Even in his 2020-21 campaign, where he broke the 20-goal barrier for the first time in his career, he endured a slump of 2 goals in 21 games. The talent is there, the potential is off the charts, and he represents the future of the Flyers without a doubt, however just like Atkinson he needs to find other ways to be effective if he isn't scoring goals. The Flyers have given him a role on the penalty kill, he should be a focal point on the power play moving forward, and if he's able to take the leap in his fourth season, it would be a god-send for a team that is looking for anything and everything to turn things around.
The bottom-six has a lot of work to do but due to how much the top-six players are being paid as well as the top defensemen on the team, they're going to have to rely on their prospects and pipeline to fill out the bottom cheaply. Frost, Tippett, and MacEwen are in need of new contracts but fortunately for the Flyers, they are impending RFAs and they also shouldn't break the bank. Noah Cates showed off his versatility in the final stretch of the season as well as his impressive hockey IQ, Scott Laughton is better suited for the third line but we know he has the capabilities of being the Swiss Army Knife of the team.
The defense should remain the same as last year with the exception of one addition to fill out the top-6. Ryan Ellis' return is paramount after missing 78 games, which then ultimately caused a ripple effect on the remaining pairs. His return is also important for Ivan Provorov as they should – at least on paper – form a formidable top pair, which would then allow Travis Sanheim and Rasmus Ristolainen to comfortably take on the second pairing, instead of having to be thrusted into more responsibilities that they are not entirely suited for. Cam York looked good in his limited appearances and should finally scratch his name off the opening night roster when the new season opens up, which then leaves one open spot that could be acquired either through a trade or free agency. Nick Seeler should remain a 7th or 8th option as they need someone much better in front of him in the pecking order.
This is however, the most perfect scenario in which everyone is healthy, motivated, and raring to make an impact and cast off the shackles of a terrible 2021-22 season. The Metropolitan Division is run by the current reigning division winners in the Carolina Hurricanes, the Eastern Conference runners-up in the New York Rangers, the always dangerous Washington Capitals, the perennial Pittsburgh Penguins, the upcoming New Jersey Devils, the defensive-minded New York Islanders, and then you're left with a question mark in the Columbus Blue Jackets, but they possess 2 first round picks within the top-12 and $22 million in cap space. Then in the Atlantic Division, you have the Tampa Bay Lightning, Toronto Maple Leafs, Florida Panthers, Boston Bruins, and even lesser sounding dangerous teams like the Buffalo Sabres and Detroit Red Wings. If the Flyers can't navigate the top three in their own division, which they most likely cannot do even with Gaudreau, then they have to scrap it out for a Wild Card spot, which would mean they have to outduel 3-4 really good teams within the Eastern Conference as well as the potential dark horses.
Even if things spin their way, you're counting on so many bounces falling your way in terms of health, productivity from your top guys as well as secondary and complimentary pieces, stalwart goaltending from a young duo, and a new head coach that has to make his mark relatively early to make inroads in the difficult terrain that is the Metropolitan Division. Is Gaudreau going to be enough to make that all happen? His insertion into the roster would help improve the depth and balance of the lineup, he is coming off a monstrous 40 goals, 115 points, +62 season but while also playing with fellow 30-goal scorers in Elias Lindholm and Matthew Tkachuk, who also hit 100 points. He would most definitely help the abysmal power play unit, I would find it hard to believe that he doesn't connect with either of the Flyers top centremen, and his game-breaking ability and speed is something the Flyers haven't had in a really long time. It's unlikely he replicates those exact numbers but a season where the Flyers actually have a player who averages more than a point-per-game is tantalizing to think about, even going into the 90s. However, his insertion, regardless of how impactful, still seems improbable to push the Flyers over the edge into the playoffs.
Do the returns of Couturier, Ellis, Hayes, and insertion of Gaudreau propel the Flyers to an additional 39 points in the standings? Technically, anything is possible (i.e. the Flyers leap from dead-last in the standings in 2006-2007 to a final four finish in 2007-2008) but it seems very improbable. Gaudreau would be electrifying, fun to watch, and impactful in a certain degree, but the Flyers need a lot more than one player to turn things around in short order; just something to think about.