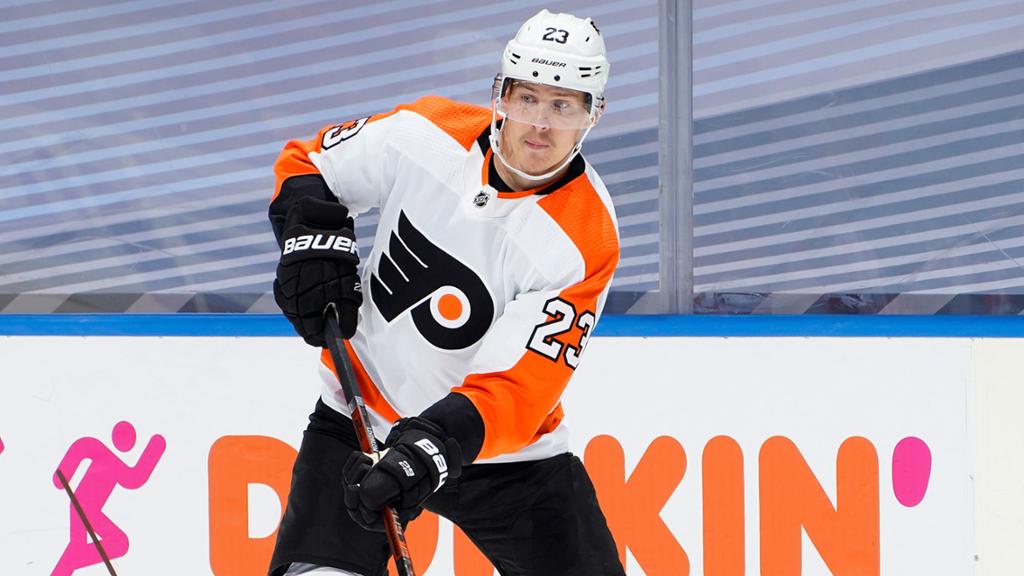 Oskar Lindblom (#23, F)
50 GP, 8 G, 6 A, 14 Pts, -9 +/-
Grade: C+
Oskar Lindblom is one of the greatest stories in sports and certainly an inspiration for the Flyers and their fans everywhere. If we are talking about off the ice grades, Oskar gets an A+++, as this season's Masteron Memorial Trophy winner. His return to play so soon after his cancer diagnosis is simply amazing and something Oskar should be forever proud of. These personal achievements certainly helped Oskar's performance grade, as it is impossible to give Oskar too poor of a grade. However, he had a challenging year on the ice, resulting in a C+ grade. Before his diagnosis, Oskar was in the process of having a fantastic season in 19-20, with 11 goals and 7 assists in 30 games. Understandably, he was a shell of his former self this year with just 8 goals and 6 assists. Oskar's +/- also went from a +4 in 19-20 to a -9 this season. Oskar struggled to find his speed and hold his own with the physicality of the game, a major reason for his struggles. There is no doubt in my mind Oskar will be able to get back to his pre-cancer form, so his lack of productivity this season was not alarming at all. I expect a fantastic and inspiring bounce-back season for Oskar, and I very much look forward to watching him excel once again.
Nolan Patrick (#19, F)
52 GP, 4 G, 5 A, 9 Pts, -30 +/-
Grade: F
In somewhat similar fashion to Lindblom, Nolan Patrick began this year after missing major time the year before (the entire season). However, Patrick has never really shown any promise or extended periods of solid hockey like Lindblom. Patrick was decent at best in his first two seasons, scoring 13 goals in each and finishing with 30 and 31 points respectively in 17-18 and 18-19. However, this season, he was terrible. In 52 games, he was only able to produce 9 points and racked up a +/- of -30, second-worst in the ENTIRE LEAGUE. As a former number 2 overall pick, Patrick has yet to show promise, with just 30 goals and 40 assists in 197 career games. The Nolan Patrick era in Philadelphia is over, as he was part of the deal that has brought Ryan Ellis to the Flyers. Patrick, as of now, is a bust. While I wish him all the best with the rest of his career, it is painful to think he is yet another terrible high draft pick for a Philadelphia sports team, and I am certainly not sad to see him go.
James Van Riemsdyk
56 GP, 17 G, 26 A, 43 Pts, +2 +/-
Grade: A
Just like Farabee, JVR was a bright spot on an overall underachieving Flyers team. After a terrible performance in the bubble, I don't think anyone had very high expectations for JVR. However, his play on the ice this year proved many doubters wrong. JVR had his best season since returning to the Flyers, and it could be argued it was one of the best of his career. He scored 10 of his 17 goals on the powerplay, the second most PP goals he's had in a season so far, which is especially impressive considering this was a shortened season. After not passing the eye test and looking painfully slow in the bubble, JVR had good speed and matched the flow of games very well this season. Our special teams would have been even worse without him, and his 26 assists are the fourth-highest single-season total of his 12-year career, very impressive considering the short season. JVR will be one to pay attention to during the expansion draft, as he's right on the bubble of someone the Flyers would be looking to protect, and I'm sure a team like Seattle would love to have him. Hopefully, he remains on the Flyers and can carry this year's surprising productivity into next season.
NHL Stats, History, Scores, & Records. Hockey Reference. (n.d.). https://www.hockey-reference.com/.