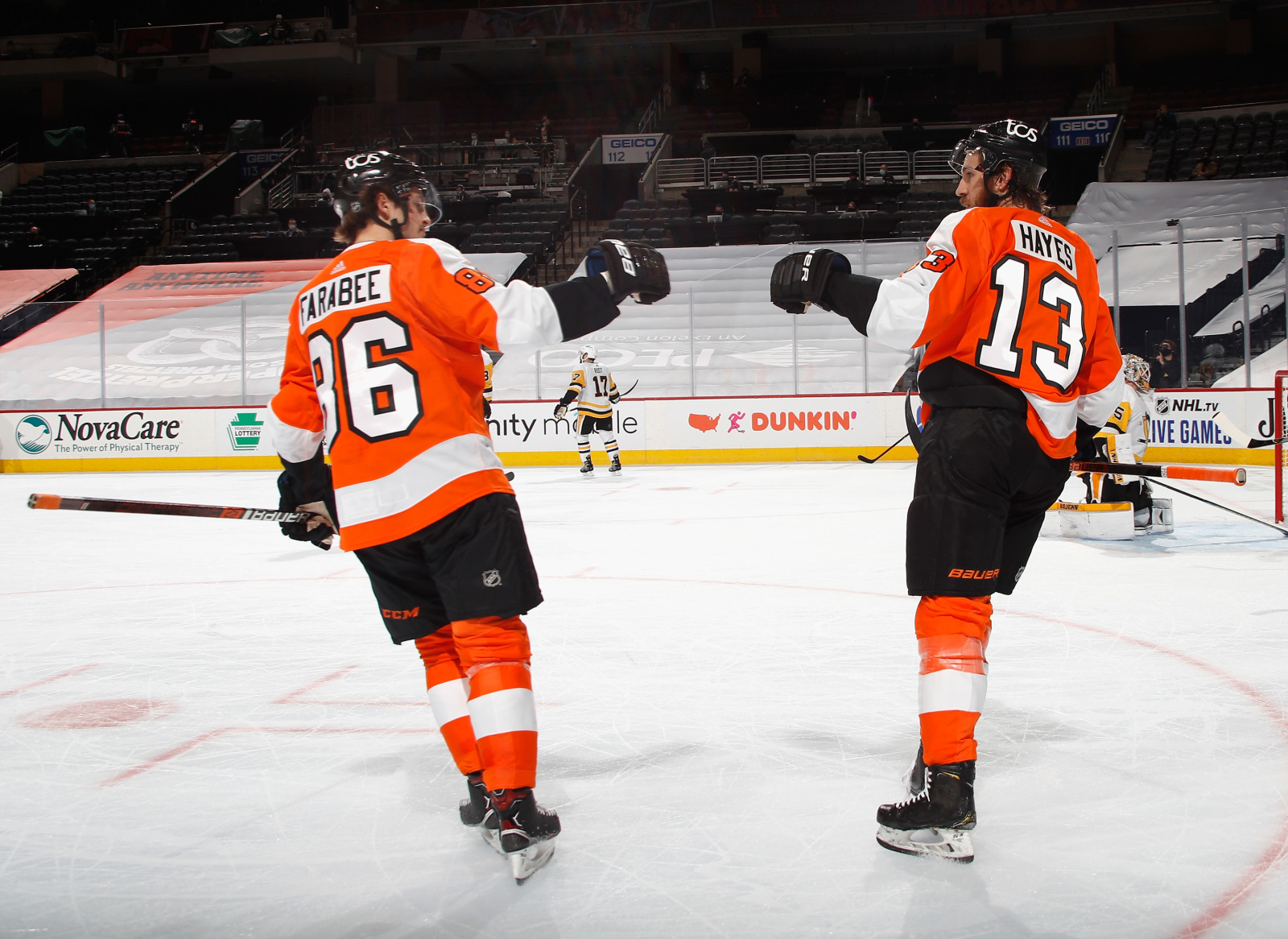 Grading Players: Farabee, Hayes, and Konecny
Kevin Hayes (#13, F)
55 GP, 12 G, 19 A, 31 Pts, -2 +/-
Grade: C-
As speculated throughout the season, the Flyers confirmed that Kevin Hayes played most of the year injured. Hayes had a very tough year for the Flyers, including extended streaks of pointless games. Hayes did not pass the eye test whatsoever this season as he looked very slow and frequently behind the pace of play, which is understandable considering the injury to his stomach. In terms of scoring, Hayes struggled significantly compared to the 2019-20 season, where he scored 23 times in 69 games. The only thing keeping Hayes above a D grade was his assist totals in which he improved significantly from the season before, where he had 18 assists in 69 games. A healthy Kevin Hayes is an excellent piece of this Flyers team, both on the ice and in the locker room. There will be high expectations for him to bounce back next year, especially considering his contract.
Joel Farabee (#86, F)
55 GP, 20 G, 18 A, 38 Pts, 0 +/-
Grade: A+
Of the very few bright spots this Flyers' season, Beezer certainly was the brightest. After only scoring 8 goals in 52 games in his 2019-20 rookie season, Farabee led the team with 20 goals in his sophomore campaign, surprising everyone in the City of Brotherly Love. While he showed a lot of promise as a rookie, Beezer blew everyone away this season, producing countless timely goals and assists for the Flyers. Although his +/- went down from a +6 to a 0 from his first to the second season, his second year was significantly better in every other statistical category, including an assist increase of 5 and a decrease in penalty minutes of 9. At only 20 years old, Farabee had a fantastic season, a great sign for the future for the Flyers team that has been in desperate search of offensive depth for the better part of a decade. I very much look forward to watching Beezer in the future and hope he can pick up where he left off this season.
Travis Konecny (#11, F)
50 GP, 11 G, 23 A, 34 Pts, -5 +/-
Grade: D+
It is hard to find a player that the Covid pause hurt more than TK. He was in the process of having his best season yet in 19-20 before the stoppage, with 24 goals and 37 assists in 66 games. He failed to score in the bubble, hurting the team significantly in the playoffs. His struggles continued this season, only scoring 11 goals and recording 23 assists in 50 games. While his point totals plummeted compared to last season, his penalty minutes per game went up, partly due to frustration but also due to sloppy and careless play. He had plenty of chances to score this season but was rarely able to light the lamp, which was an issue for the team overall. TK was one of the significant issues for the Flyers, and he is a problem that needs to get fixed as soon as possible for this team to look like the cup contenders once again. Confidence has been an issue at times throughout his young career, as he plays with his heart on his sleeve. Hopefully, TK takes this off-season to improve his confidence, recognize his talent and potential, and find the form he was in pre-Covid.
NHL Stats, History, Scores, & Records. Hockey Reference. (n.d.). https://www.hockey-reference.com/.