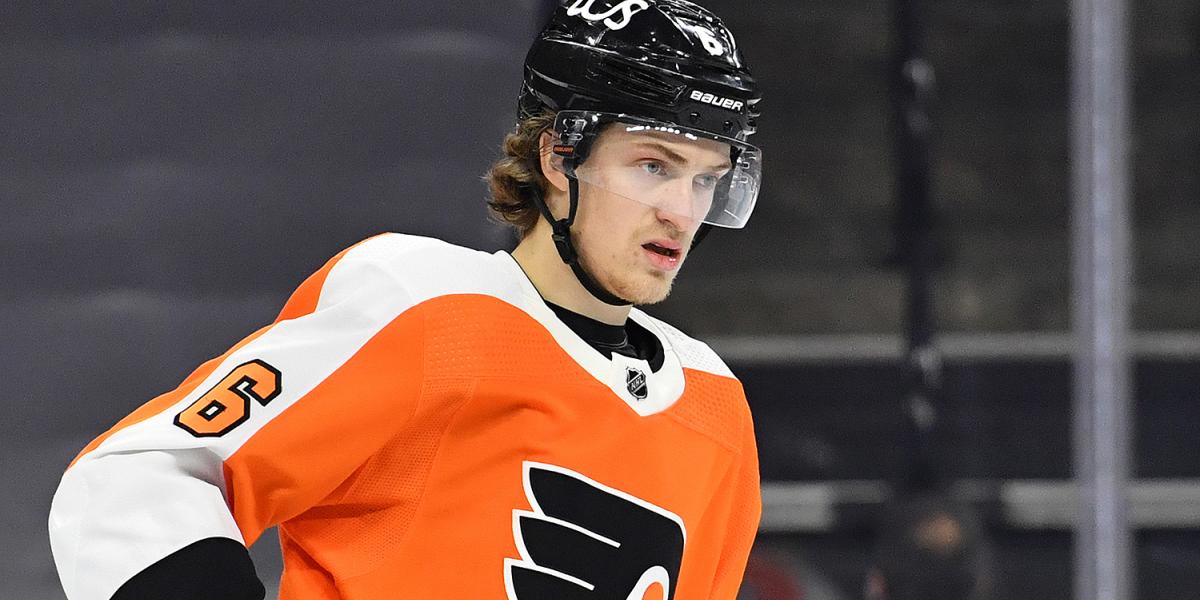 The final domino of the Philadelphia Flyers off-season has finally fallen as they just re-signed restricted free agent Travis Sanheim to a two-year deal worth $4.675M per year. Sanheim had an arbitration case set for the end of August as the Flyers settled for a team-elected arbitration a month ago. It's an increase of $1.425M per year from his previous contract (2×3.25M) and with the Flyers so strapped for cap, it's a little surprising he got such a high cap hit. According to CapFriendly, the Flyers had around 4 million in cap space before the signing. This now puts them over by $675K, which isn't that hard to maneuver around but the question remains: was this an overpayment or market value?
Sanheim was drafted in the first round of the 2014 NHL Entry Draft by Ron Hextall. He spent two more seasons in the WHL with the Calgary Hitmen totaling 30 goals and 133 points in only 119 games. He spent about a year and a half with the Lehigh Valley Phantoms before being permanently promoted to the NHL roster in 2017-18. At the AHL level, he still put up really good numbers as he recorded 56 points in 98 games. Wherever he played he always exhibited his smooth skating and offensive ability, which was something the Flyers desperately needed on the backend.
With the Flyers, he has played in 255 games in parts of four seasons and has shown flashes of what he's capable of doing on the offensive side of the puck. Consistency has been tough to find sometimes with his game but I think that's been the main issue for most of the Flyers in the last five years. When they're flying, winning, and playing with intensity, everyone is chipping in; however, they have found themselves floundering more times than not as a collective unit.
Sanheim's 2020-21 season was rough, as was the case for the whole team, but the silver lining was his increase in ice time. He was given a much bigger role, especially with Phil Myers struggling, Shayne Gostisbehere losing his touch, and the only remaining competent defenders being Ivan Provorov and Justin Braun. For the year he averaged 21:22 minutes of ice time but in the final month of the season, it increased to almost 23 minutes a game.
His advanced metrics were also better than Ivan Provorov's, who would be considered the best defenseman on the team. Provorov had a down year and had more defensive zone starts but the fact that Sanheim's Corsi, Corsi rel, Fenwick, and Fenwick rel were higher than Provorov's and the highest for a Flyers defenseman is pretty impressive.
The offensive capabilities that he honed in junior and with the Phantoms haven't fully translated to the NHL level just yet. From 2018-19 to 2019-20, Sanheim did score 60 points in 151 games playing a lot fewer minutes, shifts, and barely any power-play time. He's still only 25 years old, and with a lot of potential still left untapped, now is the time to finally break out and show the Flyers why he's worth $4.675M in a flat cap world.
The $1.425M increase from his previous contract is a little steep, especially with a flat cap but when you look around the NHL and see the other contracts that were signed this year, it's not that steep of a price to pay for a still-developing young defenseman.
Other defensemen to sign this summer with a similar cap hit include: Alex Goligoski who signed a one year deal at $5M, Jamie Oleksiak who signed for four years at $4.6M, Jake McCabe who signed for four years at $4M, Adam Larsson who signed for four years at $4M, and Ryan Suter and David Savard who each signed four-year deals at $3.5+M. The obvious trend with these contracts is the lengthier term than what Sanheim was given. However, because it was going to be a team-elected arbitration, Sanheim was going to have to choose between a one-year pact or a two-year deal anyways.
It's debatable but Sanheim could be on par with or better than some of those names listed and because he's still young and has shown flashes of what he can do, the cap hit he received might be a fraction of an overpayment. It wasn't out of the realm of possibility that he wasn't going to get anywhere between $4-4.5M regardless.
Sanheim is a good defenseman who is prone to mistakes, just like any other young defenseman in the league. It's no secret that defensemen take a lot longer to develop than forwards, and given how he's improved over time, it shouldn't be a surprise if he does even better this season. 2020-21 should be an outlier for most of the Flyers because they all collectively played badly. It shouldn't be forgotten but based on their previous seasons, maybe it can be taken with a grain of salt.
The 2021-22 Flyers should be a much more motivated group after all the moves they made this off-season. Their defense has improved dramatically in one summer and even if some think that the Rasmus Ristolainen trade was an overpayment or this Sanheim deal was too steep, they now have the depth and skill to overcome their deficits from last year.
Ristolainen is a step up from Robert Hagg, Ryan Ellis is a step up from Phil Myers, and Keith Yandle is more dependable and consistent than Shayne Gostisbehere. For a good chunk of last season, Myers was bringing Sanheim down but now that he won't be playing with him anymore, he'll have a chance to finally break out with a new defensive partner. Sanheim improved dramatically near the end of the season and it showed with his ice time being increased. Now that he has a new contract, the team around him is better, and the mood in Philadelphia is changing, he is primed for a bounce-back season, a break-out season, and potentially his best offensive season all in one.