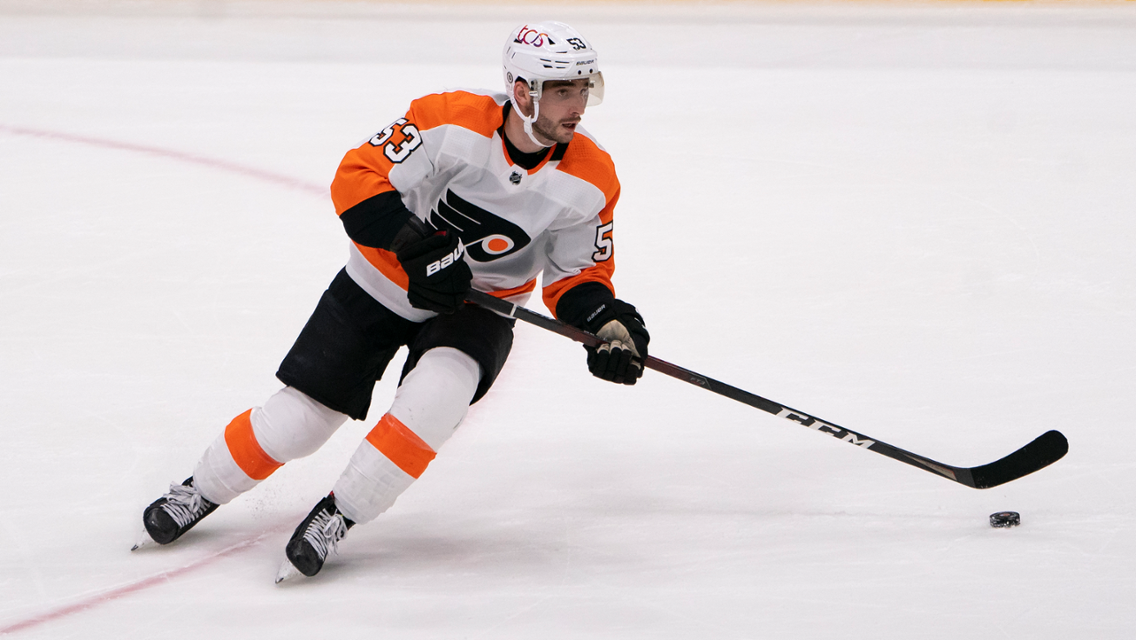 As we move on with player grades, taking a look at defenseman, I want to clarify that while the article will still mention their offense statistics, the "eye test" will be used much more to give grades. I understand that defensemen do a lot more than add to the scoresheet, especially players who don't get much powerplay time.
Ivan Provorov (#9, D)
56 GP, 7 G, 19 A, 26 Pts, +4 +/-
Grade: B
Coming off arguably the best year of Provorov's young career, there were a lot of expectations resting on his shoulders. This is the first season of Provy's career that he was expected to be a member of the top pairing without another consistent top defenseman. All things considered and compared to the rest of the defensemen on the roster, Provy had a solid season. Losing Niskanen certainly hurt his production, along with that of the rest of the team. Provy's goals per game totals went down this year, but his assists per game total went up, which I feel cancels out since he was still creating goals from the point. His +/- went down from a +11 to a +4, again partly due to losing a partner but also due to the defensive struggles of the team. One concern for Provorov that stood out to me this year was his occasional struggles moving the puck on the first power-play unit. The Flyers' special teams were a huge problem this season, and the struggles certainly weren't all Provy's fault, but he deserves some of the blame as one of the few guys on both the top PP and PK units. I personally believe Ryan Ellis is going to do wonders for Ivan Provorov, as I expect him to have an incredible season now that he will most likely be paired with an extreme talent like Ellis.
Shayne Gostisbehere (#53, D)
41 GP, 9 G, 11 A, 20 Pits, -2 +/-
Grade: B
This one might be my first controversial grade. I have based all these grades partly on comparison to past seasons, as well as the eye test. I may be very slightly biased as a Gostisbehere jersey owner, but I thought he received way too much blame this season. I understand he has a huge salary and that he can be very sloppy with the puck, but in terms of statistics, Ghost improved significantly from last year. In his 42 games in the 19-20 season, he only had 5 goals and 7 assists with a -4 +/-. This year he improved in all statistical categories, including others not listed, such as a large reduction in penalty minutes. Another reason for Ghost's solid grade is his ability to control the top power-play unit. I found it was night and day watching the power play without him as he was our only defenseman on the roster that was able to consistently produce, tallying 9 of his 20 points on the power play. Ghost needs to clean up his defensive play, but realistically the entire roster needs to do the same, so I don't feel his turnovers deserve to tank his grade. This offseason, the Flyers sent Ghost to the Coyotes in what was virtually a move to clear cap space as the Flyers received nothing in return. As a biased fan, I will dearly miss Shayne Gostisbehere. At one point, he was one of the only bright spots in what has been an abysmal and depressing decade of Flyers hockey. I'll always have the mindset that he will be able to return to that electrifying player he once was, and I hope he is very successful in Arizona.
Travis Sanheim (#6, D)
55 GP, 3 G, 12 A, 15 Pts, -22 +/-
Grade: C-
This was a very concerning year for Sanheim, especially coming off the best year of his career the previous year. Sanheim was another player on the roster who did not pass the eye test this year, as he was sloppy and slow most of the time he was on the ice. His offensive production decreased from 25 points in 69 games in 19-20 to 15 points in 55 games this year. He had a very strong +4 +/- in the 19-20 season and sadly plummeted to a -22 this season. Sanheim is a critical piece of this defensive core for the Flyers and was probably considered our second-best defenseman heading into this season after losing Niskanen. His struggles forced the Flyers to rely more on other, not-so-talented defensemen, hurting the team overall. Sanheim needs to return to his 19-20 form to help with the Flyers' defensive depth, and an addition of a top defenseman this off-season would greatly assist that, as it would take a decent bit of pressure off him. Sanheim's sheer size, as well as his 19-20 performance, give me a lot of hope in his future, and I hope this poor season was just an outlier, especially considering the team struggled so much as a whole. The addition of Ellis should be very beneficial to Sanheim, as it will take a decent amount of pressure off of his shoulders going forward.
NHL Stats, History, Scores, & Records. Hockey Reference. (n.d.). https://www.hockey-reference.com/.