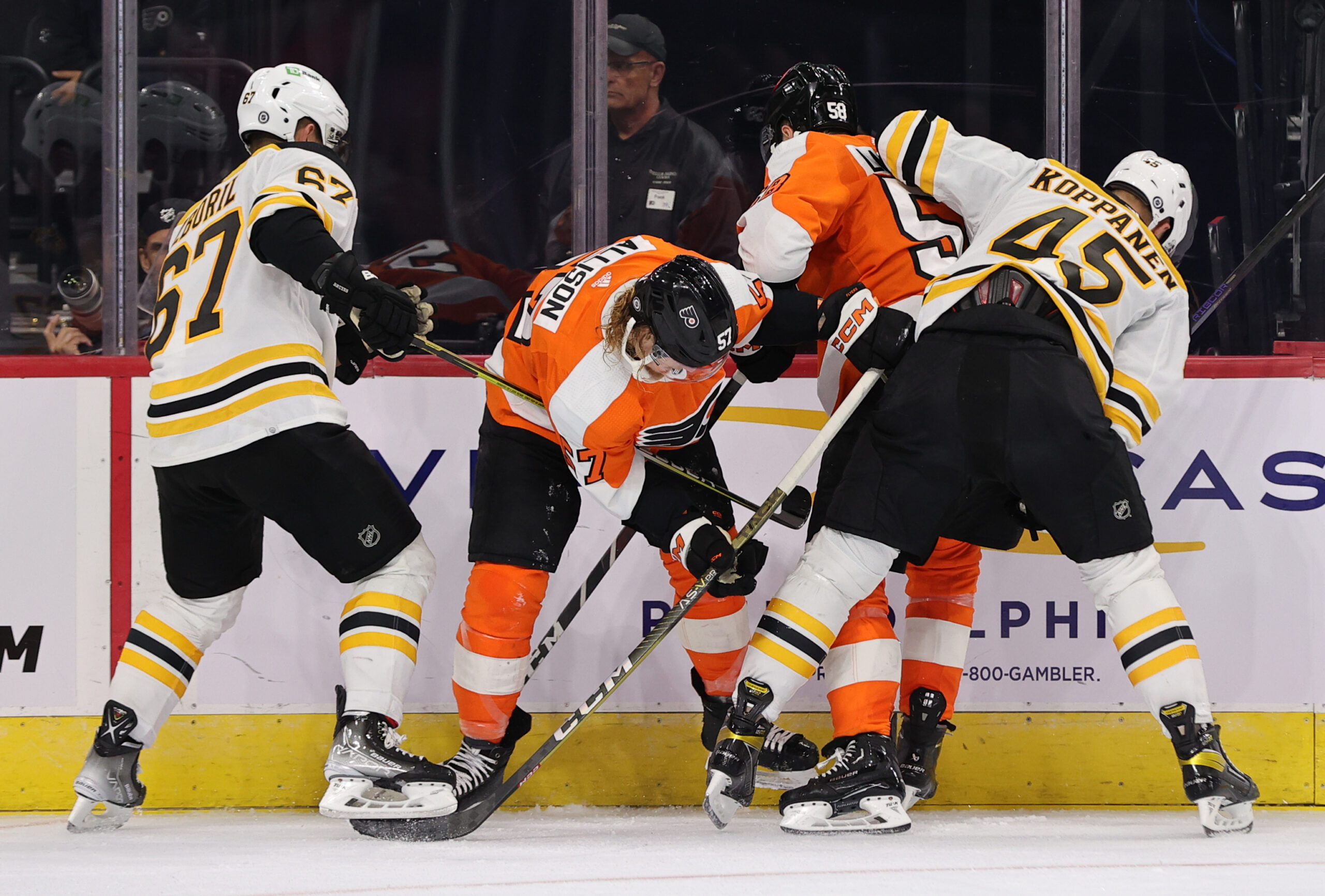 Flyers' special teams disappoint in third preseason loss, Sandström leaves with injury
The Flyers fell to the Boston Bruins 4-0 on Saturday afternoon in TD Garden. This was a game of special teams, in which the Flyers fell short, going scoreless on four power plays (0/4) and gave Boston five power plays, stopping 4 of them (1/5).
Here were the lineups for each team.
Flyers in warmups @ Bruins

Lycksell-Hayes-Tippett
van Riemsdyk-J. Cates-Hodgson
N. Cates-Frost-Foerster
Brooks-Laczynski-MacEwen

Sanheim-Ristolainen
Zamula-Seeler
York-Attard

Sandström
Grosenick

— Olivia Reiner (@ReinerOlivia) October 1, 2022
Here's how we'll line it up 🙌 pic.twitter.com/u0TMPc0w8Y

— Boston Bruins (@NHLBruins) October 1, 2022
First Period (Shots: 8-2 Flyers, Score: 0-0)
It was a hard season for Kevin Hayes last year, battling through family matters and multiple surgeries, which is why it was so refreshing watching him play today because he didn't just look healthy, he played really well. Is it a preseason game? Sure. Are the Bruins still icing prospects and unproven talent? Yes, but Hayes was still running into Boston vets as he centered the first line.

He generated offense in transition and in the offensive zone once set up, and he was setting up during a lot of that ice time. Olle Lycksell was all over the place, particularly in the first half of the period, ringing a shot off the post, disrupting the Bruins' breakout attempts, and getting a deflection chance via a witty pass from Hayes.

Both teams had two power plays, and neither were successful in scoring on them. It was beginning to look like a tough start for the Flyers after Cam York went to the box early for a cross-check below the goal line. However, Jackson Cates singlehandedly negated half of the power play by drawing a penalty and generating a clean zone exit in the process; the types of plays that coaches like John Tortorella will adore.

The only good moments from Philadelphia's power play came from Hayes, who led the transition as well as passes by the goal line. He even hit Morgan Frost with a slam dunk opportunity that ended up getting fumbled. It was all Flyers in the first period, but they did have a few scares of their own, particularly on the sequence where Jake DeBrusk shanked a tap-in just inches from the goal post, and then immediately set up David Krejci for a great scoring chance, but was handcuffed when trying to one-time the puck.

The Flyers were controlling play, and they needed to start capitalizing on their chances and do Hayes some damn justice. 
Second Period (Shots 15-13 Bruins, Score: 1-0 Bruins)
The second period was all Bruins, and they really began to control play after the first half of the period. It began with a neutral zone infraction by Hayden Hodgson, which was the third Bruins power play that was successfully killed, but the Flyers were pushing their luck. Later after the penalty, Rasmus Ristolainen absolutely killed a guy Nicklas Kronwall-style. I guess the flying backwards check just lives in the #55 jersey.
Rasmus Ristolainen just killed a guy.

Fabian Lysell heads to the dressing room after this crunch, hopefully he's ok. pic.twitter.com/JrvLYXbUt4

— Flyers Nation (@FlyersNation) October 1, 2022
Unfortunately, just shortly after this great display of physicality by Ristolainen, he ended up taking a penalty, trying to keep up with a flying DeBrusk who had burnt him on a break, and got called for holding. It would be the fourth power play for the Boston Bruins that would go against the Flyers, an unsuccessful puck battle below the goal line led to a point shot that was deflected by Marc McLaughlin, giving the Bruins the lead at 1-0.
At this point, it was all Bruins, suffocating the Flyers in all zones. With about five minutes left in the period, Zack MacEwen, a player who's really battling for a roster spot, dropped the gloves with Bruins defenseman Nick Wolff and left him with a bloody face. It ended up not giving off the momentum he had hoped for, but it was a great effort nevertheless.
Zack MacEwen drops the gloves with Nick Wolff. #Flyers pic.twitter.com/gh7uvIgBZQ

— Flyers Nation (@FlyersNation) October 1, 2022
The Flyers needed to dig deep and avoid old habits as they entered the final stanza.
Third Period (Shots 25-21 Bruins, Score: 4-0 Bruins)
To no one's pleasure, the first 10 minutes of the third period was another slow one for the Flyers, who did nothing but send Boston back to the power play for the fifth time, but managed to survive.
Much of the period was quiet, until MacEwen laid out DeBrusk, causing some shuffling, but things settled down again and he ended up taking that 5th penalty, a tough look for a guy literally fighting for a spot in the lineup.

Just two minutes after the halfway point, the Bruins scored again, making it 2-0 with 8 minutes to go. It started, again, with a point shot from Jakub Zboril, and Bruins forwards winning the loose puck battle. The Flyers couldn't recover the loose puck, and it was Patrice Bergeron who set up a slick feed to McLaughlinto extend the lead to two.

Then with four and a half minutes remaining, another point shot was deflected into the net by John Beecher, making it 3-0 Bruins. Just a minute later, Kai Wissman sent the Flyers to their fourth power play for an interference call in the Bruins zone.

Pulling the goalie on the power play, the Flyers got pass happy, trying to send feeds through Bruins players who made no mistake in punishing the Flyers, furthering the score to 4-0, with Beecher getting his second of the afternoon. That will be due for this afternoon, and we will see the Flyers in action again tomorrow against the New York Islanders led by John Tortorella.
UP NEXT
The Flyers (1-3-0) play the New York Islanders (0-2-0) Sunday night at the UBS Arena (7:00 PM ET) in their fifth preseason game of the year.
News and Notes
After today's matinee, John Tortorella will take charge of the bench.

The Flyers' play in the last 40 minutes of their previous game against the Capitals gave flashbacks to the nightmare that was last season. The Flyers responded this afternoon with another dumpster fire of a second and third period. It'll be interesting to see how Tortorella addresses this when he takes over tomorrow.

Special teams are beginning to become a backbreaker – they went scoreless on 4 power plays and gave Boston 5 power plays, stopping the first 3, and giving in what would be the game winning goal on the fourth power play for the Bruins.

Felix Sandström left the ice after the first period, and was held out due to a lower-body injury, forcing Troy Grosenick to go in cold and earlier than expected.
Music City Hockey Trip
Take a three day vacation to Nashville with Philly Sports Trips this October! The package includes direct flights, a three night stay at the Cambria Hotel Nashville Downtown, an all-inclusive tailgate, and tickets to the Flyers Predators game. $100 cash for anyone who shows proof they went to the Flyers game on the trip.