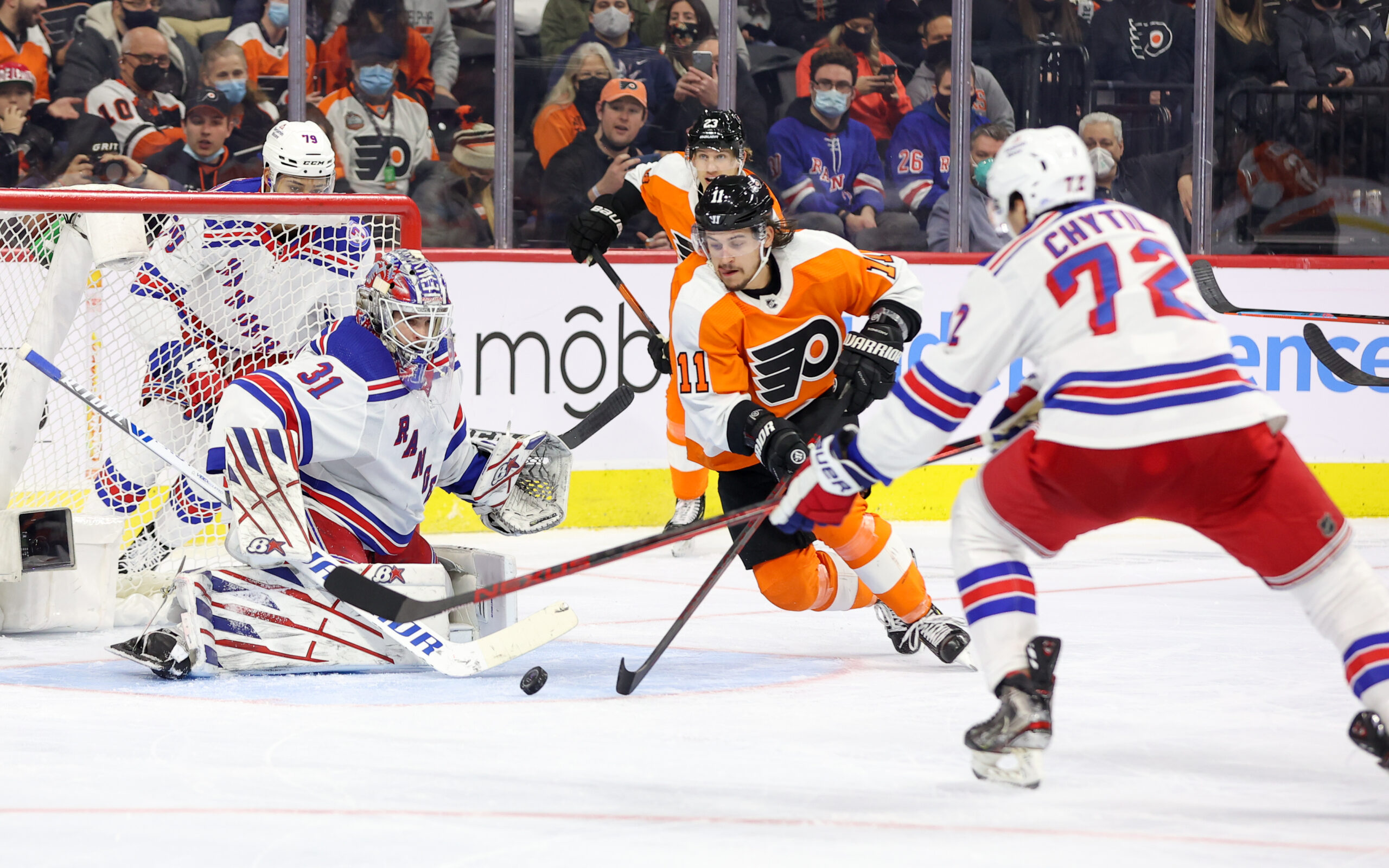 Flyers seek to rebound from overtime loss against rival Rangers
The Philadelphia Flyers have another tough matchup tonight against the New York Rangers, who are coming home off of a two-game win streak.
Artemi Panarin leads the way for New York with 16 points over his last 10 games, and Mika Zibanejad with 12 points over his last 10 games. While his numbers aren't as stellar as Carter Hart's, Igor Shesterkin has been leading the club to victories on a nightly basis that has helped the team climb to the 3rd seed in the Metropolitan Division.
Flyers leaders Kevin Hayes and Travis Konecny continue to stay at the top of the score sheet, with Hayes registering 10 points over 8 games, and Travis Konecny scoring 9 points over 8 games. Carter Hart remains sharp and atop the NHL leaderboards with a .938 SV% and 2.31 GAA.
Both clubs have respective records, but there are some noticeable differences in their special teams stats. On the powerplay, the Rangers are 12th in the league, operating at 23.7%, compared to Philadelphia's 21.4%, which places them at 17th in the league. As for the penalty kill, both teams flip flop their current rankings on the powerplay, meaning the Rangers are 17th in the league on the penalty kill, operating at a 79.3% success rate, whereas the Flyers sit above at 12th in the league, working at an 80.8% success rate. It will be interesting how the their special teams debut against one another.
Kieffer Bellows made his Flyers debut in the Carolina overtime loss on Saturday, drawing a penalty and recording 11:50 of ice time, one shot attempt, and three hits. Bellows is a sharpshooter who can throw some weight around. He will continue to play on the Morgan Frost line, accompanied by long time bruiser Nicolas Deslauriers.
PHI Record: 5-2-1, 11 pts, 4th in Metropolitan
NYR Record: 4-2-1, 12 pts, 3rd in Metropolitan
Last Game PHI: 10/29/22, 4-3 OTL vs. Carolina
Last Game NYR: 10/30/22, 3-2 W at Arizona
When: 7:00pm ET
Where: Madison Square Garden, Manhattan, NY
PHI Goalie: Carter Hart (5-0-1, .938 SV%, 2.31 GAA, 0 SO)
NYR Goalie: Igor Shesterkin (5-0-2, .913 SV%, 2.55 GAA, 0 SO)
PHI Projected Lineup
#86 Joel Farabee – #13 Kevin Hayes – #11 Travis Konecny
#49 Noah Cates – #21 Scott Laughton – #74 Owen Tippet
#20 Kieffer Bellows – #48 Morgan Frost – #17 Zack MacEwen
#44 Nicolas Deslauriers – #23 Lukáš Sedlák – #57 Wade Allison
#9 Ivan Provorov – #77 Tony DeAngelo
#6 Travis Sanheim – #61 Justin Braun
#24 Nick Seeler – #55 Rasmus Ristolainen
#79 Carter Hart
#32 Felix Sandström
NYR Projected Lineup
#20 Chris Kreider – #93 Mika Zibanejad – #24 Kaapo Kakko
#10 Artemi Panarin – #16 Vincent Trocheck – #13 Alexis Lafrenière
#26 Jimmy Vesey – #21 Barclay Goodrow – #12 Julien Gauthier
#91 Sammy Blais – #22 Ryan Carpenter – #75 Ryan Reaves
#55 Ryan Lindgren – #23 Adam Fox
#79 K'Andre Miller – #8 Jacob Trouba
 #6 Zac Jones – #4 Braden Schneider
#31 Igor Shesterkin
#41 Jaroslav Halák
PHI Injuries: Cam Atkinson (lower-body), Sean Couturier (back), Patrick Brown (back), Bobby Brink (hip), Ryan Ellis (lower-body), Artem Anisimov (PTO, lower-body), James van Riemsdyk (finger)
NYR Injuries: Filip Chytil (head), Vitali Kravtsov (upper-body)
News and Notes
– Despite being down 1 or 2 goals over the first seven games of the season, the Flyers have found a way to post a 4-2-1 record while coming from behind. Most of this has been attributed to Carter Hart's incredible performances, opportunistic scoring, and an influential bench boss who doesn't allow their team to snowball once a few things don't go their way.
– Tanner Laczynski is still on the hunt for his first goal and will be out again tonight after the birth of his son, but has posted 2 assists over 6 games.
– Hart sits at 7th in the league in save percentage with a .938 SV%, and 11th in goals against average with a 2.31 GAA.
– On the opposite end of the ice, Igor Shesterkin sits at 24th in the league with a .913 SV%, and 18th in goals against average with a 2.55 GAA.
Broadcast Info: TV – NBC Sports Philadelphia, Radio – 97.5 The Fanatic