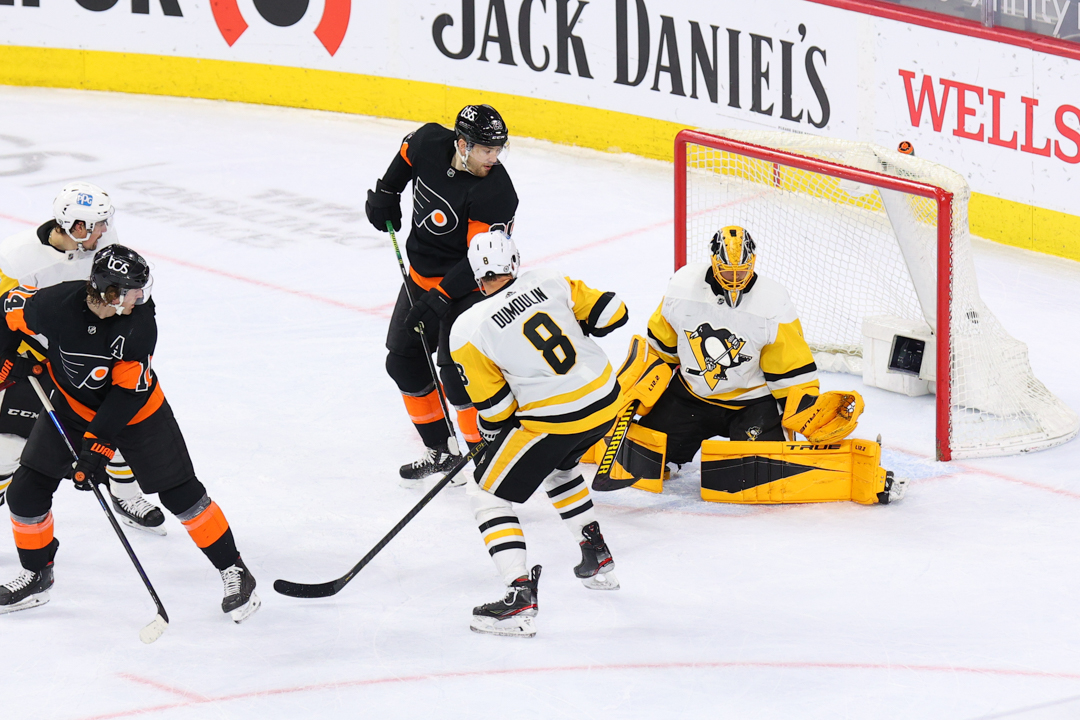 Flyers seek to build off momentum from last game's win to close out Battle of Pennsylvania
We near the end of April with the beach and golf courses in sight, with the Philadelphia Flyers only winning three of their last eleven (3-8 record) games this month. Despite another lowly month, the Flyers did beat Montreal in a 6-3 feat in the Habs' barn on Thursday, featuring newcomers Bobby Brink (RW) recording 2 assists and Linus Hogberg (D) recording his first point in the National Hockey League.
The Pittsburgh Penguins, who are locked in for another playoff run, have been digging out of a slump that began in the first two weeks of April, going 2-4-1 in that time, and opened the month with a four-game losing streak. However, the Penguins are coming off of a thrasher themselves after recording a 7-2 score against the Red Wings. While the penguins operate as a well-oiled machine under Mike Sullivan, we can still expect some exhaustion to be displayed by the skaters for Pittsburgh since their touchdown-score against Detroit was just delivered under 24 hours ago.
Like I said though, this is a well-coached team, Evgeni Malkin is coming off a 2-goal showing, Sidney Crosby is Sidney Crosby, and the Flyers are, well… the Flyers. No matter the case, today is the final Battle of Pennsylvania, the last of the matinees, and the last week of the Flyers 2021-2022 regular season. Let's make it a fun one Flyers, please.
PHI Record: 24-43-11
PIT Record: 45-23-11
When: 4:00PM ET
Where: Wells Fargo Center
PHI Goalie: Martin Jones
PIT Goalie: Louis Domingue
PHI Unofficial Lineup
#21 Scott Laughton – #13 Kevin Hayes – #11 Travis Konecny
#25 James van Riemsdyk – #86 Joel Farabee – #46 Bobby Brink
#49 Noah Cates – #48 Morgan Frost – #74 Owen Tippett
#23 Oskar Lindblom – #44 Nate Thompson – #17 Zack MacEwen
#9 Ivan Provorov – #47 Ronnie Attard
#84 Linus Hogberg – #6 Travis Sanheim
#3 Keith Yandle – #54 Egor Zamula
#35 Martin Jones
#32 Felix Sandstrom
PIT Unofficial Lineup
#59 Jake Guentzel – #87 Sidney Crosby – #67 Rickard Rakell
#16 Jason Zucker – #71 Evgeni Malkin – #17 Bryan Rust
#43 Danton Heinen – #77 Jeff Carter – #42 Kasperi Kapanen
#23 Brock McGinn – #53 Teddy Blueger – #9 Evan Rodrigues
#8 Brian Dumoulin – #58 Kris Letang
#5 Mike Matheson – #2 Chad Ruhwedel
#28 Marcus Pettersson – #6 John Marino
#70 Louis Domingue
#1 Casey DeSmith
Last Game PHI: 6-3 W vs MTL
Last Game PIT: 7-2 w VS DET
News and Notes
JVR WATCH
For those obsessed with the JVR memes, he is 2 goals shy of the 25-goal mark

Flyers are likely to trade James van Riemsdyk in the offseason and may also have to forfeit additional assets to trade him.
Again, for the memes, he is our leading goal scorer, so you can only imagine the kind of headlines and narratives that will develop afterwards.
Guenztel or Goalztel? (I know, really bad)
7 goals in last 5 games
11 points in last 5 games
Scott Laughton (20th overall pick) and Jake Guenztel (77th overall pick) were drafted in the same year in 2012. With the luxury of hindsight, who would you rather have on your club? Guentzel is clearly superior when it comes to dynamism in transition and in the offensive zone. However, let's not forget that Scott Laughton has been a beauty middle-six, two way center man in the league for some time now. He has also been considered a serious dark horse candidate for the Flyers captaincy, if the Flyers decided to get spicy and not go with the "easy" choice in Sean Couturier.
It's an interesting thought because I believe, considering where both clubs are, the could both seem to use a little bit of both. The Flyers clearly lack a dynamic forward, and if you have Jeff Carter and Kasperi Kapanen on the same line in PIT, you would have to imagine they feel like they could have some more dependability down the middle when it comes to D-zone time, PK, and more. Funny to think about now.
Broadcast Info: TNT, 97.5 The Fanatic
Injuries
PHI – Nick Seeler (lower body), Cam Atkinson (lower body), Carter Hart (lower body), Rasmus Ristolainen (upper body), Cam York (lower body), Patrick Brown (upper body), Kevin Connauton (lower body)
PIT – Tristan Jarry (lower body), Nathan Beaulieu (lower body)