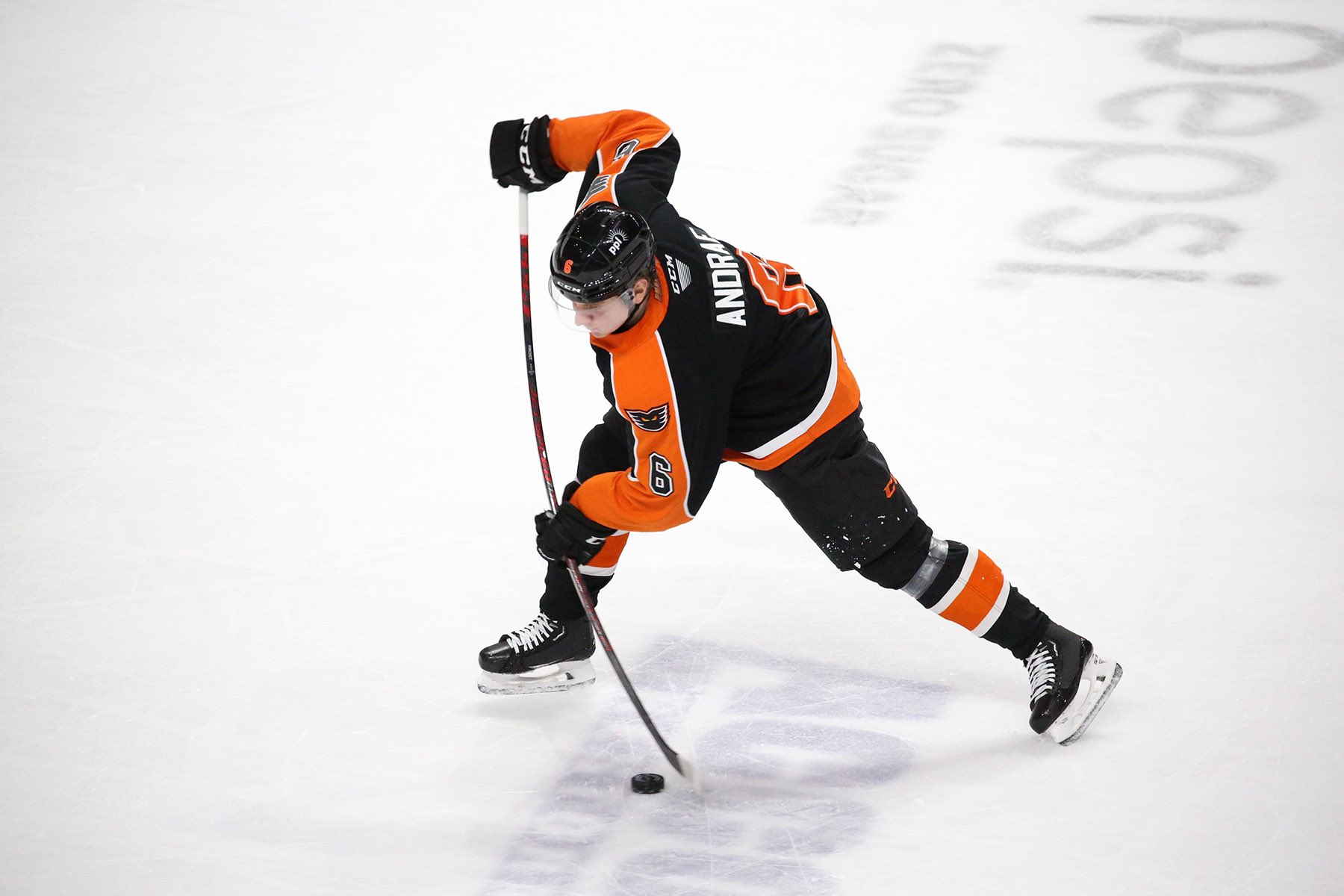 Flyers Sign Emil Andrae to a Three-Year ELC That Kicks In for 2023-24
According to newly-minted interim General Manager, Daniel Brière, the Philadelphia Flyers have announced that they have signed defenseman, Emil Andrae, to an entry-level contract that begins in the 2023-24 season.
OFFICIAL: We have signed defenseman @EmilAndrae11 to a three-year entry-level contract beginning with the 2023-24 season. #FueledByPhilly https://t.co/EN8bUFFXh9

— Philadelphia Flyers (@NHLFlyers) March 27, 2023
Andrae has played in 2 games with the Lehigh Valley Phantoms so far on an AHL tryout for the end of the 2022-23 season.
Andrae was drafted in the 2nd round of the 2020 NHL Entry Draft and has spent the better part of the last 4 years in various Swedish hockey leagues. In 2019-20, he scored 11 goals and 38 points in 40 games for the HV71 junior team of the Swedish Junior League. Since then he has split time between the Swedish Hockey League (SHL) and the HockeyAllsvanskan (Swe-1). In 2021-22 he scored 33 points in 41 games for HV71 of Swe-1.
This season he scored 26 points in 51 games for HV71 in the SHL. Andrae ranked 3rd on the team in assists, 5th in points, and was 2nd in power play goals. He was also first in blocked shots with 42 and 4th in hits with 48, all the while averaging 20:29 TOI.
With his Swedish season coming to an end, the Lehigh Valley Phantoms signed Andrae to a tryout to play the rest of the season for the team and to help with their playoff push. In 2 games he has recorded 2 assists, is a plus-1, has 6 PIM, and 3 shots on goal. He may only be 5'9", but he weighs in at 176 pounds and plays much bigger than he actually is.
He isn't afraid to throw his body around as we witnessed this weekend with his hip-check against the Wilkes-Barre/Scranton Penguins, but he also has the makings of a power play quarterback as we saw on Artem Anisimov's eventual power play goal against the Hershey Bears.
⚠️GRAPHIC CONTENT⚠️#LVvsHER | #OurValleyOurHome pic.twitter.com/h2ttPOt9Vk

— Lehigh Valley Phantoms (@LVPhantoms) March 26, 2023
Passing the puck around with zip, patrolling the point with pace, having head up the whole way, and creating chemistry with Tyson Foerster along the boards.
Andrae captained Team Sweden at this year's rendition of the World Junior Championships to a bronze medal and scored 4 goals and 8 points in just 7 games. He was also apart of the 2021 team, where he recored an assist in 5 games.
The Phantoms are in the midst of a playoff push and Andrae will play a big part of that moving forward. With only 8 games remaining in their 72-game regular season, the Phantoms currently sit in 5th place in the Atlantic Division – where the top-6 qualify – with 72 points. They are 4 points clear of Bridgeport for 6th and 5 points up on Hartford for 7th.
If they continue their winning ways. they can make a run for 3rd place as they are only 1 point back of 4th place Springfield and 4 points from 3rd place Charlotte.