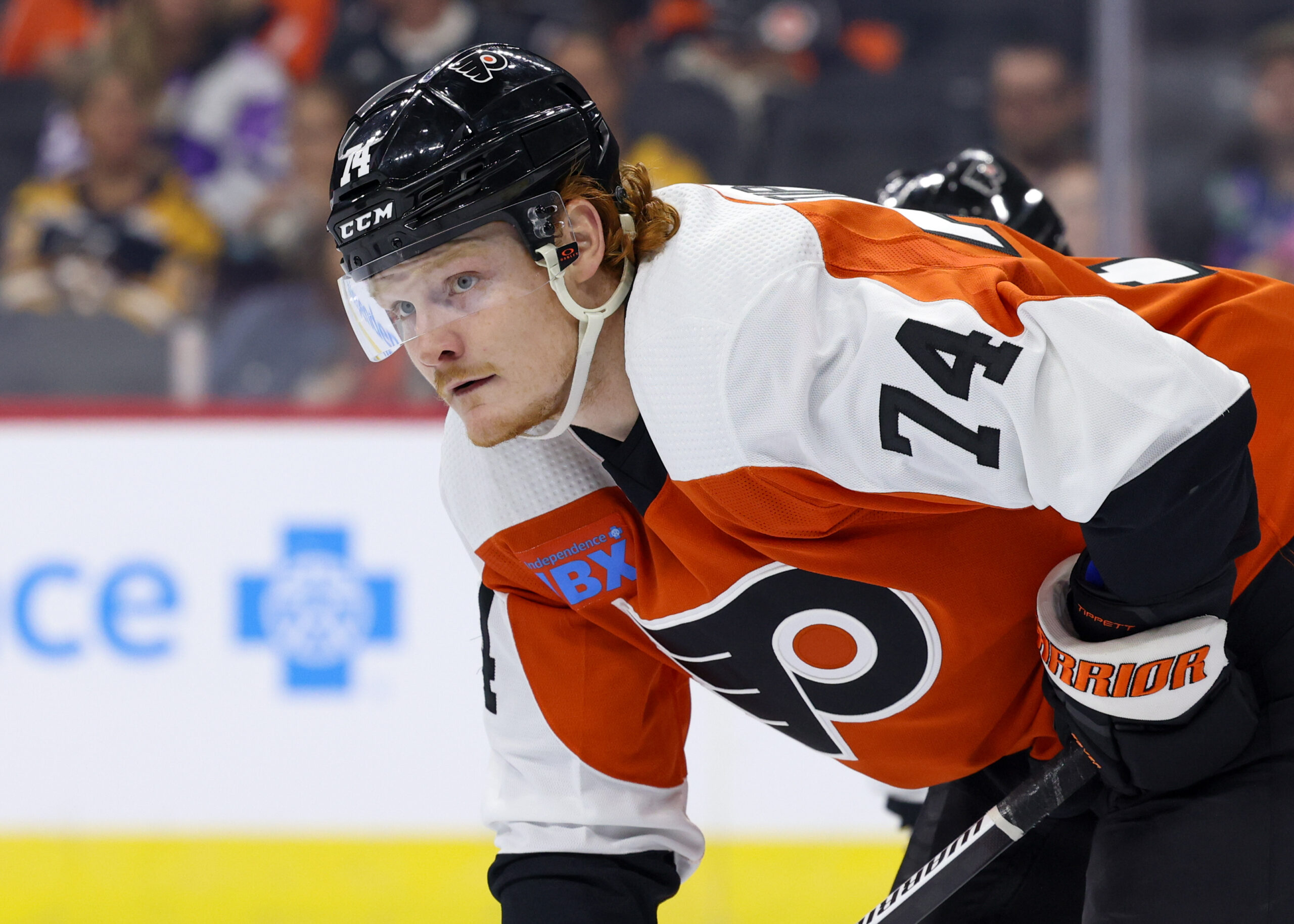 What John Tortorella did last year in his first season with the Philadelphia Flyers was something we hadn't seen in eons; he set the stage for the impending rebuild. He untapped the potential of a lot of players but none more than Owen Tippett.
The former 10th overall pick from the infamous 2017 NHL Entry Draft could not reach the heights of his lofty selection with the Florida Panthers. The year they moved him at the trade deadline was the season everyone had them as a Stanley Cup contender and with that moniker, the struggling Tippett became their biggest trade chip.
Granted, when Chuck Fletcher executed the deal that sent franchise icon Claude Giroux to Florida, the return package seemed very underwhelming. We were expecting a whole lot more than a prospect in Tippett and a 2024 first round pick but it was a tricky situation with Giroux stating his desire for Florida and Florida only.
Florida flamed out by virtue of a sweep to their state-rival in the second round and the Flyers were glowingly excited about the prospects of Tippett after a short stint before the end of the 2021-22 season. His puck luck was unfortunate, but it was evident that he had the speed, the shot, the release, the offensive IQ, and was perfect for the present and future of the Philadelphia Flyers.
After Mike Yeo did a good job at utilizing Tippett at the end of the season, Tortorella took over the following season and quickly instilled his system – one that benefits those who give it their all and ask for opportunities. Tippet was one of them and once Tortorella saw what he was capable of, he never looked back.
For the Mississauga Steelheads of the OHL, Tippett scored 44 goals and 75 points in 60 games in his draft season. He played 7 games to start the 2017-18 season with the Panthers – scoring 1 goal – before returning back to his junior club where he scored 36 goals and 75 points but this time in just 51 games. He would split his 2018-19 season between Mississauga and Saginaw where in total he scored 33 goals and 74 points in 54 games. He made the official leap to professional hockey in 2019-20 where he scored 19 goals and 40 points in 46 games for the Springfield Thunderbirds of the AHL.
The shortened 2020-21 season, Tippett played in the NHL and scored 7 goals and 18 points in 45 games. The rookie took 86 shots, delivered 59 hits, and averaged 11:29 TOI. The following season he struggled to produce in a very loaded Panthers lineup with just 6 goals and 14 points in 42 games. He also spent 12 games with the Charlotte Checkers of the AHL with a scintillating 18 points in 12 games.
With the Panthers looking to add major pieces at the deadline, all of their prospects were fair game and Tippett proved to be the more NHL-ready package – something that Fletcher and company were looking for in return of their long-standing captain. His final 24 games with the Panthers, he scored 2 goals and 4 points, averaged 12:19 TOI and only fired 40 shots.
The writing was on the wall and after being drafted in 2017, it looked like he was following in the footsteps of another fellow draft class member and soon-to-be-linemate, Morgan Frost. They both found it extremely difficult to traverse the terrain from AHL success to NHL success.
In 21 games for the Flyers, Tippett scored 4 goals and 7 points, fired 53 shots, and averaged 15:12 TOI. The package was present, the Flyers just needed the right man for the job to un-tap the potential that saw him wreak havoc in the AHL in such short order. Enter John Tortorella.
Last season was a pivotal because they needed to eradicate the negative energy surrounding the team from top to bottom. By the end of the season they went through radical changes that saw their GM and President get fired, the CEO followed suit with a retirement, and several other key members of the front office were either let go or walked away.
On the ice, Tortorella weeded out the problematic players and just based on verbiage and body language we know exactly who they were. Now all of a sudden, the 2023-24 Flyers looks like an actual team.
Tippett started the 2022-23 season with 6 goals and 10 points in just 13 games, while averaging 16:00 TOI. He would then go without a point for the next 7 games before ending the season with 21 goals and 39 points in his final 57 games, which included 17:40 ATOI. He had fired 186 shots towards the net, had accumulated 30 of those 39 points while playing even-strength hockey, and became a true focal point in an offense that was missing some key pieces.
Tortorella was more than happy to oblige when Tippett asked for more ice time and a larger role. In fact, he loved the fact that he had approached him, stating his drive and hunger was exactly what he was looking for. He did a lot with the extra ice and in his final 25 games, Tippett averaged 20:29, had 99 shots to go with 12 goals and 19 points. He had seen 20+ minutes 14 times during that stretch and 22+ minutes on 6 different occasions. Tippett also had 6 games in that final 25 with over 6 shots, including 4 with 8+ shots on goal.
With that fantastic finish, a lot was expected heading into a contract season, a new-found plan in place, and reinforcements back from the injured list. It was a slower start that most people had anticipated but the 24-year-old Peterborough, Ontario native has found his game in recent weeks and it's a sight to behold.
After going without a point in his first 3 games, Tippett has 11 points in his last 13. It took him 7 games to finally score his first goal but in his last 10, he has scored 6 goals including riding a current 3-game goal streak with 4 goals against the likes of the Anaheim Ducks, Los Angeles Kings, and the Carolina Hurricanes. His ice-time has fluctuated depending on the game script, but overall he has averaged 15:20 TOI with 52 shots on goal, 13 hits, 7 blocks, and a 10:6 takeaway to giveaway ratio.
Last year he hit 231 shots, 17:26 ATOI, had 125 hits to his 69 blocks, and a 44:25 takeaway to giveaway ratio. This year his CF% is up from 49.2% to 52.8%, his FF% is also up 3 points from 50.2 to 53.6%. On top of all that his CF% rel is at 4.8, his FF% rel is at 3.4, and his PDO is 100.1. All stats pointing to a good all-round performance from the Red Rifle.
His goal last night against the Hurricanes pointed to his quick release and shot-first mentality. He ripped a quick one-timer past a confounded Pyotr Kochetkov to give the Flyers an early lead just 150 seconds into the game:
Owen Tippett gets the Flyers off to a hot start! 🔥 pic.twitter.com/M3M2BenSiQ

— Sportsnet (@Sportsnet) November 16, 2023
In their previous game against the Kings, Tippett was set off to the races as he found a way to get the puck past Cam Talbot for the first goal of the game. Sean Walker found the lane and Tippett was able to use his speed and strength to get a clear path to the net:
Owen Tippett with three goals over the last two periods. 🔥 pic.twitter.com/W7J04jCnVq

— NBC Sports Philadelphia (@NBCSPhilly) November 12, 2023
His 1st goal against the Ducks on Friday night was a thing of beauty and essentially put them to rest after he dangled around Frank Vatrano before beating Lukas Dostal glove-side:
TAKE A BOW, OWEN TIPPETT! 🤩 pic.twitter.com/TNABx4bPqO

— Sportsnet (@Sportsnet) November 11, 2023
His 2nd goal of the night might have been an empty-netter, but he dug in deep to find the loose puck after the face-off, banked it off the boards to himself to evade the defenseman and then used his speed to carry him closer to the yawning cage for the goal:
Empty net goal for Philadelphia!

Scored by Owen Tippett with 01:01 remaining in the 3rd period.

Assisted by Travis Sanheim and Scott Laughton.

Anaheim: 3
Philadelphia: 6#PHIvsANA #FlyTogether #LetsGoFlyers pic.twitter.com/riGeWZgBJA

— NHL Goals (@nhl_goal_bot) November 11, 2023
To start the season, Tippett has been flip-flopping between the top two lines as he has skated alongside Sean Couturier and Cam Atkinson but was most recently with Morgan Frost and Travis Konecny before finishing the game with Couturier and Tyson Foerster. Tippett can produce in just about any spot in the lineup but his role in the top-6 is solidified moving forward and the more confident he becomes, the closer he will get to his first ever 30-goal season which he just missed out on last season with 27.
2024 Stadium Series Trip
Flyers Nation and Philly Sports Trips have teamed up to bring you on an amazing bus trip to the 2024 NHL Stadium Series between the Flyers and Devils. Place an early deposit to reserve your spot at the ultimate tailgate experience at MetLife Stadium before the game. The package includes a game ticket, round-trip charter bus, an all-inclusive tailgate party with unlimited cold beverages, "Philly Style" catered food, live entertainment, and more.