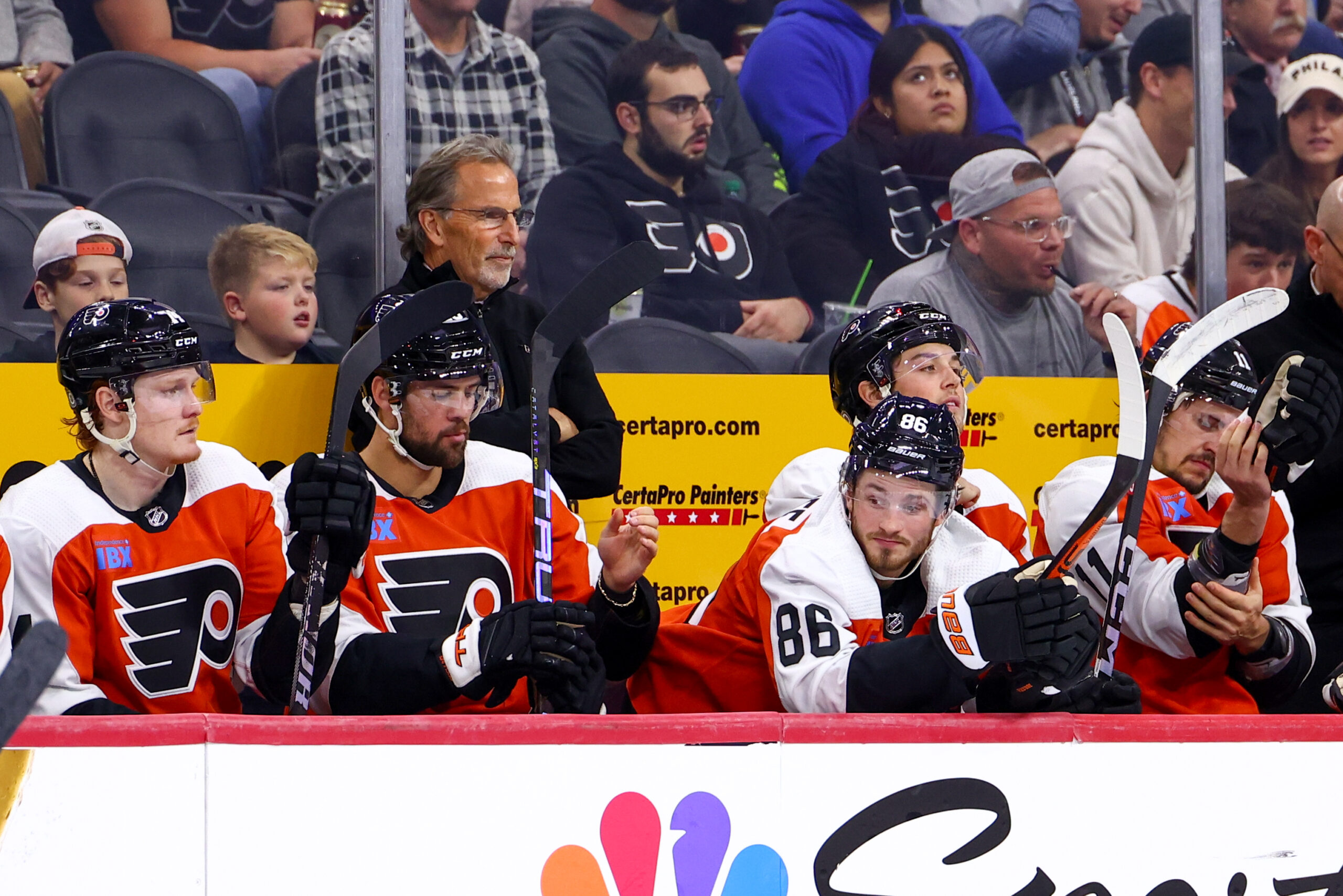 The term "rebuild" is thrown around a lot in the sports world. Normally, it gets brought up when talking about teams that have either missed the playoffs and/or been underperforming for an extended period of time. When this term "rebuild" gets used, most people think of it in one specific way: a team trading away their players and tanking to get a better chance of getting the top pick in the draft. Is that really all a rebuild is though?
This offseason, the Philadelphia Flyers came out and said specifically they were rebuilding; however, the Flyers currently sit in a playoff spot 16 games into the season. Fans are already freaking out (shocking I know) that they're winning too much. They are also mad at John Tortorella for scratching certain players. But let's take a step back here and see what is really going on.
"The Flyers aren't that good! They shouldn't be winning!"
The Flyers aren't a bad hockey team. Not only are they doing decent record wise, they have the most 5v5 goals as a team in the NHL and their underlying numbers are good. I mean, if their power play wasn't bad, they'd probably be a top 10 team in the NHL this season! They are constantly outworking the teams they are playing. Their lines have chemistry and players like Travis Sanheim and Sean Walker are having fantastic years. They play hard every night, and they do the little things that help win, like blocking shots (they had 30 against the Canes on Wednesday!), aggressively forechecking, and not playing selfishly or dangerously. All of that comes from the head coach.
"But Tortorella is scratching the players he's supposed to be developing!"
Obviously a big part of a rebuild is developing young prospects into NHL players. The way to do that is not just giving young guys a roster spot and playing them with no competition. Having prospects learn at a young age that nothing will just be handed to you in the league is more valuable than the experience they'll get playing one regular season game against a random team. How the player responds when given that chance to play again is what Torts is looking for
"But Morgan Frost wasn't scratched for only one game! And Bobby Brink is a top 10 rookie in points this season so far!"
When Morgan Frost was scratched for an extended time, the Flyers were winning, a lot. Torts isn't going to mess up a team that's humming just so a player who's in his 5th NHL season can play a game. Frost has had his opportunities and has since made the most of them.
With Bobby Brink, it's a little bit if the same. However, it's also the fact that the highest number of games he's played is 41 in the AHL. Throwing a rookie into the fire of playing 82 games in his first full season in the NHL is not the route to go. Developing players also means developing their stamina and preventing wear and tear on a body that isn't accustomed to it.
"Ok fine, but even if they do make the playoffs, and that's a big if, they'll be a first round exit. What's the point?"
What should I start with? Playoff experience? Playing meaningful hockey at the end of the season? The idea that once you get in anything can happen? Giving Cutter Gauthier a reason to sign with the Flyers at the end of his Boston College season?
Playoff experience: I mean yeah giving playoff experience to a young team is great to develop them and get the ready to play hockey past mid-April, and even further once Matvei Michkov gets here.
Playing meaningful hockey at the end of the season: Even if they don't make the playoffs, giving the players the chance to play meaningful games will get them ready for years to come. Not being checked out by January/February will be huge to develop the players to be ready to fight for at least 82 games each season.
The idea that once you get in anything can happen: Look, we all thought last season the Bruins were destined to steamroll their way through the playoffs en route to a Stanley Cup finals appearance. However, the greatest regular season team of all-time got beat in 7 games by the 8th seed Panthers, who just barely snuck into the playoffs. That same team that snuck into the playoffs made it all the way to the Stanley Cup Final. The same thing happened with the Flyers in 2009-2010. The Flyers got in by winning a shootout in the last game of the season and went on a tear through the playoffs. Spare me the "being killed in the first round is bad" nonsense, it's the playoffs and anything can happen.
Giving Cutter Gauthier a reason to sign with the Flyers at the end of his Boston College season: I mean,what better way to incentivize your top North American prospect into signing his ELC than to be in a playoff push where he'll be able to help contribute immediately? Gauthier's shot will definitely help the Flyers create more scoring chances.
"But the draft picks! We need a good draft pick to be able to be good!"
Oh, do we? Let's take a look at a couple of examples as to why they DON'T necessarily need high picks to rebuild.
The Boston Bruins
The last time the Boston Bruins had their own pick be a top 10 pick in the draft was 2007. They selected Zach Hamill. He played 20 total games in the NHL.
So why does that matter? Because since then the Bruins have won a Stanley Cup, have won the Prince of Wales trophy three times, and have won the Presidents' Trophy three times. They didn't need to lose games year after year to try to get a 1st overall pick for continued success.
In this window, they've hit on other picks in the drafts (sans 2015), developed prospects at a high level, and made good trades and free agent signings to improve their team. They consistently tried to make the playoffs each year. This builds a culture that instills the mindset that trying to win every game, no matter how talented you are, is what matters.
The Buffalo Sabres "Rebuild"
The Sabres are famous for being bad for a really long time. They're so bad that they struck gold FOUR times in the draft lottery. Two of those times they ended up with the second overall pick in the 2014 and 2015 NHL drafts. They selected Sam Reinhart and Jack Eichel in those drafts, respectively.
The Sabres continued to be bad but fans were told it was better for the long run. They were told it would help them bring more high-level players to play with Eichel. It wasn't better for the long run.
Jack Eichel forced his way out of the city. Sam Reinhart is no longer on the team. The Sabres actually got WORSE. They had to restart their rebuild. Luckily, they ended up with two first overall picks in four years, but they STILL have not made the playoffs in 13 years. Tanking doesn't always pay off.
The Toronto Maple Leafs "Rebuild"
Auston Matthews. Mitch Marner. William Nylander. The Leafs were a bad team for a while and ended up with three straight top 10 picks. One of these picks was Matthews, a number one overall pick in 2016.
Well, this shows tanking works right? I mean the Leafs are one of the best teams year after year and constantly make the playoffs! Surely they have loads of playoff success with such a talented group! As we all know that is not the case, with this core winning one (1!) playoff series in seven seasons together. And now, with multiple contracts being up over the next couple of seasons, it seems that some of the players will be going their separate ways.
If you were to ask a Leafs fan if this era post rebuild was a success, the answer is no.
So, why am I bringing up these different teams and the ways they went about their rebuilds when trying to make a point about John Tortorella? Because Tortorella is righting the ship.
The last core group had issues and we all know that. In a 97.5 FM interview last season, Tortorella was quoted as saying, "I think there was a ton of entitlement hanging around in our locker room, where really quite honestly you didn't deserve that entitlement, you didn't deserve that stature," and "We're pretty much nonexistent in the National Hockey League as far as respect. We need to earn the league's respect." Some strong words from the Flyers bench boss.
Tortorella is working hard to eliminate the entitlement and gain the respect of the league again. The only way to eliminate the entitlement is to make the players fight for a job each night. That way they don't get comfortable and complacent. And the only way to earn the respect of the league back is to try to win every game possible. The roster isn't the only thing that needed to be rebuilt, the culture in the Flyers organization needed to change.
As much as you might hate how he's doing it, John Tortorella is leading the Flyers rebuild in the right direction.
2024 Stadium Series Trip
Flyers Nation and Philly Sports Trips have teamed up to bring you on an amazing bus trip to the 2024 NHL Stadium Series between the Flyers and Devils. Place an early deposit to reserve your spot at the ultimate tailgate experience at MetLife Stadium before the game. The package includes a game ticket, round-trip charter bus, an all-inclusive tailgate party with unlimited cold beverages, "Philly Style" catered food, live entertainment, and more.