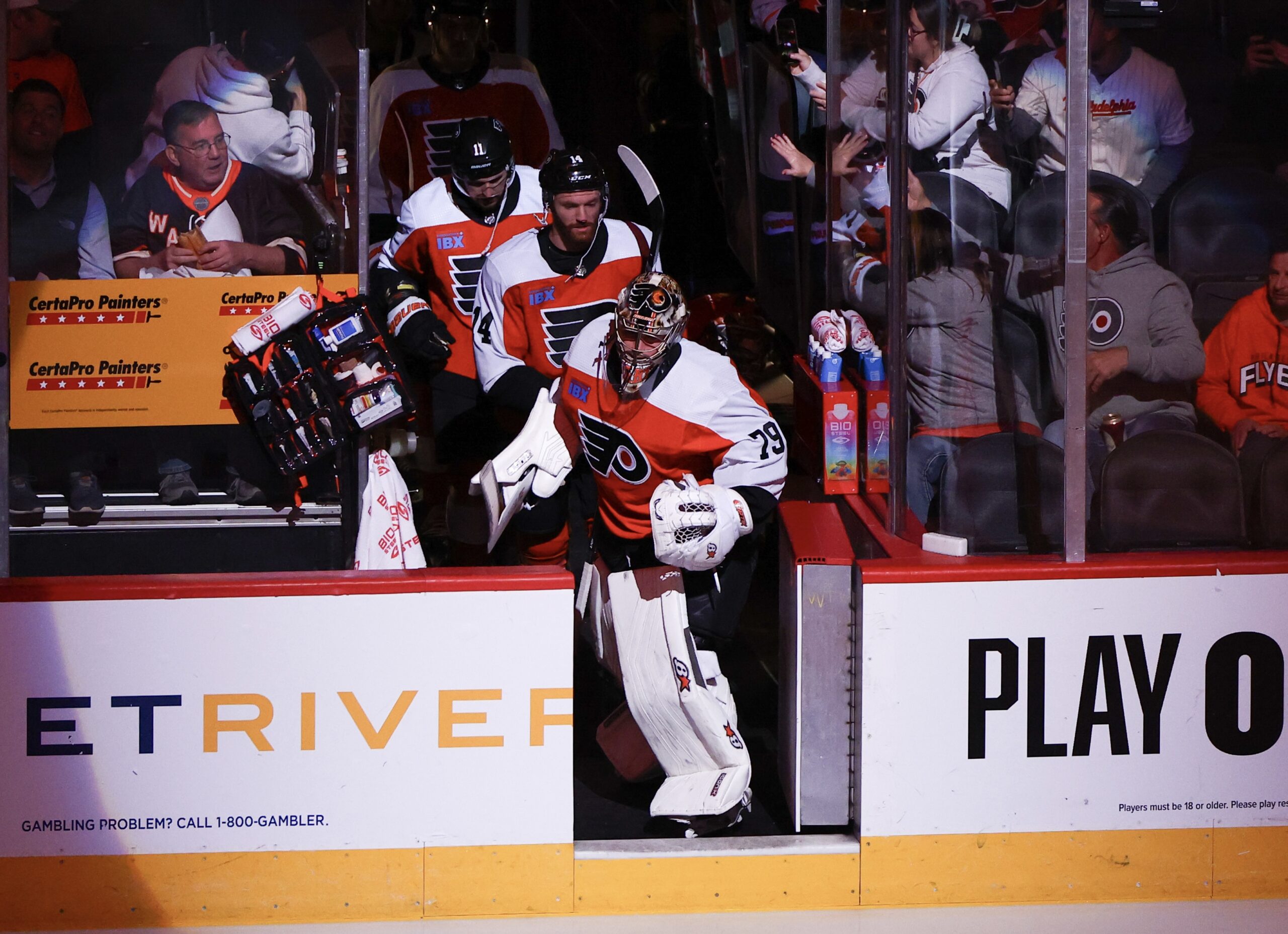 The 2023 offseason was major for the Philadelphia Flyers as they finally announced to the world that they were going to rebuild, they were able to draft what many deem a generational talent in Matvei Michkov, and they were anticipating the returns of Sean Couturier and Cam Atkinson.
While there were more good deeds than bad, there were a few players who didn't have the greatest off-seasons. Travis Sanheim was nearly traded to the St. Louis Blues and when the trade fell through, TSN's Darren Dreger tweeted that the Flyers were still trying to trade the defenseman but couldn't find a suitor. The Flyers had to deal with egos of Kevin Hayes and Tony DeAngelo before they were eventually traded and of course, there was uncertainty surrounding Carter Hart.
When General Manager Daniel Brière announced to the world that the Flyers were open for business and every player could be had via trade, the hockey world took that as a fire-sale and started stirring rumour after rumour about potential deals involving Hart, Travis Konecny, Scott Laughton, and everyone else in between. Hart received a lot of attention because many still tabbed him as a future number one goaltender who could use a change of scenery outside of Philadelphia. He also represented their best trade asset, but the pending Hockey Canada investigation was the darkest cloud.
Samuel Ersson's first stint with the club had many believing he could usurp Carter Hart without a hitch, the Flyers acquired Cal Petersen in the Ivan Provorov trade, they drafted 2 goaltenders in the first 3 rounds of the draft, and they tried their hardest to get Ivan Fedotov to North America. Some speculated that a trade was essentially complete and you just needed to dot the I's and cross the T's, while others believed rival teams were waiting on the investigation. The Flyers never wavered as they understood what they had in Carter Hart – a bonafide number one goaltender in the NHL.
Drafted in the 2nd round of the 2016 NHL Entry Draft, Hart sported a 35-23-4 record with a .918 SV% and a 2.14 GAA in his draft season. He improved to the tune of 32-11-2 with a .927 SV% and a 1.99 GAA before posting an even better season in 2017-18 where he went 31-6-3 with a .947 SV% and a 1.60 GAA. He won CHL Goaltender of the Year twice, he was the Everett Silvertips MVP in three consecutive seasons, and he won silver at the World Juniors in 2017 before taking home the gold with a scintillating performance in 2018.
Hart played 18 games for the Lehigh Valley Phantoms in 2018-19 before getting the call to the NHL for the 8-goalie-carousel Flyers that had just fired Ron Hextall and Dave Hakstol. It was a great rookie season all things considered as he posted a 16-13-1 record with a .917 SV% and a 2.83 GAA, including an 8-game winning streak and 10 wins in 11 games.
He posted a 24-13-3 record the following season with a .914 SV% and a 2.42 GAA before going 9-5 in the postseason with a 2.23 GAA and a .926 SV%. We had finally believed that our saviour in goal had arrived and he was only 21 years old.
The next 2 seasons were brutal for all involved, but maybe no one more than Carter Hart. He went 22-35-12 with a .895 SV% and a 3.34 GAA in 72 games. He was one of the worst goalies statistically, the world was falling apart in Philadelphia, and people were calling for his head claiming that he wasn't the number one goaltender that they had propped him to be.
The Flyers weren't great last year, but Hart played particularly well for most of it as he went 22-23-10 with a .907 SV% and a 2.94 GAA, including a top-15 Goals Saved Above Expected. With John Tortorella at the helm, he rode Hart for a career-high 55 games and had it not been for a concussion and a few other ailments, Hart might have topped 60 games and deservedly so.
With all the hoopla surrounding his status this summer, Hart had to deal with a lot of mental strain, but he has come through for the Flyers with stellar goaltending that has kept them in the race for a wild card spot in the first few months of the 2023-24 season. Carter Hart carries a 5-3-0 record heading into Saturday's afternoon tilt against the Vegas Golden Knights with a .921 SV% and a 2.34 GAA with 1 shutout.
You take out his one bad game against Ottawa where he allowed 5 goals on 31 shots and he has given up 14 goals on 208 shots for a .932 SV% and a GAA of 1.60.
If you look at his game log, it's even more impressive. He made 31 saves on 33 shots against the Columbus Blue Jackets in the season opener, he shutout the high-flying Vancouver Canucks, allowed 1 goal on 23 shots to Connor McDavid and the Edmonton Oilers, had held the Vegas Golden Knights in check before they stole the game late in the third, made 26 saves against Minnesota, had the Carolina Hurricanes in a dead heat before Teuvo Teräväinen's late winner, and then came back from his 2-week absence with a 31-save revenge performance against Carolina.
Hart is currently tied for 13th in save percentage and 14th in GAA and is playing his way to a lengthy contract extension at the end of the summer. Hart is entering the final year of his 3 year-deal that he signed back in the summer of 2021 with an annual cap hit of $3.979 million. He will assuredly get a lot more on his next deal but the question on the minds of many are:
1. Will the Flyers want to extend Hart with a rebuild in place?
2. Will the Flyers extend Hart long-term or keep it short with the potential of Ersson and Alexei Kolosov down the road?
3. How much are the Flyers willing to spend with their window of contention being in the next 2-4 years?
I think the answer should be relatively easy, the impending RFA in Hart is still only 24 years old and hasn't even come close to reaching his peak quite yet. He has shown what he is capable of doing between the pipes for a down-trodden team, so imagine what he would be able to do for a playoff contender – see 2019-20.
The Flyers are set to have $20.148 million in projected cap space next summer with Owen Tippett, Bobby Brink, Egor Zamula needing new contracts. Ryan Poehling, Sean Walker, Marc Staal, and Nick Seeler are currently playing on expiring contracts but it's anyone's guess as to how they move forward with them. Staal and Seeler will be trade deadline targets, but with how well Walker has played maybe the Flyers want to keep him around.
Felix Sandström is on an expiring deal, Samuel Ersson is locked up for an additional 2 seasons, and Cal Petersen has one more year remaining at a cap hit of $5 million. Alexei Kolosov is still a few years away from making the leap to at least the Lehigh Valley Phantoms and Carson Bjarnason and Egor Zavragin were just drafted a few months ago. Hart represents the present and the future in goal, and quite honestly the best solution to their long-standing problem.
The Flyers aren't going to be your average run-of-the-mill rebuilding team like Arizona, Buffalo, or currently San Jose where they're going to lose 55+ games a season and draft the upper echelon prospects on a yearly basis. John Tortorella has shown a proclivity of improvement in just parts of 2 seasons and it makes you wonder how much further he can take this club this season, 2024-25, and 2025-26.
Carter Hart is his ace in the hole and as long as he can remain healthy, he will be the driving force in their victories for years to come.
2024 Stadium Series Trip
Flyers Nation and Philly Sports Trips have teamed up to bring you on an amazing bus trip to the 2024 NHL Stadium Series between the Flyers and Devils. Place an early deposit to reserve your spot at the ultimate tailgate experience at MetLife Stadium before the game. The package includes a game ticket, round-trip charter bus, an all-inclusive tailgate party with unlimited cold beverages, "Philly Style" catered food, live entertainment, and more.